The Loop
Patrick Reed's story crumbles, Greg Norman's absurd Tiger take, and the Year of the Celebrity Golfer continues
Welcome to another edition of The Grind, where we've never been so proud to earn $100. What started as a bet last December finally came to fruition nine months later, like a baby being born. A beautiful baby with green features. Thank you, Tiger Woods. And thank you, Brian Wacker.
I worked hard for that hundy, watching and rooting on Tiger as he tried valiantly to get back into the winner's circle before finally doing it in his final attempt of the season. If you calculate all the time I spent watching Woods, I earned less than $1 an hour, but man, was it worth it. That $100 will go a long way at Cosi. I may even let my wife get her own soda next time. YOLO, right? Anyway, while I digitally count my money (Getting cash in hand is still the best), here's what else in the golf world has us talking this week.
Kevin Tway: This has been in the works for awhile, but Tway finally broke through for a first PGA Tour win at the Safeway Open. And he did it in style by finishing with five consecutive birdies (two in regulation and three in the playoff).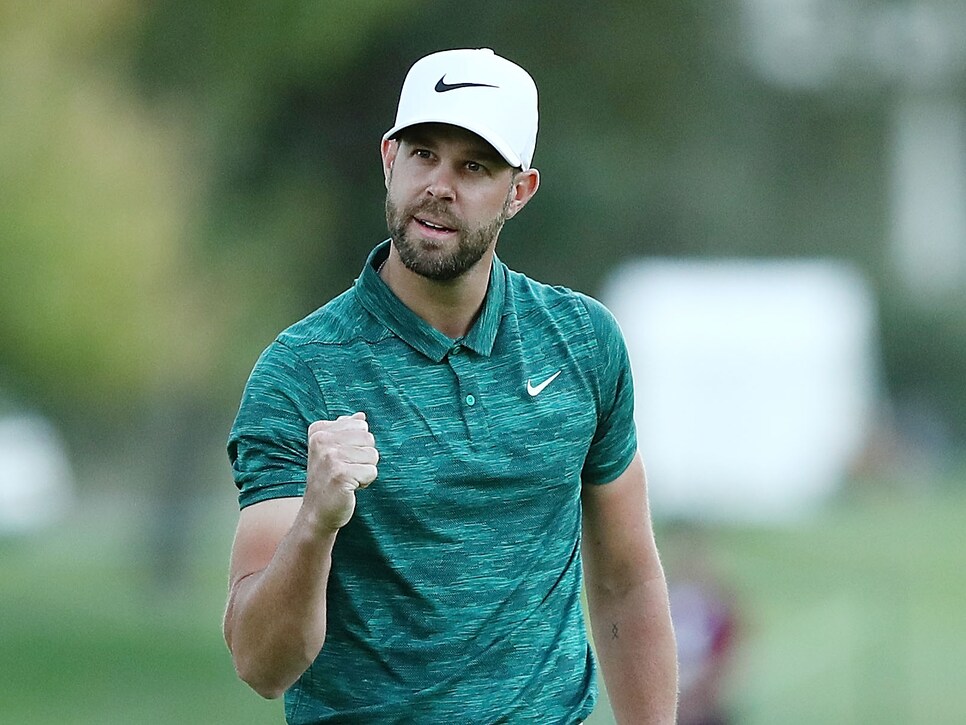 Danish men's golf: What a year it's been for Denmark on the links, most recently with the country being well represented in Europe's Ryder Cup victory and Lucas Bjerragaard winning at St. Andrews on Sunday. We'll let Danish legend Thomas Bjorn sum it all up:
Shotgun starts: Because of a bad forecast, the European Tour decided to go with a shotgun start for the final round of the Alfred Dunhill Links Championship. This made for a confusing, but fascinating finish when Bjerragaard wrapped up his last hole on 17 with a bogey as Tyrrell Hatton missed a birdie putt on No. 18 that would have tied.
Mark Mulder: The Year of the Celebrity Golfer continued with the former All-Star pitcher firing very respectable rounds of 74 and 75 to miss the cut at the Safeway Open. Mulder was one under through 12 holes in his opening round and wound up beating two PGA Tour pros who shall remain nameless. We went crazy when Steph Curry shot a pair of 74s at a Web.com Tour event last year, but Mulder doesn't seem to be getting the same sort of love, perhaps, because he's long retired from his sport. In any event, we're impressed.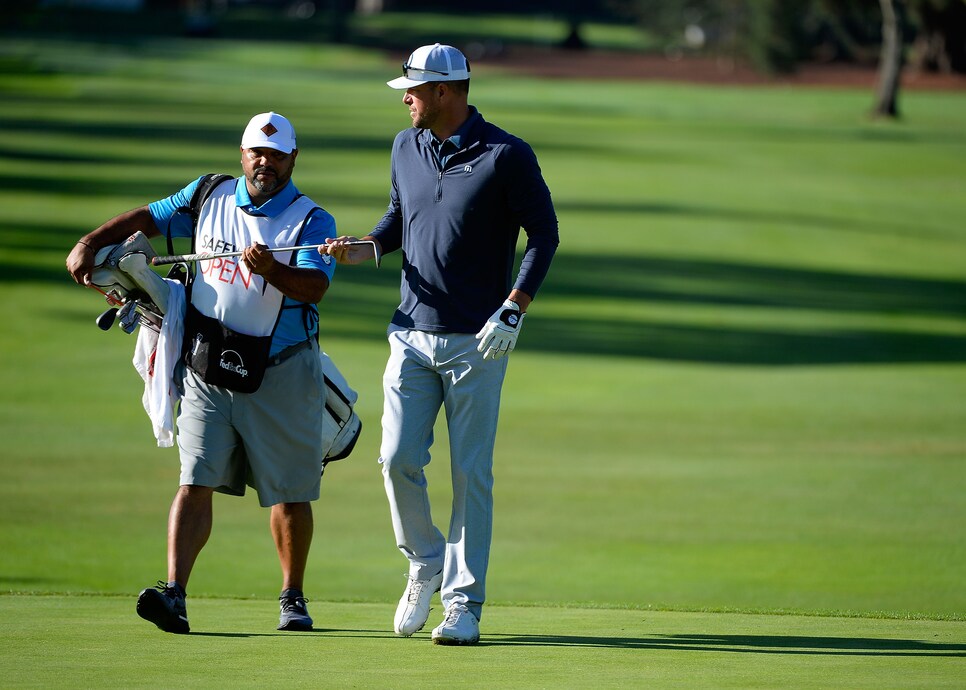 Blowing five-shot leads: Incredibly, we saw this on both the PGA Tour and European Tour on Sunday. Stateside, it was Brandt Snedeker letting a 10th title slip away in Napa, while Tyrrell Hatton couldn't hold his large cushion at the Old Course. We're still proud of Hatton for coming so close to winning after recovering from what sounds like quite the Ryder Cup victory celebration:
Despite the tough loss, we're pretty sure last Monday was rougher.
Patrick Reed's story: We'd be lying if we said we weren't happy that Reed stoked the post Ryder Cup flames, but it seems that his side of the story is unraveling. Fast. First, an unnamed source said Reed's was "full of sh--" when he said that he was blindsided by his split with Jordan Spieth and now, captain Jim Furyk says Reed knew he was playing with Tiger Woods for weeks before arriving in France. Hmm. The artist formerly known as Captain America should probably shush himself at this point. Not that we want him to, of course. The guy is a breathing gift from the content gods.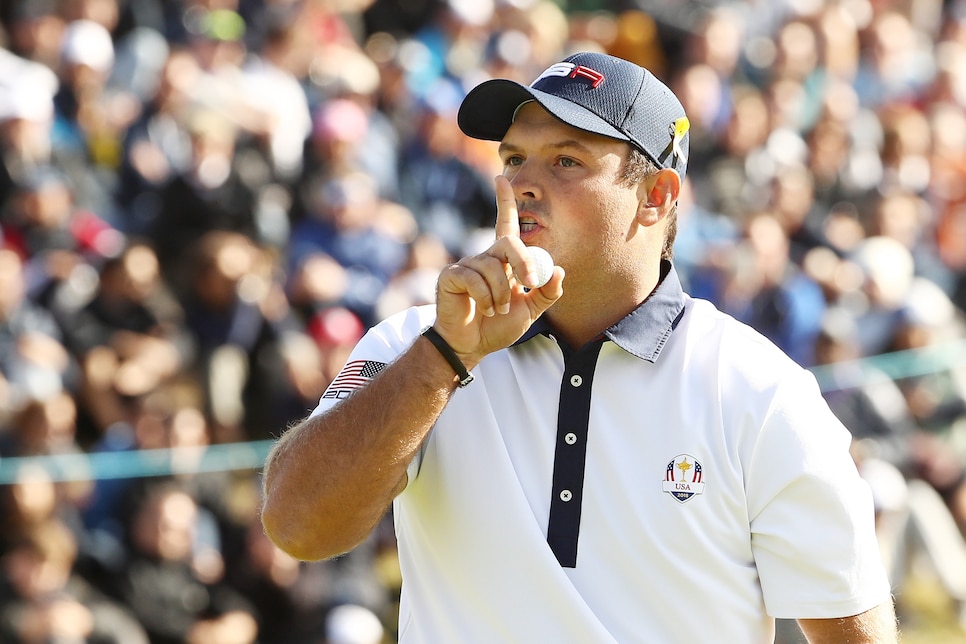 "Driving for show": The old adage has long been disproven by statisticians, but it got smashed by a 129-mph swing speed in Napa. Cameron Champ has arrived on the PGA Tour and in his first start as a member, he finished T-25 thanks to a sizable lead in strokes gained/off-the-tee. Champ chipped and putted poorly, but he still took home some solid dough thanks to his prodigious driving. This will not be the last time this happens for the 23-year-old, who registered an average swing speed of 129.66 and an average ball speed of 192.67. Absurd.
Greg Norman on Tiger: "TV ratings are up because of what Tiger Woods does to every other player," Norman said while appearing on Yahoo Finance's Midday Movers program. "It's not just about the one player, it's about all the supporting cast who are equal if not better than him. He's just pulling them along to make them more standout." What in the world is this guy talking about?! Yeah, the ratings of all the tournament's that TIGER plays in are all way up "because of what Tiger does to every other player" and not because of TIGER. Norman also said he's "disappointed" Tiger coverage has overshadowed other players. Ugh. Go back to making wine, Greg.
The PGA Tour heads to Malaysia for the CIMB Classic, the first leg of a three-week Asian Swing. Also, for the first time in the nearly 10 years I've worked at Golf Digest, there will be a company basketball game on Wednesday night. My goal is to be able to make it to work the following day.
Random tournament fact: It takes a LONG time to get to Malaysia:
So long, in fact, that Billy forgot to check his fantasy football team this week, giving me an easy win. Thanks, Billy. Hit 'em straight on the other side of the world.
RANDOM PROP BETS OF THE WEEK
— Cameron Champ would trade his driving for Brandt Snedeker's putting: 1 MILLION-to-1 odds
— Patrick Reed is done taking shots at Team USA: 100-to-1 odds
— I will be absolutely gassed within 5 minutes of playing basketball: LOCK
Can you imagine something like this a few years ago? Tiger throwing himself a party for winning the Tour Championship and two of the best players in the world not only attending, but wearing shirts in his honor? I'm so happy I'm not even mad I wasn't invited. But I will take a shirt if there's an extra …
I had lost interest in THE MATCH between Tiger Woods and Phil Mickelson. And then this first ad for the Nov. 23 clash dropped:
EVERYONE is fired up again about this, right?
"And I'm 48. I'm not going to play tournaments with rough like that anymore, it's a waste of my time." — Phil Mickelson on Le Golf National. We're beginning to think Phil as a Ryder Cup captain's pick was a mistake …
THIS WEEK IN PHIL BEING PHIL IAN POULTER BEING IAN POULTER
Here's Ian climbing out the window of one of his Ferraris:
I'm just amazed he didn't turn this into another plug for CoolSculpting …
Brooks Koepka was finally, officially named PGA Tour Player of the Year. Thank goodness, because if that chip on his shoulder grew any bigger, it would require surgery. … Fred Couples, 59, shot a second-round 65 at the Safeway Open and was T-15 heading into the final round. It's really too bad this guy hardly ever plays. … While Kevin Tway joined dad Bob as the 10th father/son winners in PGA Tour history, another famous golf scion, Bill Haas, birdied his final hole to finish T-10 and take a big step toward regaining full playing status. Clutchness comes in a lot of forms when you're playing for your livelihood. … Congrats to South Korea for winning the LPGA's UL International Crown. Sure, they had the best team (Even without arguably their best player), but as we saw the previous week, the best team doesn't always win. … And finally, I'm happy to report Julia can now fit into this gift from my co-workers: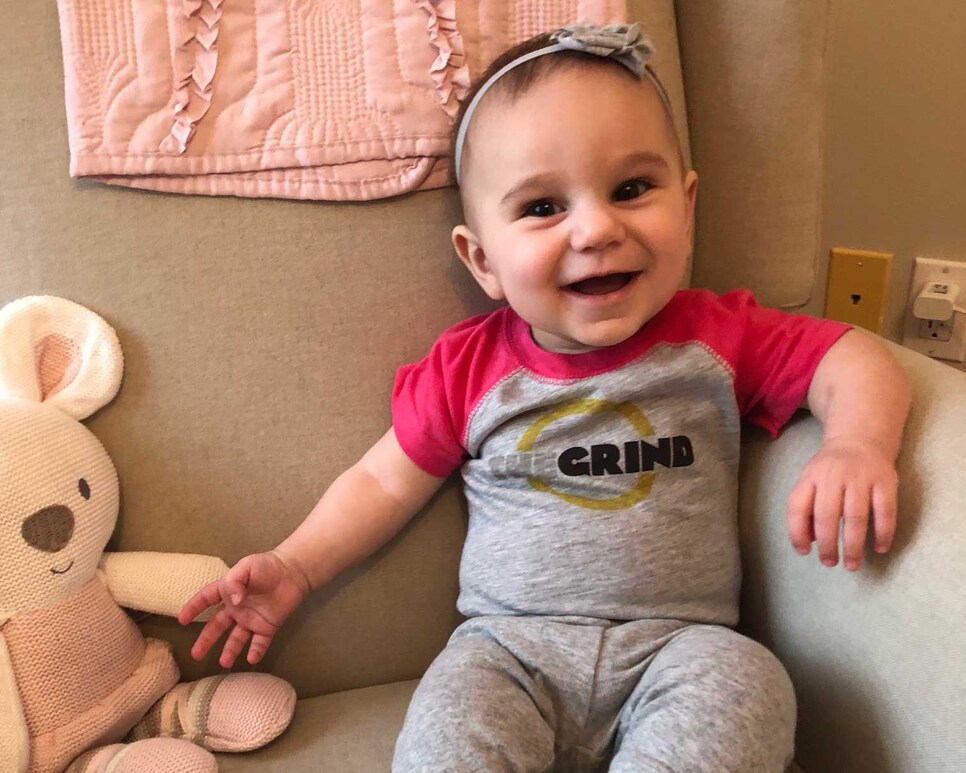 And she didn't poop all over it yet, so it's still in the rotation! Hashtag branding.
RANDOM QUESTIONS TO PONDER
How are there not more sons of PGA Tour pros on tour?
Is Phil Mickelson personally cutting the rough for THE MATCH?
Does anyone want to bet against Tiger winning next year?