News
Greg Norman hopes golf isn't going to put 'all their eggs in one basket again and be all Tiger'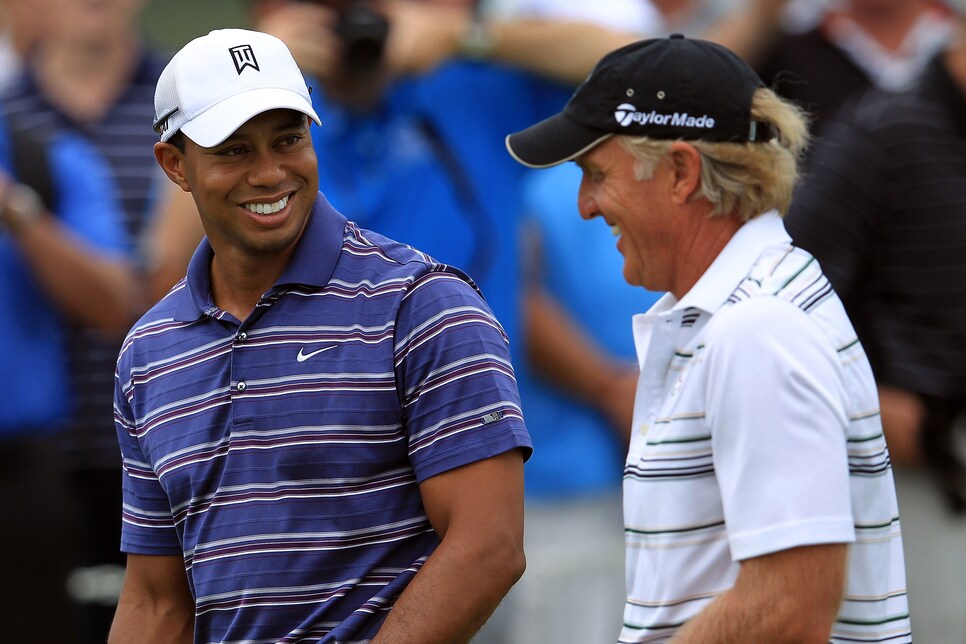 David Cannon/Getty Images
The emotional journey for many golf fans during Tiger Woods' 2018 comeback moved from tempered expectations to mild surprise to giddy excitement to out-and-out awe as the 14-time major winner had a pain-free season that culminated in his first PGA Tour victory in five years at Tour Championship. So what should we continue to expect from Tiger in 2019? At least one World Golf Hall of Famer worries it might go too far.
"I think he's done an excellent job of going from where he was over a year ago, saying I may never play the game of golf again, to where he is today," Norman said. "Massive leap, quite honestly, in 12 months. God bless him. He did everything right, stepped up to the plate and won. It's good for him, there's no question. It's good for the game of golf, no question. But I hope they don't put all their eggs in one basket again and be all Tiger and forget about all this other wonderful, fantastic talent even coming out of Korea and Japan and South Africa and Australia. There is an unbelievable amount of talent bubbling up around the world, and I'd hate to see them get lost again in that Tiger talk."
There is wisdom in Norman's insight; relying too much on Tiger to move golf's needle is a trap the sport should be wary of. Yet at the same time The Shark has made a habit of speaking out about the publicity that Tiger gets, causing his message to at times get lost by the delivery of the messenger.
Early in the year, as Woods was just making his latest return, Norman noted that he was "disappointed" that coverage of Woods was overshadowing other players and sounded skeptical that Woods could finally be competitive again after other failed comeback attempts.
It's hard not to appreciate how Woods' return has rekindled interest in golf among general sports fans. Audiences watching the events Tiger compete and contended in have jumped. Yet Norman doesn't want to concede it all to Woods.
"TV ratings are up because of what Tiger Woods does to every other player," Norman said while appearing on Yahoo Finance's Midday Movers program. "It's not just about the one player, it's about all the supporting cast who are equal if not better than him. He's just pulling them along to make them more standout."