News
Greg Norman's new business venture aims to make the golf course experience bigger and better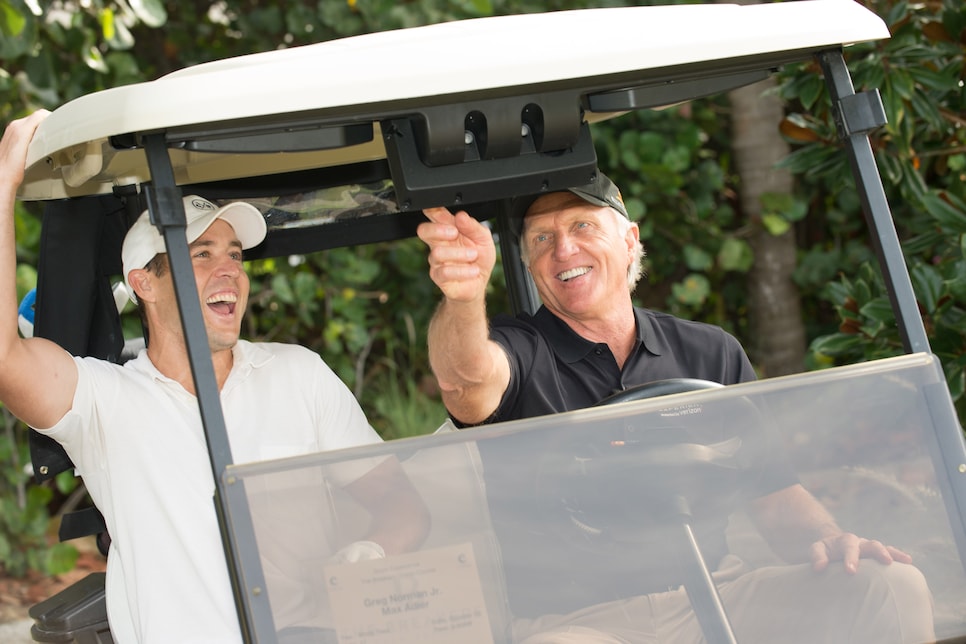 Photo By: Montana Pritchard
Greg Norman has an idea to change the world. Or at least allow golf to change alongside it. Which is, to let golf carts join the Internet of Things.
The epiphany came one evening in a cart barn. Here were these rows of screens, 10.1-inch and center-roof-mounted, being charged to do basically nothing. Nothing being the modern term for merely displaying an overhead view of a golf hole with yardages triangulated from satellites to the front, middle and back of each green, and let you order a cheeseburger from the halfway house.
Pedestrian. Screens nowadays must be more ambitious.
So perhaps a truly web-connected golf cart that enables streaming music and entertainment isn't a revolutionary idea, but it does seem overdue. We already have this in cars, airplane seats, treadmills, home refrigerators and so many other devices. Was it not inevitable that someday the computer in the golf cart was going to start acting like one?
Either way, give Greg Norman Company credit for being first. The Shark circled partners at Verizon, Club Car and GPSi (a provider of GPS systems to more than 75,000 carts in more than 50 countries), and in early 2018 will deliver a fleet equipped with "Shark Experience" to select courses. How facilities approach the revenue-sharing model will vary, but golfers might expect to pay a $5 or $10 up-charge to try the new cart.
As fortunes go, I had the unique opportunity of previewing Shark Experience with Greg Norman driving. Last week at the Breakers Hotel Ocean Course in Palm Beach—a fun little 6,200-yard gem built in 1896, though where not long ago Brooks Koepka worked folding sweaters—Norman took turns playing holes with various members of the media. Actually, Greg didn't hit any shots—he's played just five rounds since March, and the PNC Father/Son Challenge in December will be his first competitive event in years—but rode with me as I played. A glorified one-some, for five holes the Hall of Famer raked my bunkers, tended the flag and even gave me a swing tip. (Into the wind when I try to keep the ball low, I reverse-pivot instead of turning and loading onto my right side.) It was a good tip.    Up close, Norman looks more like a shark than you can hardly believe, and it's quite a thing to ride shotgun along the profile of that famous aquiline nose. I asked the two-time Open Championship winner what kind of music he preferred. I'd played the previous holes with his son, Greg Norman Jr., and we'd set the Slacker Radio to the Phish channel. The father was in an accommodating mood as host, laughed, and suggested not to change it if I was playing well.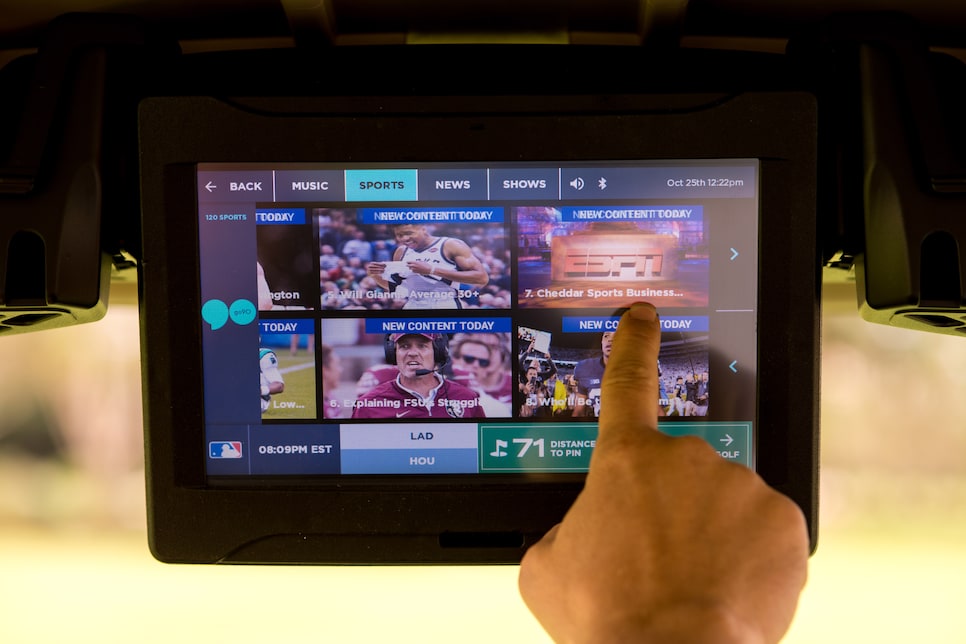 The best feature of the cart are two speakers whose cones are designed and angled to project sound directly at the center of the bench. The tone is loud and rich, but diminishes to a point of near inaudibility 40 feet from the cart. Which is a key feature to respect the sacred space of golfers who want only birdsong and babbling creeks. And also to prevent an arguably worse aesthetic crime: the clashing of disparate musical choices within a foursome.
Being a weekday morning, the only live sports programming available was women's tennis. It crossed my mind this could serve as a segue to Chris Evert, but Greg and I were getting along too well to bring up ex-wives. I searched using the touch-screen keyboard, though future iterations of the cart will be Bluetooth enabled, allowing control of the screen direct from a phone. The current programming available on Shark Experience is the same as Verizon's GO90 app. Personally, I'm not the kind of golfer who'll likely ever watch a TV show while playing, but I could see how PGA Tour coverage or football might really enhance a slow weekend round.
"There are 50 or 100 courses where this will not do," Norman said, but for the other 30,000 courses around the world he believes golf can be "your game, your way," which is the slogan of Shark Experience. A buff Instagram star and pioneer among pros for skipping the second half of a playing career in favor of creating a business empire, Norman has never been held back by tradition. He sees similarities between what this cart could do for golf and what snowboarding did for skiing. A way to loosen the vibe and get more people involved. Among the early returns from the pilot program that tested the cart at two courses—one with a $140 green fee and the other at less than $40—was a happy dad who went 18 holes with his young son for the first time. The boy's interest in hitting the ball went in and out over the four hours, but the screen always picked up the slack.
Whether such behavior is healthy or desired is almost irrelevant. The world is fast marching forward in an era where people have the option to turn the volume up or down on customized flows of information. A WiFi-connected cart simply sends the message that the golf course recognizes and condones this individual choice. No more bringing your own speakers and wondering if the ranger is going to say anything.
Endorsements for Shark Experience come from high places. Jay Karen, CEO of the National Golf Courses Owners Association, says, "The Shark Experience cleverly brings to the golf experience what customers desire on and off the course. Success in this industry will be enjoyed by those courses which evolve with the customer, and I'm thrilled to see Greg Norman connect the dots between the vehicle, the screen and the content."
Jay Monahan, commissioner of the PGA Tour: "It has the potential to greatly innovate the golf course experience and bring more—and different—players to the game."
"Potential" is a keyword, as Norman emphasizes that the technology is in an "embryonic stage." While the rollout version will feature short playing-tip videos, an immature form of Shot Tracer and a way to tip the beverage cart without your wallet, the role of a screen in a golf cart will be limited only by the imaginations of future software developers. Maybe gaming platforms, linked launch monitors and other ideas centered on performance are only a few seasons away.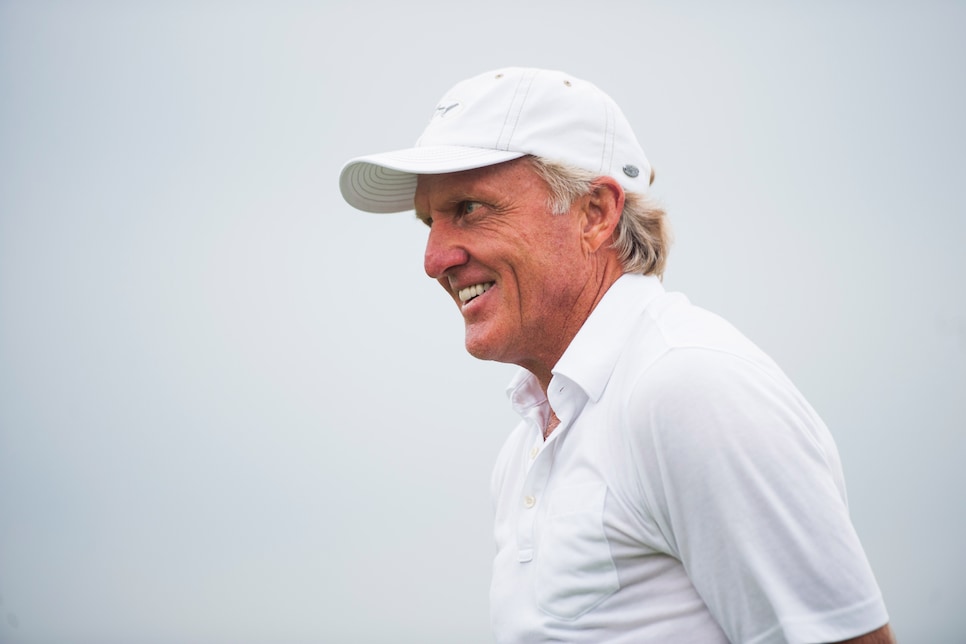 Of course, the measure of any technology is how much it changes life for the better. Too often we cram microchips into arenas they don't belong. I posit that the ubiquitous iPads that line every table and counter at New York LaGuardia's Delta terminal, in naked effort to replace menus and waiters, do not move the ball forward. There's still a person to deliver your food, with whom your interaction is only that much more confused and inefficient. And the option to add a $1.50 bottle of hand-sanitizer after you swipe your credit card? Dystopian.
But better-quality music on the links? Golf is a game of nerves, and the right jams can be relaxing. Only when a downloading error caused a live rendition of Phish's "Wolfman's Brother" to cease mid-song, there on the 14th tee, did I become acutely self-aware. The muscles in my neck tightened, and my grip suddenly felt all wrong. To pull the club back into the eerie silence felt doomed. I felt the stare of a great white.