News
Patrick Reed knew about Jordan Spieth split "weeks in advance" of Ryder Cup says Jim Furyk; captain also confirms Dustin Johnson/Brooks Koepka altercation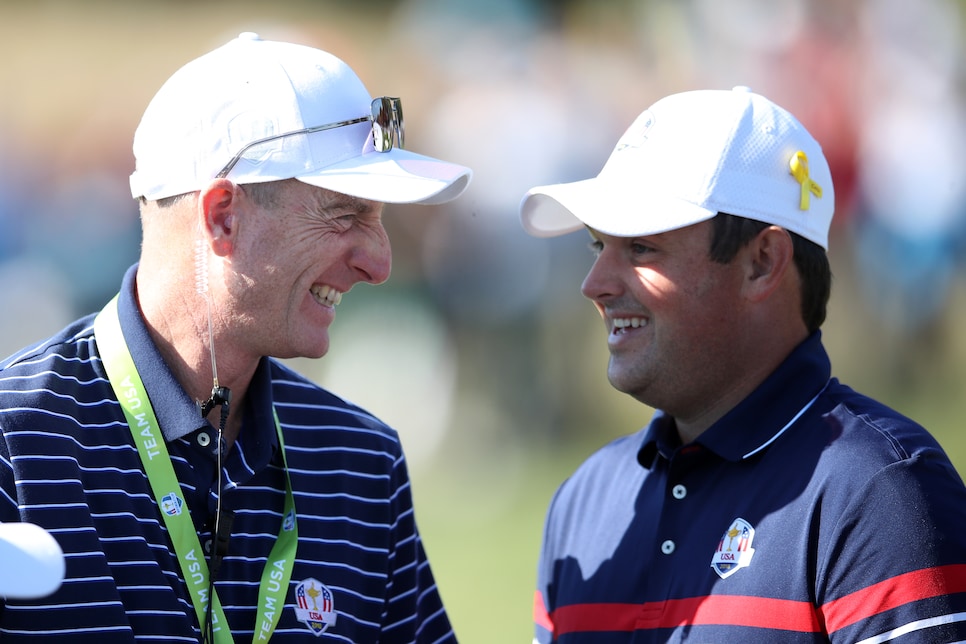 A week after Patrick Reed threw Jim Furyk under the bus following the United States' loss at the Ryder Cup, Captain Furyk has responded. And if Furyk is to be believed, Reed's post-match comments were not just in bad taste, but false.
Reed, in an interview with the New York Times, said he was "blindsided" when he found out he would be split from Jordan Spieth the week of the event. Spieth and Reed had formed a successful partnership starting at the 2014 Ryder Cup, a partnership that was carried over to ensuing Presidents Cups and the 2016 Ryder Cup. Reed instead played with Tiger Woods at Le Golf National, going 0-2 in fourball, while Spieth teamed with Justin Thomas, the later duo going 3-1 together.
"When I started looking at who (Tiger) would pair well with, I kept coming back to Patrick Reed," Furyk told the Golf Channel. "There was always the idea that we could go Tiger and JT (Justin Thomas), and Patrick and Jordan, but ultimately they knew going into the week, weeks in advance, they knew they would start the Ryder Cup with Patrick and Tiger being partners."
Reed also told the NYT that it was Spieth's call to split the group up, and that Reed wanted to "light the room up like Phil in '14," when asked about the split in the post-match press conference.
Furyk likewise acknowledged reports regarding an altercation between Dustin Johnson and Brooks Koepka at a European team party following the Euro's win, but downplayed the severity of the incident.
"Whatever altercation started, or what happened, it was very brief. It was very short. Neither one of them really took anything out of it," Furyk said. "They're like brothers. Brothers may argue, brothers get into it. But they're as close as they've ever been, and it really had no effect on either one of them."
Furyk also said, despite the wide margin of defeat, he was happy with his choices and picks for the team.
"I'd take those 12 players into the fire any day, on any course. And I still would," Furyk said. "Last week didn't work out the way we wanted, but I love those guys and I love what we had together in the team room. And I'd do it all over again."