News
Reports: Dustin Johnson, Brooks Koepka, Paulina Gretzky and others separated at Ryder Cup party; Koepka's representation refutes story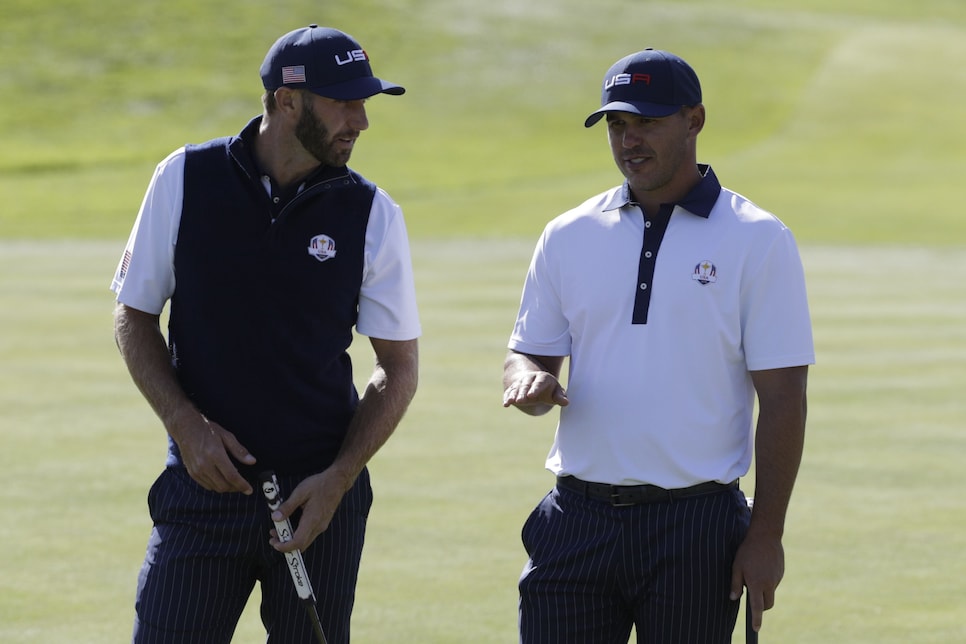 On Monday night multiple reports alleged that Dustin Johnson and Brooks Koepka had to be separated at a Ryder Cup party on Sunday night. Although Koepka's representation has refuted this story, sources have confirmed to Golf Digest that an altercation did take place.
James Corrigan of the Telegraph was the first to report the story on Johnson and Koepka, who are considered friends and workout partners. They were at a party with the European Ryder Cup team when the incident occurred. Corrigan said witnesses were "clearly shocked and upset by the nastiness, which was very threatening." The duo played together in Saturday afternoon foursomes, losing to Justin Rose and Henrik Stenson. The Golf Channel and the Guardian posted similar allegations to Corrigan's initial report.
Specifically what happened to cause Johnson and Koepka to be separated is unclear. A source told Golf Digest that Paulina Gretzky, Johnson's fiancee, was a central figure in the incident. Koepka's girlfriend, Jena Sims, was also involved.
On Tuesday, L'Équipe, a French publication, reported a separate fight between Johnson and Koepka occurred earlier in the week on the team plane.
When reached for comment, Koepka's representation denied the story. "From what I gather I believe someone made this story up," said Blake Smith, Koepka's agent. "Nothing to report on our end." At the time of this article's publication, Johnson's agent has not responded to a request for comment.
This is the second known issue involving clubhouse chemistry within the United States Ryder Cup confines. On Sunday night, Patrick Reed made unflattering remarks in a New York Times interview towards Jordan Spieth and Jim Furyk regarding the split between Spieth and Reed during the competition.