The Loop
Safeway Open Odds: PGA Tour caddies and expert handicappers predict winners in season opener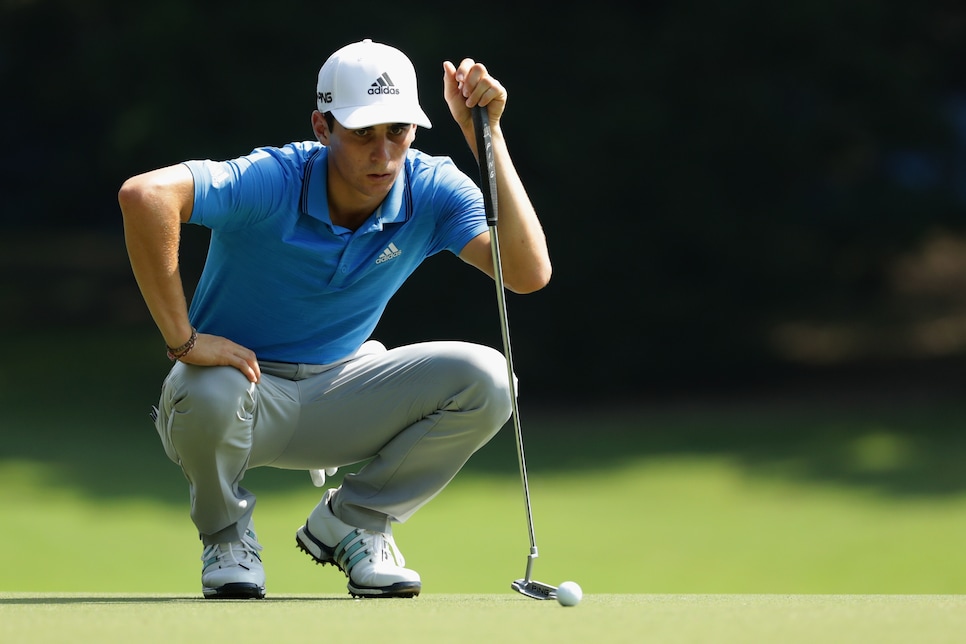 (Photo by Streeter Lecka/Getty Images)
Golf is entering a new world. Sure, those in Europe and Las Vegas are used to throwing some cash on golf, like at this week's Safeway Open, but with a federal law legalizing sports gambling this year, and a number of states moving quickly to allow establishments to accept bets in their states, the 2018-'19 PGA Tour season marks the first one in which betting on golf is fully legal in a number of states. This is just the beginning of how big sports betting will be, as more and more states follow Delaware, New Jersey, Mississippi and West Virginia in setting up to accept bets. God Bless America.
As such, we recognize the growing appetite for betting on golf, and we're prepared to embrace it. With the new PGA Tour season, Golf Digest has assembled a cast of experts in handicapping golf—including a Columbia University professor who not only has a successful analytics model but understands what it takes to succeed on the PGA Tour; three PGA Tour caddies who spend thousands of hours every year watching players you've never heard of struggle or stripe it on the range; an expert Las Vegas golf handicapper who makes his living on predicting golf; experts from DraftKings and FanDuel; and also members of our staff, whose job it is to track the tour.
Our group of PGA Tour caddies are so into it, they're calling themselves "The Three Best Friends That Anybody Can Have"—yes, a la The Hangover—and they're confident they'll be picking winners. We'll hope they're good at predicting golf as Zach Galifianakis is at counting cards in the movie. To protect their identities (and their jobs), they have chosen individual names that we'll use to track their progress throughout the season.
For anybody looking to making a bet on golf this campaign, this will be a must-read before placing any money on golf proceedings. Accountability will be on the line, as well: We'll be tracking everyone's progress all season. You're in good hands.
Pat Mayo, DraftKings analyst, 14-time fantasy sports-writers association finalist, and board of governors at www.fantasynational.com.: Joaquin Niemann (20-1): The breakthrough is coming for the former top-ranked amateur. Give him a course where he can comfortably hit driver most holes, and you're looking at a player who, per fantasynational.com, sits top 15 against the rest of this field in strokes gained on par-4 and par-5 scoring, plus strokes/gained approach and short-game, ball-striking, birdies or better gained, and driving distance. That's a recipe to win.
Luke List (50-1): Tee-to-green, List is an absolute monster. And, much like two-time defending champ Brendan Steele, can't putt whatsoever. However, Steele's figured out these slower poa greens in the past, and List is an overall better talent at this point of his career.
Brandon Gdula, Senior Writer, FanDuel/numberFire : Ryan Moore (20-1) - Moore ranks 18th among the field in strokes gained: approach over the past 50 rounds on tour, via FantasyGolfMetrics.com, and that's almost always the most vital stat each week, including this week at Silverado. He's finished T10 and T17 here in the past and has strong putting splits on poa greens in his career.
Dr. Lou Riccio, Columbia University professor: Patrick Cantlay (10-1); Joaquin Niemann (20-1) and Phil Mickelson (25-1) — The majority opinion is that Phil will be burnt out after last week at the Ryder Cup. But remember: He only played once on Friday and Saturday. In addition, he could look at the Safeway Open, where he's had success before, as an opportunity to reclaim his dominance. My guess he's in Napa to win.
Brady Kannon, VSIN.com golf specialist and golf sales at TeeTimesUSA.com: Russell Henley (50-1), Russell Henley has always been a very good putter and sometimes excellent. He's a proven winner on tour, so he'll have the experience of being on a leaderboard like so many others in this field have not. He was 15th at Pebble back in February—again—a course that also has Poa Annua greens. I've seen his price as low as 35-to-1 to win this week, so I will gladly gobble up the value at 50-1.
Jamie Lovemark (60-1): Lovemark is a bit more of a long shot than Henley, not only because of the higher price but because he actually does not have a great track record at other Poa Annua courses like Pebble and Torrey Pines. He is a very good scrambler however and also owns an excellent tee to green game, which have proven to be two key areas of success here in tackling The North Course at Silverado - so at 60-1, I'll fancy a chance on the California native who has grown up putting on Poa Annua.
PGA Tour caddie #1 "The Show": Patrick Cantlay (10-0) — Cantlay is a West Coast guy, and he loves the fall swing, earning his first PGA Tour victory last year at the Shriner's. He always plays great out West, and given the weaker field, there's a reason he's the favorite this week.
PGA Tour caddie #2 "Foot Wedge": Joaquin Niemann (20-1): It's a forgone conclusion that this kid wins somewhere this year. I'm not waiting for everyone else to find out. He wins this week!
PGA Tour Caddie #3 "Wegoin Sizzlin": Brendan Steele (33-1): Don't know if he has ever played good here but I got a hunch he is due.
Joel Beall, Golf Digest.com staff writer: Chesson Hadley (60-1): The former Rookie of the Year enjoyed a bounce-back campaign in 2018 with seven top-10s, including a T-3 at the 2017 Safeway. Silverado is a second-shot setup, a sentiment that plays into Hadley's hands (ninth in sg/approach last season), and with a less-than-loaded field, his odds make him an enticing play.
Stephen Hennessey, Golf Digest associate editor: Joaquin Niemann (25-1) — Remarkably, he's already come close to winning in his first 10 events on the PGA Tour, speaking to the big things that are in store for this insanely talented youngster.
Christopher Powers, GolfDigest.com assistant editor: Kevin Tway (55-1): If not for an ugly final-round 77 here last season, Tway would have been right in the mix for a top-10 finish. He's a guy that should be mentioned among the crop of young rising stars on tour, but likely needs a victory for that to happen. With his length off the tee (13th on tour in driving distance last season), the Safeway presents a good opportunity for a breakthrough, as bomber's have done well here in the past (Tony Finau runner up in 2017, Justin Thomas T-3 in 2015). He also came on quite strong to finish out last season, collecting four finishes of T-11 or better in his final 12 events.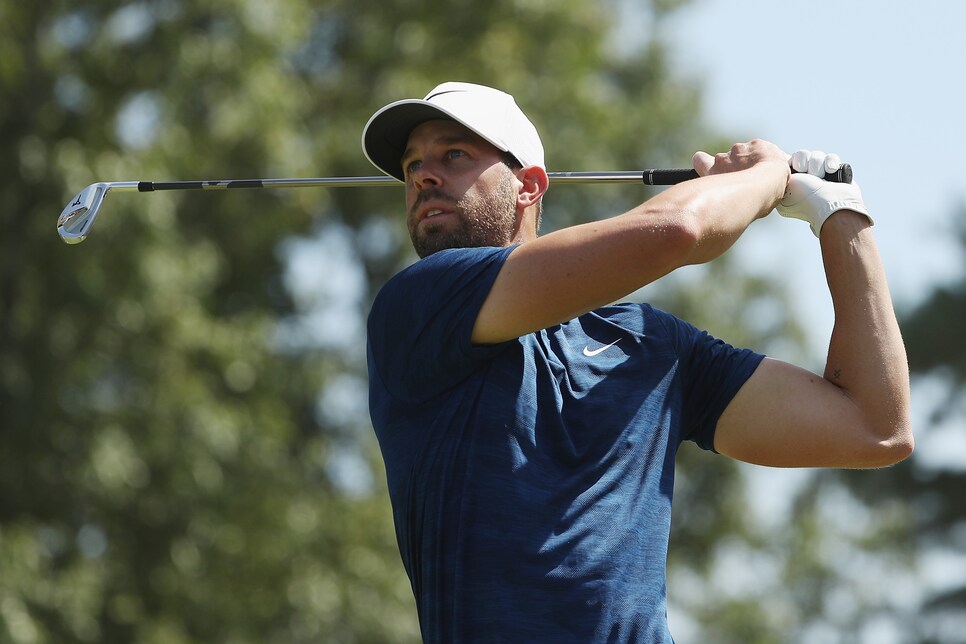 (All odds from Sportsbook.ag)
Brandon Gdula, Senior Writer, FanDuel/numberFire: Sam Ryder (100/1) — Ryder has struggled putting on poa in his career, albeit just five career events, and he missed the cut here a year ago, but he enters ranked second in strokes gained: approach, fourth in birdie or better rate, and 10th in greens in regulation. If he brings the putter, he can do damage at this course.
PGA Tour caddie #1: Sam Burns (130-1) — Get used to seeing this kid on leader boards! Kid will be on Ryder Cups for years to come! Paired with him in the past, kid Is really good!
PGA Tour caddie #2: Grayson Murray (130-1) — Trust me guys, if this kids brain catches up with his game he could be a dominate force in world golf. People have no idea how much game he has.
PGA Tour caddie #3: Kramer Hickok (100-1) — Trust me on this one, no one knows who is he yet but they will and he played great in the Web final tourneys
Dr. Lou Riccio, Columbia University professor: Tyler McCumber (240-1) and Adam Svensson (300-1). McCumber is the Canadian Tour's money champ, and Svensson is another talented Canadian who can bomb it. McCumber, in particular, really pops in my optimization model for both FanDuel and DraftKings (see his lineups below), so consider these cheap options to not only fill out your lineups, but perhaps surprise people and be in contention come Sunday.
Beall: Sungjae Im (95-1) and Joel Dahmen (100-1): At just 20 years old, Im won the Web.com Tour money title thanks to two wins, three silver medals and eight top 10s. He's precise off the tee (23rd in accuracy) without sacrificing distance (300.3 yards). Web money winners have fared well in their first season on tour; look for that trend to continue with Im in 2019.
As for Dahmen, his name popped up on the radar for a rules incident with Sung Kang at the Quicken Loans. But Dahmen, in danger of losing his card, answered with authority, racking up four consecutive top 15s, including a runner-up at the John Deere Classic, to finish 80th in the FedEx Cup. He ranked inside the top 20 in sg/tee-to-green over the season's final three months. Expect that run to continue in Napa.
PGA Tour caddie #1: Phil Mickelson (25-1) — Ryder Cup hangover alert!! Lefty is probably getting paid big bucks to show up and play this week. Enough said!
PGA Tour caddie #2: Hunter Mahan (80-1): Even with a near top-10 finish here last year, with his short game questions and getting a little long in the tooth, Mahan has to fall fade away someday soon. I think it's more like real soon.
PGA Tour caddie #3: Maverick McNealy (350-1) — Those odds might seem juicy for a West Coast kid who has been a "can't-miss talent" for some time now. But he's been missing for almost a year now. He hasn't figured it out yet.
Beall: Brandt Snedeker (20-1) — Only Cantlay has lower odds, but that shouldn't put Sneds on your short list of picks. Yes, he won at Sedgefield just two months ago, but back spasms limited his run in the FedEx Cup, skipping the first event and finishing 67th in the 69-man field at the BMW Championship. He also ranked 103rd in birdie average, problematic as the winning score at the Safeway usually hovers at 16 under. With zero career top 15s at this event, Snedeker's not worth the risk this week.
Hennessey: Peter Uihlein (40-1) — Definitely one of the sleepers to watch for this season, and who would be surprised to see this talented former Oklahoma State star earn his first PGA Tour win this season? Nobody. But I'd also be surprised to see this bomber get his first win on a course that's tight off the tee with thick rough in many spots. Uihlein will win this year, but not this week.
Kannon: Matt Jones (-105) over Scott Piercy: Matt Jones is a very good putter and has had some great runs at Pebble Beach, a few hours away from Silverado and also featuring Poa Annua greens. I often like to back Piercy as a sneaky good player but he hasn't been sharp since winning in New Orleans earlier this year.
Brandon Harkins (-110) over Brian Stuard: Often times a "home game" is not a good thing for golfers, dealing with all of the relatives and such and not being able to focus on the game but Harkins has shown otherwise, performing very well at Pebble Beach and further down the coast at Torrey Pines. I like the Northern California native to fare well in Napa too.
Sang-moon Bae (+105) over Chris Kirk: I am actually surprised Kirk is favored. For me this is simply a very good putter on Poa Annua versus a very bad one. Give me Mr. Bae.
Powers: Sangmoon Bae (+100) vs. Chris Kirk (-120): I'm with Brady here. Before his two-year military stint in South Korea, Bae picked up one of his first two PGA Tour wins at the Safeway Open. Now, he's back on tour, and though he did struggle in his limited starts last season, his game began to round into form in the last two months. In his final event of the year at the Wyndham, he found himself at 10-under through 54 holes, only to post a final-round 72 and finish T-45. Less than a month later, he won the Albertsons Boise Open on the Web.com Tour. We expect him to return to his pre-2015 self this season, and love him at even odds to finish higher than Kirk this week.
Beall: Joaquin Niemann (-140) vs. Phil Mickelson (+120): Not only do we have all the conviction in the world that Niemann is going to take the tour by storm in 2019, but it's hard to envision Mickelson having much left in the tank following a long FedEx Cup Playoffs run, the emotional toll of the Ryder Cup and the flight from Paris to Napa. Coupled with Mickelson's shaky performances over the past two months, Niemann earns the nod.
Kannon: Sang-moon Bae (9-1): Same reason as I love him in the matchup above.
Powers: Beau Hossler (+750): After racking up five top 10s, a pair of runner ups and nearly $2.5 million in earnings his first full season on tour, it's not a matter of if, but when Hossler breaks through for a maiden victory. Missing out on the Tour Championship awarded him a mini three week off-season to recharge and get ready for what's sure to be a breakout year for the former Texas standout. In a weaker field like this, look for Hossler to give himself another chance to win on Sunday in Napa.
Mayo: J.B. Holmes (+500): Poa's the only putting surface where JB has gained strokes on the greens the past two years, and despite being a bomber, has historically played shorter Par 4s better than deeper ones. Silverado sports six Par 4s measuring between 400-450 yards, and another three less than 400 yards. The last time he popped was at a similar yardage layout at the Travelers, and now he gets four Par 5s to take advantage of as well.
Joel Dahmen (+950): The statistical darling of the second half of summer, Dahmen is back to his comfort zone playing against a substantially weaker field than he saw during the FedEx Cup playoffs. Essentially, his only comparison for on-course performance in ball-striking and approach in the field is Niemann, and comes at a great value.
Gdula: Harold Varner III (+500) - It's easy to get caught up in the Web.com names, but Varner has played here three times and made all three cuts (48th, 15th, and 59th). He ranks 11th in greens in regulation and third in strokes gained: tee to green over the past 50 rounds on tour among the field.
Hunter Mahan (+700): Mahan has played here the past four years and has finished 3rd, 32nd, cut, and 13th. The California native has had a lot of success putting on poa greens in his career, as well.
Riccio: Scott Piercy (+500) and Sam Ryder (+1000): Two consistent ball-strikers who will excel on this course—and Piercy has already proven he can. I see value at both prices to produce a positive result this week.
Beall: Brendan Steele (+330): The second half of 2018 was none too kind to Steele, his last finish inside the top 40 coming in April. No matter, as Steele is a horse for this course, entering as the two-time defending champ with another top-10 in 2011 to boot.
PGA Tour caddie #1: Brendan Steele (+210) — I know, go figure!!! The guy loves the Napa wine—that's why we might have a Jimmy Walker dominance situation on our hands here!
Emiliano Grillo (+220) — Kid is a stud, and he knows how to produce on course made for him!
PGA Tour caddie #2: Chez Reavie (+450): Really seems to have found his place on the Tour now. With this course not favoring bombers so much, look for this machine to keep working.
Beau Hossler (+325): Coming off a great year even with fading away on so many weekends. Let's hope he hired Rotella in the off season. Sleeper Pic= Grayson Murray, trust me guys, if this kids brain catches up with his game he could be a dominate force in world golf. People have no idea how much game he has.
PGA Tour caddie #3: Ryan Moore (+210): Having watched him on the range quite a bit the past couple of months, it's clear that golf looks easy to him right now. That's a sign of someone who's comfortable with their golf game and poised for another good finish. Moore has a T-10 in 2016 and a T-17 in 2018 here at Silverado, not to mention a T-6 and T-8 in past Frys.com Opens, when the event was held at CordeValle. It's clear he's comfortable in this event—and this is what we'd call easy money.
Sang Moon Bae (+400): Some might call him a sleeper but hard to call a former President Cup guy and the guy that won the last Web playoff a sleeper
Hennessey: Emiliano Grillo (+220): Crazy that it was three years ago that Grillo earned his first victory here. There are few players with better ball-striking and putting stats in this field, which speaks to the lack of depth in the field, but also Grillo's talents. It's a near lock to me that Grillo is on the first half of the leader board on Sunday.
Sangmoon Bae (+400): Bae won the event here at Silverado in 2015, so having returned from military service, and returning to form with his Web.com Tour victory just a few months ago, Bae seems like a safe pick to finish near the top this week.
Chesson Hadley (+550): A T-3 here last year—fueled by a second-round 61. If he's on, Hadley is one of the best ball-strikers in the field with serious length—a huge boost on the four gettable par-5s at this 7,166-yard par 72.
Mayo: Tyler Duncan (+375). Duncan first caught attention this time last year when he churned out a top-5 finish to open the season. Like List, if he can merely produce an average putting week, you're looking at a long shot who sits top 10 in the field in ball-striking, approach, and greens in regulation gained over his past 50 rounds.
Gdula: Tyler Duncan (+375): Duncan ranks third in strokes gained: approach and ninth in greens in regulation over the past 50 rounds on tour. He's been a bad putter, including on poa, but a solid showing with the flatstick got him a top-five here last year.
Riccio: Chez Reavie (+230) and Emiliano Grillo (+135): When you're making these type of bets, you're looking for consistent play. In a weaker field, both should be near-locks to finish in the top-20.
Kannon: Brandon Harkins (+600): T-9 here last year.
Powers: Scott Piercy (+260): When it comes to ball-striking, Piercy is as solid as they come, ranking 11th in strokes-gained/approach the green last season. That bodes well for the four-time tour winner at Safeway, where he's finished T-17 (2017) and T-3 (2016) in his last two appearances. The putter has always held him back, but he gives himself enough chances to go low if he makes a few, just like he did in the opening round here in 2016, when he fired a 62.
Daily fantasy sports plays:
Pat Mayo's DraftKings advice (Mayo, who writes for DraftKings, can't give his lineup by law, but can give some advice): Ryan Moore $10,700. On the surface, it appears like Moore was horrible in the FedEx Cup playoff with an MC at the Northern Trust and a brutal T71 at the Dell, but it's worth examining why that happened. Spoiler: He couldn't putt. In only six rounds between the two events, he dropped an almost impossible 11.4 strokes with his putter. His iron play remained sharp, though. Strokes Gained approach is the leading indicator of past success at this course, and Moore enters gaining an average of three strokes per in approach over his past three events. And those were against far stronger field than what he'll see in Napa.
I also will build lineups around: Niemann ($10,300), List ($8,800) and Duncan ($6,800).
(Mayo is the host of The Pat Mayo Experience daily talk show (Subscribe for video or audio) and sits on the board of governors for the golf stats and tools site www.FantasyNational.com. Mayo's (@ThePME) 14 Fantasy Sports Writing Association nominations lead all writers this decade and are third-most all-time.)
DraftKings lineup (Riccio):
Joaquin Niemann ($10,300)
DraftKings lineup (Beall):
Patrick Cantlay ($11,600)
DraftKings lineup (Hennessey):
Gdula (like Mayo, Gdula is an employee of FanDuel, so he cannot give out his lineup construction—just advice for making your own picks):
Emiliano Grillo ($11,000) - Since the start of the 2017 FedEx Cup Playoffs, Grillo has just two missed cuts: the 2018 US Open and the 2018 British Open. He's 19 of 21 on cuts made in the 2018 calendar year and projects as a safe play for your head-to-head and double-up formats.
Sang-Moon Bae ($7,100) - Bae, a former winner at this course (2014), is just $100 from the minimum salary on FanDuel this week. He has posted a win and a top-six in his past two Web.com events.
Patrick Cantlay ($11,900)
Joaquin Niemann ($11,100)
FanDuel lineup (Hennessey):
Patrick Cantlay ($11,900)
Patrick Cantlay ($11,900)
Beall: Cantlay has a high price tag for someone that didn't finish 2018 guns a blazin', and hasn't played this event since 2012. Conversely, his performance (10th strokes-gained/off-the-tee, ninth sg/tee-to-green) should be conducive to success, and with the lack of other marquee names, Cantlay's salary is worth the squeeze in both formats.
Mentioned Steele as the requisite horse-for-course pick, which is why he finds himself in both lineups. Hadley's my pick to win, so to see him at such an affordable rate was a no-doubter. And though it's easy to get excited by young guns, Burns' penchant for red numbers (third on the Web.com circuit in birdie average) will produce dividends at Silverado.
Salary discrepancies explain some of the variance between the two lineups; which is by Laird and Lovemark appear in DraftKings and Hossler and Conners on FanDuel. Hossler and Conners are the more attractive names, with Hossler's short game (4th in sg/putting) circling him as a Safeway favorite. Don't sleep on Conners, however, whose tee ball prowess (22nd in sg/off-the-tee) marks him a viable wildcard. As for Laird and Lovemark, the former is 4-for-4 in cuts at the Safeway in his career, marked by two top-10 finishes, while Lovemark is as consistent as they come (20 out of 26 cuts last season).
Remember to check back next week to see how our experts did—and who they like at the CIMB Classic in Malaysia.