LIV Golf
Patrick Reed has a different view of the LIV Golf/PGA Tour divide than you might think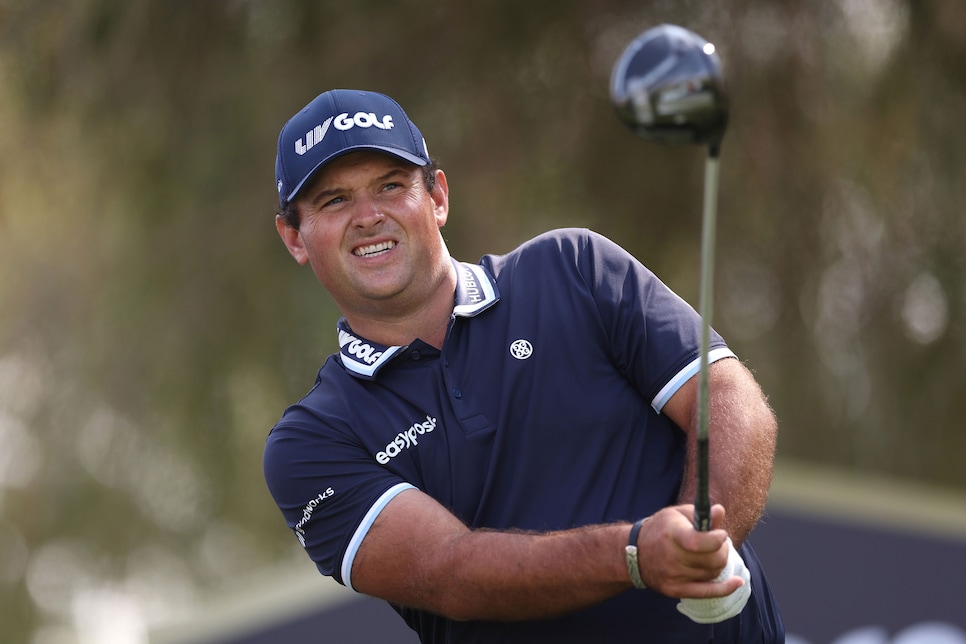 PLAYA DEL CARMEN, Mexico — Patrick Reed points to his final-round face-off with Rory McIlroy at last month's Hero Dubai Desert Classic as evidence that the current divide in professional golf between LIV Golf and the PGA Tour/DP World Tour can heal sooner rather than later.
Reed nearly chased down McIlroy in a weather-delayed Monday finish, falling one shot short when the Northern Irishman birdied the 18th hole. The pair had squared off on the course previously, notably in a memorable Sunday singles match at the 2016 Ryder Cup at Hazeltine National and the final round at the 2018 Masters, won by Reed. But their latest duel seemed to have some extra spice given the two camps they now occupy.
Reed, however, didn't see it that way. He insists it was an amicable showdown against one of his favorite rivals, even with the lack of pleasantries exchanged between the two early in the week that grabbed so many headlines.
"It was great battling with Rory," Reed told Golf Digest Thursday ahead of LIV Golf's season-opening event at Mayakoba Resort, where he arrives coming off the runner-up in Dubai and a T-25 at the Asian Tour's Saudi International. "The thing about Dubai is it got blown out proportion, as if it was something horrible between two players when him and I were staying at the same hotel, and both times we saw each other [we said] 'Hi, how you doing?' It was normal. Was there probably some gamesmanship? And probably some stuff going on because of a bunch of other stuff? Is there probably some gamesmanship?
"I've always had full respect for Rory. I've always loved the battles I've had against him. I've just watched the [2016] Ryder Cup highlights [recently] … they are insane. Same thing at Augusta [during Reed's 2018 Masters victory] when I was playing with him on the Sunday … there's nothing better you want as a player trying to win your first major than it being against Rory McIlroy. He was also going for his career grand slam."
A ruling is expected soon in an arbitration case heard last month in London over whether the DP World Tour can ban or fine members who jumped to LIV. A prior ruling put a pause on any sanctions, allowing LIV golfers such as Ian Poulter, Lee Westwood, Reed and others to continued playing in DP World Tour events. If the judge sides again with LIV, the DP World Tour would seemingly have to continue to let played from the rival circuit play.
Should this happen, Reed thinks it would help cool down the tension, as will the fact that LIV golfers will be eligible to play in all four majors after announcements this week from the R&A and PGA of America regarding eligibility in the Open Championship and the PGA Championship, respectively.
Reed predicts there will be more "friendly" clashes between players on both tours.
"I think you're going start seeing over [the next] year, hopefully, everything's able to kind of calm down and allow that to happen more often," he said. "Not just on the European Tour but who knows, maybe later on … you have more of these battles more frequently."
Those moments where LIV golfers will mingle with pros who remained on the established major tours will include the Champions Dinner at the upcoming Masters at Augusta National. Reed is one of six LIV golfer with a seat at the table, along with Dustin Johnson, Charl Schwartzel, Phil Mickelson, Sergio Garcia and Bubba Watson.
Last week at the Genesis Invitational, five-time Masters winner Tiger Woods admitted he didn't know if there would be tension that night but acknowledged some relationships between players had naturally changed. "I don't know what that reaction's going to be," Woods said. "I know that some of our friendships have certainly taken a different path, but we'll see when all that transpires."
Reed expects all past champions to get along that night. He said the focus would be firmly on Scottie Scheffler.
"The thing is, the Champions Dinner has nothing to do with myself or any other person in that room except for Scottie Scheffler," he said. "That's his dinner. My experiences during those dinners have been amazing. We're always talking about past experiences at Augusta, how the other guys have won the [Masters], what obstacles they had to overcome, the shots they pulled off in their experiences.
"Knowing the guys out here on LIV and also some of the older guys … that night and that dinner is all about Scottie and has nothing to do with where someone's playing, what happened a week ago, what's happening going forward. It's all about that event [the Masters]. It is literally Scottie's night and that's how it's always going to be."
As he gears up for a second season with LIV, Reed says a successful 2023 would include a first victory on the circuit and, importantly, a second career major victory.
"That's the biggest thing [for pros] is going out trying to win the biggest events a year. I feel like this [LIV] offseason [from October to February] was huge for me, being my first real offseason. [I could] recharge, improve my game and I feel like it is shown kind of early on in this first couple of events I've played this year."