ABU DHABI — Any interview with Padraig Harrington is a bit like playing the Old Course at St. Andrews. Width is hardly ever an issue, the subject free to roam, think for himself and come up with his own imaginative solutions to any problems or obstacles. No matter what, fun and mental stimulation of the best kind are guaranteed when listening to one of the most interesting—and interested—members of golf's elite.
Happily, Harrington was at his thought-provoking best over the course of a half-hour chat two days before he tees-up in this week's Abu Dhabi HSBC Championship. This will be Harrington's 467th European/DP World Tour start, the first of five "young guys" events the U.S. Senior Open champion is using as preparation for the PGA Tour Champions campaign to come. As ever, his responses to any and all questions travelled far and wide, his stream of consciousness providing a fascinating insight into one of the game's most active minds.
At the age of 51, what is motivating you these days?
My motivation hasn't changed. It's the same as always: to win. If I win now, I'll be the oldest guy ever to win on the European Tour. If I win a major, I'd be the oldest guy ever to win a major. That would be significant. Winning in Europe would be, too, but winning a major would be bigger.
I was playing well before I turned 50. But the Champions Tour has sharpened my game no end. Mentally that is. All the way through the bag, from driving to short game.
Which is not to say I didn't reach a point in my career when the game became hard. This is starting to change, but every golfer, and I might be amongst the last of them, gets 20 years of competitive play. You have a few years of building, a dozen years where you are really competitive, then maybe three or four on the end where, although the public wouldn't know, you are there but not really there. You get 20 years before you burn out.
I was definitely burnt out around 2016. But even then I believe that every player gets an "extra" tournament. Jack Nicklaus won the 1986 Masters when he was basically retired. Maybe mine was the Honda Classic I won in 2015. I'm hoping that's not the case though. I was worried in 2008 when I was up against Greg Norman in the final round of the Open. I was worried that the golfing Gods were going to give Greg one more win. It's amazing, but the great players nearly all get one more chance late on in their careers.
Every player also gets about 18 months at their absolute peak. That's every player. One might make the Ryder Cup team. Another might move up 50 places in the rankings. And another might win a major. Or get to No. 1. In my case, at least in terms of my performance, my 18 months spanned 2007 and 2008. But I know I played better golf in 2009 and 2010, although I didn't win a major.
OK, let's say your peak is 10-out-of-10. Where are you now?
Physically I'm capable. I'm long enough. I'm sharp because I was in contention so often on the Champions Tour in 2022. Early last year I played in regular tour events and finished between 15th and 20th. People were congratulating me. That was frustrating. I wasn't there to finish 20th. It meant I was usually between six and eight shots behind the winner. And the only way to bridge the gap is to hit the ball better. You have to make your technique better.
So here's the difference between then and now. On the Champions Tour, I know I'm going to be in contention with nine holes to play. If I haven't had a great week, I might need a big last nine holes. If I've had a great week, I'm ahead. But either way I'm in with a chance. So at the end of every week, I sit back and bemoan one tee-shot or one putt. It's not a question of me thinking I'm not good enough. It's always, I slipped up somewhere. And the reason is always mental.
When you are two shots off the lead, the reason you didn't win is mental. When you are six shots off the pace, the reason is physical. So I've had a lot of weeks where I've thought any issue has to be mental, which was also the case around 2006. By that time I was going into events preparing for Sunday, not Thursday. I knew I was going to be in contention so I wanted to be as mentally strong as I could be.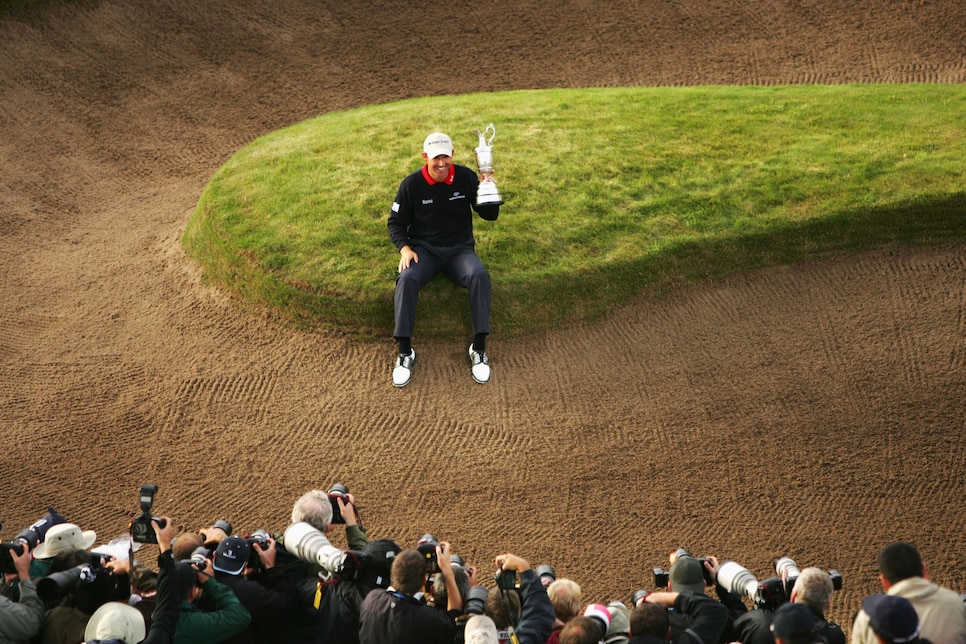 Padraig Harrington holds the claret jug after winning the 2007 Open Championship at the Carnoustie.
Warren Little
I would be in tournaments back then and never look around. It would be wrong of me to say I didn't take a sneaky look to see where Tiger was. I'd be hoping that my good week didn't coincide with his. But besides that, I felt like I was good enough to win on my own. I didn't need help from anyone else. I didn't need any breaks.
So the PGA Tour Champions has made you a better player at 51 than you were at, say, 45?
I'm saying that going to the Champions Tour showed me something I was talking about but not actually doing. The only reason I wasn't winning was myself. It wasn't physical. I wasn't doing the right stuff mentally. But I was paying lip service to what I thought I was doing.
Last year I competed in a few regular tour events. I was playing well going into those, but I panicked. I went into a couple of major thinking I was playing well. I'm not here this week thinking that, if I don't win, I'm not what I think I am. I'm giving myself time by playing five young guys events early this year. So if I finish 10th will I chase my tail trying to get a win on the regular tour? Or will I go back to the Champions Tour?
Burning out to me is trying too hard. But that's my nature. Now I know I can't go at the same pace in the gym or on the range. I just can't. The eye-opener for me was missing the FedEx Cup playoffs in 2016. I came home and played in the Czech Republic, Switzerland, Germany, Holland and England. Five events. All my Irish friends were playing in those, too. So I was out for dinner every night and had a whale of a time. I had so much fun and enjoyed the lifestyle, even though my golf was no better.
I realized then that, if I was going to continue playing, I couldn't be the old Padraig Harrington. If the lads had told him they were going to dinner at 8 p.m., he might have said he was going to be in the gym at that time. Now, I change my plans and go to dinner at 8. I'm looking for enjoyment. I know I can enjoy professional golf in a different way. I love going out with the lads.
Imagine LIV Golf came along 20 years ago and they made you an offer. Would you have gone?
I think LIV can be good for some players. Like the Champions Tour, it's 54 holes, no cut and a limited field. So if you're any good you'll be in contention a lot. Sweating it out on the cut-line every week kills players.
But the majors are it for me. So anything that would have harmed my ability to contend in and win those, I wouldn't have done. I joined the PGA Tour because I didn't want it to be like playing in Europe, where I stop and chat for five minutes with almost everyone. Those minutes add up. And that's what it was like for me when I went to a major in the States. When I was just a European Tour member, I would meet all sorts of people I hadn't seen for months. They would all be at the majors, and I would feel obliged to talk to them.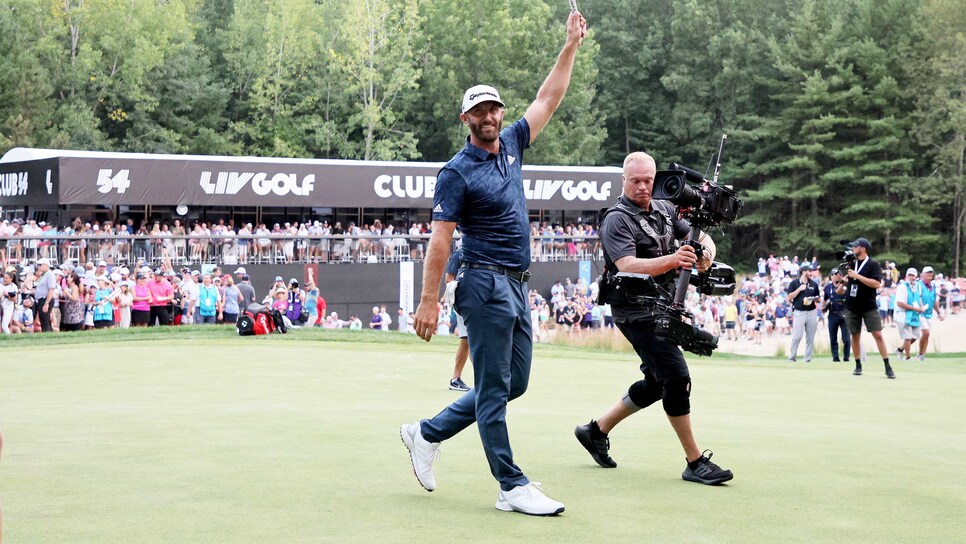 LIV Golf's ability to predictably have its best players regularly contend is something Padraig Harrington believes the upstart circuit has gotten right for fans.
Andy Lyons
If I played on the PGA Tour more often, I would have seen nearly all of those people very recently. So I could give them a wave and go about my business. It all became more familiar just by me playing in the States. It was a big thing. I had to make sure I could prepare properly for the biggest events.
So you're OK with LIV and all its implications?
Whether you like the concept of team golf or not, or the source of the LIV money, whatever, to some extent we should just let them have a go at it. If you don't like it and think it will fail, leave them alone and let them fail. Let them see what they can do.
Most people who don't like what LIV is doing think it's just a bad idea. To be fair, I did watch one round last year, when Dustin Johnson holed a great putt to win. I enjoyed the flipping back and forth between all the players. I thought that was fabulous. But when I told that to someone, they responded by saying they didn't know what was going on. I did because I'm a player.
I don't like the fact that, where you're not in contention, you don't get shown. But LIV shows everyone. I like that. That's why LIV have gone to the smaller fields. They can show everyone. Plus, like the Champions Tour, it's pretty predictable. If Dustin Johnson isn't in the top-five at the end of a LIV event, he's had a terrible week. But put him in a PGA Tour field with 155 other players and there are no guarantees. That's a problem for golf. You can't always depend on the biggest names being in contention on Sunday. It's hard to tell who is going to be on the leaderboard.
What about the World Ranking? There is lots of talk about them at the moment. Some think it now favors PGA Tour players too much. Where do you stand on that?
I actually have a bee in my bonnet about the World Rankings. A good player in Europe can often ruin his game by going to the States a little too early. He gets an invitation to play in one event. He goes to a course they have never seen. And he plays like it is the final round of tour school. It is all such a big deal to him.
Here's the bigger thing though. In the States, he gets the worst draw. He plays with two guys who are struggling to keep their cards. All very different from home, where he gets TV draws alongside the best players in the field and gets treated like a star. In Europe his game is hyped-up and he plays like that. But in the States no one knows who he is and he shoots two 75s. And those 75s are used to judge the 150 European Tour players who stayed at home. All because our guy is a fish out of water.
It works the other way, too. When an American comes to play in Europe, he gets a great draw. He gets the penthouse suite and feels like a star. So he shoots two 65s. So if it was up to me, I'd adjust the World Ranking points. About 40 percent of every field should actually get them every week. You should never be last and get points. If there are only 20 guys in the field, only eight get points. I'd say the same about LIV events. Give points to 40 percent of the field. And if it's only three rounds, cut that to 75 percent of what a 72-hole event gets. Fair enough.
It's a travesty that winning smaller events is devalued. If you win on the Asian Tour, you might get only four points. But winning is the big thing for me. First, second and third should get the vast majority of the points. Finishing 20th in a PGA Tour event is not better than winning a tournament. It's just not, even if it's a win on the Alps Tour. I know that's a hard sell, but winning is how we should be judging players.
Having said that, everyone who makes the cut in a major should get a 10-point bonus. There's not enough points in the majors. Making the cut in a major is a big deal.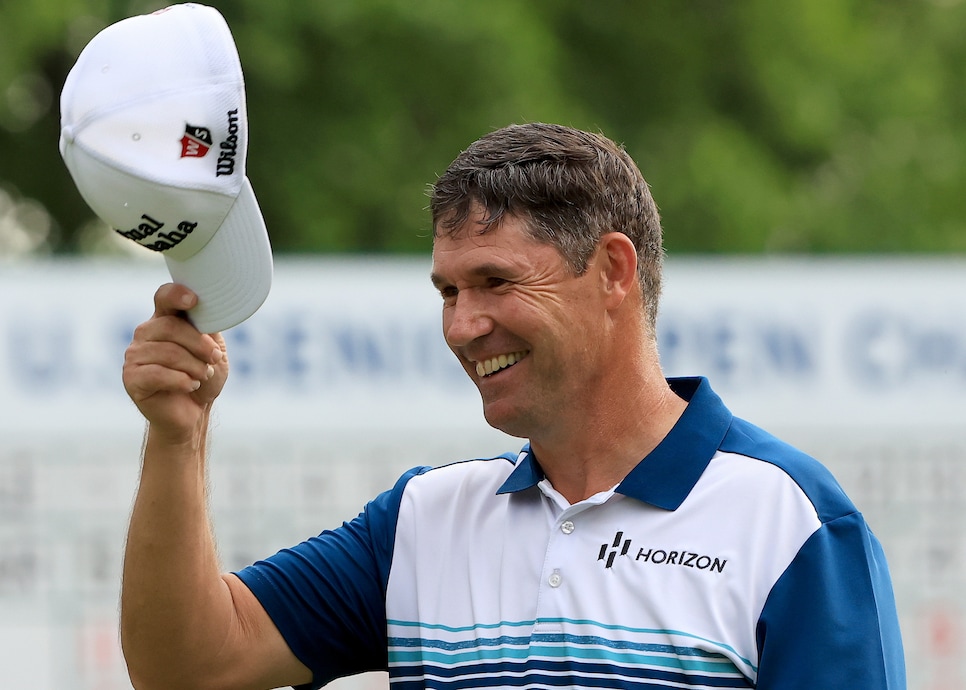 Padraig Harrington celebrates after winning the U.S. Senior Open last June at Saucon Valley.
GETTYIMAGES/Sam Greenwood
Where would you rank your U.S. Senior Open win?
It was my first win on the Champions Tour and it was a major. But it was a bigger deal because I needed to get a win. Where would I rank it against my other wins? It is one I will remember. I might put it No. 4, behind my three majors. I'm not sure. But it definitely goes in ahead of many of my wins. Is it bigger than winning, say, the Volvo Masters? Again, I'm not sure. But it's up there.
On the other hand, you lost the Senior Open at Gleneagles by a shot. How did you handle that?
That was mental. I know Darren [Clarke] played great and handled the pressure well. He deserves a lot of credit and did a nice job. But I as an individual have to look at where I went wrong. I had nine super holes. I had 62 holes where I just didn't score that well. And I fell asleep on the ninth hole in the final round.
My worst tee-shots are nearly always on boring holes. I struggle on easy tee-shots. I get over-confident after making a birdie. And I can get way too defensive with second shots on par 5s when I'm going for the green. Because I have such a good short game, I know I can wing it way wide of the green and still have a chance. The bottom line though is that I have never played for the money. What gets me going is competing and winning. That will never change.