First Win in Six Years
Padraig Harrington holds off a charging Steve Stricker to win the U.S. Senior Open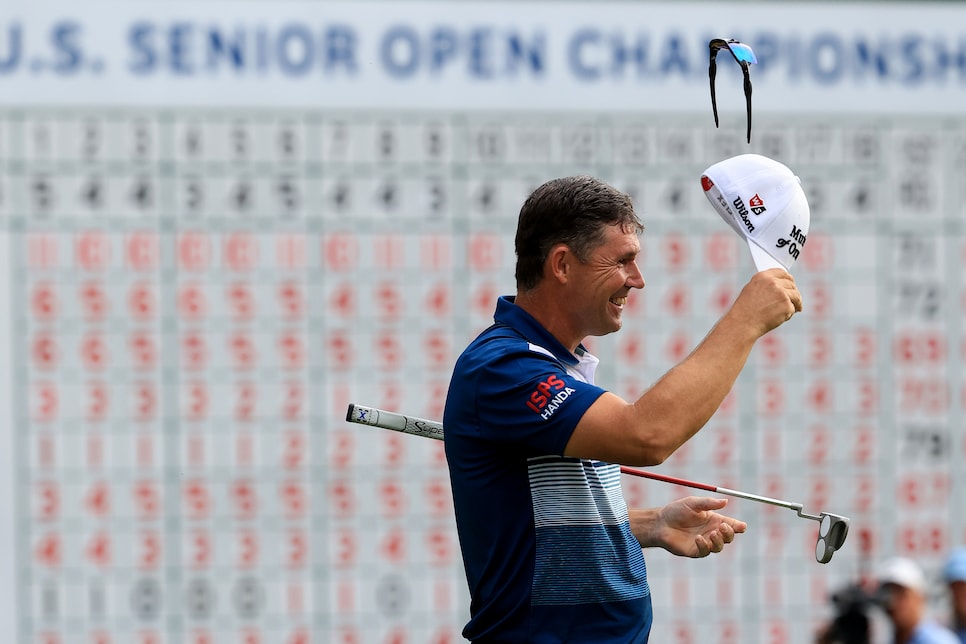 Padraig Harrington went missing for a few years, a leading man relegated to bit roles in a Hall of Fame career that had stalled on the brink. Yet there he was on Sunday in Bethlehem, Pa., the last man standing, having delivered a reminder of how good he was and why enshrinement likely is imminent.
Harrington, a native of the Republic of Ireland, took a five-stroke lead into the final round on the Old Course at Saucon Valley CC, hung on precariously at times and gamely in the end to win his U.S. Senior Open debut by one. And in so doing he extracted at least a small measure of revenge on Steve Stricker, who finished second.
"It's tough today from the front and even tougher when it's Steve Stricker behind me," Harrington said. "He's kind of got one up on me. Maybe I owed him one today. He's certainly had my number a few times."
Most notably, he had his number in the Ryder Cup last fall, when Stricker captained the U.S. team to a rout of the European team captained by Harrington.
Great players generally don't forget how to win, and Harrington once was among the greatest, ranked third in the world at one time (at the height of Tiger Woods' dominance), when in a two-season span he won consecutive British Opens and a PGA Championship. He was a winner of three other PGA Tour events and 12 other European Tour events in his career.
He had not won a tournament of any sort in six years, however, the last coming in the Portugal Open in 2016, yet with a sizable lead cut to one by Stricker's closing round of six-under 65, Harrington brilliantly two-putted from long range on the closing three holes for the victory. He shot a one-over 72 for a 72-hole score of 10-under par 274.
"It's very special," Harrington, 50, said. "The reason I'm on the Champions Tour, the reason I'm out here, is I want to win. I want to win big events. I went to win majors again. It's why we do it."
The final round would have been a victory lap but for Stricker, who played the final 11 holes in six under par and made Harrington prove his mettle in his quest for a long overdue victory.
"I thought if I could get to nine or 10 [under] and he would have had to back up," Stricker said, assessing his chances. He did get to nine-under with birdies at 17 and 18, then repaired to the clubhouse to see how Harrington's closing holes would play out. After bogeys at his 10th and 11th holes, Harrington played his final seven holes in one-under par.
The difficulty quotient in doing so, however, was ramped up when Harrington his loose approach shots on the final three holes, leaving him with long lag putts. He handled them expertly, getting to within three or four feet of the hole on the closing three greens, and made each par putt dead center.