SPONSORED
Our favorite Justin Rose looks of 2023
*In partnership with Bonobos. All products featured on Golf Digest are independently selected by our editors. However, when you buy something through our retail links, we may earn an affiliate commission.*
There's a reason Justin Rose is a mainstay for the European Ryder Cup team and about to make his sixth appearance in the international event. He's a consistent player that exudes confidence, professionalism and polish that can only come from years of experience. In almost 20 years on the PGA Tour, he's played in 408 events—making the cut nearly 80 percent of the time—and has 110 top-10 finishes, including a U.S. Open title.
In addition to his dependency on course, Rose can also be counted on to always being among the best dressed golfers at any tournament. Similar to his playing style, he has a classic look that blends traditional golf styling with intentional details and modern fashion elements for a look that means business. This often translates to crisp navy pieces, sophisticated microprints and always comes with precise tailoring—an absolute necessary element for the style-focused golfer. Most of Rose's looks will clear country club dress codes, look great in a variety of golf settings and can easily be worn to the office or for post-round dinner plans or errands—something Rose has referred to in the past as the "Starbucks Rule."
"I've always had a Starbucks kind of reference for what I wear on the golf course: I have to be comfortable walking into Starbucks to get a cup of coffee on the way home," Rose said. "There are a lot of looks that are acceptable in the golfing world, but can make you look like a bit of a clown when you walk off the golf course. I'm OK with pushing the boundaries, but if I have to be willing to wear it to dinner or to Starbucks to wear it on the course."
In a partnership fitting with his outlook and style when it comes to golf apparel, Rose has been a Bonobos ambassador since 2019. He even designed a collection for the brand in 2021. Bonobos is known for refined menswear with precise fits, versatile applications and—just like Rose—an expert blend of classic and fashion-forward looks. He's a great example for golfers looking to add a little "I mean business" to their on-course look. Here are a few of our favorite looks from Justin Rose this season and how to copy them for your own.
PGA Championship, Round 2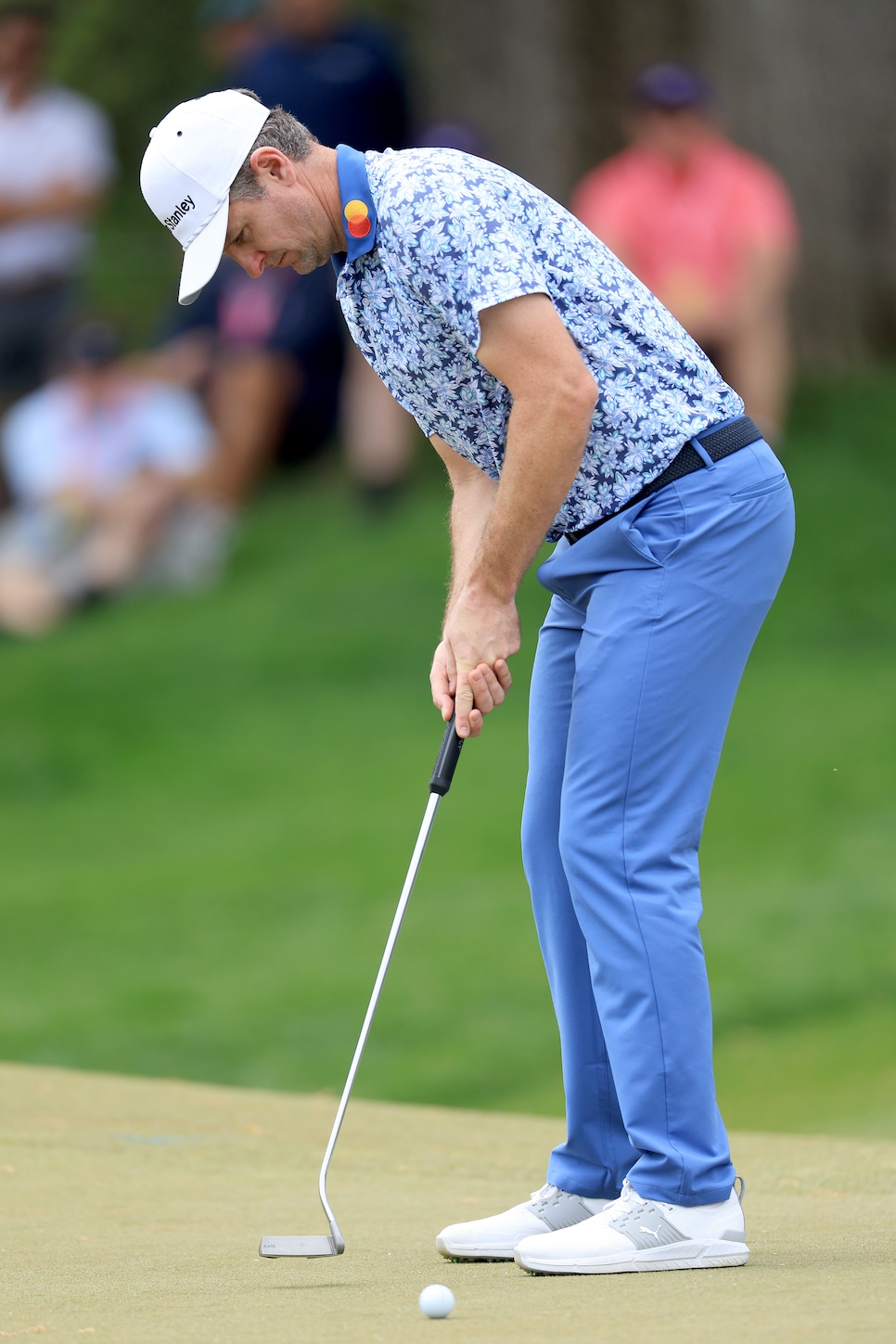 One of Rose's brightest looks of the year came on Friday of the PGA Championship in vacation-y light blue floral ensemble. Rose and his look made a statement going into the weekend before capping his week with a T-9 finish. When pairing patterned tops with bright-colored golf pants, the key is to find and match shades. Take note that the solid collar on the golf shirt is the exact shade of the pants. That's the benefit of purchasing in-line pieces from a single brand, it's much easier to precisely match colors for success in pulling off bolder looks.
"My style has evolved through the years being with Bonobos. I've come out of my shell a bit in terms of how I'm dressing on the golf course and what I feel comfortable in," Rose said. "I was very monochrome in the past and was hesitant to wear a lot of patterns, even though I really love them. I've really enjoyed getting into some prints and trying new looks."
AT&T Pebble Beach Pro-Am, Final Round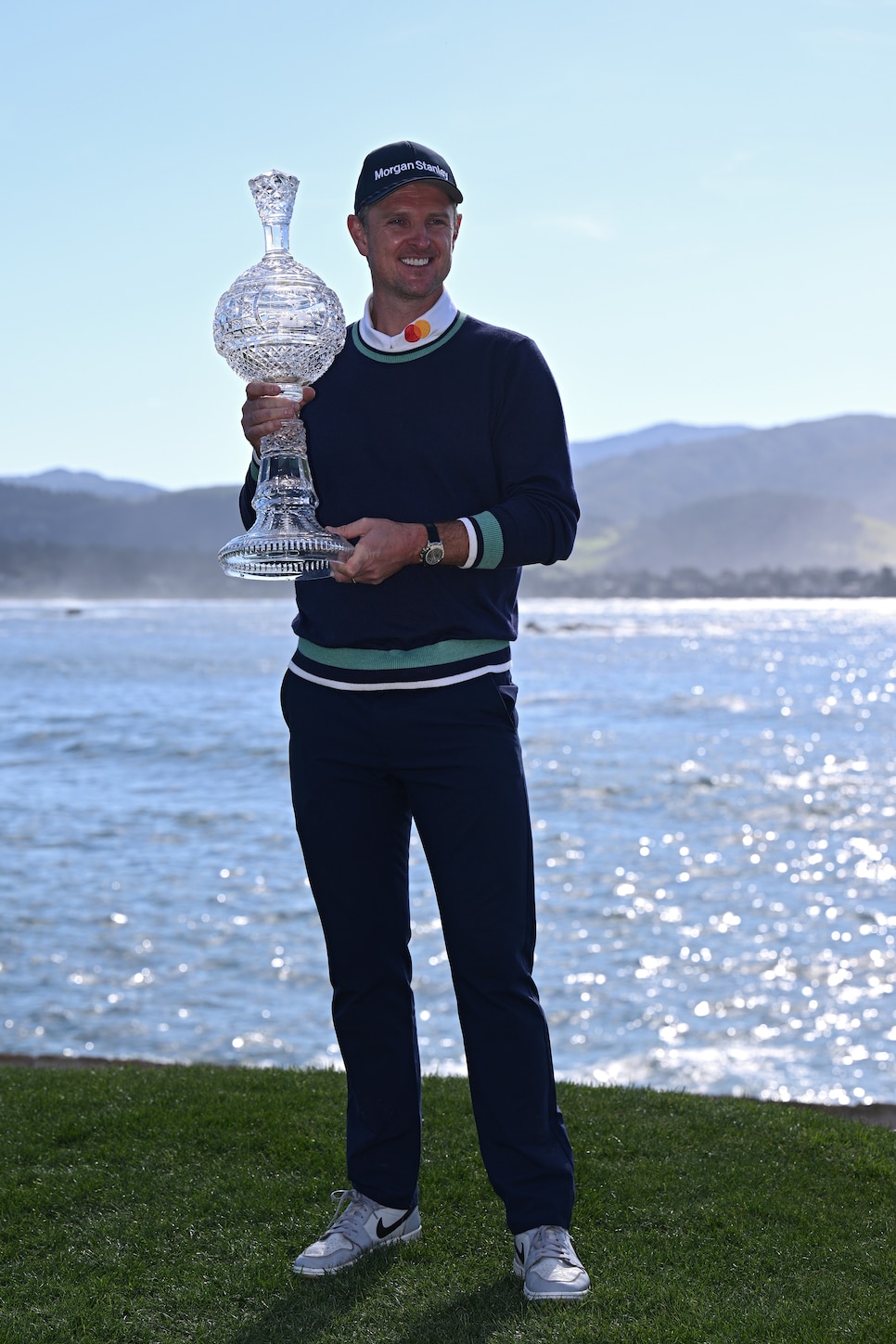 Coinciding with Rose's best finish and first tournament win since 2019 is another one look we loved—in sweater form. The Englishman hoisted the trophy in a stylish navy sweater accented with green and white stripes at the openings, a classic and versatile look that can easily be transitioned off the course. Rose expertly paired the sweater with trousers in a matching navy shade and simple white and gray Nike golf shoes.
Open Championship & PGA Championship, First Rounds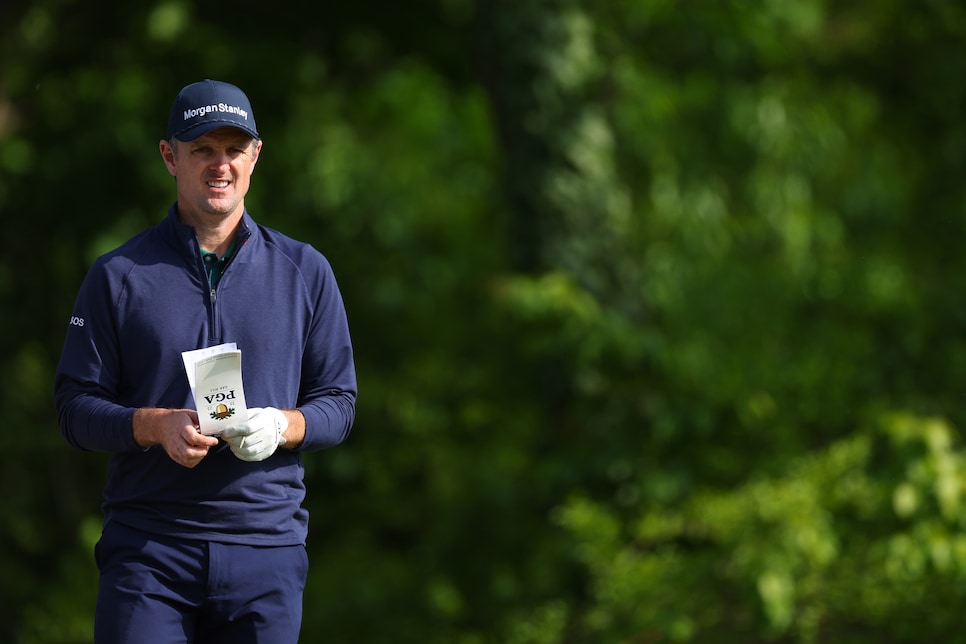 Justin Rose's affinity for navy is inspired by one of golf's most iconic and stylish players, Seve Ballesteros. An idol of Rose, Ballesteros' 1984 Open Championship win has inspired Rose's game and style.
"It goes back to Seve Ballesteros and that iconic win that he had at St. Andrews where he was literally wearing all navy with that navy V-neck sweater and crisp white shirt," said Rose, referring to Ballesteros' 1984 Open win. "It was just a classic, iconic look that I try to play off through the years. One of my idols wore it well, and ever since then I've been trying to emulate that."
Rose certainly achieved the iconic navy-layered-over-white look during his win at Pebble, and perhaps wanted to channel champion vibes when he went full navy for the opening rounds of both the PGA Championship and Open Championship. The monochromatic looks were upscale and professional—and kept him warm in the chilly temperatures both majors brought.
FedEx St. Jude Championship, Third Round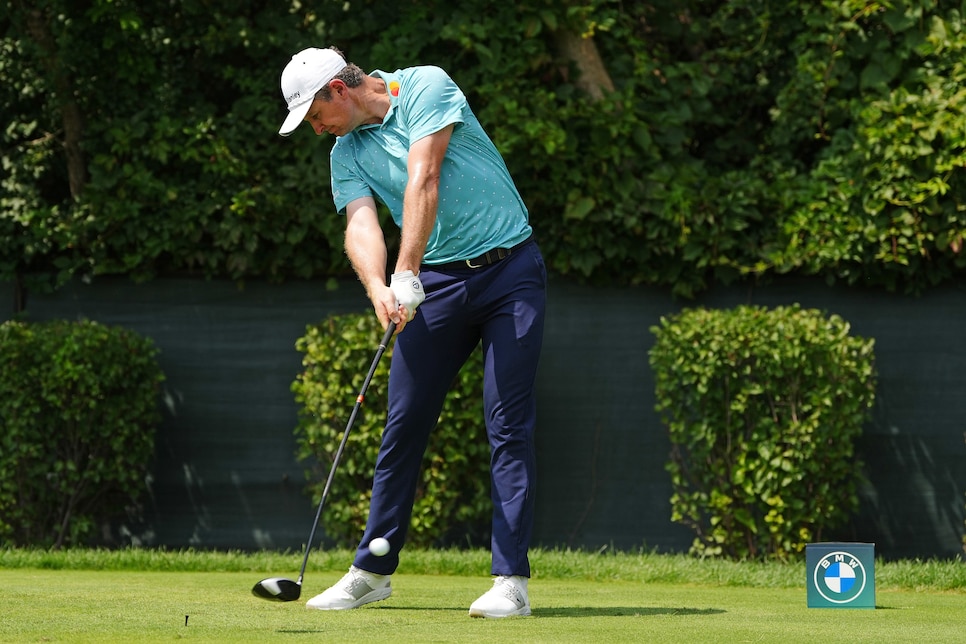 Another top achievement for the 43-year-old was tieing the course record at TPC Southwind at the FedEx St. Jude Championship. And while navy may make Rose feel on top of his game, he was in a lighter, more summery shade of blue. The aqua golf shirt was covered in a whimsical teed-up golf ball microprint that is a little splashier than his typically look, but still maintains his refined style with a solid ribbed collar and paired with classic navy trousers.
And while often the closets of the pros seem aspirational at best, Rose relatably wore the same look during the final round of the BMW Championship. He didn't achieve the course record, but he bumped up a notch in our book for proving you can still look stylish while dressing sustainably and re-wearing closet favorites.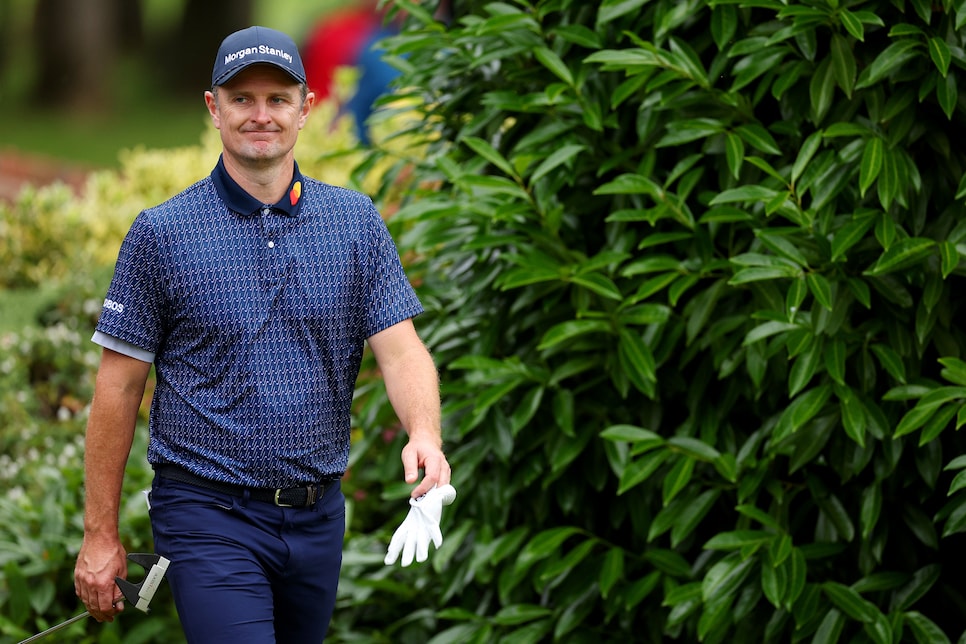 True to his theme of navy-on-navy, Rose upgraded the monochromatic look several times this season by incorporating subtle prints and patterns. One of our favorites was at the British Masters when his navy golf shirt features a repeating golf club microprint. A slightly deeper shade of navy at the ribbed collar ensured a clean and upscale look, while the quiet white pattern added texture and allure to the simple look. When Rose signed with Bonobos in 2019, he said he was most looking forward to offerings like these that were able to have a little fun and show some personality without losing sight of his classic style.
"[With Bonobos] I can have so much more fun with my closet and with my look in how I want to express myself without losing anything from a performance point of view," Rose said. "One of the shirts I'm most excited about wearing is a navy blue shirt with small white details. It still looks very smart and elegant, but has a little more of a playfulness to it, which I haven't had in the past."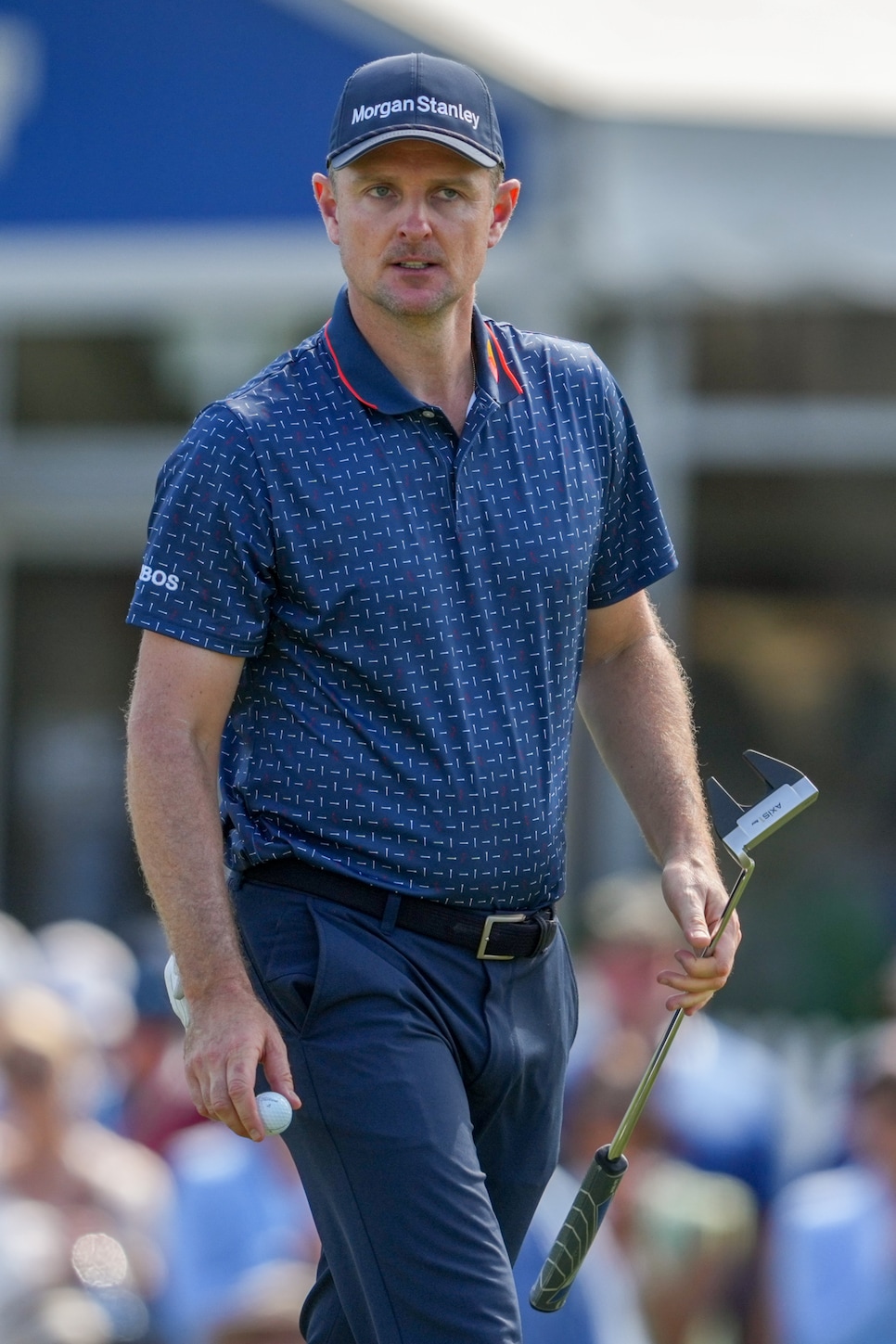 Amping up the monochromatic styling just a bit more, Rose's second-round look at the RBC Heritage had a similar golf-themed microprint, but was enhanced by red piping at the collar. The simple addition of collar adds a ton of style without taking away from the print, sacrificing any sophistication in the look and is still easy to match with.
"I'm a guy that likes and appreciated the detail, and design products of a garment ... [that's] not necessarily in your face with a ton of color," Rose said. "I look for pops of color and really enjoy prints you can wear with a cool jacket or really classic pair of dark navy pants so that suddenly your outfit has an extra bit of intrigue.
Valspar Championship, Round 2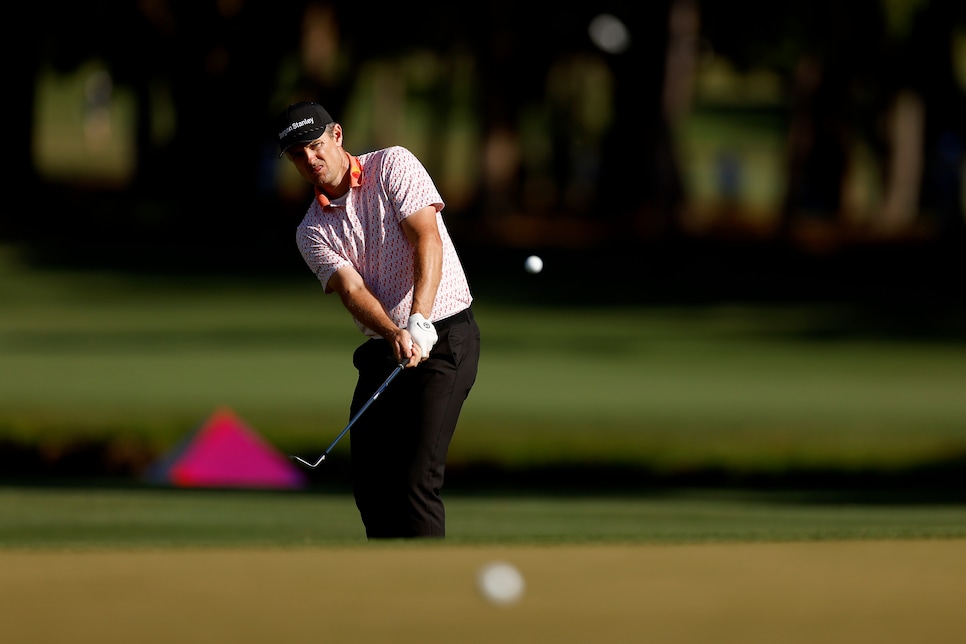 While Rose wears blues and navy like a pro, let's not forget some of his top non-navy looks of the year. Rose's second-round look at the Valspar Championship didn't have a lick of navy in sight. Pairing the geometric-patterned orange golf shirt with simple black slacks, the look was athletic, energetic and a great example of balance. While Rose's go-to Bonobos golf pant (Highland Tour Golf Pants) come in 11 colorways, sticking with a simple black pant ensures the shirt is able to shine without distraction and adds versatility to any wardrobe.
Genesis Scottish Open, Day 1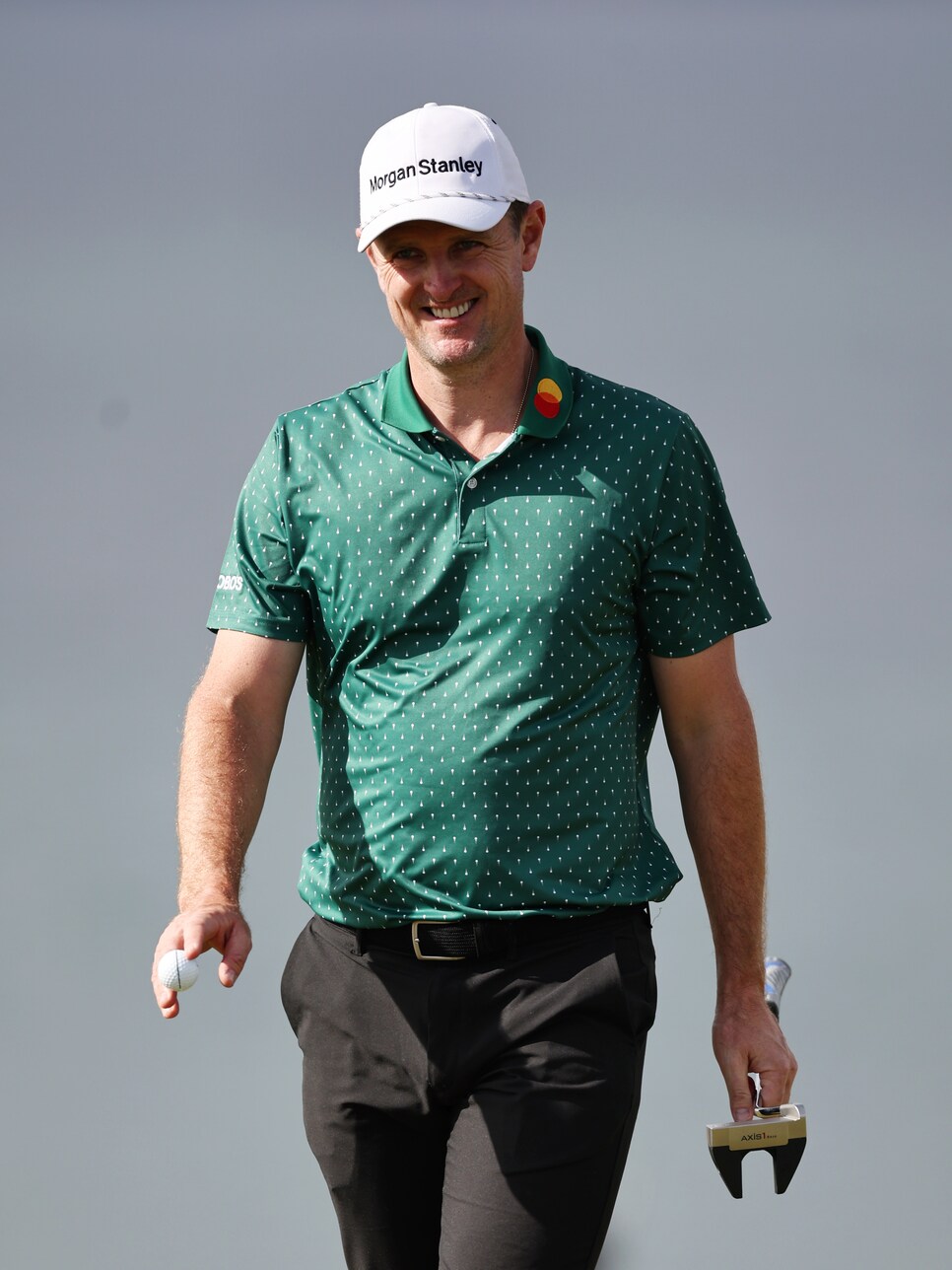 Rose took a similar strategy of pairing a geometric pattern over black golf pants in July at the Genesis Scottish Open, proving his non-navy Valspar Championship look was not a fluke. The regal green golf shirt was able to shine and upon closer inspection, you'll find the shirt's pattern is made up of teed-up golf balls in a repeating print.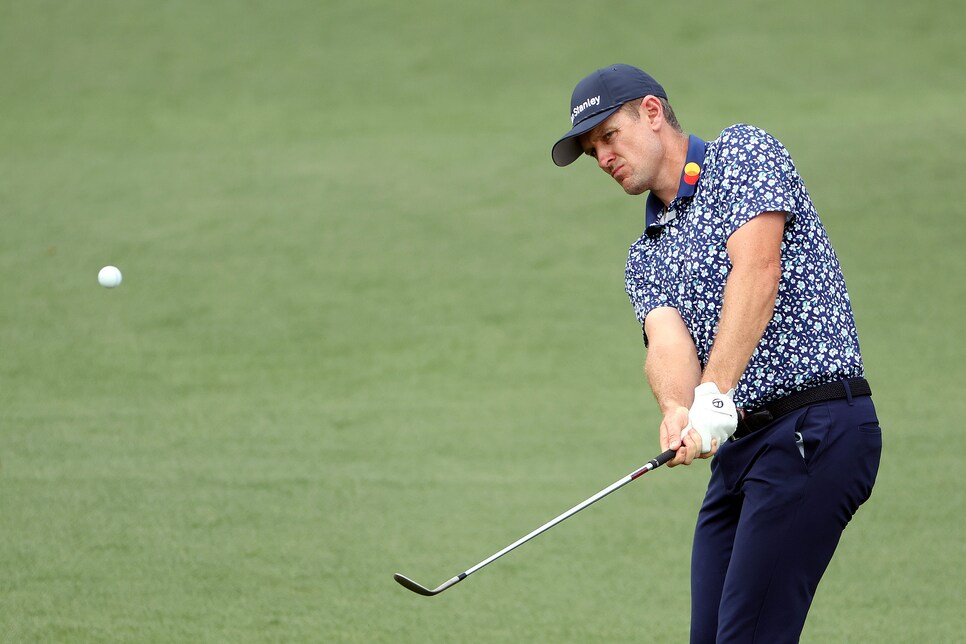 The Masters is easily one of the most stylish tournaments of the year, with players showing up with the green jacket in mind and the brands that outfit them ready to show off their spring line as the golf season ramps up. It's no surprise that a player as stylish as Rose topped the style charts at this year's Masters en-route to a T-16 finish. Our favorite look of the week was his first-round navy floral ensemble. According to Bonobos, when they were picking out his looks for the first major of the year, they wanted to achieve a look that was refined and classic, yet entrenched in fashion.
"This is one of our favorite looks this year," a representative from Bonobos said. "Navy is classic, just like JR is. The navy Highland Tour Pants are a staple for Bonobos and we wanted to pair them with something just as essential to the brand, floral. This floral is bold on a sophisticated scale, which felt perfect for Justin."