As you wake up Thursday, here's everything you need to know about the opening round of the men's Olympic golf tournament
Austria, Thailand, Belgium, Mexico, Denmark, Venezuela, the Philippines. The Olympics are about bringing together the world's best athletes, so it's only fitting for those seven diverse flags were flying highest after Day 1 of the men's golf competition.
Incredibly, Paul Casey of Team Great Britain is the lone top-50 player inside the top 11. Of course, with 54 holes left, there is more than enough time for more familiar names to gravitate toward contention. They'll need to make plenty of low numbers to do so, for Kasumigaseki Golf Club yielded birdies and birdies and some more birdies on Thursday outside Tokyo. Forty-eight of the 60 players in the competition—which has been characterized more by those not playing, for reasons voluntary and involuntary, than those who are—shot even par or better, including all four Americans. But it's Sepp Straka of Austria (by way of Valdosta, Ga.) who leads the way after an eight-under 63, which he completed before a two-plus-hour weather delay halted play. Jazz Janewattananond is a shot back, with Thomas Pieters and Carlos Ortiz two behind after matching 65s. The limited field meant they were indeed able to finish the round despite the delay, and here are four takeaways after Day 1 of the Olympics.
A decent start for the Koreans, who need more than decent
The most compelling storyline this week involves the two South Korean golfers in the field, Sungjae Im and Si Woo Kim. Both men are, like every able-bodied man in South Korea, subject to mandatory military service—unless they earn a medal in the Olympics. Byeong-Hun An faced a similar dynamic five years ago in Rio and finished a T-11, a respectable showing but short of what he needed to exempt himself from spending 18-21 months, in the prime of his career, in a military uniform. Sangmoon Bae and Seung-yul Noh both left the PGA Tour to enlist and neither has been the same upon returning to professional golf.
The stakes couldn't be higher—which is why both opted to skip the Open Championship to focus on this tournament—even if both men claimed earlier in the week that they're not thinking about the "military problem." Kim opened with a three-under 68 ,while Im, playing alongside Collin Morikawa and Rory McIlroy, only managed a one-under 70. That's nothing to scoff at, but these men need to finish top three in order for this week to be truly special. As unbiased journalists, we're not in the business of rooting for any one golfer or another. But if we were in that business, and we could root for two golfers, you know who we're picking.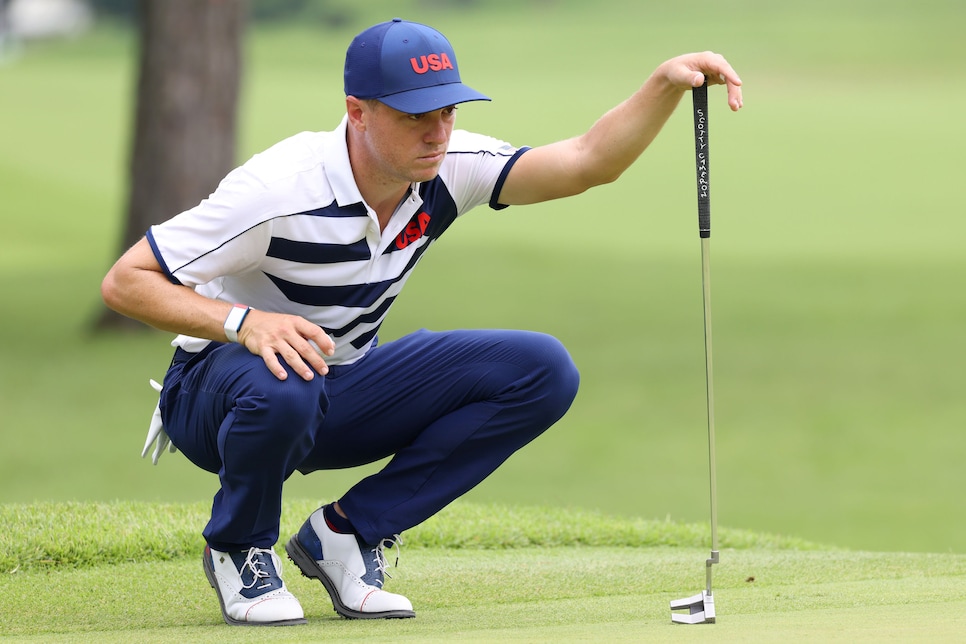 Back in January, Phil Mickelson made 18 pars in the second round of The American Express. It was the first time he'd done so in more than 2,200 PGA Tour rounds. Justin Thomas just made 18 pars in his first-ever round in the Olympics.
After the monotony, he was asked to describe his initial Olympic experience.
Thomas was clearly frustrated after failing to convert a number of birdie opportunities and his putting struggles, which have been a thorn in his side toward the second half of the season, continued.
"Once you tee it up and you're out there the whole experience thing and being excited to be here goes out the window, at least for me," Thomas said. "It's time to compete once that tee goes in the ground and that first tee shot is in the air, then it's not just about it's cool to be here anymore, it's about trying to go win a golf tournament."
His teammates—if you want to call them that, given this is an individual stroke-play event—fared a bit better: Collin Morikawa, playing his first competitive round since a masterful final-round 66 to win the Open Championship, posted two-under 69. Xander Schauffele and last-minute add Patrick Reed were in with three-under 68s.
Hideki Matsuyama, playing with immense pressure, squanders hot start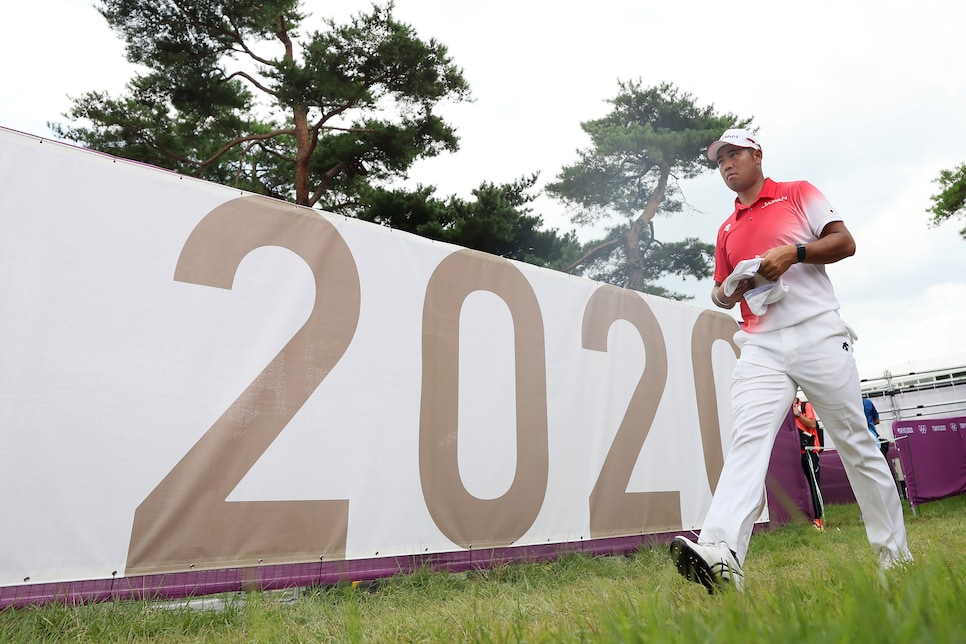 A throng of Japanese press follow Matusyama around to every single PGA Tour event, hanging on his every word no matter if he shoots 64 or 74. It's a reminder of just how big a star he is in the golf-mad nation of Japan, where his Masters victory will reverberate for decades. A gold medal, on home soil, just four months after winning the country's first male major winner, would elevate Matsuyama to national hero status.
"If I say there's no pressure I'll be lying," Matsuyama said. "So hopefully I'll be able to embrace the pressure that's upon me and just try to put together a nice tournament here."
His preparation coming in was hardly ideal—he tested positive for COVID-19 during the Rocket Mortgage Classic and did not recover in time for the Open Championship, making this his first 72-hole event since the U.S. Open more than a month ago. He showed no signs of rust at all early, playing his first eight holes in four under, but failed to build on that fast start and played his last 10 in two over.
A return to the COVID silence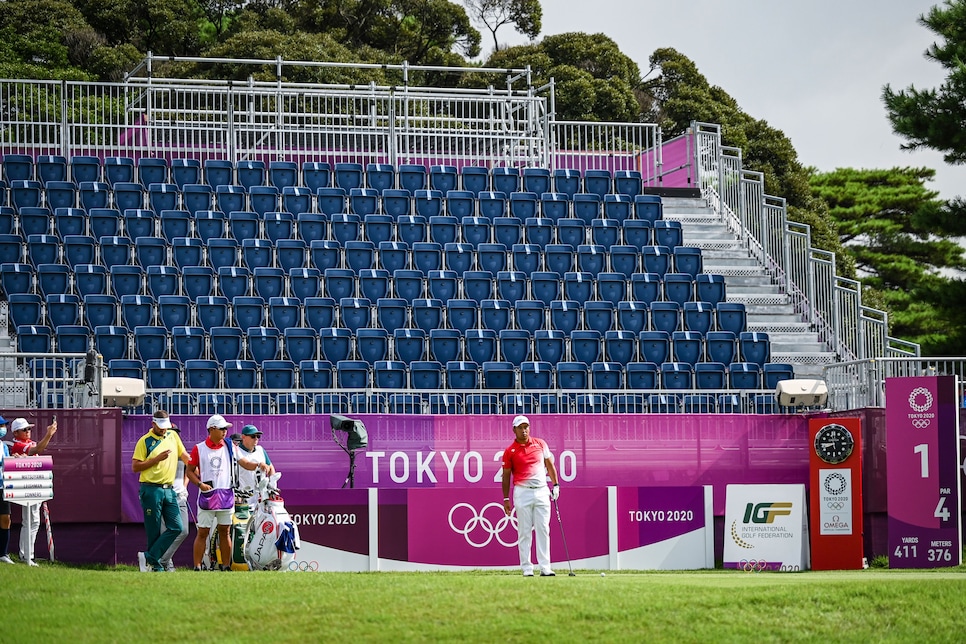 Life on the PGA Tour continues to inch closer to "normal." Crowds seem to be increasing every week, and there were 32,000 strong at each day of the Open. This, then, was a return to the tournaments immediately following the restart. There are no spectators at these Olympics, and the eerie silence was a reminder of just how strange those first couple events were. Good shots are met with the same reaction as bad shots, which is no reaction at all. Sunday's scene—a man holing a putt to win a gold medal for his country, with no one besides masked officials/media around—will be a strange one.
"We miss the fans because the two times I played out here, in 2019 for Zozo Championship and Dunlop Phoenix, the fans were immaculate," Morikawa said. "They're amazing, they love the game and they bring so much of that energy. Unfortunately, today, even with a couple claps, it brought you back to that restart of COVID. It's just, sometimes it's just hard to just get that spark and sometimes the fans, that's what they do."