Olympics
At Olympics, Sungjae Im and Si Woo Kim say they're not thinking about 'military problem'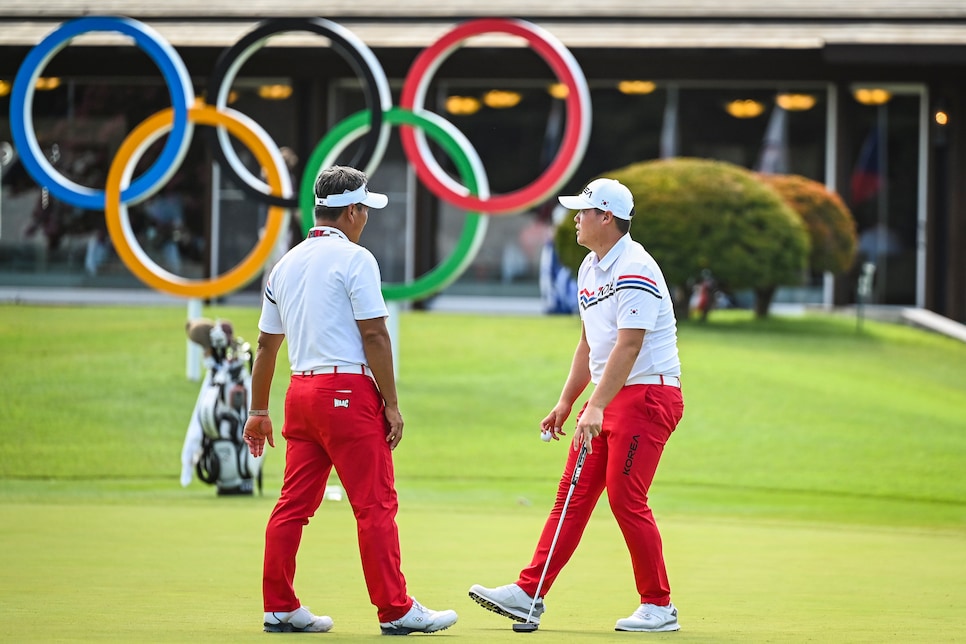 Sungjae Im works with South Korean team leader K.J. Choi on the putting green in front of the Olympic Rings during practice at Kasumigaseki Country Club.
Keyur Khamar
For most golfers, the Tokyo Olympics present a delightful change of pace. For one week every four years, they play not just for prize money and World Ranking points but national pride. They rub shoulders with the best track stars and basketball players and swimmers in the world. It's the experience of a lifetime. All good stuff.
For Sungjae Im and Si-Woo Kim, however, it's perhaps the most important golf tournament they'll ever play.
As South Korean citizens, both Im and Kim are subject to mandatory military service. All able-bodied men are required to spend between 18 and 21 months serving their nation upon turning 19 years old, though it can be delayed for valid reasons such as studying or working abroad. Which, of course, Im and Kim are doing—both are PGA Tour winners ranked inside the top 60 in the world.
Still, they will eventually be required to put their golf careers on hold and enlist—unless they win a medal this week. The South Korean government provides exemptions for any athletes who wins a medal at the Olympics or a gold at the Asian Games. With the Asian Games golf competition being limited to amateurs, the Olympics present the only opportunity for Im, 23, and Kim, 26, to get their exemption. K.H. Lee and Sung Kang, both PGA Tour winners, won gold at the Asian Games before turning pro and thus do not have to serve.
"I know it's true that if we earn a medal the Korean government will exempt us from serving military," Kim told reporters Wednesday ahead of the opening round of the men's tournament at Kasumigaseki Golf Club. "But I don't really, like, focus or think about the service in the military. My only goal is to win the championship and get medal and be honored."
Im echoed a similar sentiment.
"Also, I only focus and think about winning games, not the military problem. So, yeah, that's it."
They're clearly trying to treat this as just another tournament, so as to avoid putting too much pressure on themselves and having that impact their play. But one needs only to look at their recent schedule to understand just how significant this tournament is. Im and Kim both opted to skip the Open Championship, the year's final major, in order to focus on the Olympics. Im flew from the U.S. to South Korea on July 14 and has been in Japan since July 23.
"I wanted to get used to the time difference between Japan and United States," Im said, "so I went, I flew to Korea because the time difference, the time is the same here, so I made myself so comfortable and relaxed and prepared for the Olympic games."
Five years ago in Rio, Byeong-Hun An represented South Korea and finished T-11, thus failing to earn a medal and receive his exemption. An has yet to fulfill his service requirement, but two other prominent South Korean players have—Sangmoon Bae and Seung-yul Noh, who have both struggled significantly since returning to professional golf after a nearly two-year absence.
At 23, Im could potentially have multiple chances to earn an Olympic medal. The runner-up at last year's Masters has just three top-10 finishes in 25 starts this year. Kim won his third PGA Tour title at The American Express in January but has just one top-10 finish in his last 12 starts.