All On The Line
Two South Korean golfers will play these Olympics with everything to lose
A national rule mandating two years of military service awaits both Sungjae Im and Si Woo Kim. The only way out? An Olympic medal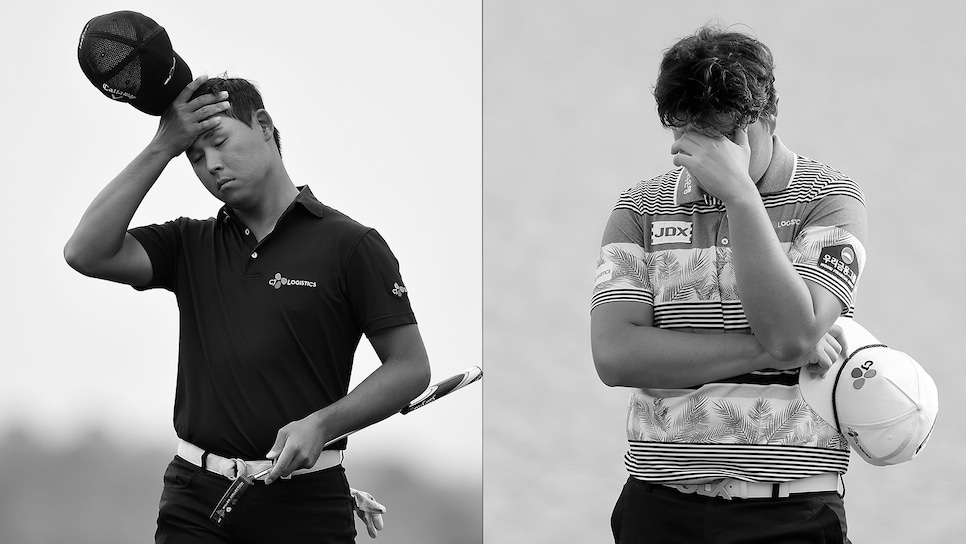 Golfing pressure comes in two forms. The first is opportunity pressure. This occurs when a player is at the doorstep of an accomplishment, perhaps a life-changing one. A chance to beat Pop for the first time. A 15-footer to win a PGA Tour event. These are good nerves. Any competitive golfer worth a damn relishes these situations. They're what you practice for.
The second type of pressure, a bit darker in nature, ​mostly​ plagues those brave souls who play this game for a living. No sane person dreams of avoidance pressure. These are the putts you absolutely, positively need to make, for a miss brings real-life consequences. Having to make birdie to keep your Tour card for another season. Needing a back-nine push to get to the final stage of Q-School and avoid another year of Monday's and mini-tours.
Sungjae Im hasn't dealt with much avoidance pressure of late. The 23-year-old won the first Korn Ferry Tour event he ever played in, back in January 2018, then finished solo second the next week to guarantee a PGA Tour card for the following year. He earned a reputation as golf's road warrior by playing 35 events in his rookie season—and doing so without a home base in the U.S., living out of a suitcase—made it to the Tour Championship and won ​R​ookie of the ​Y​ear. He breezed onto the Presidents Cup team at Royal Melbourne and won his first Tour event two months later with a macho finish at the Honda Classic. A runner-up at last fall's Masters brought him inside the world's top 20 and firmly established Im as one of the game's top young stars.

Si Woo Kim, 26, has enjoyed similar professional comfort ever since he won twice on the PGA Tour as a 21-year-old. The second of those victories made him the youngest-ever winner of the Players Championship in 2017, locked up his Tour card for five years and put $1.89 million in his pocket. He hasn't quite blossomed into a perennial contender, but he did add a third career victory at The American Express in January and recently surpassed $14 million in career earnings. He's more than fine.

In the pyramid of professional golf, these two 20-somethings enjoy the view from tip-top. Their careers are the envy of countless grinders out there clawing for a breakthrough. And yet, in the eyes of the South Korean government, Im and Kim are but two able-bodied men with an unpaid debt to their country.

This week, both Im and Kim will be reunited with avoidance pressure of the highest order. In anticipation of perhaps the most important tournament of their lives, both men took the extraordinary step of skipping the Open Championship to devote their entire focus to the Olympics. Can you blame them? A medal would exempt them from mandatory military service. A fourth-place finish or worse—well, they'd prefer not to think about that.

To understand the origin of all this, we'll need a brief history lesson. Some geography, too. Seoul is the capital of South Korea, a city of roughly 10 million people that boasts the fourth-largest metropolitan economy in the world (behind Tokyo, New York, Los Angeles, for those curious). It lies 35 miles south of the Korean Demilitarized Zone, a 2.5 mile-wide strip that serves as a buffer between highly developed South Korea and totalitarian North Korea. The nations are, at least technically, still at war.

At the conclusion of World War II, the United States and the Soviet Union divided up Korea—which was, until then, a single political entity under Japanese colonial rule—into two countries, split by the 38th parallel. The communist North would live inside the Soviet sphere of influence; the South, including Seoul, would fall in the U.S.' occupation zone. This arrangement was only set to last for five years before an eventual reunification. But as the wartime alliance between the U.S. and Soviets devolved into a bitter rivalry, the agreement fell through, and the North's invasion of the South in 1950 marked the first armed conflict of the Cold War. After three years of bitter fighting resulted in a stalemate, the two sides agreed on an armistice but never formally drafted a treaty. Thus, the conflict remains ongoing, and despite recent signs of a potential détente, fears of re-escalation continue to loom large in the collective South Korean psyche.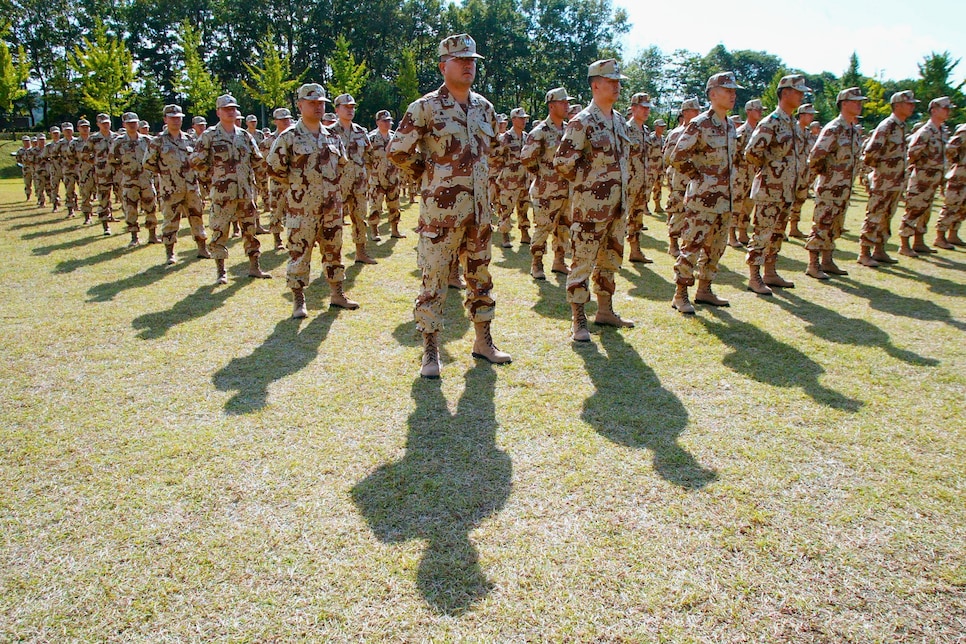 In the absence of a formal treaty with North Korea, South Korea has mandated military service for all able-bodied men to esnure the country is defended.
Chung Sung-Jun
"Think of the distance between Brooklyn, New York, and Newark, New Jersey," says professor Hwansoo Kim, chair of the Council on East Asian Studies at Yale University. "And then think of 30,000 cannons facing Brooklyn. In one second, they could be launched. Imagine the level of damage that might occur if war broke out. That's the level of danger. It's not far away. The entire weaponry of North Korea was placed toward Seoul to potentially maximize human casualties. In that context, a draft system has been required and mandatory to protect the country from any possible invasion."

Article 39 of the South Korean constitution, ratified in July 1948, states that "all citizens shall have the duty of national defense under the conditions as prescribed by Act." It wasn't implemented until 1957, four years after the armistice, and states that compulsory military service would be required for all men upon turning 19 years old. The service can be delayed for legitimate reasons, such as working or studying abroad, and while the complicated rules differ for men of certain citizenship/resident statuses, all must eventually enlist by their mid 30's. For some, it's much sooner than that. Failure to do so can result in jail time or, for those abroad, a loss of citizenship and a ban from returning. Unlike some other nations with mandatory military service, such as Israel, women are not required to serve but can do so voluntarily. The length of the service has decreased over time, from 36 months originally to now, when it ranges between 18 and 21 months depending on the branch of the military. According to a 2018 article from the New York Times, roughly 230,000 men enlist each year, forming a large portion of the standing army of roughly 550,000.

"No young man wants to serve, really," says Hwansoo Kim. "None of them want to spend two years out of their lives in quarantine, really. They are definitely against it. But at the same time, they accept it as fate. There is a hatred of this whole system, but at the same time, it's a rite of passage. You have to do it. You cannot avoid it."

Kim, a former Buddhist monk, described his own time in the military as a "traumatic, memorable and transformative experience." Alexander Suh, a Chicago-born Korean national who served voluntarily to preserve an option to live and work in South Korea, paints a similarly stark picture.

"We had vacation days, but other than those, you're not really allowed off base," says Suh, now a corporate lawyer in New York. "It's very different from the U.S. military. We weren't allowed to have phones. You couldn't just leave.

"I slept in a room with just a ton of bunk beds. I think that was the case pretty much everywhere. They've been trying to renovate and give people actual mattresses. We had these portable ones that you pulled out. Most people just felt like they didn't have a choice. I would look toward the future and think about studying for the LSAT while I was in the military. I would just think about once I got out. That's a big problem facing Korean military—morale."

It's an experience all South Korean men go through—unless you're one of a very, very select few. The South Korean government considers a very narrow set of accomplishments sufficient to "enhance national prestige" and thus exempt a citizen from military service. The first exemptions were introduced in 1973 by president Park Chung-hee, who promised an exemption to any athlete who medaled in the 1976 Olympic ​G​ames. Shortly thereafter, the criteria expanded to include a gold medal at the Asian Games, also held every four years. At present, those remain the only two avenues for an athlete to exempt himself from military service. There was, however, an exception made for the national soccer team at the 2002 World Cup, which was co-hosted by South Korea and Japan. Prior to the tournament, president Kim Dae-jung vowed to give exemptions to the entire team should they reach the round of 16. The "Reds" overachieved considerably and made it to the semifinal before losing to Germany. Twenty-three men received two years of their life back. ​Another exception was made for the national team at the inaugural World Baseball Classic​ in 2006​, where only a semifinal berth would be good enough. They cleared that bar, finishing third.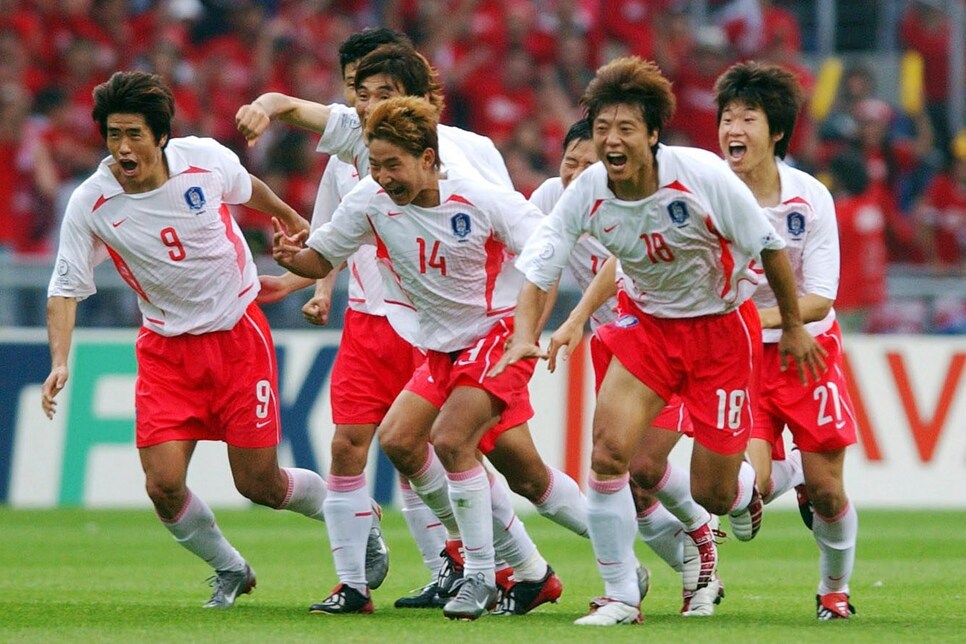 Members of the 2002 South Korean national soccer team were among the few athletes to earn exemption from military service due to a strong showing in the World Cup.
Andreas Rentz
A number of South Korea's top athletes have earned their exemptions more conventionally. Heung-Min Son, a striker for Tottenham Hotspur, got his by guiding the national team to a 2-1 overtime victory in the gold medal match of the 2018 Asian Games. Hyeon Chung, the first South Korean tennis player to reach a Grand Slam semifinal, took gold in the 2014 Asian ​G​ames. And while more classically trained artists and musicians have received exemptions, members of BTS, the best-selling music group in the country's history—and perhaps the world's most popular band at present—only received permission to have their service delayed, rather than exempted, when a new law passed in December 2020.

"It's not like the government is unwilling to make exceptions—it's that Koreans in general want fairness," says Hwansoo Kim. "If my son has to serve, it doesn't matter how powerful you are. How famous you are. You have to follow the same rule, or the entire system will collapse. That sentiment is very deep among people in South Korea.

"If someone tries to skirt their duty or get out of it—if that becomes public knowledge, that person's reputation is in danger. There would be genuine hatred. That person wouldn't deserve to be a political leader or even a leader in Korean society."

Consider the saga of Steve Seung Jun Yoo, a popular pop singer in the late 1990s. In 2002, just before he was set to be drafted into the service, Yoo obtained U.S. citizenship. The South Korean government considered this an act of desertion and banned him from entering the nation of his birth. For life.

South Korea's two most famous male golfers both did their time, albeit before they established themselves as top-level professionals. K.J. Choi didn't turn pro until the age of 24, after he fulfilled his military duties, and didn't play in a PGA Tour event until he was 28. Despite the late start, Choi would go on to win eight PGA Tour events, reach No. 5 in the world and ranks 34th all-time in career earnings with more than $32 million. Y.E. Yang, who stared down Tiger Woods at the 2009 PGA Championship to become the country's only male major winner, enlisted in 1993 at ag​e​ 21.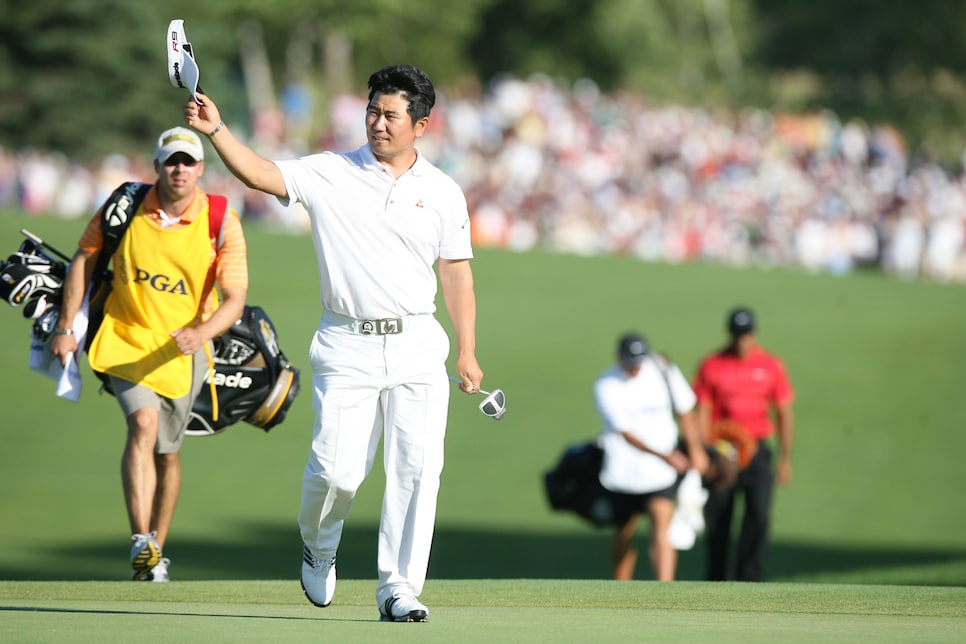 Y.E. Yang (pictured) and K.J. Choi both served in the military before their professional golf careers.
Icon Sports Wire
The most recent Korean winner on the PGA Tour, K.H. Lee, was part of the gold-medal winning golf team at the 2010 Asian Games and is exempted. Sung Kang, winner of the 2019 AT&T Byron Nelson, won his Asian Games gold in 2006. Other Korean-born players have avoided military service by national association rather than on-course achievements. Charlie Wi moved to the United States as a 10-year-old and obtained his green card shortly thereafter, which allowed him to skip military service while still keeping his Korean citizenship. Wi played under the Korean flag for the duration of his 10-plus years on the PGA Tour, which included five runner-up finishes. He did, however, have to limit his time spent South Korea so as not to trigger a rule that would trump his green-card status.

"Until I turned 35 years old, I could not be in Korea for more than six months a year," Wi says. "When I was playing the Asian Tour, I had to really be careful to make sure I didn't spend too much time there. I didn't feel a duty to serve because I didn't see myself—I am Korean, but I lived in the U.S. full time since I was a kid."

Kevin Na, a five-time winner on Tour, spent the first eight years of his life in Seoul before his family emigrated to Southern California. He became a U.S. citizen upon turning 18, which resulted in him losing his Korean citizenship and thus not having to serve.
"(South Korea) doesn't like making exemptions or giving special treatment to athletes or celebrities," Na says, pointing out that he was planning to play the Korean Open but would've had to miss the U.S. Open due to a non-negotiable quarantine requirement. "Would it be nice to not go all the way, but find some kind of middle ground where it benefits both sides but you're not setting a bad example? That'd be nice.
"When you win a major, would you be exempt? That hasn't happened yet. I think you should be exempt. I think you've done, what that does for your country in the golf world is pretty big. Look what it did in Japan for Hideki. I think it would be pretty close for that. If a guy wins a major, I'm all for it. Exempt the guy. Those two years, what he could be doing representing your country, give him an exemption. He deserves it."

While that situation—a South Korean man who has not served, winning a major championship—indeed has not played out, one thing is clear: as far as the military goes, PGA Tour wins don't mean squat. Sangmoon Bae won two PGA Tour events in a 17-month stretch from May 2013 to October 2014. That run of form, plus a buttery swing that suggested top-10-in-the-world potential, earned him a captain's pick into the 2015 Presidents Cup, played on home soil in Incheon. Bae played a central role in the drama that week, going undefeated in three team sessions before International Team captain Nick Price put him out last in the singles session. Needing to win the last hole to halve the Presidents Cup, Bae bungled the 18th to lose the decisive point to Bill Haas. It would be the last tournament he played for 23 months.

Bae, like Wi, held a U.S. green card. But unlike Wi, he miscalculated how much time he'd spent in his homeland—roughly 100 days in 2014, according to the Daegu District Court—and earned significant money playing events in South Korea, which disqualified him from an overseas resident permit that would have delayed his service.

"The plaintiff is not supposed to determine when to serve his time arbitrarily," the court said in its decision. "If he gets the privilege just because he is an excellent athlete who could make a fortune during his prime, it could demoralize everyone who does not have the privilege."

Rather than fight the decision, Bae accepted his fate and enlisted in November 2015.

"From the ruling, I learned that it is more of a priority for me to fulfill my duty as a Korean than to do my job as a golfer," he said, clearly wanting to avoid the much-maligned Draft Dodger label.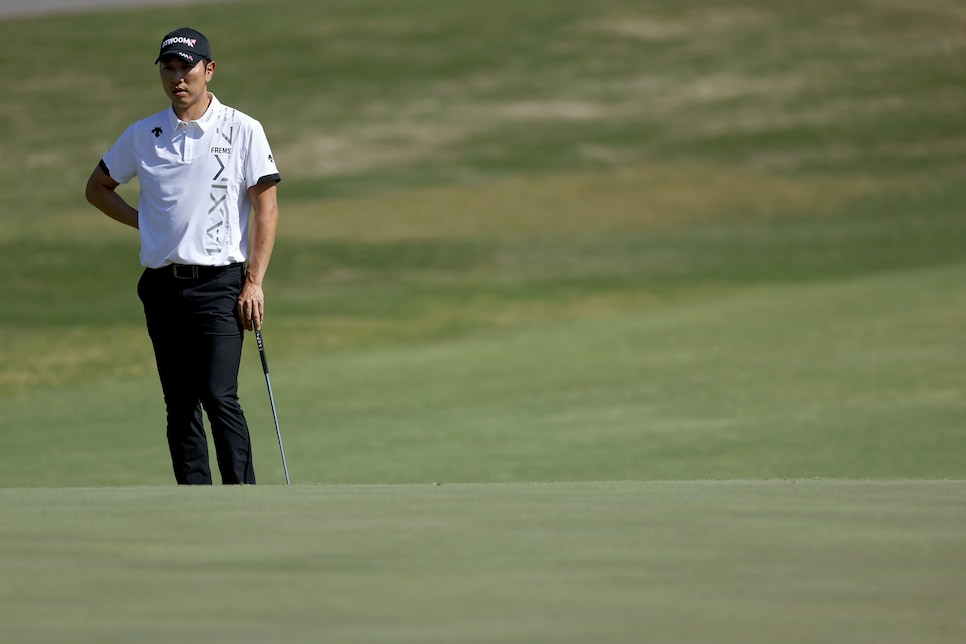 Since returning from his obligatory military service, Sangmoon Bae has not been the same player.
Dylan Buell
Then 28 and very much able-bodied, Bae became a private first-class in the 36th infantry division of the Korean army. This wasn't a clerical gig, eighter; Bae served as a rifleman. He operated machine guns, wore the uniform, marched in formation and slept in the barracks. ESPN's Gene Wojciechowski traveled to South Korea to visit Bae for a video essay that aired before the 2016 Masters, which Bae qualified for by reaching the Tour Championship. In the piece, Wojciechowski reports Bae's salary as $2,000 per year, a stark contrast from the $2.6 million he made during the prior PGA Tour season.
"I had a colorful life as a golfer before," Bae told ESPN, "and it was a really hard decision for me because I had to leave all that behind. But, ultimately, my goal is to become a respected golfer in Korea, and I believe it was necessary for me to enlist in the army. And, so far, I believe I made the right choice."

Bae was discharged in August 2017 and returned to professional golf shortly thereafter on a "Mandatory Obligation" exemption, which the Tour created for the special circumstance. It essentially functioned as a Major Medical exemption, giving the player a certain amount of starts upon his return to earn a certain amount of FedEx Cup points and keep status.

"That's one of the hardest parts," says Wi, "is that when you get back you're basically on a major medical. You don't get those reps in Triple A to get your game back. You have to right to the big leagues."

"It's not the same," says Kevin Na. "You can practice all you want, but if you don't play in competition, you will get rusty. The two guys that have gone to serve, they haven't been the same."
Bae missed the cut in seven of his first eight PGA Tour starts back but his Mandatory Obligation exemption got him a spot into the Korn Ferry Tour finals. He won the third of the four finals events to guarantee full PGA Tour status for the 2018-19 season, but missed 14 of 22 cuts that campaign to lose his card. He's fallen further since—with one finish better than T-57 in 10 starts on the Korn Ferry Tour this year, he​'s now​ 933rd in the world ranking.

Just after Bae left the service, another promising young South Korean player entered it. Seung-yul Noh, winner of the 2014 Zurich Classic of New Orleans, left the PGA Tour in 2017 to fulfill his duty as a South Korean man. In contrast to Bae's experience, Noh secured a position in a more "civil service" type role—he lived at home and worked a 9-to-5 type gig during the week, which multiple sources described to Golf Digest as "pushing papers." He was free to practice golf on the weekends. Since coming back to professional golf in 2019, Noh has split his time between playing in the U.S. and in Korea; in 14 starts on the PGA Tour since returning, he has nine missed cuts, two withdrawals and one finish better than T-54.

Another PGA Tour candidate for service would seem to be Byeong Hun-An, who was born in Seoul but moved to Florida in 2005 to attend the David Leadbetter Academy. An's father, Ahn Jae-hyung, won bronze in doubles table tennis at the 1988 Summer Olympics to receive his exemption. His son, the golfer, qualified for the 2016 Olympics but finished T-11, seven shots back of that precious medal. Now 29, the clock is ticking.

"I'm enjoying my life right now with my family," An says, a bit jumpy upon being reminded of potentially leaving behind Tour life for barracks life. "My plan is to keep my card this year. I haven't thought about it yet. We'll see. Just gotta play well next week, every week. That's my focus for now."

Golf at the Asian Games is limited to amateurs, and Si Woo Kim and Sungjae Im's golfing timelines didn't line up with making the South Korean national team at the right time. Kim turned pro at 17 in 2012, bisecting the 2010 and 2014 ​G​ames. His decision paid off immediately when he became the youngest player to ever receive his PGA Tour card through Q-School later that year. (He actually had to wait until mid-2013 to join the tour, as rules prohibited anyone under the age of 18 from being a member). Im was not selected to make the team in 2014 and turned pro a year later, also as a 17-year-old.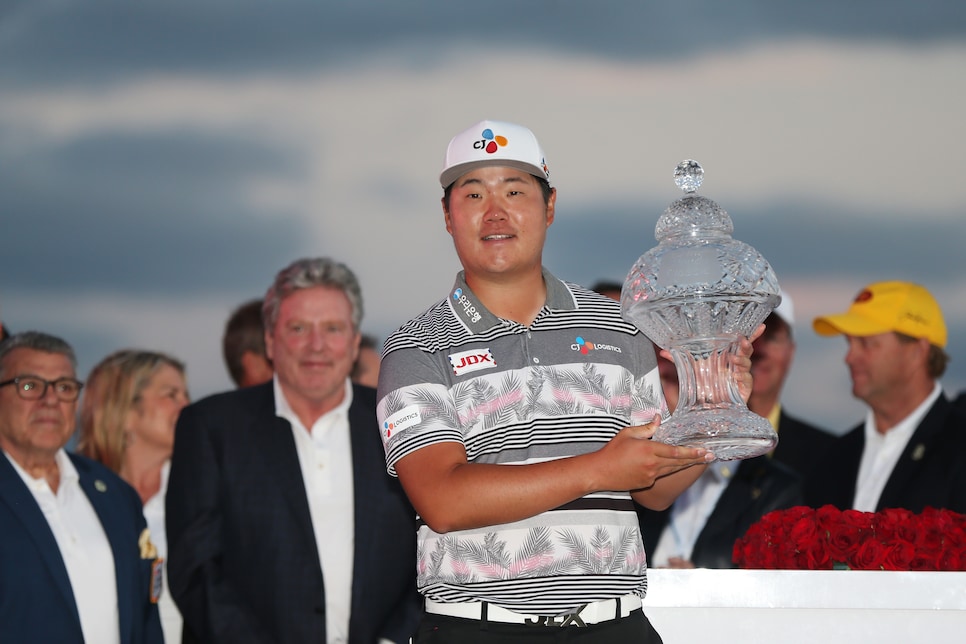 As such, both remain on the clock. At 23, Im could have two cracks at earning his exemption. But given the fleeting nature of golfing greatness, there's no guarantee he'll qualify for the 2024 Games in Paris and be in good enough form for a medal. His play has been solid if a bit disappointing this year, having made 21 of 25 cuts but posting just three top 10s and, more pertinently, zero top-threes. Kim's situation is a bit more dire—he'll be 29 by the time the next Olympics roll around. With just one top 10 in his last 12 starts, he'll need to recapture the magic from Palm Springs if he's to have any chance of medaling.

"Well, I would say if we're fighting for fourth and third place, I'm open for bribing if he needs me to make a three-putt on the last hole," joked world No. 1 Jon Rahm, who was incredulous upon hearing the medal-for-exemption situation at the PGA Championship. "We can always talk about it. I like Korean food. We can always talk about it."

For Im and Kim, it's the furthest thing from a joking matter. Having to serve wouldn't only cost them two years of prime earnings; it would mean trading in the freedom of traveling around the country playing the PGA Tour for the rude shrieks of an alarm clock. Going from having a team hanging on your every word to taking orders from someone you've never met. But all that, at least, has a time limit. There is a definitive end. The true test, as Sangmoon Bae and Seung-yul Noh know all too well, comes after you complete this Korean rit​e​ of passage: can you, after all that time off, become the golfer you once were?

"It's not the same," says Kevin Na. "You can practice all you want, but if you don't play in competition, you will get rusty. The two guys that have gone to serve, they haven't been the same."