Paris Masters
The Djokovic-Medvedev rivalry has quietly become one of the best rivalries in tennis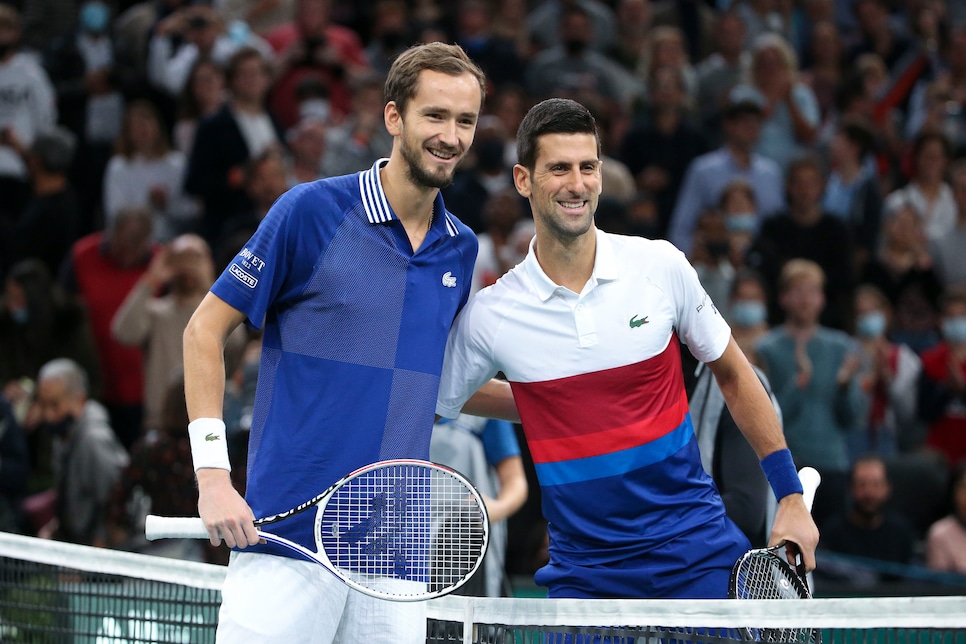 You, me, and anyone reading this will likely go our entire lives without seeing a tennis rivalry that matches up with Djokovic-Federer, Federer-Nadal, or Djokovic-Nadal, so let's get that out of the way before we go any further. Comparing literally anything to the Big Three is a fool's errand, and we here at The Loop are famously, certifiably Not Foolish. And we hate errands.
BUT! It has become clear, after yesterday's final at the Paris Masters, that the emerging rivalry between Novak Djokovic and Daniil Medvedev, bridging generations, is becoming the best thing in men's tennis.
Djoker came out on top in Paris, coming back from a first set loss to win 4-6, 6-3, 6-3, avenging his loss to Medvedev at the U.S. Open, which, of course, spoiled Djokovic's bid for a historic calendar grand slam.
"I got mad because it was not nice, and it was done on purpose. Some of the spectators, they were just into the match and you could feel it. You're getting ready for serve, they were like, Allez, Novak or Allez, Daniil. But you could feel it was like they are just trying not to be in the game, and you wait.
"This one was done, when I did the toss already, it was done by a Serbian spectator ... I hope he doesn't watch tennis anymore."
Is that the start of some bad blood? We know Medvedev is seriously combative—see his hilarious feud with Stefanos Tsitsipas and his hate-to-love odyssey with the entire city of New York—and we know Djokovic is an insane person. That's a combustible duo, and it just so happens that they're also no. 1 and no. 2 in the world right now (Djokovic is about to finish the year at no. 1 for a record seventh season). They actually seem to like each other, but we can dream.
None of this was possible before Medvedev won a grand slam title, but when he prevailed at the U.S. Open this fall and killed Novak's grand slam dream, it became impossible not to notice that, hey, this guy has actually played really well against Djokovic from the start. Their head-to-head record is now 6-4 in favor of Djokovic, but that includes a couple early-round wins in 2017 before Medvedev had entered his prime. Since 2019, it's 4-4, and Medvedev's four wins have been on huge stages: The U.S. Open final, two Masters 1000 events, and last year's ATP finals. Of course, Djokovic also got him at the Australian Open, which makes their grand slam final record 1-1.
Beyond the close record, there's also the fact that these guys play the same kind of game, offensive and defensive at once, capable of 30-shot rallies and scorching winners depending on how a point unfolds. Medvedev's game seems almost to be a copy of Djoker's, and he beats his opponents the same way, either by outclassing them with winners when he's clearly better, or wearing them down with battering consistency and defensive masterpieces coupled with next-level fitness. When you put these two guys on the same court together, the result is ridiculously good.
The one issue is that they haven't had a truly epic match yet—in Australia, it was Djokovic blowing Medvedev away in three, and at the U.S. Open, it was Medvedev in straights. Yesterday's duel in Paris may have been the best yet, but even that wasn't especially dramatic despite going the distance. In order to take things to the next level, they need at least one Big Three-style classic, preferably at a slam. Until then, though, you can forget Zverev and Tsitsipas and even the Big Three, which is now just a Big One. The best rivalry in the game is Medvedev and Djokovic, and you get the feeling they're going to give us a lot more.