Keep Your Friends Close...
Stefanos Tsitsipas and Daniil Medvedev are meeting in the Aussie semis, and boy do they hate each other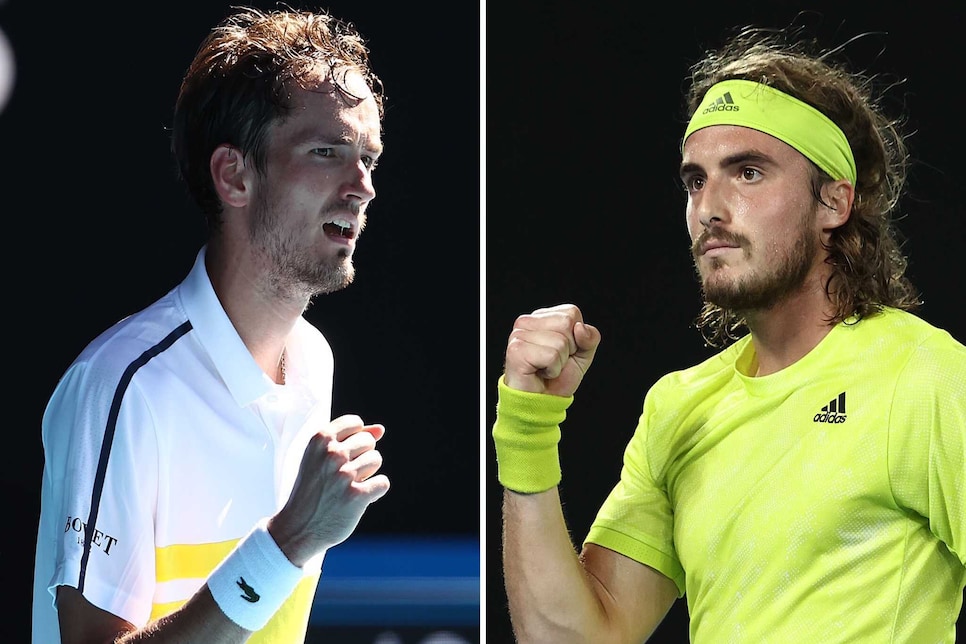 As a Rafa Nadal fanboy, the only way for me to cope with him blowing a two-set lead in the Australian Open quarters to Tsitsipas early Wednesday morning is to admit to myself that the Rafa Aussie curse is real, and simply take some joy in the fact that it sets up a semifinal match of two players who thoroughly, genuinely hate one another.
The rivalry between Tsistsipas and Daniil Medvedev, which is the closest thing we have to a blood feud in men's tennis, started in earnest the first time they faced each other on the ATP Tour. It was at the Masters 1000 in Miami, 2018, and before I give you any context, you need to watch the video of their encounter (warning: NSFW):
You can't quite hear it in the video, but after Tsitsipas shakes Medvedev's hand, he calls him a "bullshit Russian." (Tsitsipas seems to have a thing for Euro-specific bigotry, as he once told a chair umpire that all French people are "weirdos.") As you saw, Medvedev flipped out, hilariously telling him that "you better shut your *** up," followed by yelling about a medical timeout he didn't like and Tsitsipas failing to apologize after a let. Medvedev kind of owned him, and under a barrage of threats and rage, Tsitsipas left the court while the chair umpire tried to cool the Russian down. "He's a small kid who doesn't know how to fight," Medvedev railed, trying his best at the English insult game.
The narrative for the next few years was that Medvedev completely owned Tsitsipas. He won their four matches to run up a 5-0 record, and in the meantime his Greek rival was forced to snipe at him from the sidelines. He blocked Medvedev on Instagram, called his game "boring," and gave him the classic "hand-shake-so-fast-it's-barely-a-handshake" after each of his losses.
Things changed fairly dramatically at the 2019 ATP Finals, when in their sixth meeting, Tsitsipas finally broke through in a tight round-robin match. Starting at the six-minute mark in this extremely comprehensive video, you can see how he celebrated like he'd just won Wimbledon, and watch his very interesting presser afterwards:
The best part comes when a journalist asks him if it means "extra" to beat Medvedev. Ninety-nine percent of athletes would downplay it, but Tsitsipas didn't even try to hide it: "It means more than extra. It's a victory that I craved for a long time now." Also interesting was his interpretation of the Miami fiasco that kicked the whole thing off. According to Tsitsipas, Medvedev got angry at him during the match for not apologizing for a let, but the rally actually went on for several shots after the let. Tsitsipas claims he simply forgot about it, but Medvedev's rage threw him off his game, and, by his own admission, got completely in his head. Worse, he thinks Medvedev did it for that exact reason, as a kind of psychological ploy. In that context, you can start to understand why he sniped at him after the match and started the whole brouhaha.
Nor does either player try to hide the fact that he doesn't like the other. Medvedev coyly remarked that they won't be going out to dinner together, and Tsistsipas admitted that his negative feelings about Medvedev made it harder for him to win when he finally broke through.
The other thing you have to understand about these guys is that they're both, in their own unique ways, weird. Tsitsipas considers himself a kind of philosopher, makes fun, semi-obtuse, semi-artsy videos, and when asked to evaluate his play, says things like this:
Medvedev, on the other hand, is a battler with a kind of vicious mentality, which he showed again beating up on his friend Andrey Rublev in the quarterfinals. He spent 2019 trolling the entire U.S. Open crowd after they booed him for berating a ball boy, and then gradually won them over in his run to the finals (culminating in a very tight loss to Nadal). Uniquely among the younger generation, he seems tough enough to become a regular slam winner, with a mentality that somewhat reflects the big three. That said, when he met Thiem in the U.S. Open semis last year, Thiem steamrolled him and Medvedev seemed to shrink from the moment.
This will be the third grand slam semifinal for both players, and a pretty enormous moment in their respective careers, especially because waiting on the other side of the draw is a wounded Novak Djokovic and a qualifier. But as badly as they want to win for their own legacies, you get the feeling that these guys want to beat each other even worse.