Clutch Gene
Naomi Osaka is the greatest pressure performer of her generation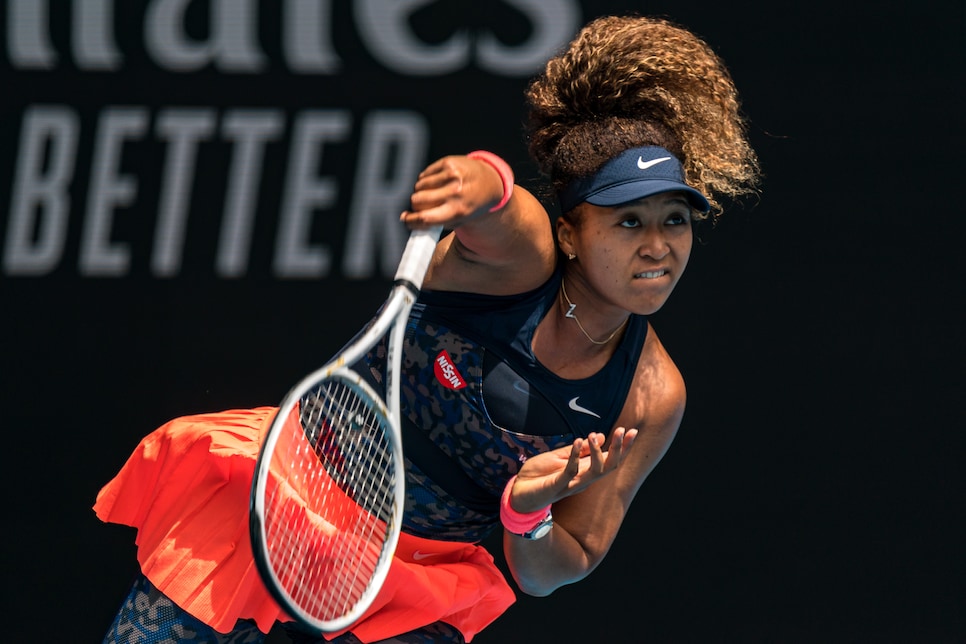 Very quietly, Saturday night in Melbourne, Naomi Osaka and Gabarine Muguruza played what has a great chance to be the best women's tennis match of 2021. There are ten and a half months left on the calendar, but it's hard to imagine anything topping this one. It was one of those rare cases where both players came in at an extremely high level, played up to and beyond that level, and—aside from Osaka's serve abandoning her at a few unfortunate moments—never dipped even under extreme pressure. It was the kind of match where about halfway through the first set, you started to feel preemptively bad for the loser, whoever it might be, since they wouldn't deserve to go home. The only shame is that they played in the round of 16, rather than in the championship—an awful draw for both when it had the look of a "the winner will take the title" match from the start
In the end, it reaffirmed something we've learned over and over in the past two years—when the chips are down and the tension is highest, nobody is better than Naomi Osaka. Nobody in the women's game, nobody but Djokovic and Nadal in the men's game, and nobody her age in any professional sport. She is a marvel.
First off, to give you an idea of the level Muguruza was playing at—the two-time grand slam champ is clearly back at a prime level—watch these two points from the third set:
That second point gave Muguruza a 5-3 lead in the third set, and put her just one game away from winning the match. At that point, chatting about the match with a few friends, I told them I gave Osaka a 75% chance of winning still. That may sound like patting myself on the back, but it's not—everyone else agreed, and it's because she's shown over and over and over, at age 23, that if she's engaged in a match, you can't touch her in the pressure moments. Consider this: Every time she's made the quarterfinals of a slam in her young career, she's won. That includes her U.S. Open win against Serena in front of a hostile crowd, against Petra Kvitova in the 2019 Aussie final after blowing two match points in the second, and after losing the first set 1-6 in the 2020 U.S. Open final to Azarenka. Those are just the start of the hits (in that '19 Aussie Open, she trailed Hsieh 5-7, 1-4 in the semifinals), and what happened next in the Muguruza match on Saturday might be her crowning clutch performance to date.
In the next service game, Osaka fell to 15-40. She responded with an ace—like Serena, she has a preternatural ability to call on the big serve when she needs it most—and then saved the second with the aggressive play you can see at the 52-second mark here:
It's an astounding point, not so much for what happened, but for how Osaka re-took the initiative after a hard second-serve return by Muguruza, and continued to pound the ball despite being on the verge of defeat. As a human being, she must have felt the nerves, but she refused to play anything but her most assertive game.
Still, Muguruza had a chance to serve out the match at 5-4. The highlights of that game, in which Osaka raced out to a 15-40 lead before Muguruza saved two break points to bring it back to deuce, are incredible. Pay particular attention to what happens after deuce, though, because the next two points are what will stick in my memory from this match. Having blown two chances to square the match, does Osaka fade? Absolutely not. Instead, on the deuce point, she hits a marvel of a backhand winner which would be astounding under normal circumstances and is somewhere beyond shocking with the entire match on the line. Then, with another break point, she does it again, and finishes with an easy forehand winner after Muguruza barely pokes it back.
I said before that neither player dipped under pressure, but after that, something gave way, just a little, in Muguruza. And who can blame her? She played a brilliant match, deserved to win against one of the world's toughest players, and then ran into an iron wall when she had her chance. Osaka held serve, and then broke at love in the final game to finish the set (and the match) 7-5, and as anticipated, it was impossible not to feel pity for Muguruza.
In the very next match, as if to highlight what Osaka had accomplished, Aryna Sabalenka took on Serena Williams in a similar grueling, high-power match. Sabalenka is one of my favorite players to watch, but in this case, whenever she got close to victory, the nerves absolutely ate her alive. It culminated in the third set, serving at 4-5, when her composure entirely abandoned her and she lost the serve and the match. She's a tough young player with incredible skill, but in one of the most intense moments of her career, the stage was too big. In an odd way, it just proved how special Osaka is, and how rare her level of composure and ferocity in the cauldron of grand slam pressure.
I'd bet anything that she'll go on to win this Australian Open, but tennis is a strange sport where strange things happen, and even for Osaka, winning three more matches will be a great challenge. (The serve is a worrisome problem that could still derail her.) Even if she loses, though, she'll have given her sport a match that may not live on in the collective memory for very long, since it happened a bit too early in the fortnight, but that will be etched in the minds of those of us who watched it live. For the prime clutch performer of her generation, it was another impressive notch in the belt.