The Loop
Tennis fans, Daniil Medvedev is your new god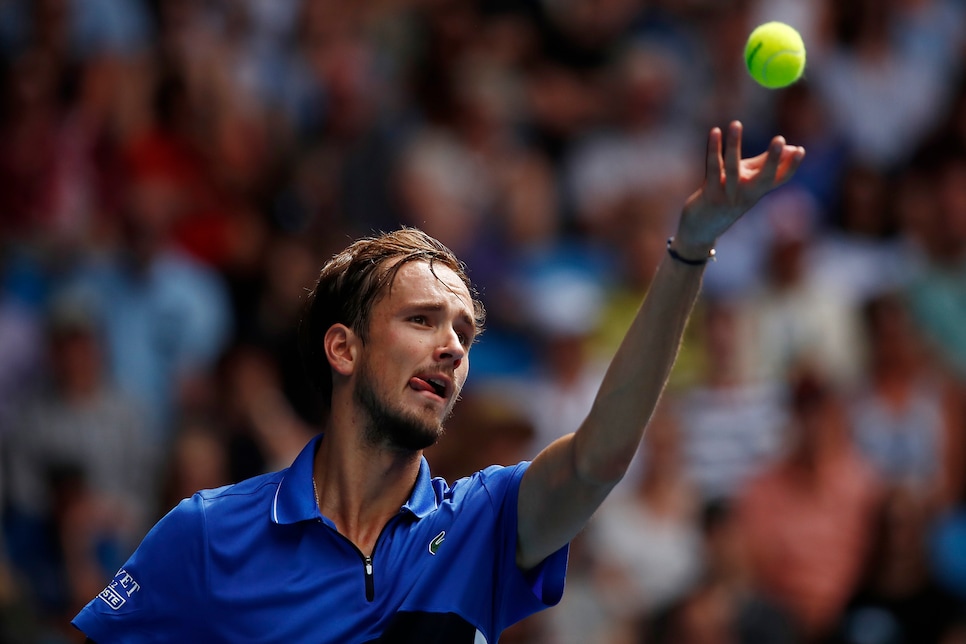 History seems to stand in place when it comes to men's tennis, and that's not just anecdotal. I pinpointed the day back in late 2018 when, for the first time in the 141 years of major tennis, no man under the age of 30 held a grand slam singles title. The root cause is obvious—we're through an era of unimaginable, never-ending dominance from Roger Federer, Rafa Nadal, and Novak Djokovic. As I wrote then, it's been a long act of suffocation, and has completely stymied an entire generation. Age hasn't slowed them, at least not much, and in the rare cases when a sub-30 player like Milos Raonic or Dominic Thiem has made a final, he has been dispatched by one of the troika.
And yet, it has to end. You can see the signs with Federer, who will enter next year's Aussie Open with no slams in three years, and who, in my opinion, has won his last major title. Rafa and Djokovic are still in their late primes, but time and age will happen to them too, and the bizarre events of 2020 have created a situation where at this year's U.S. Open, only Djokovic is around to hold off the 20-something hordes.
The question is, who will finally break the reign of the olds? And the answer is: Daniil Medvedev. Assuming good health, it could happen as soon as next weekend in New York, but failing that, it will happen for sure next year. There have been so many pretenders, so many exciting "Next Gen" champions-in-waiting, but unlike in golf, where the potential of the very young has been transformed over and over into major championships, in tennis they've all flamed out...so far.
Medvedev is different. If you're a casual fan only, you might remember him from last year's U.S. Open. That's where he pulled off an incredible troll of the entire New York crowd, basking in their boos, after they turned against him when he snatched a towel from a ballboy, threw his racket in the direction of the chair, and then flipped off everyone who booed. It culminated in his post-match interview, which is still funny a year later:
In the next round, he trolled the crowd again, but the really amazing thing is that over the course of the two weeks, he won them over. By the time he went five sets and five hours with Rafa Nadal in the final, they absolutely loved him, and his runner-up speech was one of the all-timers. It was one of the funniest, greatest neutral-to-heel-to-face turns in tennis, and it happened in the span of a few days.
What matters more than his persona, though, is his game. At 6'6", Medevedev has a rare combination of a tall player's power and serving prowess with the mobility and shot-making skills of a smaller man. His natural abilities would be plenty to make him a top-tier player, but the reason he's seeded third at this U.S. Open, and the reason he beat Novak Djokovic twice in 2019—once on clay, once on hard surfaces—is that he understands the balance between consistency and aggression in a way that his peers do not, and he plays the big points better than any of them.
It's helpful to compare him to some of the other 20-somethings on Tour. A few up-and-comers, like the Canadians Denis Shapovalov and Felix Auger-Aliassime and America's Francis Tiafoe, play with unending aggression which can fall apart and lead to long cold spells. They have only one mode, and it's best described as "hit a winner at all costs." Employing those tactics, they're bound to lose, bound to break down under pressure. Others, like Stefanos Tsitsipas and Alexander Zverev, play a very consistent game, but tend to become passive in big moments and to let others dictate the play. It's the opposite side of the spectrum, but the results are similar: In big matches, especially five-setters at grand slams, they've shown a tendency to shrink from the moment. Nick Kyrgios is one of the few with Medvedev's talent, but he's insecure and defensive, and lacks the mental composure to compete under pressure on a consistent basis.
But here's a better, simpler comparison: Medvedev plays like Djokovic. The same ability to dominate, the same ability to win wars of attrition. He can just as easily slap a sharp forehand winner like this...
...as he can play cat-and-mouse and finish with class like this:
It's why he has seven ATP titles already, and why he made six straight finals in 2019. He was one of the five best returners in the sport last year, and the scary thing is that he keeps getting better. With a player of his skill, his composure, and his tactical intelligence, it's only a matter of time before he breaks through. Personally, I think he gets it done in New York next week, Djoker or no Djoker. If not, it's no problem; you can't keep him down for long. The question of who will be the heir to the three-seat throne in men's tennis has lingered a long time, but the fog has mostly cleared, and Medvedev is the man who stands ready to inherit the crown.