"The Freak is Here!"
Norwegian announcers absolutely lose their minds over Viktor Hovland's win, give golf fans the best call of 2022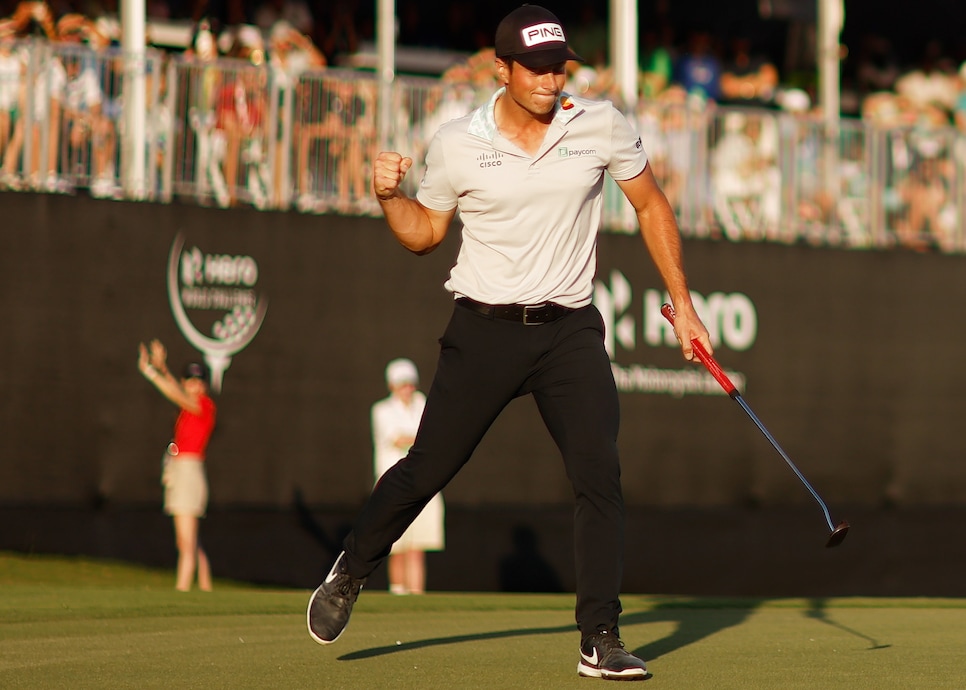 Viktor Hovland made things more dramatic than they needed to be on Sunday when he rolled in a 20-foot bogey putt on the final hole to successfully defend his title at the 2022 Hero World Challenge. But while the 25-year-old gave a big fist pump, he wasn't nearly as excited as the two Norwegian golf announcers calling the action.
To be clear, this is nothing new. Apparently, the whole "There's no rooting from the pressbox" doesn't apply in other countries. And we've heard these guys in particular going absolutely nuts over Hovland's exploits before. Nothing, though, tops this. And if you don't believe us, just have a listen:
Wow. Just pure electricity. There are so many great parts packed in that 55 seconds! Let's just go through the entire transcript. Although, you've really got to hear these guys (Per Haugsrud and Henrik Bjornstad) to do the clip justice.
"Is he going to make it?! . . . YES!!! The Freak! He makes it! The Freak is here!"
We've never heard Hovland referred to as "The Freak," but maybe that's a thing in Norway. In any event, love the energy.
"He wins it again! What is he doing? He is in the entertainment industry as well. Not only does he win, but he makes it as dramatic as possible!"
A perfect explanation for Hovland's wild final hole that included him hitting an approach shot into the water before rolling in that long bogey putt. It's true, even Phil Mickelson would be impressed by that showmanship.
"Ahhh Henrik, we got our Christmas present from Santa Claus and his name is Viktor Hovland. Santa without a beard! Look at that! Right in the middle!"
We hope they also get some sort of sports broadcast awards for Christmas. In case you're keeping score at home, they've now given Hovland not one, but two nicknames and apparently he brings more joy to Norway than freaking St. Nick himself.
"I can't take it anymore! I'm exhausted!"
Again, these guys really get into it.
"There it is! He wasn't going to make a double bogey. I can feel the tears coming!"
I mean, they really, really get into it. Reminder, this was the Hero World Challenge. A 20-man event in December. Not exactly the Masters. And, finally . . .
And so are you guys. And we love it. Here's to more Viktor victories—with these two in the booth—in 2023.