PGA Tour
Viktor Hovland is 'pretty bad ass' in winning Hero, matching Tiger Woods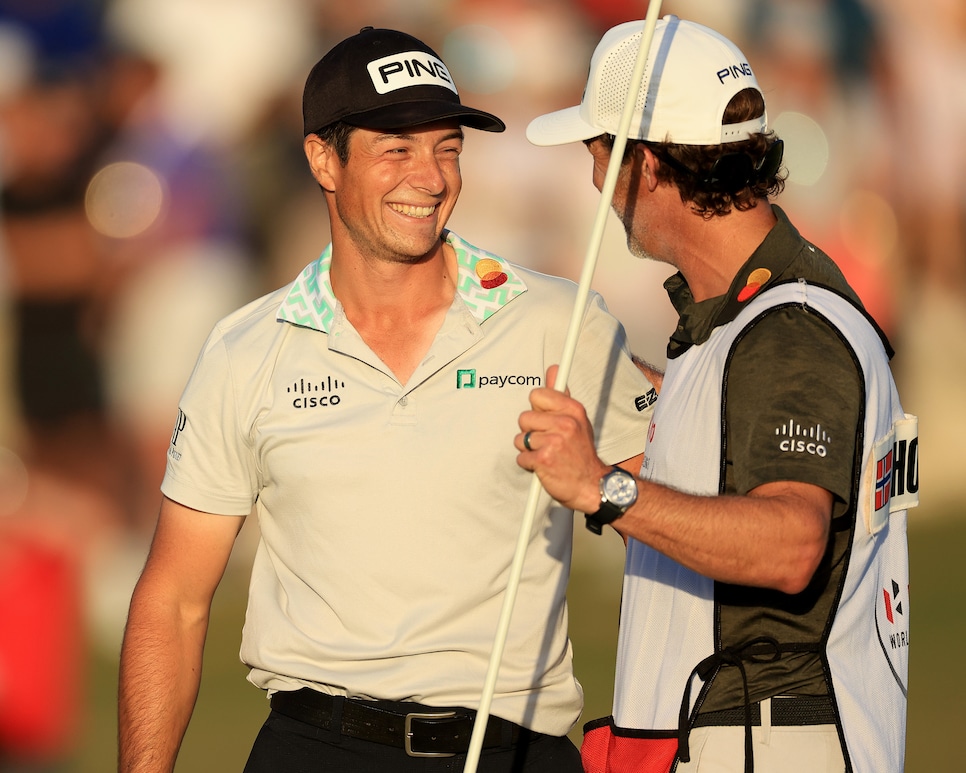 Viktor Hovland celebrates with his caddie Shay Knight after he had holed the winning putt on the 18th hole during the final round of the 2022 Hero World Challenge.
David Cannon
NASSAU, Bahamas — This Viktor Hovland character, amiable and largely unflappable, seems well suited to the laid-back atmosphere that permeates the grounds of Albany Resort and the Hero World Challenge. Then again, he seems to thrive at just about any casual golf locale.
In a tournament that is essentially a friendly gathering of 20 very good golfers, Hovland has been very good and very unfriendly, taking the title and $1 million first prize for the second year in a row to join host Tiger Woods as the only back-to-back winners. Further buttressing his reputation as the so-called "Resort King," Hovland corrected a late mistake by sinking a 20-foot bogey putt on the 72nd hole to hold off World No. 2 Scottie Scheffler for a two-stroke victory.
"That's pretty bad ass," the native of Oslo, Norway, said after closing with a three-under 69 and learning he joined Woods as the only players to successfully defend in tournament history. "I'm just happy he didn't play the last two years. It got pretty nerve-racking there. You've got the best players in the world here, basically, and you've got to play your best to win. To win is always fun."
With a 16-under 272 total, Hovland, 25, won for the seventh time worldwide and fifth time in PGA Tour-sanctioned events—in Puerto Rico, twice in Mexico at Mayakoba Resort and now twice at Albany.
Resort King, indeed. "At least I'm the king of something," he said with a laugh. "Yeah, I like this place, but I would like to do it [win] a bit more often."
Scheffler, the reigning PGA Tour Player of the Year, was relegated to second place for the second straight year and was thwarted in his bid to overtake Rory McIlroy for the top spot in the Official World Golf Ranking after closing with a 68.
"I'm proud of how I played the back nine," said the native Texan, who began the day three behind Hovland. "I got some good looks and made some nice putts and it was good to kind of make a little run. Granted, it wasn't enough, which definitely hurts, but it was nice to make a run. I don't like just showing up here, and I don't like finishing second. It's not a great feeling right now."
Scheffler threatened early when he eagled the par-5 sixth to climb within one stroke, but then he bogeyed the drivable par-4 seventh from a greenside bunker while Hovland birdied it to restore a three-stroke differential. When Scheffler took four to get down from 70 yards at the ninth for a double bogey, Hovland was four ahead of Xander Schauffele and five up on Scheffler and firmly in command.
Not so fast, said Scheffler, who gathered himself and birdied four of the next seven on the inward nine to get back within two. Then Hovland opened the door by pulling a 6-iron from an uphill lie in the right rough into the water short and left of the green at the par-4 18th. "When you're standing there with a two-shot lead, it's like that's the last thing you can do, he said. "Basically, just do anything else but hit it in the water on the second shot."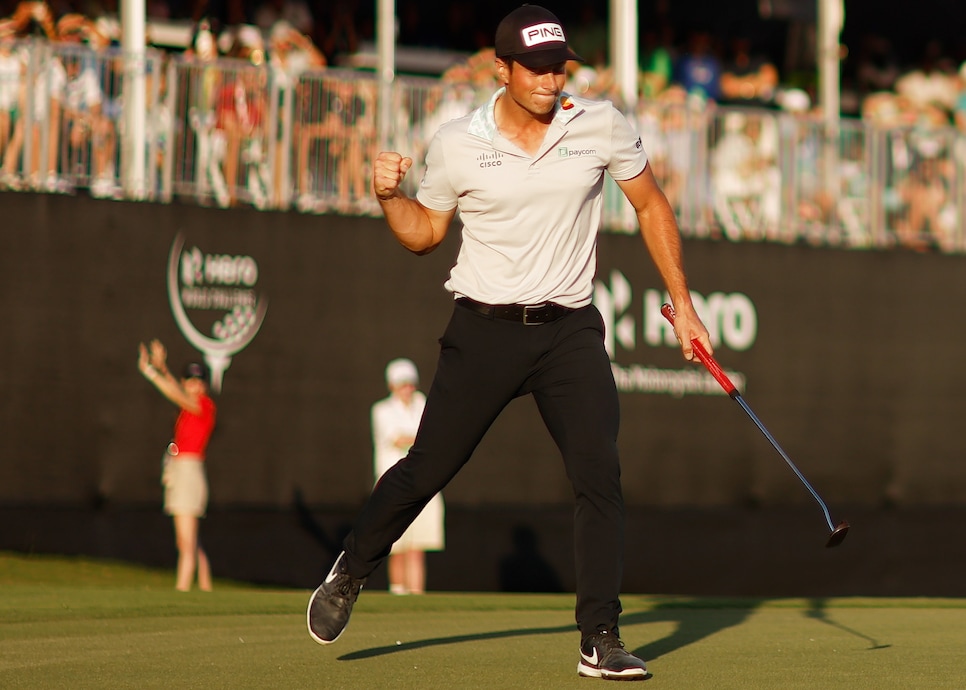 Viktor Hovland reacts to making his bogey putt on the 18th hole.
Mike Ehrmann
From 120 yards, Hovland wedged to 20 feet. Scheffler, meanwhile, had pushed his approach into the right greenside bunker, and though his third was on line with the hole, it skidded over it and sped 10 feet beyond. Hovland ended any hope by calmly burying his bogey putt—just his 24th putt of the round after 23 the day before—and reacted with a single fist pump.
"It was a lot more stressful than it should have been," he said of his wire-to-wire victory, which stands in stark contrast to his win last year, when a final-round 66 enabled him to overcome a six-stroke deficit to Collin Morikawa.
He seemed to handle it well.
Experience, he'll tell you, makes a difference. And not just the experiences garnered since he turned professional three years ago.
"Yeah, I've obviously been in this situation a little bit more than when I first came out on tour, so I think the more you put yourself in that situation, you're going to handle it better," Hovland said before pulling back to a wider lens.
"I've had a very good upbringing, but it's, you know, whether it's taking the bus to school with a golf bag and my books and gym clothes and it's packed on the bus, I've got to stand there for an hour to school and then back home and then to practice, I think those little things just makes you a little bit tougher," he continued.
"Growing up in Norway, it's not necessarily great for golf, and I think you have to just make do with what you have. I think those things just build character a little bit and makes you handle stress a little better than, you know, if you just had everything on a silver platter."
You know what other experience is nice? Receiving a compliment from the tournament host.
"He just told me I did a good job of handling my nerves at the end and hanging in there in the second round [a two-under 70] when the conditions were the toughest of the week," said Hovland, who moved up three places to ninth in the world. "You hear something like that from Tiger, and you definitely take it to heart."
Heck, you take that with you wherever you go.