The Grind
Norm Macdonald's prolific PGA Tour tweets, a spicy Johnny Miller dig, and a brilliant dad golf hack
Welcome to another edition of The Grind, where we are particularly proud of ourselves after stumbling onto a brilliant dad hack. On a trip to Dick's Sporting Goods to get my three-year-old daughter a tennis racket, we saw the putting green for testing out putters. And I wound up basically having to drag her home:
Look at me doing my part to GROW THE GAME while getting to work on my own game (and even promoting a Golf Digest sponsor). The best part? Doing this is a LOT cheaper than taking her to play mini-golf. So you're welcome, fellow parents, for the tip. And thanks a lot, Dick's. We'll be back. In the meantime, there's plenty to talk about.
Max Homa: I'm old enough to remember a simpler time when this guy was mainly known for his funny tweets. Now he's stacking PGA Tour trophies about as quickly as anyone. Homa picked up career win number three at the season-opening Fortinet Championship. Or, as he announced it on Twitter after:
Of course, we all should have seen this coming after this tweet at the start of the week:
The rest of the tour has been warned.
Darren Clarke: You know it's a Ryder Cup year/month when even old European stars are firing on all cylinders. Such is the case with Clarke, who defeated K.J. Choi and Steve Flesch to win the Sanford International for his third PGA Tour Champions Tour title of the season.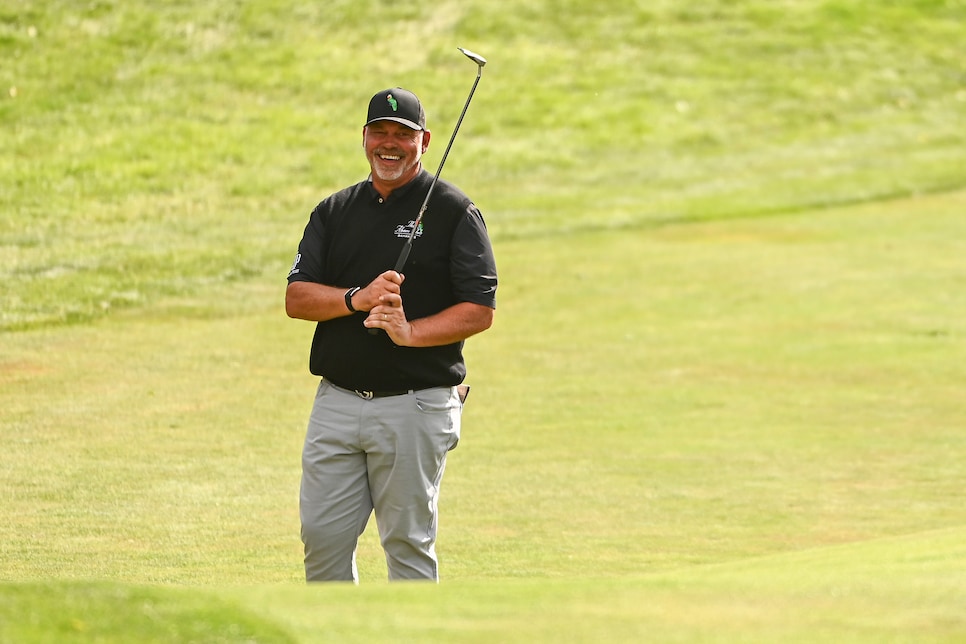 By the way, the Sanford International is contested in South Dakota. Yep, there's a pretty big-time sporting event played in South Dakota. The more you know.
This kid's luck: As someone still looking for a first hole-in-one, I have to put up with a lot of these crazy stories that leave me jealous. But this 11-year-old named Jake Martinez making the first two of his life during a freaking U.S. Kids Golf tournament might be the craziest yet. And Jake sounds like a seasoned tour pro giving this interview after:
Good for you, Jake. Also, must be nice, Jake. Must. Be. Nice.
Norm Macdonald's death: Not only did we lose one of the funniest people on the planet to cancer at 61, we lost one of the world's biggest golf fans. Long before Max Homa became golf's Twitter King, there was Norm. His final four tweets were about the British Open, and he tweeted 16 times during the Harris English-Kramer Hickok playoff at the Travelers Championship earlier this year. Yeah, it was an eight-hole playoff, but still, that's a lot of tweets!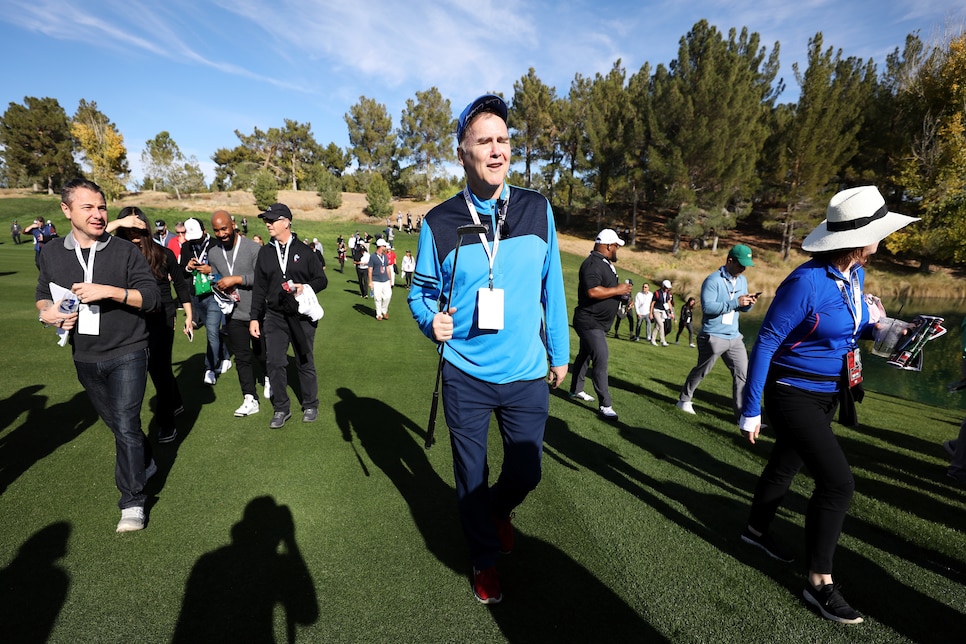 "Nobody knows golf more that me," he once said. "Nobody." RIP Norm. Hopefully heaven has some kind of Twitter—and golf gambling.
People knocking Aaron Rai's iron covers: Including myself. It was one big pile-on as golf fans discovered this two-time European Tour winner uses (gasp) iron covers. But when he provided his reasoning, well, shame on us. Rai explained on SiriusXM PGA Tour Radio that he's from a working class family, but his dad always got him nice clubs and really took care of them.
"When we used to go out and practice, he used to clean every single groove afterward with a pin and baby oil, and to protect the golf clubs he thought it would be good to put iron covers on them. And I've pretty much had iron covers on all my sets ever since, just to kind of appreciate the value of what I have." Apologies, Aaron. So, yes, there will be someone using iron covers on the PGA Tour next season. And no, we will not be making fun of him anymore.
The Brooks-Bryson feud: At least, for this week. Captain Steve Stricker will keep them away from each other on the course, and Bryson DeChambeau's coach, Michael Schy, said Bryson "wants it over." So do we. No, really, please. Make. It. Stop. There's enough going on at the Ryder Cup. Now if they want to eyeroll each other after the Ryder Cup during the slow part of the year, well, that's a different story. Hey, we're about content above all.
After a three-year gap, the Ryder Cup is finally here! And the fighting (literally!) Americans are looking to take back the trophy after a five-year gap. Things got pretty heated at Hazeltine that year, too, but more so because of some unruly fans. In walking Whistling Straits this week, though, our Shane Ryan came up with a solution should that happen this year:
Random tournament fact: Europe has won seven of the past nine Ryder Cups. OK, so that's not so random because you've probably read/heard that 386 times by now.
RANDOM PROP BETS OF THE WEEK
—Brooks and Bryson will be paired together: 1 MILLION-to-1 odds
—Brooks and Bryson will spray champagne on each other: 100-to-1 odds
—Steve Stricker is already sick of talking about Brooks and Bryson: LOCK
What a legendary setup. Of course, I'd expect nothing less from such a legendary player and now, analyst. Long live Eli The Great.
Kevin Na gave his signature move a twist in honor of turning a year older:
It's pretty wild this guy is already 38 (Looking good for your age, Kevin!) and has spent half his entire LIFE on the PGA Tour. Good stuff, Kevin. We just wish you were walking in putts at Whistling Straits this week.
THIS WEEK IN CELEBRITIES PLAYING GOLF
New U.S. Open tennis champ Emma Raducanu's golf swing looks almost as smooth as her forehand:
THIS WEEK IN PUBLIC DISPLAYS OF AFFECTION
Jared Wolfe's parents witnessed their son (finally) making his PGA Tour debut at 33:
THIS WEEK IN PHIL BEING PHIL
A driver off the deck. From the trees.
And of course, it leads to a birdie. Of course.
"Well, they've always been soft. There's only been one Simon Cowell and you're looking at him." —Johnny Miller on golf announcers. What a line!
This was part of a great Q&A the legendary player/broadcaster did with Golfweek's Adam Schupak. Here's a bit more: "The great champions can lift their game to get the job done or make the great shot, and I was willing to go there. Too many announcers want to be friends with their fellow players, even though they're announcers. I don't know, they just don't talk about it." Miss you Johnny—especially during Ryder Cup week.
Congrats to Jin Young Ko for winning the rain-shortened Cambia Portland Classic by four shots for her ninth career LPGA Tour title. I'm not great at math, but for just four years on tour, well, that's a lot. . . . Congrats to UNC's Austin Greaser, who finished runner-up at the U.S. Amateur last month, on winning his first collegiate title on a walk-off hole-out from 168 yards. It's going to be tough to top that one. . . . And finally, the new emphasis on taunting penalties in the NFL is ridiculous. Just look at some of these clips!
These are grown men simply celebrating good plays! And they're handing out potentially game-changing 15-yard penalties like they're candy! Thank goodness golf doesn't have something like this or Rory McIlroy and Patrick Reed would have gotten tossed during their epic Sunday match at the 2016 Ryder Cup.
RANDOM QUESTIONS TO PONDER
How have they not changed the Ryder Cup to a four-day event?
Can Johnny join the booth for just these three days?
Can I bring my own putter into Dick's?