Shoe News
How the new Travis Scott x Nike Air Jordan golf shoe is proof that sneaker culture has reached golf and is here to stay
*All products featured on Golf Digest are independently selected by our editors. However, when you buy something through our retail links, we may earn an affiliate commission.*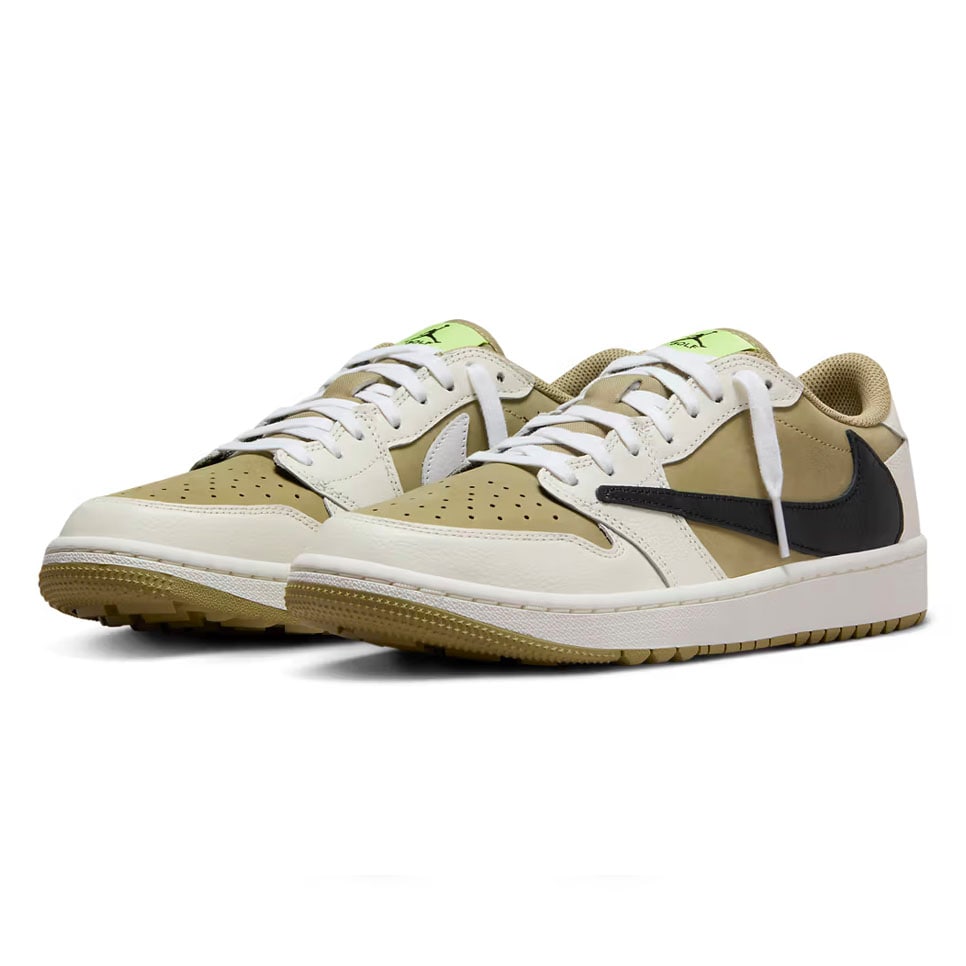 The reselling business has reshaped sneaker-buying culture and this one extremely (and sort of satirical) method is an attempt to rectify a growing problem. Acquiring golf shoes as they are released, especially from Nike and Jordan, has proven to be difficult, yet highly lucrative. As Trendy Golf explained, resale coming into golf is an example that golf shoes are becoming more and more of a thing. There's an apparent demand for golf shoes as our sport grows and reaches an audience that is more fashion-focused. And these shoes are nothing shy of being the latest streetwear staple.
Texas-born rapper Travis Scott has been working with Nike and the Jordan brand over the last four years, pumping out collaboration after collaboration, each one selling out quicker than the last while simultaneously contributing to the resurgence of one of the industry's most sought after sneakers at the moment—the Nike Dunk.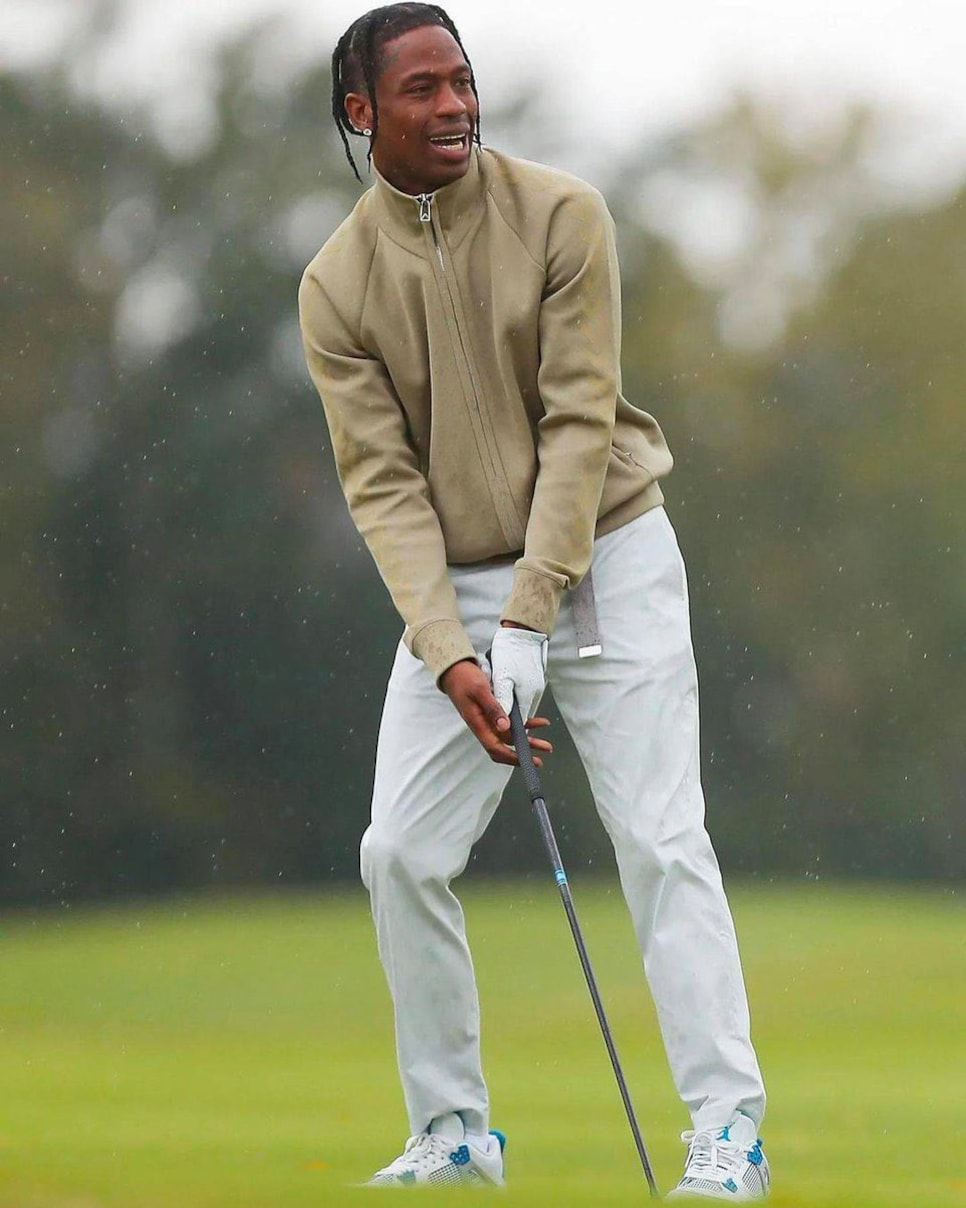 The Nike dunks are a classic, low-top shoe that has seen many different collabs and colorways over the years—including a golf facelift sported by golfers like Nelly Korda, Phil Mickelson, Jason Day, Mina Harigae, and Tony Finau.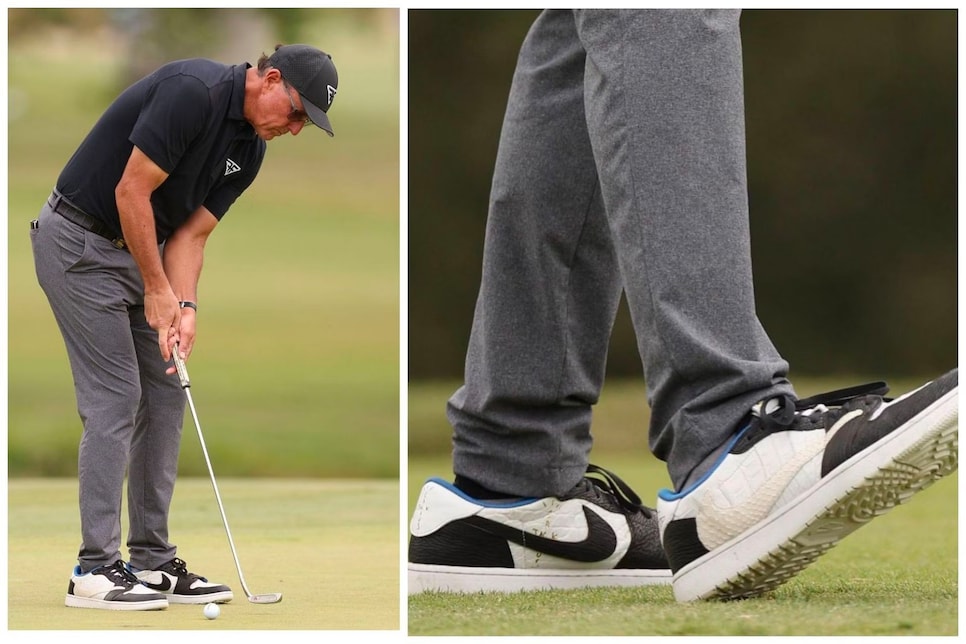 Similar looks
Scott has found himself at the intersection of fashion and entertainment with his varying collaboration. From Sony to McDonald's, he's no stranger to drawing attention to his projects. What his presence as a creative person brings to the golf shoe world is something quite interesting. Scott's relationship to golf isn't spelled out in detail and there's not a lot that we know.
But having a partnership with Nike, one of the market leaders for golf apparel and shoes, makes perfect sense. Nike has the ability and the manpower to produce and market just about anything to anyone. As a rapper, Scott has a following that is unique to golf, similar to other entertainers-turned-golf enthusiasts such as DJ Khaled, Macklemore, and Schoolboy Q. For a "Travis Scott golf shoe" to exist is something that may seem nonsensical relative to what golf has represented in the past, but in a more inclusive future of the game, these shoes (among others) bring a new life to where golf is headed.
So what's the hype really about? Beyond Scott's involvement in the collab, the neutral olive-green colorway is right on time for the fall. The accenting black, cream, and phantom green colors bolster this shoe to be unlike any other golf shoe we've seen in recent years. This upgraded version of the previously released Travis Scott x Air Jordan 1 Low OG "Olive" sneaker includes a refreshed use of the olive hues with the proper modifications to make this sneaker course-ready.