The Loop
You won't see a better encapsulation of the NFC East all year than Daniel Jones tripping himself mid 80-yard scamper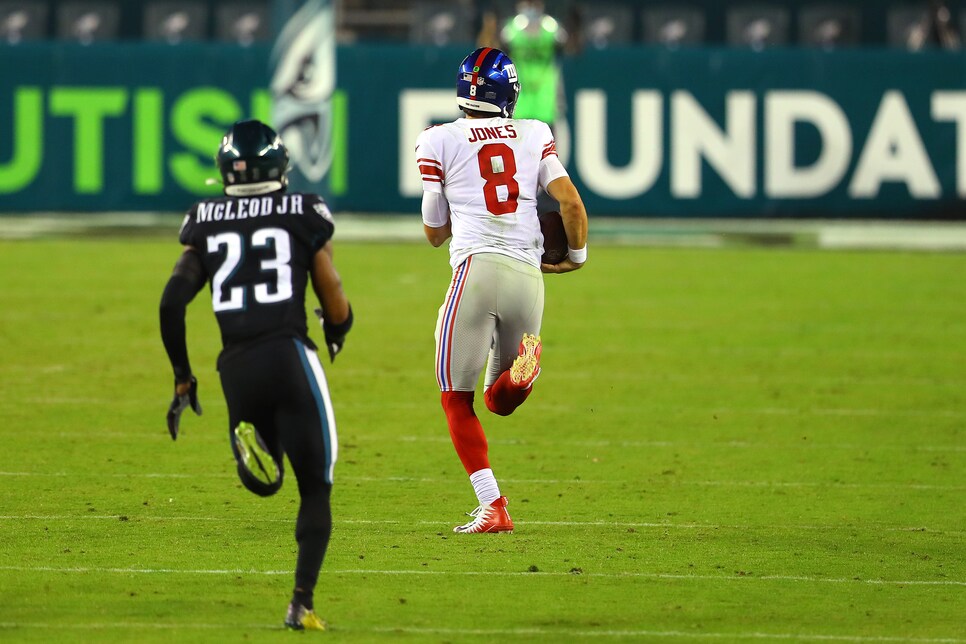 The NFC East—AKA the NFC Least, AKA the NFC Just Kill Me Now and Put Me Out of My Misery—is the worst division in football. Definitely since the 2010 NFC West, possibly of all time. Currently the Dallas Cowboys lead the way at 2-4, playing a brand of football that literally makes you want to shoot your TV. Behind them, a log jam of craptcaular underachievement and incompetence that makes you wonder why the Jets haven't jumped conferences yet. It will take actual divine intervention for one of either the Cowboys, Eagles, Giants, and Football Teams to finish the season with a winning record, and only then because they get to play each other a bunch. It's a mess, and a not very fun one at that.
But still, because of tradition, stupidity, and I-95 myopicism, the NFL Least keeps getting primetime games. For the most part they've been about as entertaining as a snuff film (see the Cardinals' 38-10 beatdown of the Cowboys on Monday), but every now and then that primetime matchup features not one, but two NFC Least teams, and that's when the level of football pings back off rock bottom and starts its upward ascent again. Not because it's good, mind you, but because it's so bad it's good, a phenomenon best explained by this 80-yard Daniel Jones scamper on Thursday night.
Sure, you could watch Patrick Mahomes and Lamar Jackson sling it all over the field under the white-hot lights, but what will you remember 10 years from now: One of their bajillion identical touchdowns or Daniel Jones—BREAKING FREE DOWN THE SIDELINE, ONLY HIMSELF TO BEAT—tripping and falling flat on his stupid Eli Manning face? There is only one answer, and it's obviously no. 8.
In Jones' defense, he picked himself up, dusted himself off, and led his team to the seven points he squandered just a few plays earlier. No harm, no foul . . . well, besides the turf-burned ego, of course. Unfortunately for the Giants, despite taking a 21-10 lead late in the second half, the Eagles came storming back, capping their comeback when a backup running back running a wide receiver route torched the Giants' secondary to take the lead with 40 seconds remaining. Not to beat a dead horse or anything, but you can't get more NFC East than that.