The Loop
We have reached the zenith of Bill Belichick press conference fashion
35 years, six Super Bowls, nine Lamar Hunt trophies. When it comes to football, Bill Belichick has earned the right to do whatever the hell Bill Belichick wants, and that's exactly what he does. Whether it's wearing his mask like one of those old-timey plague doctors, letting his dog take over draft duties, or ostracizing the greatest quarterback to ever live, Bill's prerogative is the world's prerogative. Which brings us, of course, to Wednesday morning, when Bill stepped to the podium for his first press conference of the week dressed like Kurt Cobain on laundry day. Behold.
Here's fashion legend Jacobim Mugatu on the look . . .
Belichick nearly collapsed the interweb back in December when he paired sweatpant capris with white ankle socks and Asics, but that was a costume, not fashion. This is real. It's gritty. It's lived in. It's been distressed not with tumble dryers and expensive volcanic stones, but through the blood, sweat, and tears of 24/7 football (plus, possibly, some sort of car battery acid explosion). Dress for success they say. How much more success can a man possibly want, Bill replies.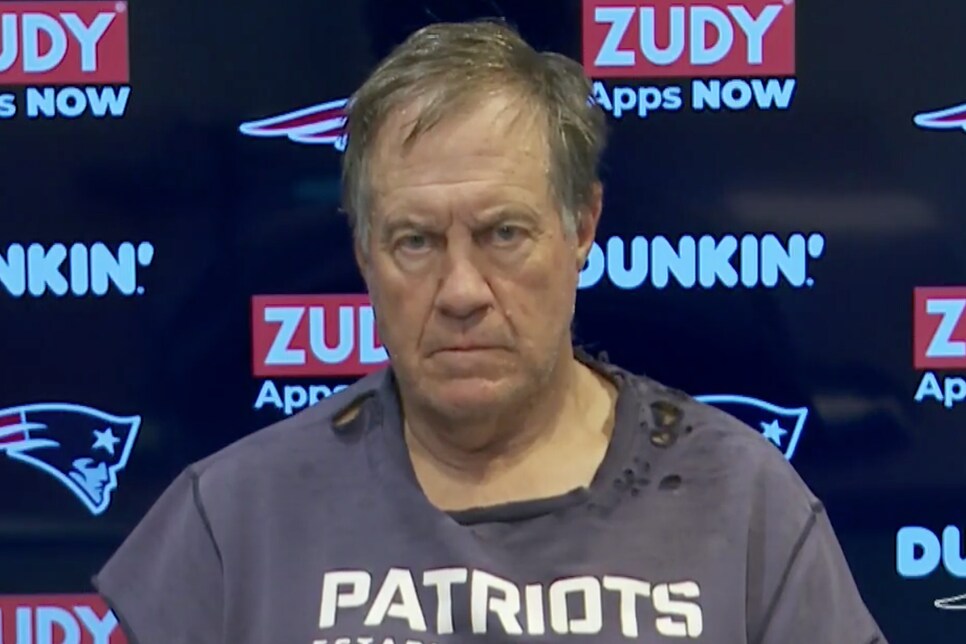 Where this ultimately ranks in the Belichick fit pantheon remains to be seen, but we do know one thing: The Raiders are in for an ass-whoopin.