Michelle Wie West announced on Thursday that she plans to step away from full-time golf after competing next week in the U.S. Women's Open. At 32, she's ready to focus on life outside the ropes after spending more than two decades making headlines inside them.
Indeed, one could describe Wie West as the oldest 32-year-old pro golfer in the world given how young she was when she started attracting attention with her game. It was back in 2000, when the Hawaii native was only 10, that she first made national news in becoming the youngest player ever to qualify for the U.S. Women's Amateur Public Links.
In subsequent years, Wie West showcased her talent by achieving several notable "youngest ever" accomplishments in various women's amateur and professional events, while also competing against the best male amateur and professional golfers in the world by playing in a handful of PGA Tour events. Critics wondered if she might be better served beating up on players her own age to learn "how to win" a la Tiger Woods. But Wie West gained satisfaction and experience testing herself in other ways. And she did her fair share of winning along the way, grabbing five LPGA titles including her signature victory at the 2014 U.S. Women's Open.
With several impressive moments during her career to choose from, we've highlighted 11 that serve as the most memorable—most for the better—of Wie West's career.
When the teen became a phenom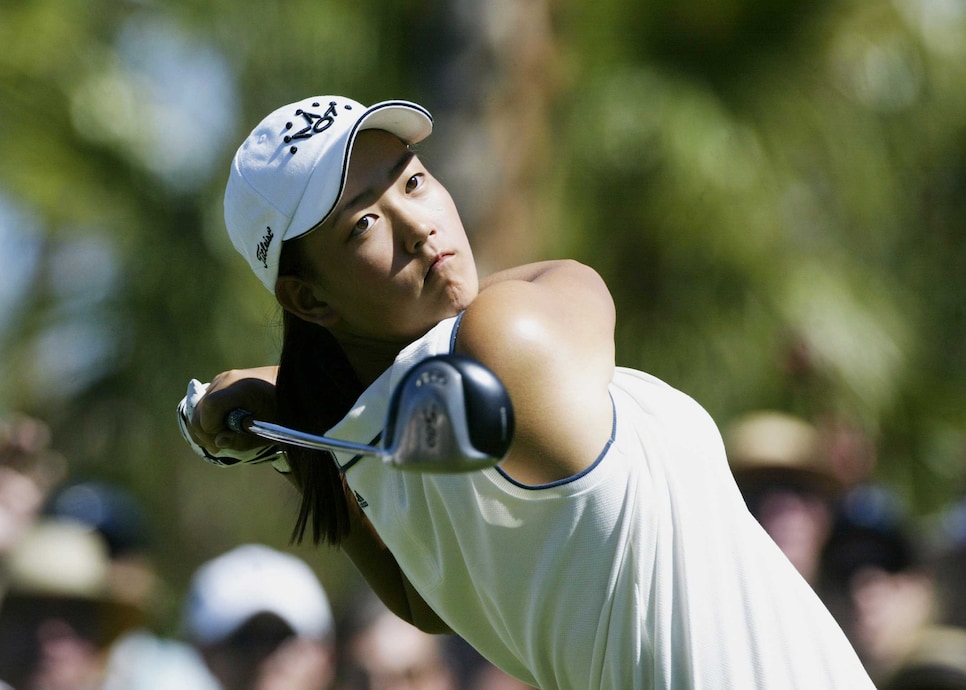 The Kraft Nabisco Championship always loved inviting amateurs into the LPGA major, but took a chance in 2003 when inviting a 13-year-old Wie, who recently had become the youngest player to earn a spot into an LPGA event. Wie made tournament officials look smart when she became the youngest player to ever make a cut in an LPGA event. A third-round 66 put her in the final pairing in the final round. She finished T-9 to earn low amateur honors. It was her first of six top-10s in the major in her career, three of which would come before age 16.
Less than three months later, playing in the U.S. Women's Amateur Public Links, Wie advanced to the finals at Ocean Hammock Golf Club in Florida. When she defeated former NCAA champion Virada Nirapathpongporn in the final, she became the youngest golfer to win a USGA championship that had no age restrictions.
Making waves on the PGA Tour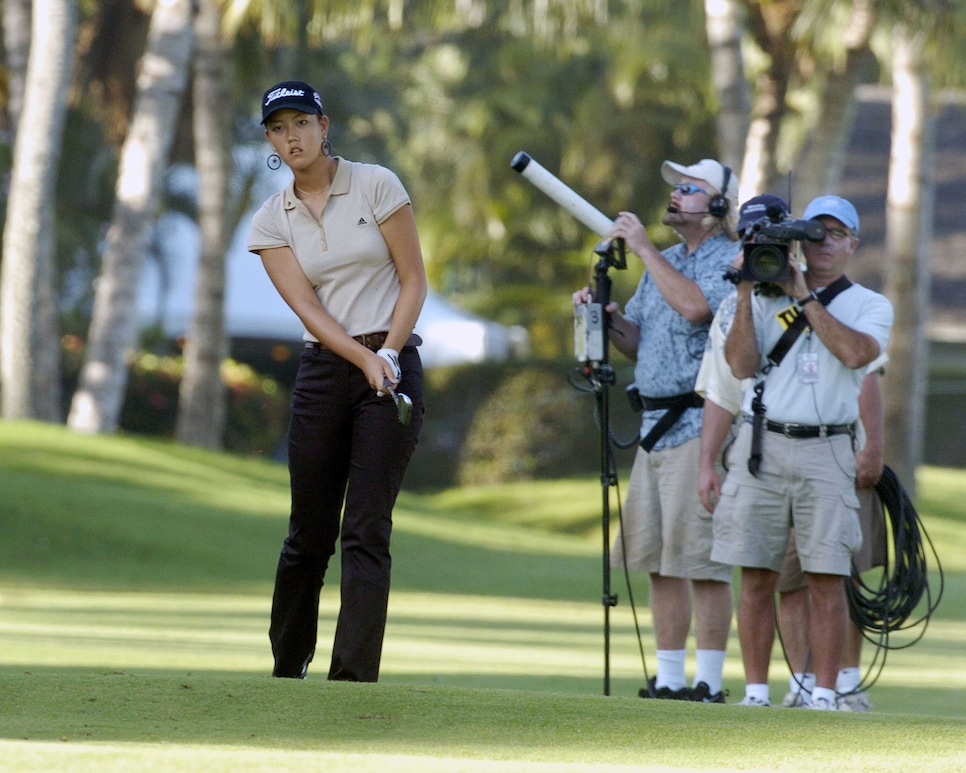 Having wowed several tour pros the previous year with her swing when she competed in the pro-am at the Sony Open—earning the nickname the "Big Wiesy" after Ernie Els sung her praises—Wie did more of the same while playing in the PGA Tour event on a sponsor's exemption. She missed out on becoming just the second woman (along with Babe Didrickson Zaharias) to make a cut in a PGA Tour event but her second-round 68 was the lowest ever shot by a woman on the PGA Tour. This was the first of eight starts she'd make on the PGA Tour and also the closest she'd come to making the cut.
Working for a Masters invite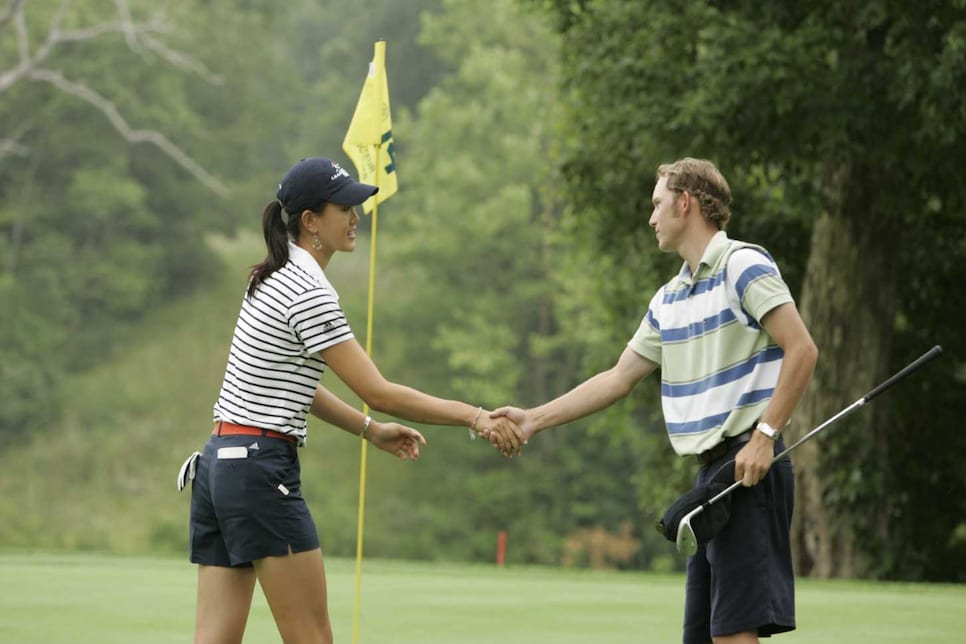 In an April 2004 interview with "60 Minutes," Wie didn't beat around the bush: "I think my ultimate goal is to play in the Masters. I think it'd be pretty neat walking down the Masters fairways." One of the ways to qualify was to win the U.S. Amateur Public Links title. So Wie entered the event in 2005 (which was open to men and women), qualified to play in the championship, then advanced into the match play bracket. Wie got all the way to the quarterfinals before falling to Clay Ogden, the eventual winner.
Given all her success as an amateur in professional events, and the following she had in and out of golf, it was only a matter of time before Wie would turn pro. She did so a week before her 16th birthday in October 2005, and signed sponsorship deals with Nike and Sony worth a reported $10 million per year.
Wie West made her pro debut at the Samsung World Championship in California, seemingly finishing in fourth place and earning around $50,000. However, officials determined that she had taken a bad drop a day earlier and because she had signed for an incorrect score, she was disqualified from the tournament.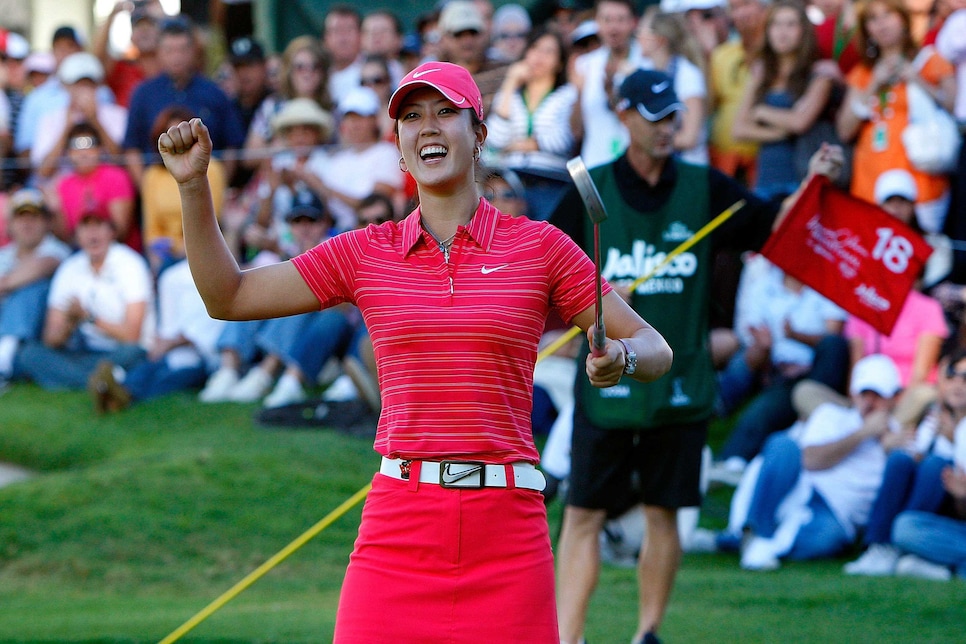 Wie wasn't a full-time LPGA member until earning her tour card in late 2008. Less than a year later, she claimed her first LPGA title, winning the Lorena Ochoa Invitational in Mexico by two strokes.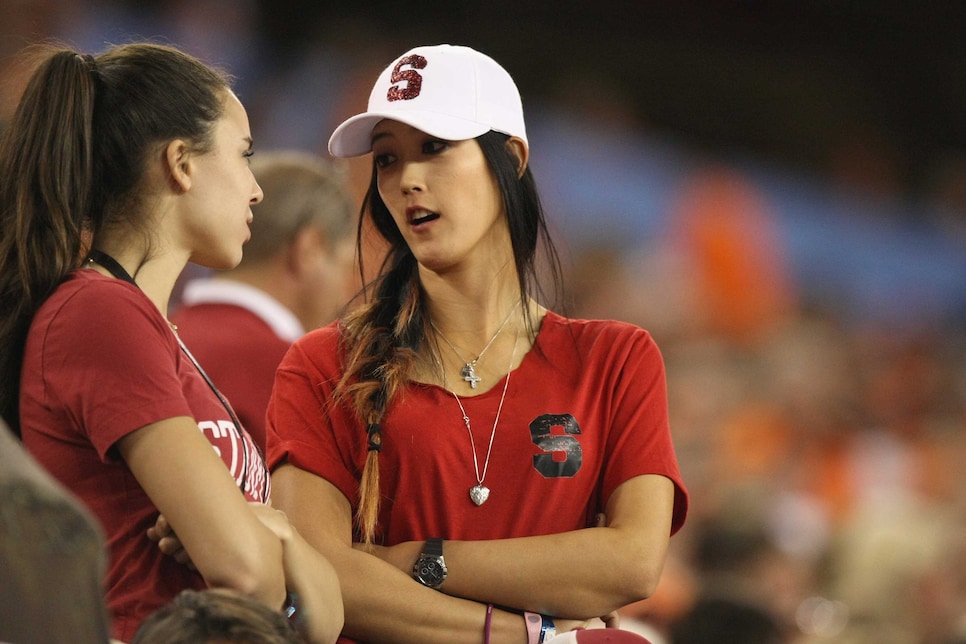 You could make the argument the most impressive thing Wie ever accomplished on the LPGA Tour was simultaneously going to college at Stanford starting in September 2007 and earning a degree. She took classes between LPGA events. It provided meaning and purpose for her, in a way perhaps golf couldn't. And it was definitely an outlet to let Wie be defined by something other than golf. She wrapped up classes in March 2012 and attended graduation in Palo Alto that June.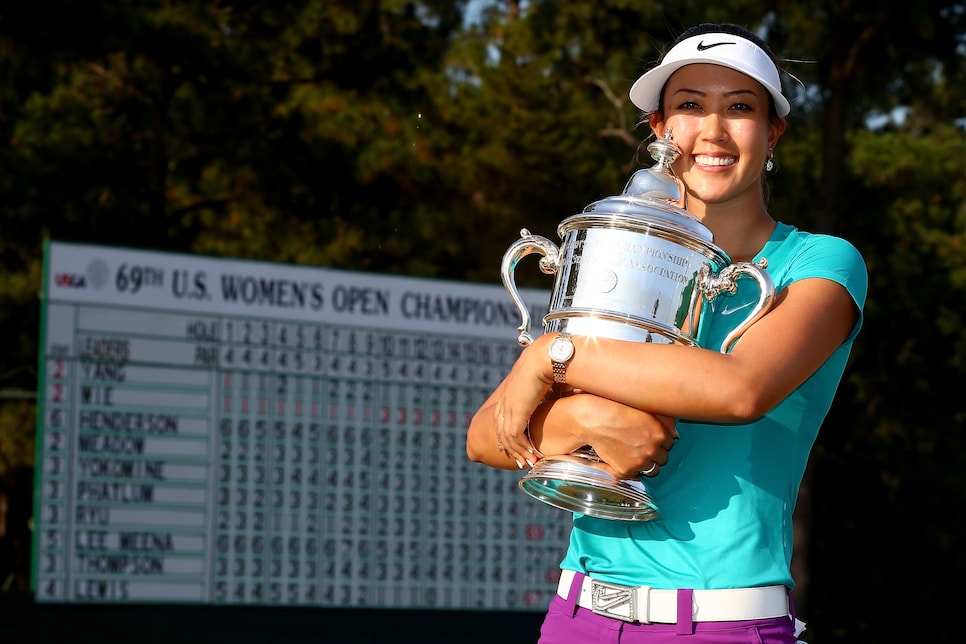 Given all the laurels she earned as an amateur and the talent she displayed, big wins on the LPGA Tour were naturally expected. It wasn't until 2014, however, that those expectations were fulfilled at Pinehurst No. 2. Playing a week after Martin Kaymer won the men's title on the Donald Ross course, Wie was the only woman to break par, beating Stacy Lewis by two shots to claim the biggest title in women's golf.
Disappointment at Hazeltine
Not long after her U.S. Women's Open title, Wie experienced the first of a series of injuries. She would sit out stretches of seasons to heal, with hopes that the rest would finally pay off. But often it didn't, and the frustrations boiled over. They hit their hottest in 2019 at the KPMG Women's PGA Championship, when she shot a first-round 84 at Hazeltine National after a nine-month layout entering the event. "It's just one of those situations where I'm not, you know, I'm not entirely sure how much more I have left in me," she said at the time, "so even on the bad days I'm just like trying to take time to enjoy it. But it's tough." After missing the cut, she took the next 21 months off, during which time she got married to Jonnie West and had a baby.
Nine months after the birth of daughter Makenna, Wie West entered the Kia Classic, the first of six tournaments she played in 2021. She missed the cut by four, but sounded enthused to be competing again and proud of the example she could set for her new child.
"After KPMG in 2019 I thought I was done, especially when I found out I was pregnant later that year," she said. "I thought that cemented it. I thought there was no chance of coming back. And I told my husband that. He was like, 'No, no, just think it through.' But then we found out that Makenna was going to be a girl and that just changed my perspective on everything. It was crazy how just that one little fact changed everything."