Course Strategy
U.S. Women's Open players face a test at Pebble Beach that they've rarely seen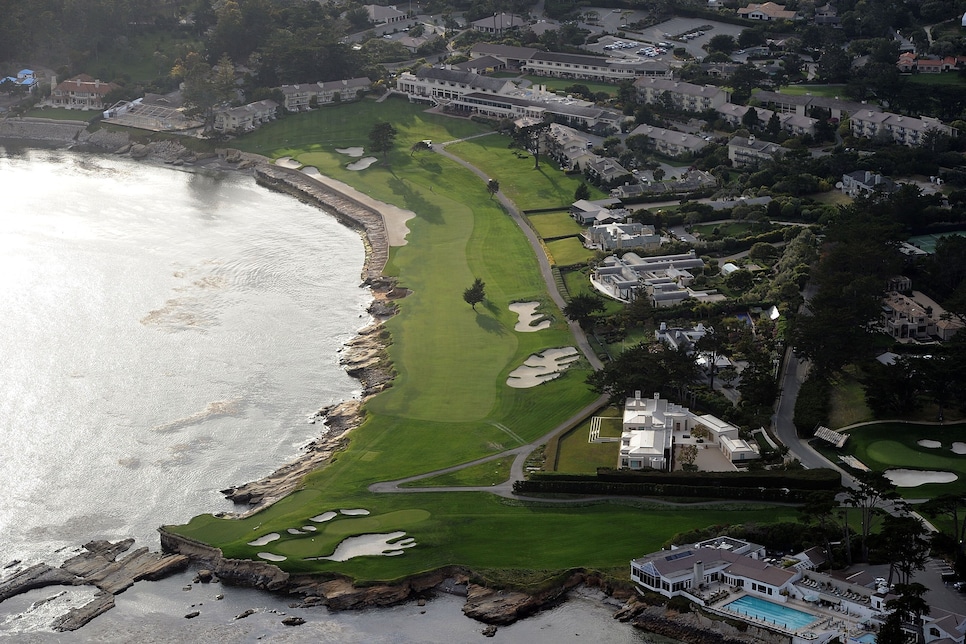 PEBBLE BEACH — In setting up how Pebble Beach will play this week for the first U.S. Women's Open held on the famed links, USGA Senior Director of Championships Shannon Rouillard would be perfectly happy to have a winning score that resembles those that the men have recorded in recent majors here. The trouble is, which result can she shoot for, because the scores for the 2010 and 2019 U.S. Opens were wildly different.
In 2010, Graeme McDowell shot three-over-par 74 on Sunday and still prevailed at even-par 284—thanks, in part, to third-round leader Dustin Johnson's astonishing stumble with a closing 84. Nine years later, the field pummeled Pebble Beach, with the long-hitting Gary Woodland winning at 271 (13 under) and 31 players shooting in red figures for the week.
The weather didn't seem to be a huge factor in either case; both tournaments were contested with a mix of sun and clouds, temperatures in the low 60s, no rain and the wind no stronger than the mid-teens—or about the same conditions forecasted this week.
These are circumstances that allow the USGA to dial up just about any speed it wants on the greens, and maybe the difference between 2010 and 2019 happened to be that the USGA chose a relatively "soft" setup for the latter after another confounding case of baked out greens at Shinnecock Hills in 2018.
It would figure a score in this Women's Open smack in the middle of even and 13 under is a likely winning number for the best female players in the world. The beauty is, Roulliard has no idea how Pebble truly will play until the first golf balls hit the air on Thursday.
"Believe me, I get a little nervous on Thursday," Roulliard said. "But it's an excited nervous. I can't wait to see how it plays, to be what I put together in my mind comes to fruition."
At San Francisco's Olympic Club in 2021, where the coastal course conditions can resemble Pebble, Roulliard had her first chance to set up a course that had been so historic for the men, and she essentially nailed it as a comparable test. With some additional trimming of the rough just before the competition started, the Lake Course, playing at par 71, yielded the top scores of four-under 280 to Yuka Saso and Nasa Hataoka—the former winning in a three-hole playoff. With only a one-stroke difference—one-over 281 with Olympic playing at par 70—Webb Simpson captured the 2012 U.S. Open.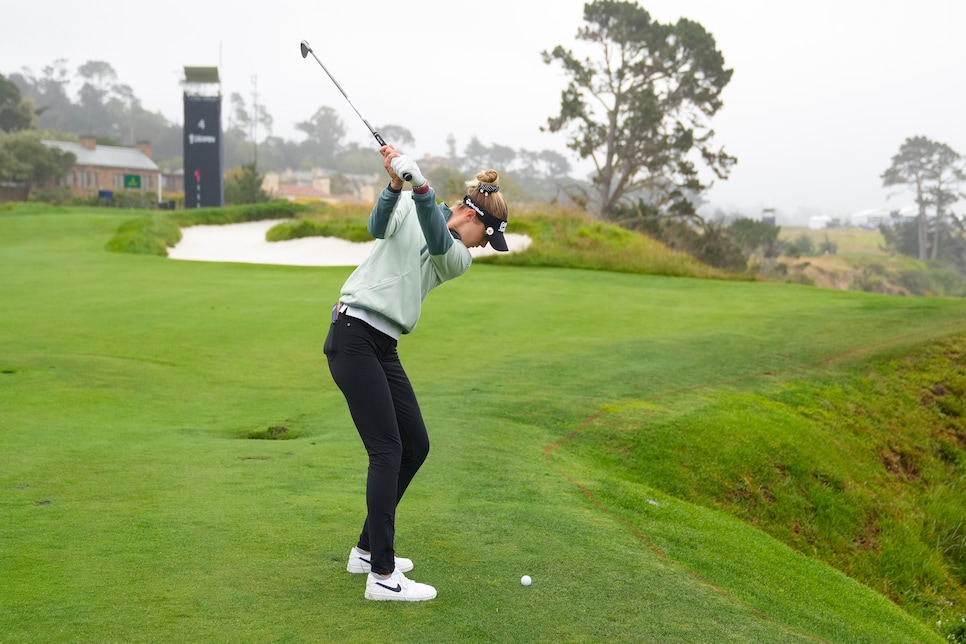 Nelly Korda hits a approach from the right side of the fairway near the cliff on the par-4 fourth hole.
Darren Carroll
On paper, Pebble will play a little more than 6,500 yards for the women, though the yardage changes quite a bit in each round, depending on setup and weather conditions. That's about 500 yards less than the course played for the 2019 U.S. Open. The par-5 second hole will max out at 509 yards for the women, while it was a 500-yard-plus par 4 for the men. Otherwise, the biggest difference can be found on the longer par 4s. The cliffside ninth hole, for instance, lists at a meaty 437 for the women, while the demand for the men was nearly 100 yards longer at 526.
The fairways on some holes, Roulliard said, will be similar in width to 2019, but others will be wider for the women. The rough's length is likely not going to be as long, considering that at Olympic Club in 2021, Roulliard took it down to 2.75 inches from 3½ inches on the eve of the championship after hearing concerns from players. Also, while no intermediate rough planned at Olympic, but a couple of holes ended up having it because balls were running out on the Lake's tilted fairways. At Pebble, the players are going go find more trouble the more wildly they miss. The intermediate cut is supposed to be 1½ inches, flanked by 2¾ inches for the primary, and finally 3¾ for the secondary. Like at Olympic, Pebble will have some grass cut at fairway-height leading into the bunkers for balls to scoot into.
Rouillard's goal is always to put similar approach clubs in the hands of the women when compared to their male counterparts. The test at Pebble is what they do with those irons as they aim for what will be the smallest greens LPGA players are likely to ever face. Too, the rough will certainly be a factor around the greens, with Roulliard noting that the bunkers will have "eyelashes," like they did in '19.
"The rough is pretty thick in some areas; it's a little bare in others," Nelly Korda said on Monday afternoon after a practice round. "Knowing where to miss it … where you don't short side yourself, I think that's very crucial around here. Obviously, you're trying to hit it, be aggressive and play really well. But when you're just not on top of it, you can't pick where you miss.
"Being lucky," Korda added of the requirements to score well. "I think that all kind of needs to come together, but probably the smallest greens I've ever seen. It's an amazing golf course. I think every part of your game has to really click."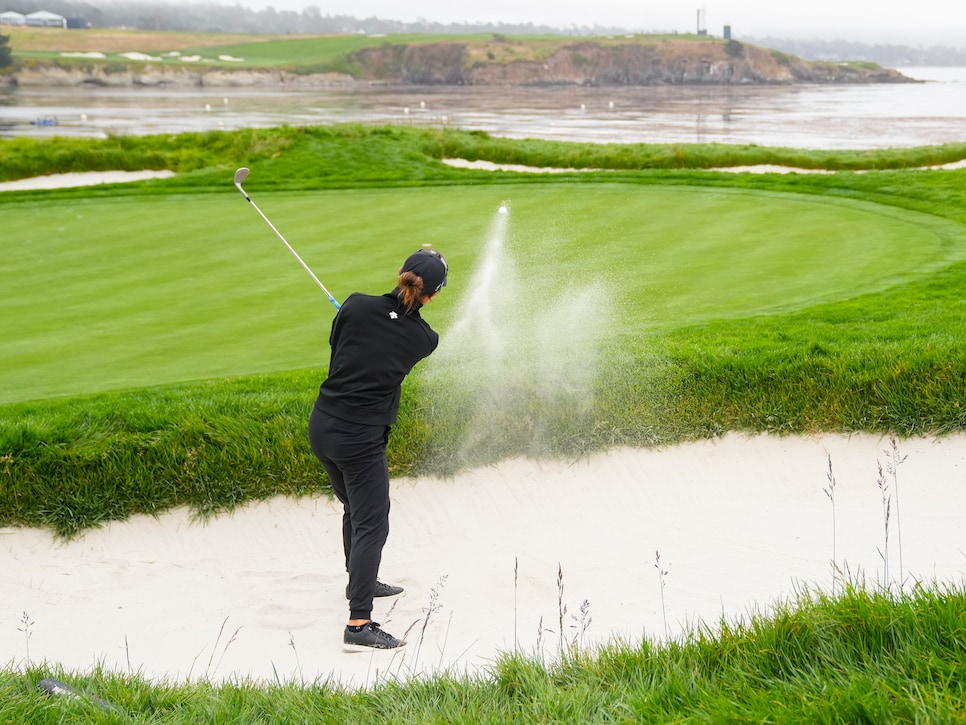 Danielle Kang hits a bunker shot at the par-3 17th.
Darren Carroll
Of course, that's the point of the USGA putting a greater emphasis on taking the U.S. Women's Open to more historic venues. But few in the 156-player field seem to have had much experience at Pebble Beach, even though it is a public resort course, which means there is plenty of homework to do by players, coaches and caddies over the next few days.
"Pebble Beach is a course that the men, they can play every year if they want to, if they play the AT&T, and they've played multiple U.S. Opens there," said John Wood, NBC Sports on-course commentator and a former PGA Tour caddie. "So, I would think Monday, Tuesday, Wednesday may be a little bit bigger than a normal week because there is such a learning curve there."
Another commentator, Kay Cockerill, who is a Bay Area native, said the women should catch on quickly to the concepts. It's the execution that matters. Cockerill figures that the middle stretch of holes 8 through 11 will play very difficult, and then there's the 542-yard par-5 14th, with its blind short-iron shot to a tricky green that Korda called "diabolical."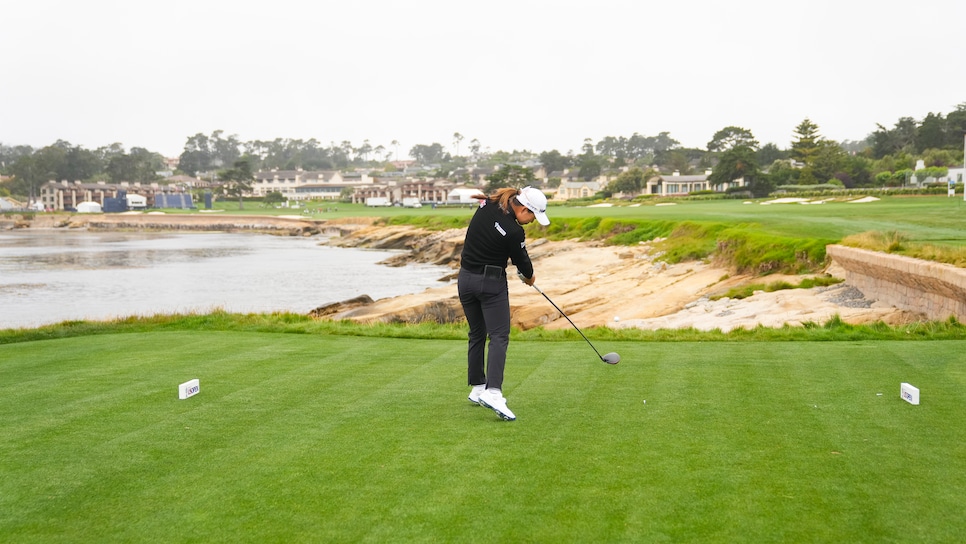 Minjee Lee hits her drive on the famed 18th hole at Pebble Beach.
Darren Carroll
The on-paper yardage for the par-3 17th is a daunting 175 yards into the wind, while one of the most recognizable finishing holes in all of golf awaits the first walk by a U.S. Women's Open champion come Sunday.
"I kind of said the same thing when we were leading into the U.S. Women's Open at Olympic Club," Cockerill said. "It's like we have all this history and all these stories of what has happened, good and bad. Who's going to be the first player to have a hole-in-one? Who's going to be the first to make an eagle? How is the 18th going to play weeklong? Those are all things we're curious about, and those are going to be things that these women are going to be the first to do X, Y, and Z, and we're going to be there documenting it."
More than just recording it. Savoring it, too.