U.S. Women's Open
Amy Olson, seven months pregnant, is playing for more than herself at Pebble Beach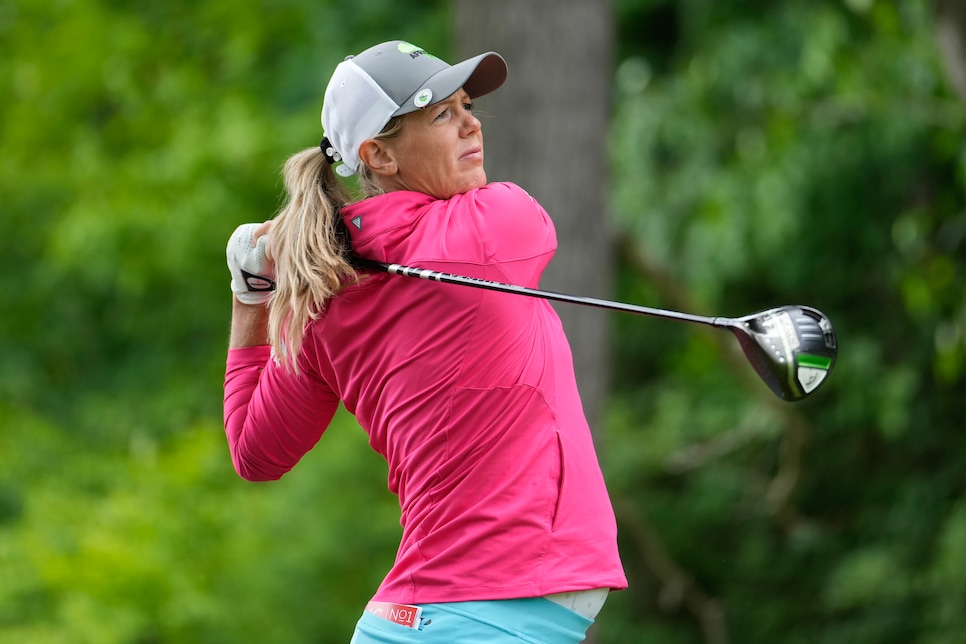 For all of the right reasons, there will be plenty said and written this week about Amy Olson competing in the 78th U.S. Women's Open. The 30-year-old is 31 weeks pregnant and will traverse on foot the famed Pebble Beach Golf Links. With a few steep climbs along the cliffs, it's not an easy stroll—about four miles if you walked in a straight line, which nobody does. "We're calling it 'Mission Waddle,'" Olson said with a laugh on the phone last week.
The attention now will be about how Olson feels; how she can possibly swing and putt with her belly literally growing by the day; how she views the opportunity to join other LPGA Tour moms and professional athletes who have walked this path.
But let's not forget or underplay how Olson got here. That's the truly remarkable part of the story.
On May 22, Olson showed up at Sommerset Country Club in Mendota Heights, Minn., with no idea how she would play in the 36-hole U.S. Women's Open final qualifier. "Everyone who plays golf knows that you go to the golf course and ask yourself, 'What do I have today?' Olson said. "That [thought] is on steroids when you're pregnant."
She had dreaded these exhausting marathon days in the past and only made it through U.S. Open qualifying once. Only two players among the field of 45 in Minnesota would secure a spot in the first women's major to visit Pebble Beach, and Olson debated whether it was even worth a try, given how far along she would be in her pregnancy when the Open's first round arrived on July 6. Not to mention, she had only played four competitive rounds in the 2023 LPGA season.
"When I found out I was pregnant, I texted some of the moms on tour," Olson recalled. "I asked about what the sweet spot was for them and when was their cutoff. I kept hearing from people who played from 28 to 30 weeks. Beyond that was pretty borderline. I thought, OK, I'm going to be 31 weeks when Pebble rolls around."
Among those she spoke to was Brittany Lincicome, who went into labor with her first child in 2019 after flying to Illinois to play in a Monday pro-am. She also played the 2022 KPMG Women's PGA Championship at 30 weeks pregnant with her second child. "She really pushed it, as far as how long she played," Olson said.
Olson's decision? This wasn't any Open; it was Pebble Beach, and she was just enough on the borderline to give it a shot. "It's very difficult to try to qualify for the Open," Olson said. "You have to have the right round on the right day. I thought, If we qualify, we'll deal with it then."
Olson asked her mom, Twyla Anderson, to caddie for her for at the qualifier, and the beautiful symmetry was not lost on them. "It really was sweet to think about—three generations walking down the fairway," Olson said.
Olson played solidly on the first 18 at Sommerset and birdied her last hole to post an even-par 72. There were a couple of three-under scores, however, and she figured she might have to double that by shooting 66. Daunting for anyone, pregnancy notwithstanding. And sitting down for an hour at lunch between rounds didn't help.
"One of the hardest things for me during my pregnancy was stopping and starting," Olson said. She later added, "It used to take me five balls to warm up. Now, it takes me 50 to 55, and by then I'm tired."
Beware, however, of the woman living and playing for two. Studies have shown that pregnancy requires the endurance of marathon runners or Tour de France cyclists, and Olson found another gear that afternoon. She shot the lowest round of the event—her target 66—and earned medalist honors by two shots.
Daughter and mom celebrated their triumph with a trip to a nearby Culver's restaurant, where the treats were appropriately indulgent: cheeseburgers and Concrete Mixers.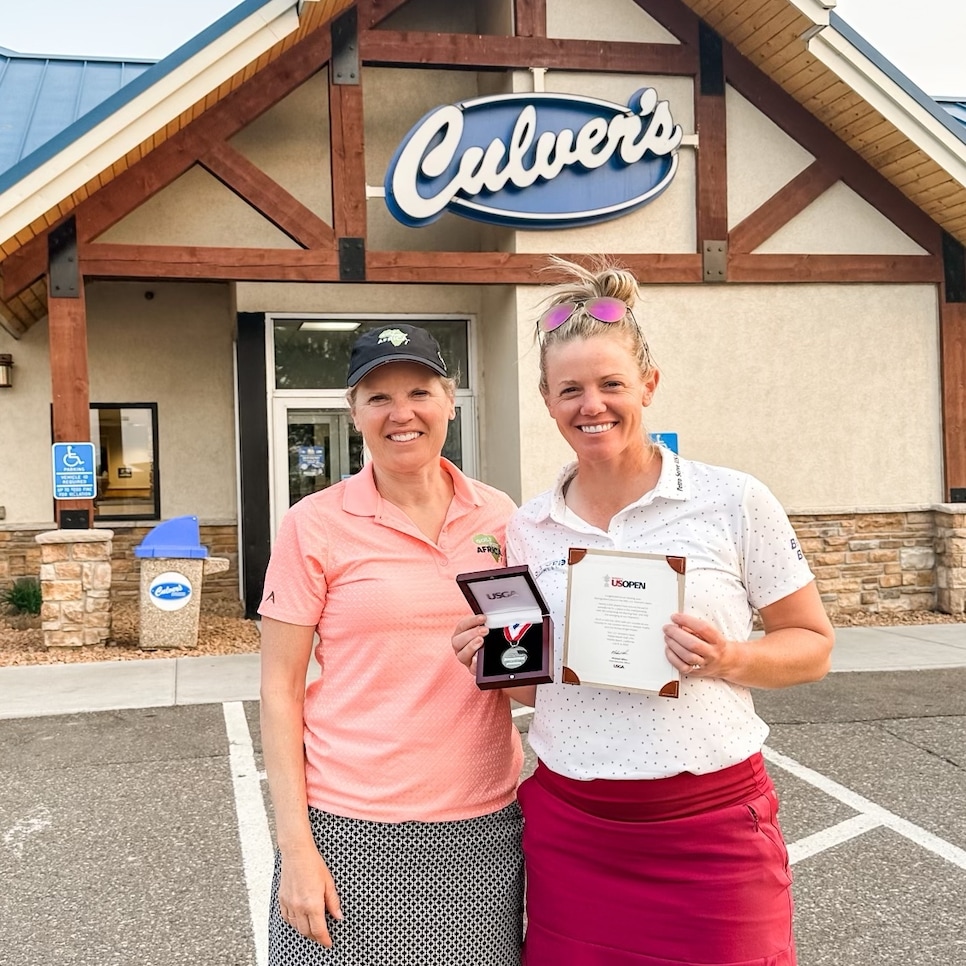 Amy Olson and her mom, Twyla Anderson, celebrated reaching the U.S. Women's Open with a trip to Culver's for burgers and custard.
As fate would have it, Olson entered the Meijer LPGA Classic in the second week of June, and playing on a sponsor's exemption was Wake Forest star Rachel Kuehn, who is truly a golf baby. Her mother, Brenda Corrie Kuehn, was 36 years old and 39 weeks pregnant with Rachel when she played in the 2001 U.S. Open at Pine Needles. Brenda accompanied Rachel to the Meijer, giving Olson the opportunity to have lunch with her.
"She was worried," Brenda Kuehn recalled on the telephone last week from her home in Ashville, N.C. "I said no, 'Heck, I did it farther along. You'll be fine. You'll be in good shape and you're hardly showing.'
"These girls are in so much better shape now than we were 20 years ago," Kuehn later added. "They work out. Though it's not like I was sitting around. I did walk and play golf [while pregnant]. I played golf on the day before each of my three kids was born."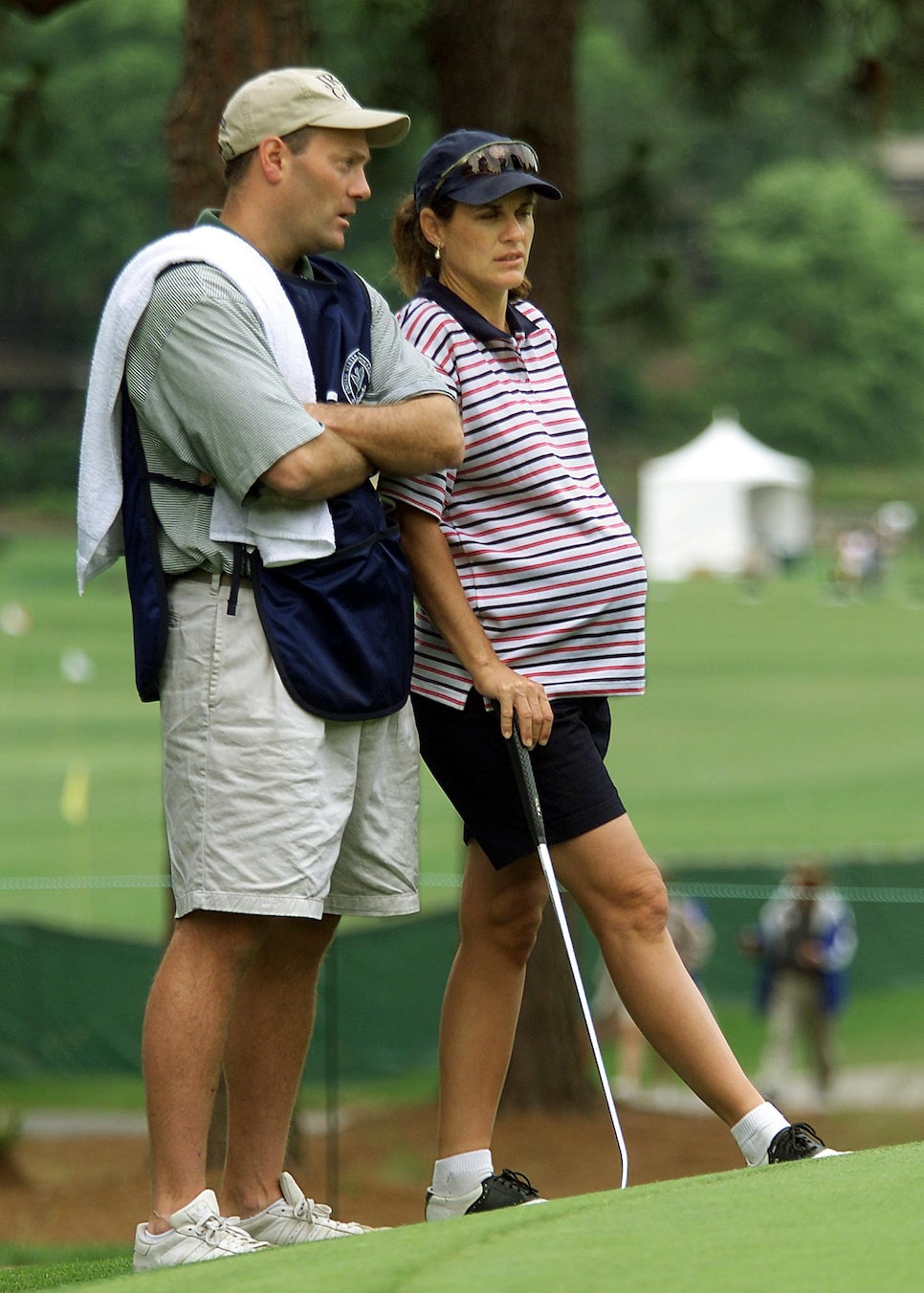 A pregnant Brenda Corrie Kuehn competed in the 2001 U.S. Women's Open with husband Eric Kuehn as her caddie.
LUKE FRAZZA
Kuehn was an amateur when she qualified for the 2001 Women's Open, and with little experience facing the media, she said he was overwhelmed by the attention. She handled most of it well, but an interview got heated when a reporter suggested that Kuehn could have given up her spot to a player who was more capable. Translation: not pregnant.
"That really pissed me off," Kuehn said. "I'm usually pretty polite, but I was, like, Excuse me, I earned by spot here. I beat whoever it was. Nancy Lopez was in my qualifier, and she didn't make it. I don't have to pass on playing because you think I can compete or not."
Kuehn has plenty of other memories about her experience, including the contractions she had while competing and the awful clothes she wore, because there were few options for pregnant women at the time. "What was I thinking wearing my husband's extra large golf shirt with the horizontal stripes?" Kuehn said with a laugh.
Ultimately, Kuehn didn't come close to making the cut in the Open at Pine Needles, where Karrie Webb won by eight shots. Nine days later, Rachel Kuehne arrived. "To me," Olson said, "that's completely insane!"
Last week, Olson and her husband, Grant, retreated to a place his family has owned on Lake Florida in Minnesota. It was the beginning of Grant's four-week vacation from his coaching job at his alma mater, North Dakota State, and they got a chance to unwind before the attention becomes intense at Pebble Beach. At home in Fargo, N.D., Amy's home state, a room awaits for the first child of the family—the gender will be a surprise—but the couple has plenty of work to do, considering the space currently is filled with golf clubs and pickeball paddles.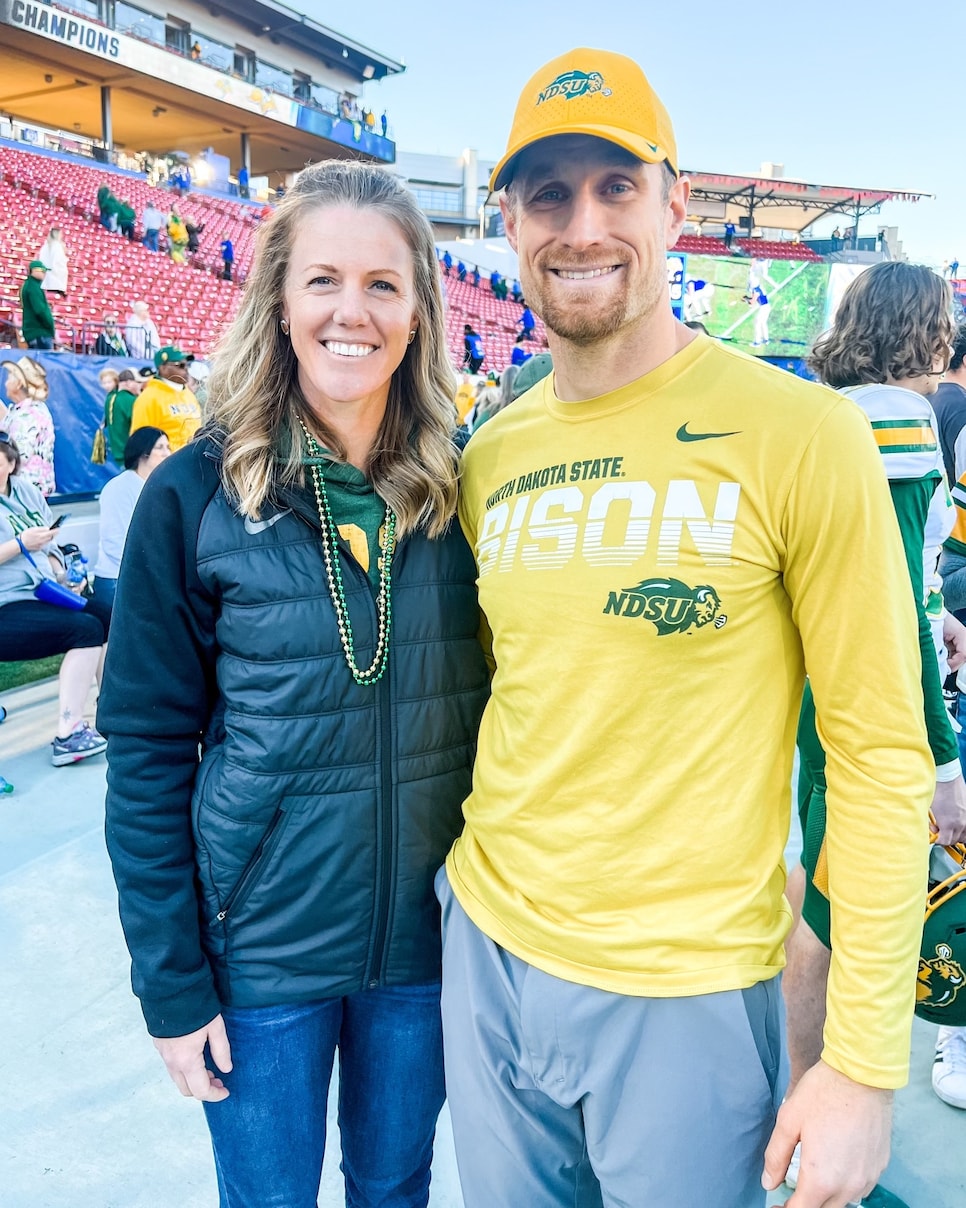 Amy Olson and her husband live in Fargo, N.D., where Grant is an assistant footall coach at North Dakota State.
As much as Olson has tried to maintain a practice routine, she's feeling like her swing is changing by the day as her belly gets bigger. She can't stand over the ball as much as she'd like, and she laughed when admitting that she didn't realize how much her right arm would bump into her stomach while putting. Kuehn warned her about how much distance she'd lose, and that's become a reality. And, of course, Olson and the field of 156 won't be playing a normal LPGA course for the week, but one that is supposed to be the biggest challenge the women face all year.
"I know what it takes to play at the elite level and play in a major championship," Olson said. "Realistically, my ball-striking is not there right now. Do I think I can post a good score? Yes. But to say I can be competitive, that's probably a stretch. With the weight gain, I don't think this is going to be anybody's formula for success.
"That's OK," she added. "This is just so much bigger than golf. Golf has been a dream of mine for so long, and so is being a mom. I get to do both of these things, and I don't want to put them at odds with each other. Both are really special, and I'm excited."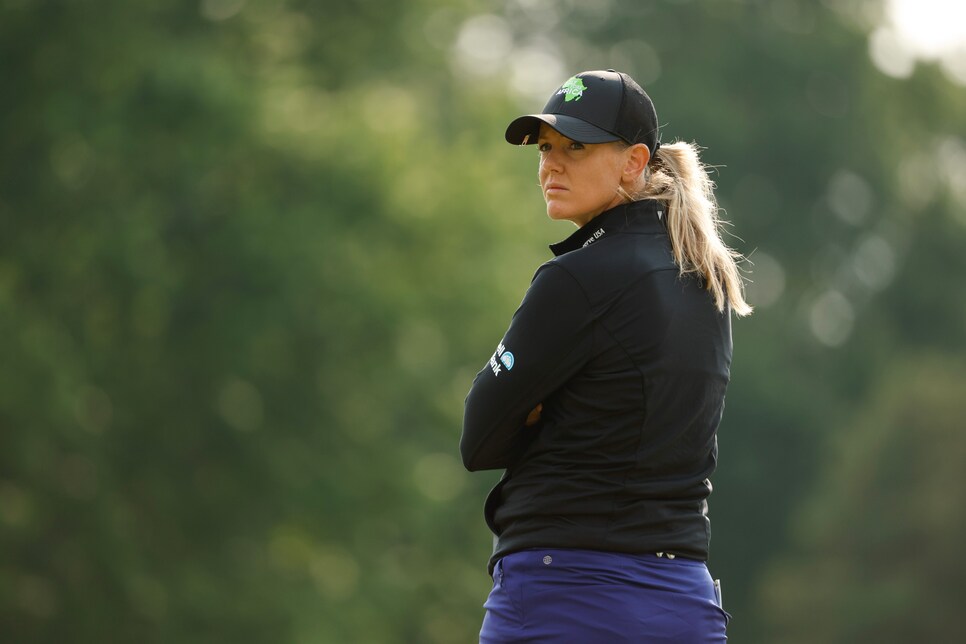 Amy Olson, shown while playing the Meijer LPGA Classic, is embracing all of the challenges the U.S. Women's Open at Pebble Beach will present her.
David Berding
Winless in 10 years on the LPGA, Olson had a shot at capturing the 2020 U.S. Women's Open that was postponed to Houston in December because of the pandemic. Contending through the final stretch on a finished delayed by weather into Monday, she ultimately lost by one shot when A Lim Kim rallied with birdies on the last three holes to win. The defeat was hardly deemed a heartbreak for Olson, whose father-in-law, Lee Olson, died unexpectedly on the Saturday night of the Open.
"We're walking through the opposite spectrum of losing somebody who was very close to us, and this time, we're about to gain a family member," Olson said. "The irony is not lost on me."
This week at Pebble Beach, she said, is a celebration of women and of life.
"This is a gift," Olson said. "There is a narrative in our culture that women can do everything, and I think that puts a lot of pressure on women to be good at everything all at the same time. There are different seasons in life, and you have to embrace each season, be grateful and joyful in each of those seasons."