Majors
Tour pro qualifies for U.S. Women's Open at Pebble Beach … while six months(!) pregnant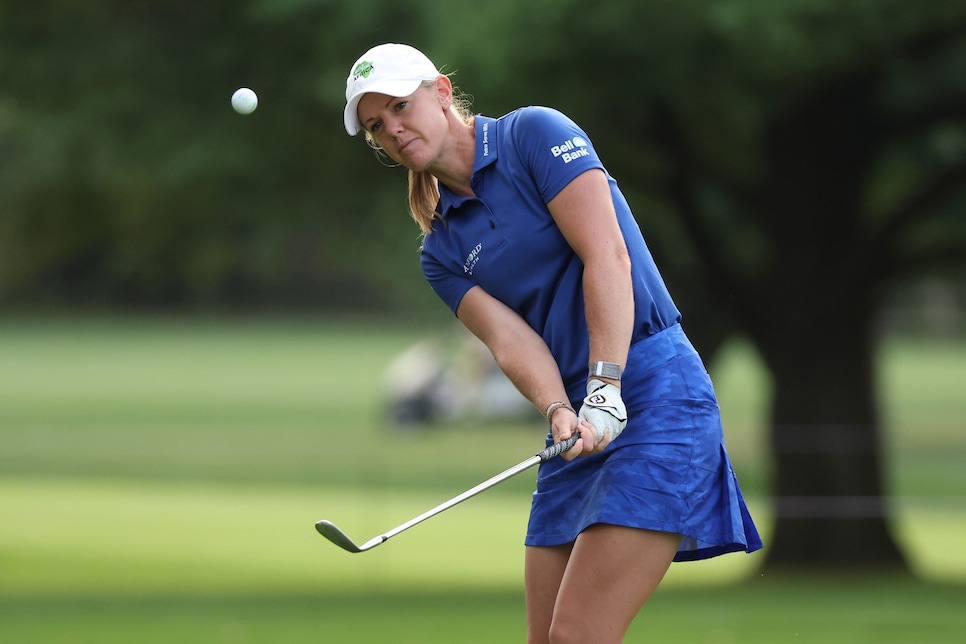 Competing in the first U.S. Women's Open held at Pebble Beach Golf Links will be a thrill for everyone teeing it up come July. But for Amy Olson, it will be even more memorable thanks to the fact she be playing while also seven months pregnant with her first child.
On Monday, the 30-year-old LPGA Tour pro shot a six-under-par 138 to earn medalist honors in the USGA's 36-hole qualifier at Somerset Country Club in Mendota Heights, Minn. Olson outpaced the other 44 in the field to be one of two golfers to earn a trip to the Monterey Peninsula.
"I wanted a shot at it because it's Pebble," Olson told the Minnesota Golf Association on Monday. "That was the big motivation and it'll be my last tournament before the baby comes, so it's a good way to go out." Olson, who announced her pregnancy on Instagram in March, is due in September.
Impressively, Olson shot a six-under 66 in her second round, with three birdies on her front and back nines. That marks Olson's lowest tournament score since the final round of the LPGA's AmazingCre Portland Classic last September.
Qualifying for the national championship is a high point thus far in Olson's 10th season on tour. The Fargo, N.D., native has only played in one event to date, last month's Lotte Championship, where she finished T-61. Her lack of starts isn't because of her pregnancy but rather her limited status due to finishing 109th on the 2022 LPGA's CME points list. Olson tried to Monday qualify into the Drive On Championship at Superstition Mountain in Arizona in March, but her two-under-par round missed by three strokes.
A former U.S. Girls' Junior champion who won an NCAA record 20 college tournaments at North Dakota State but is winless on the LPGA Tour, Olson already joked on Twitter about what the USGA will need to provide for her, asking for PB&J's with peanut butter on both sides.
This will be the seventh time Olson will be playing in the Women's Open. She memorable finished in a tie for second to A Lim Kim in the 2020 championship at Champions Golf Club in Houston. That year she played with a heavy heart after her father-in-law died unexpectedly less than 48 hours before the final round.
There were other notables who reached the U.S. Women's Open on Monday. Anna Davis, the 2022 Augusta National Women's Amateur champion, earned medalist honors at Valencia (Calif.) Country Club, with UCLA sophomore Zoe Campos also advancing from there. PGA Tour player Maria Fassi was second among three qualifiers in Alexandria, Va.