PEBBLE BEACH — This week's U.S. Women's Open, making its maiden visit to Pebble Beach, is an unprecedented opportunity for professional women's golf. With it comes 12 hours of weekend coverage that lasts into primetime on the East Coast, an alchemy that provides the LPGA Tour a first-of-its-kind opportunity to reach new audiences.
"Our Golf Channel broadcast from our West Coast [tournaments] are some of our most highly viewed events, and then to have that on NBC Network television in primetime for the first time ever, it's really, really special," Golf Channel commentator and major winner champion Morgan Pressel said.
"Then you put the two of them together. People are going to tune in because they've heard of Pebble Beach. They might have never watched an LPGA event in their life, but they've heard of Pebble Beach, and here it is on Sunday evening and they're flipping through channels and they're like, 'Wow, this is really amazing; this is some incredible golf. What an exciting event.'"
Building towards this moment, players have clamored for years about the importance of playing at prestigious venues to entice casual fans to watch them compete. Pebble Beach fits the bill, as golf fans can picture some of the game's most iconic holes with their eyes closed.
With a simple search on YouTube you can relive the images of Jack Nicklaus' 1-iron on 17 at the 1972 U.S. Open, Tom Watson chipping in on the same par 3 to best Nicklaus a decade later, or Tiger Woods' world-shattering 2000 performance, among many historic golf moments. The LPGA's players can now benefit from the memories evoked from the six U.S. Opens held at Pebble.
"I think being on iconic venues is a more sustainable improvement for the tour, because it increases the media value, and you have to increase media value to attain more money," Michelle Wie West, the 2014 U.S. Women's Open champion, said.
Visiting heralded golf courses isn't a one-off trend for the LPGA. Only two weeks ago, the KPMG Women's PGA Championship was held at New Jersey's Baltusrol Golf Club, the first time a women's major was played there since 1985. The AIG Women's Open was at Muirfield last year, which held 16 Open Championships before the women made their debut, female members finally admitted in 2019. They'll return to St. Andrews next year, the second appearance there along with 2007. In its first trip to Southern California, the U.S. Women's Open goes to Riviera Country Club in 2026. The women return to the West for a major again next year at Sahalee in Sammamish, Wash., for the Women's PGA.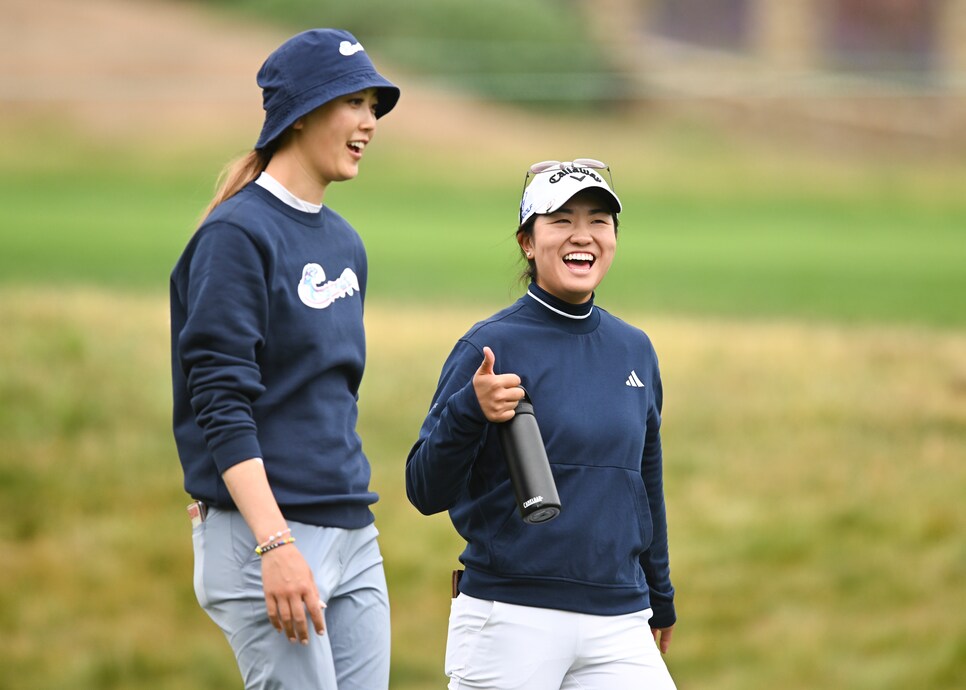 Two of golf's biggest attractions, Michelle Wie West and Rose Zhang, walk together during a practice round at Pebble Beach ahead of the U.S. Women's Open.
Kathryn Riley
Visiting West Coast venues paid off recently for the U.S. Women's Open. Two years ago at The Olympic Club in San Francisco, with seven hours on NBC, the event averaged 600,000 viewers, for a 62-percent increase in viewership year-over-year.
The West Coast boost occurred just two weeks ago at the men's U.S. Open at Los Angeles Country Club, where ratings averaged 3.4 million viewers across NBC's platforms. It's the best ratings since … wait for it … 2019 when it was on the West Coast at Pebble Beach.
The USGA strongly believes the women also will see a ratings jump from playing at Pebble. "It wouldn't surprise me if we were 50 percent higher than Pine Needles," USGA Chief Commercial Officer Jon Podany said.
NBC looks to capitalize on the potential of Pebble by airing 12 hours over the weekend, from 3-9 p.m. EDT on Saturday and Sunday. That compares to seven hours of coverage of the U.S. Women's Open on NBC the last two years. The USGA adds another layer of intrigue and analysis by bringing a full ShotLink-style system into the fold.
NBC Sports Executive Vice President of Golf Tom Knapp explained that internal Golf Channel viewership data supports the belief that the week could pay off with an expanded LPGA audience. While he didn't go into specific numbers, he also expects the primetime telecast to exceed the ratings of recent U.S. Women's Opens.
LPGA commissioner Mollie Marcoux Samaan, in an email, noted that LPGA telecasts on NBC versus events on cable equate to a whopping 450-percent increase in viewership. Getting into more primetime hours fulfills a lot of the LPGA's goals to increase its audience.
"When we talk about continuing to elevate the women's game, investment is critical," Marcoux Samaan said. "Investment comes from increasing purses, and playing on great golf courses, but it also comes through increasing exposure to our world-class athletes, offering the best technology and investing in more aggressive marketing, which all helps more people become fans of our athletes."
In 2022, the tour had nine tournaments on national TV for 32 hours. That's on pace to expand this year, with 25 hours of major coverage on NBC just between the Chevron Championship, the KPMG Women's PGA and the U.S. Women's Open. That's a half-hour off the entire time the LPGA was on NBC in 2021 and nearly double the airtime for those three majors that year.
The Chevron in April, played for the first time outside of Houston after moving from the California desert, highlights the increased audience size from more national airtime. The previous year, the major was televised only on Golf Channel. Marcoux Samaan pointed out that when NBC stuck with this year's Chevron when it went into a playoff (won by Lilia Vu), the broadcast peaked at 1.54 million viewers and was the top-rated sports program NBC aired that week. That Sunday, NBC averaged 941,000 viewers across all platforms, a 13-year high for the major and a 170-percent increase from the 2022 telecast.
"Majors are our biggest opportunity to grow our sport and to grow this tour," LPGA veteran Stacy Lewis said. "It's when we get the most people watching, the most people here in the media center paying attention. These weeks are so, so important, and where you play matters. It matters to the casual fan. It matters to who's watching."
The players' opportunity to showcase their talents on the best courses during their majors can be credited to the work among those at the LPGA, PGA of America, USGA and R&A. They have mapped out venues years in advance and eased the complex challenge of NBC booking airtime for the majors.
"It enables us to showcase the women as they should be," Knapp said.
Knapp added that the goal is always to go forward with more hours every year. Should all go according to the expectations that women's golf delivers this week, the road is paved for further national TV growth.
"The bigger and broader the audience, the bigger the opportunity is on any of our platforms," Knapp said. "Growing the audience could absolutely yield more hours."