U.S. Women's Open
Rose Zhang shot Pebble Beach course record in college, but she knows the U.S. Women's Open is a far different test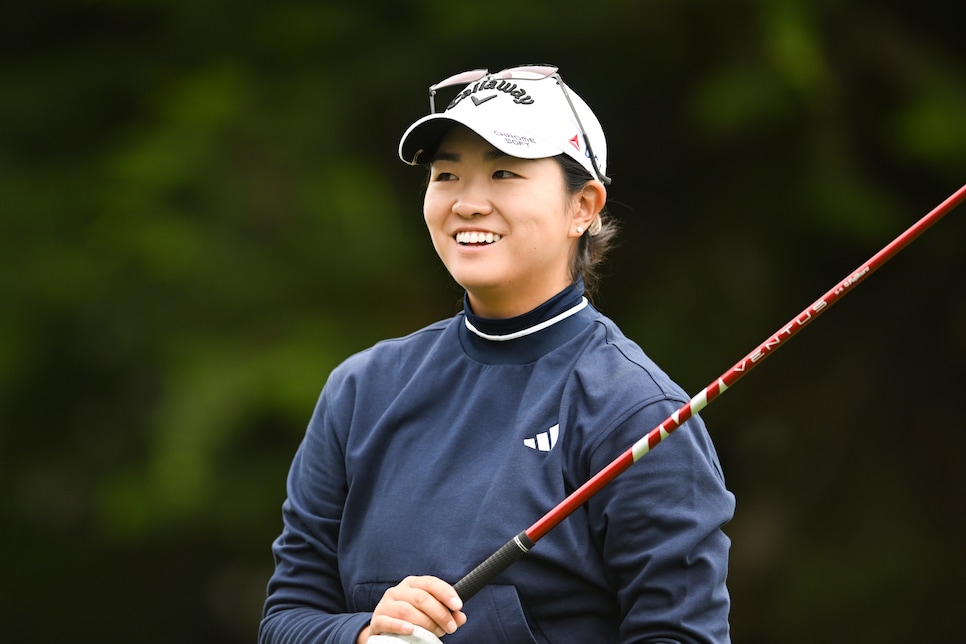 Rose Zhang on the third tee during a practice round of the U.S. Women's Open.
Kathryn Riley
PEBBLE BEACH — Rose Zhang will no doubt look back at it as a time of joy and innocence, when she and Stanford teammates were among the first women to compete in a college tournament on the Pebble Beach Golf Links.
The Cardinal, coming off their national championship the season before, made their 2022-23 season debut last September in the inaugural Carmel Cup. They stayed at the Pebble Beach Lodge, ate laugh-filled meals, and commiserated about trying to get into Stanford's online registration system to get classes for the fall quarter.
"A pretty dreamy week," Zhang, 20, recalled with a wide grin on Tuesday in her press conference in advance of this week's U.S. Women's Open at Pebble Beach.
And we haven't even mentioned the golf. Zhang opened the Carmel Cup with a solid four-under-par 68, and then the next morning, she birdied the second, fourth and fifth holes, eagled the par-5 sixth and birdied the famous par-3 seventh en route to shooting six-under 30 on the front nine.
Zhang slowed down a bit on the back, with birdies at the 11th and 16th. But with zero bogeys on her card, she arrived at the seaside par-5 18th needing a birdie to break the Pebble Beach course record for women of 64, held by LPGA player Brittany Lincicome. (The men's record of 61, shot in 2017, is held by former Texas Tech golfer Hurly Long.)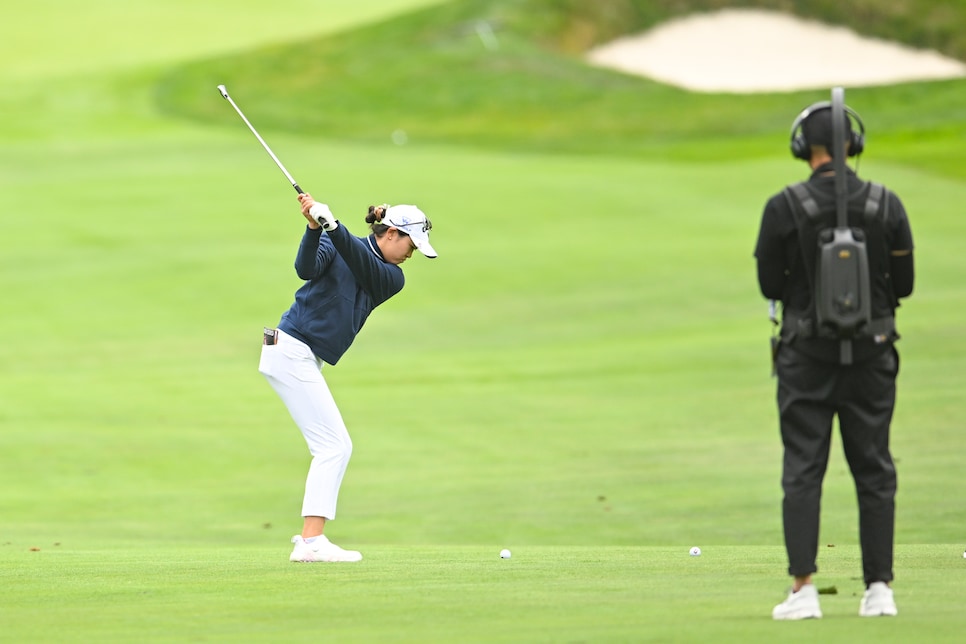 Rose Zhang plays a shot on the third hole during a practice round of the U.S. Women's Open.
Kathryn Riley
In Rose-like fashion, she hit a "really incredible" second shot to the front of the green on the finisher and had a relatively easy two-putt for birdie and a nine-under 63.
"I feel like that round in particular was a little bit of a blur just because I was so auto-pilot," Zhang said.
On the second 18 of that day, she shot 72 to give her a three-day total of 13 under, and Zhang beat runner-up and Stanford teammate Megha Ganne by five shots.
What Zhang wouldn't give for a similar performance this week as she makes her first professional start in the U.S. Women's Open. Already a two-time USGA winner, with titles in the U.S. Girls' Junior and U.S. Women's Amateur, Zhang is being counted among the favorites here for good reason. The record holder for most time spent as the world's top amateur, she won in her professional debut last month at Liberty National and contended deep into the Women's PGA Championship two weeks ago, ultimately finishing three shots behind champion Ruoning Yin.
The 63 at Pebble is the tipoff that she likes this place, and there is this important fact from that round: The Pebble Beach caddie she had for the Carmel Cup kept her stats for the record round, and Zhang hit all 18 greens in regulation on a course with the smallest major championship greens on the planet.
"The greens are tiny," Zhang said. "… It was a little bit windy that day, so everything really did—it really does help when you are out here and being able to hit greens and giving yourself a lot of good birdie opportunities."
Before anybody banks on another 63, this is a USGA championship and not a women's college tournament. The yardage on paper alone this week is about 400 yards more than the 6,156 that Pebble played for the Carmel Cup. The greens were no doubt softer and the rough not nearly as thick. Zhang would be the first to say this is a completely different test.
"You have longer irons in, and I think the greens are going to be a lot more firmer and quicker, assuming what the weather is going to be doing," Zhang said. "By the time it comes to Thursday we are going to be having some quick greens, so that's definitely going to change up a lot of how we're playing this week and how we're going to use numbers and figure out bounces."