Legends
The Chiefs should build a statue of Matt Nagy for this move he pulled to help Patrick Mahomes impress Andy Reid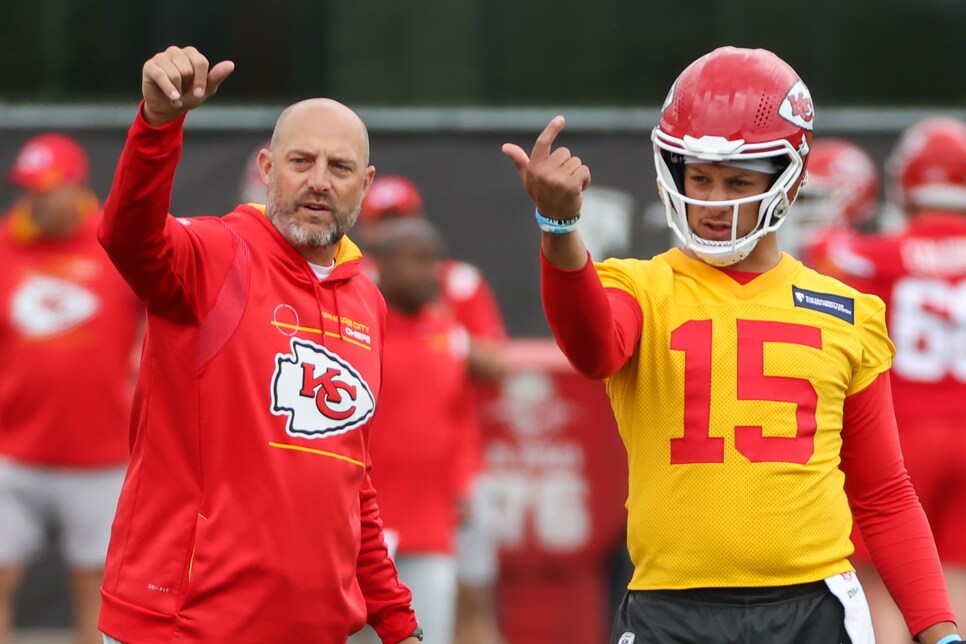 With Patrick Mahomes seemingly on track to win his second NFL MVP Award in just his fifth year as a starter, it gets more and more impossible to believe that he fell to 10th in the 2017 NFL Draft. That was eight picks after the Chicago Bears selected Mitch Trubisky (yikes!), and one pick after the Cincinnati Bengals selected wide receiver John Ross, who is currently not on a NFL roster (fortunately, the Bengals have since rectified this).
Oddly enough, Matt Nagy, at the time the Chiefs offensive coordinator, had seen enough in the pre-draft process to covet the former Texas Tech Red Raider quarterback. Nagy, who later became the head coach of the Chicago Bears and was subsequently stuck with Trubisky, liked Mahomes so much that he kinda, sorta "cheated" on Mahomes' behalf the night before Mahomes' first meeting with head coach Andy Reid. The rest, as they say, is history. Mahomes gave the inside scoop on the New Heights podcast hosted by Mahomes' tight end, Travis Kelce, and his brother Jason, the longtime center of the Philadelphia Eagles:
OK, we've got a lot to unpack here. First, let's start with the fact that Nagy legitimately deserves a statue outside of Arrowhead some day right next to the statues of Reid and Mahomes, which is not that crazy of a statement given Nagy is back in K.C. as a senior assistant and quarterbacks coach now. With Reid being 64 years old and another Super Bowl or two away from being like "OK, I'm done," it's not outlandish to say Nagy is the head coach in waiting, especially considering he and Mahomes are obviously close. Mahomes revealing that he and Nagy essentially schemed his way to K.C. is legendary, franchise-altering stuff.
And that's the other crazy part here, that Mahomes informed the Chiefs he was hearing from other teams about where they were going to take him. "If you let me fall after 12" implies that a number of teams were ready and waiting, and the team at 11, the New Orleans Saints, were extremely interested, something former Saints head coach-turned FOX analyst Sean Payton confirmed earlier this season. The Chiefs used the inside info wisely, trading up to the 10 spot with th Buffalo Bills in exchange for K.C.'s first- and third-round selections, plus K.C.'s. first-rounder in 2018. With those picks, the Bills took Tre'Davious White (a two-time Pro Bowler who is still in Buffalo), wide receiver Zay Jones via a trade with the L.A. Rams (now on the Jacksonville Jaguars) and Tremaine Edmunds, a two-time Pro Bowler still with the Bills that they traded up to get, using the K.C. first-round pick to do so. All in all, an extremely fair exchange that worked for all parties involved. And now, K.C.-Buffalo has become the sport's best budding rivalry. There are layers to this.
Now, just imagine a world where the Bears take Mahomes instead of Trubisky, and Nagy and Mahomes team up in Chi-Town? Prayers up, Bears fans.