Random Daggers
Matt Fitzpatrick seemingly took a (subtle) shot at his previous Ryder Cup captains after latest low round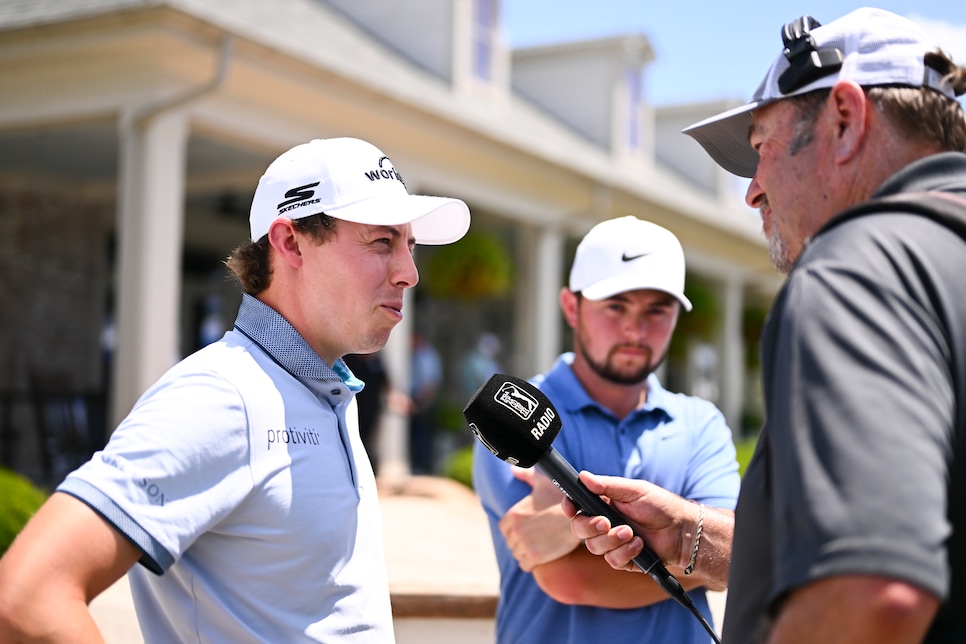 Matt Fitzpatrick was all smiles on Thursday as he met with the media, and why wouldn't he be? Not only is the Brit still basking in the glow of a $3.5 million win last week at Hilton Head, but now he's on top of the leaderboard again at the Zurich Classic—while sharing the spotlight with his younger brother, Alex. What a time to be alive!
But if you listened closely, the reigning U.S. Open champ seems to be harboring a little bitterness toward his previous two European Ryder Cup captains. And we here at The Loop love a little BEEF, so let's dive in! So can you spot the (subtle) random dagger amid this response from Fitz about where Thursday ranked among his professional moments?
"Yeah, it's right up there. It's as much fun as I've had on the golf course in, well, about four days, to be fair," Fitzpatrick said. "No, it really is. It's just so different. We don't do this, obviously—well, we've never done this, obviously. I think it's nice to play a bit of team golf. It's something different. I'm obviously not used to playing four-balls. Yeah, it was a great day."
If you picked up on "I'm obviously not used to playing four-balls," then DING, DING, DING, you nailed it! Congrats! If not, are you confused? Well, the Fitzpatrick bros grabbed a share of the lead after Day 1 by shooting 62 in the four-ball format. And it's a format that Fitzpatrick has yet to play in at the Ryder Cup. Yeah, that's a pretty deep cut.
The 28-year-old has played in the biennial competition two times and has only played in a total of five matches (three foursomes and two singles). Oddly, Fitzpatrick was never put out there for a four-ball match by either Darren Clarke in 2016 or Padraig Harrington in 2021. Again, hence Thursday's little remark.
To be fair to those captains, Fitzpatrick is also a combined 0-5 in those two appearances (Europe has also lost both times) so he wasn't playing as well as he is currently. Still, he's obviously still a little peeved about it.
But after what he's done in the past year—and with all the LIV guys probably ineligible—it's hard to imagine captain Luke Donald not playing Fitzpatrick in all five sessions, including both four-balls, this fall at the 2023 Ryder Cup in Rome. Donald is also playing this week (and off to a nice start with teammate and Ryder Cup vice captain Edoardo Molinari) but we hope he's paying attention. Because apparently Fitzpatrick can hold a grudge almost as well as he holds a 9-iron.