Random Daggers
Matt Fitzpatrick had the ultimate comeback after younger brother Alex bragged about out-driving him this week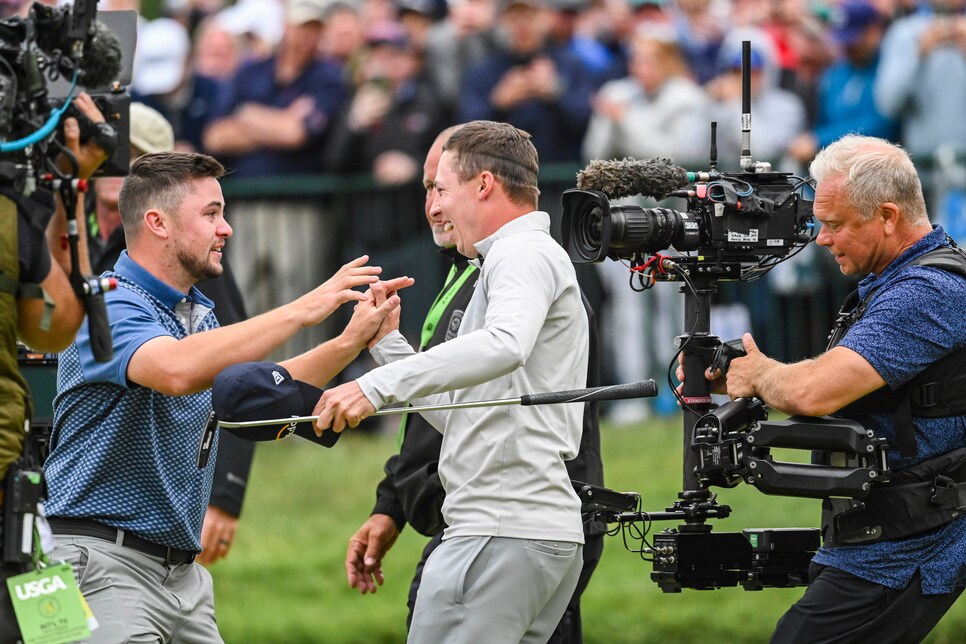 Matt Fitzpatrick hugs brother Alex after winning the 2022 U.S. Open.
Keyur Khamar
Much has been made about Matt Fitzpatrick's added driving distance this year, and rightly so. Never known as a bomber, the English star turned heads while routinely smoking it past the likes of Dustin Johnson at the U.S. Open in June on his way to winning his first major. But so far this week, he's not even the longest hitter in his family.
Younger brother Alex turned pro shortly after Matt's victory at Brookline and the two are both competing in the DP World Tour's Italian Open this week. Through two rounds, Alex has a slight edge in driving distance over his big brother. So, of course, he let him know about it.
But then Matt hit Alex with the best—and oldest—comeback in the book: SCOREBOARD! He replied with the leaderboard that shows he's beating everyone right now, including baby bro. And Matt shared their hilarious text exchange on Friday:
Boom. Not much you can say back to that.
Actually, as such a golf stats geek, we're surprised that Matt didn't also point out that he's comfortably ahead of Alex in strokes gained off the tee despite giving up (*checks calculator*) those .36 yards off the tee.
Anyway, nice try, Alex. But if you come at the King big brother, you best not miss.