Tour Life
Will Zalatoris has the perfect response to people who ask why he didn't go to LIV Golf for more money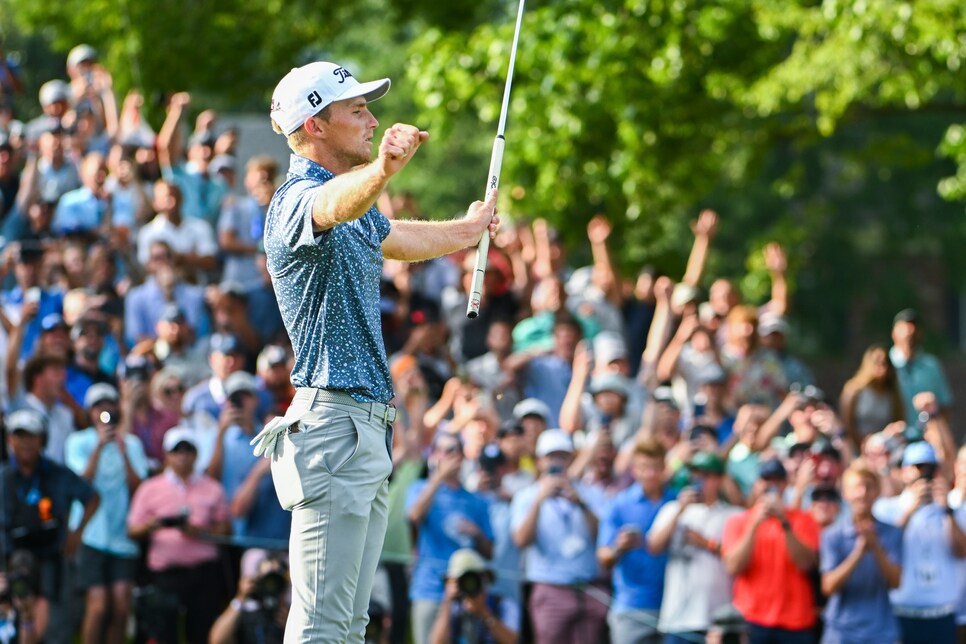 Based on the money at stake alone, Will Zalatoris suffered one of the most costly injuries in golf history last month. But that doesn't mean the PGA Tour star is feeling sorry about his bank account.
After finally claiming an elusive first victory at the FedEx St. Jude Championship to take the lead in the FedEx Cup Playoffs with two events to go, Zalatoris hurt his back during the BMW Championship the following week. That forced him to withdraw from both that event and the Tour Championship, where he would have been in fantastic position to claim the $18 million first place prize. Instead, the 26-year-old settled for last place in the 30-man event and $500K.
In a year where guaranteed money has been thrown at pro golfers like never before thanks to LIV Golf, it was a reminder that playing without a contract in any sport can be harsh. That being said, Zalatoris has never wavered in his support of the PGA Tour. And in an interview for "In Depth with Graham Bensinger," he made it very clear as to why.
Essentially, Zalatoris says he's motivated more by history and winning majors than he is by money. But while we've heard that from other players in recent months, the Wake Forest product put why he hasn't left for LIV in a differet way. Here's the, um, money quote:
"That's what people ask me, 'Shouldn't you be a prime candidate to go to LIV because of the situation of your first year on tour where you couldn't be a part of the FedEx Cup Playoffs?' And I said, 'Guys, I haven't won yet, and I've made more than $10 million on tour.'"
Obviously, Will would say that to people before he cashed that $2.7 million check for winning in Memphis. Because now he is a winner. And he's blown by that $10 million mark. But the point is, the dude did pretty darn well financially before he ever even lifted a trophy.
You can watch the entire clip of Zalatoris talking about the LIV Golf situation, including that quote, here:
"If I sat there and said I feel like I'm under-compensated as a PGA Tour pro, what does that say about me?" Zalatoris continued. "The money that these guys are given right now, it's just more money. It's not life-changing money, it's just more."
And speaking of money, Zalatoris also referenced a tour study that shows how well PGA Tour players will be compensated going forward.
"We looked at the projections, and in 2025, you might make $3 million and not keep your card," Zalatoris said. "How can you argue with being underpaid at that point? I think that the more and more that we talk in terms of how we can make the PGA Tour better, the more and more transparent it is, to me, that it's the best job in the world."
Fair point, Will. Of course, you still have to actually play, though, to keep earning those big bucks. Get better soon.