Tiger Watch
Masters 2023: Tiger Woods is fighting to keep his cut streak alive—and match history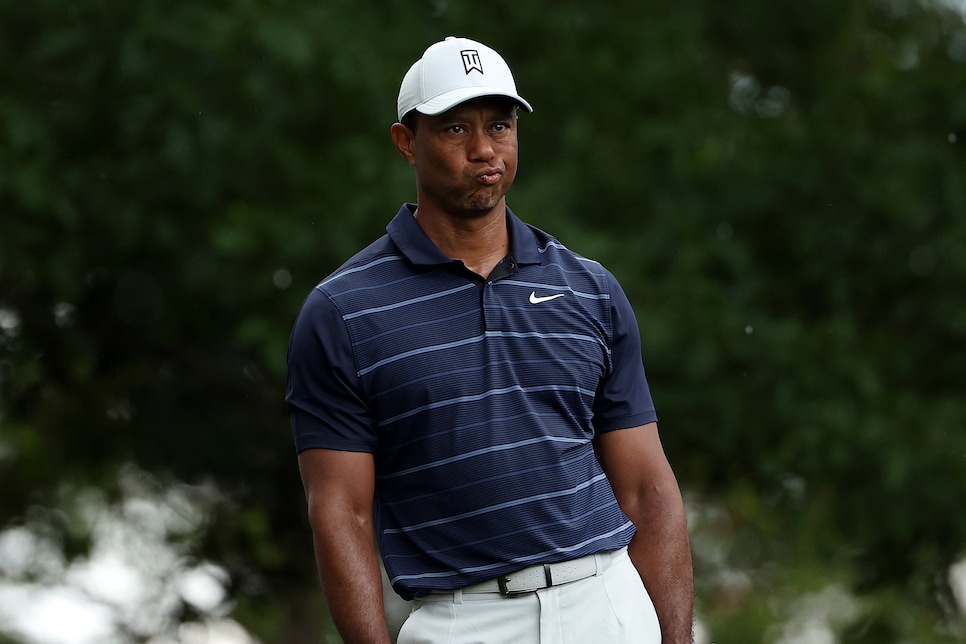 Tiger Woods reacts to his tee shot on the par-3 fourth on Friday in the Masters.
Patrick Smith
AUGUSTA, Ga. — He's hobbled and miles out of Masters contention. But, weather allowing, we're still going to watch Tiger Woods return to a major championship on Saturday morning to finish his second round and try to make a 36-hole cut.
We will watch for two reasons. One, it's the Masters. And two, Woods is trying to equal a record at Augusta National, as always seems to be the case with the 15-time major winner.
Woods is attempting to join fellow Masters champions Gary Player and Fred Couples for the most consecutive cuts made at Augusta, with 23. The five-time Masters winner has played on the weekend in 22 consecutive appearances since his first start as a professional in 1997, when he won by 12 shots. Woods missed the Masters three times in a four-year span (2014, '16 and '17) due to injuries and surgeries.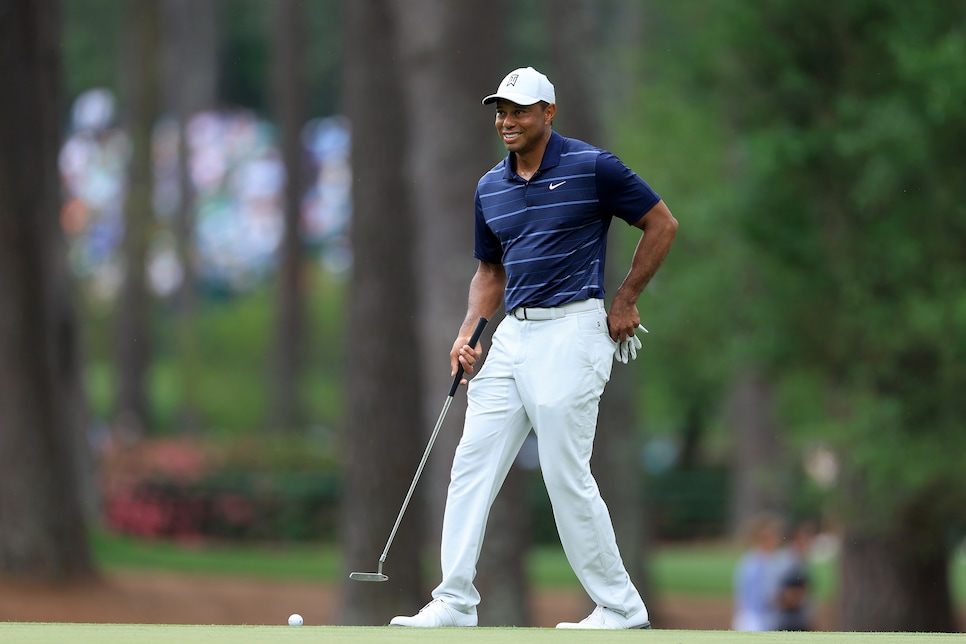 Tiger Woods prepares to putt on the third hole during the second round of the 2023 Masters.
David Cannon
Having opened the 87th Masters this week with a two-over-par 74, Woods was even par through 11 holes Friday when play was called for the day at 5:45 p.m. EDT. Play was suspended twice before that due to inclement weather. The current cut line is projected at where Woods stands, at two over, with the top 50 players and ties progressing to the final two rounds.
Woods began Day 2 at Augusta with four straight pars, including at the par-5 second, where he hit a fairway metal from the tee, but had to hack his second shot out of the trees. He did the same thing at the short, par-4 third. Woods made bogey at the par-4 seventh after driving it behind a tree and needing to punch out.
The 47-year-old, whose last major win was at the Masters in 2019, bounced back with a birdie on the par-5 eighth. His hand came off the club on only a 265-yard shot off the tee,k but Woods powered a fairway wood 269 yards up the hill to just short of the green, and pitched to three feet. He then played Nos. 9-11 at even par.
It's not the first time Woods has had to wait until Saturday morning to make the cut. Back in February, at the Genesis Invitational he hosts, he had posted a one-over-par total, but due to darkness suspending play, it wasn't confirmed until the second round was finished Saturday morning at Riviera.
"This is going to be an interesting finish to the tournament with the weather coming in," Woods said after his Thursday 74. "If I can just kind of hang in there, maybe inch my way back, hopefully it will be positive towards the end."
Positive or not, we'll be watching.