Masters 2023
Masters 2023: Brooks Koepka's caddie has warning for the field: 'He looks good again'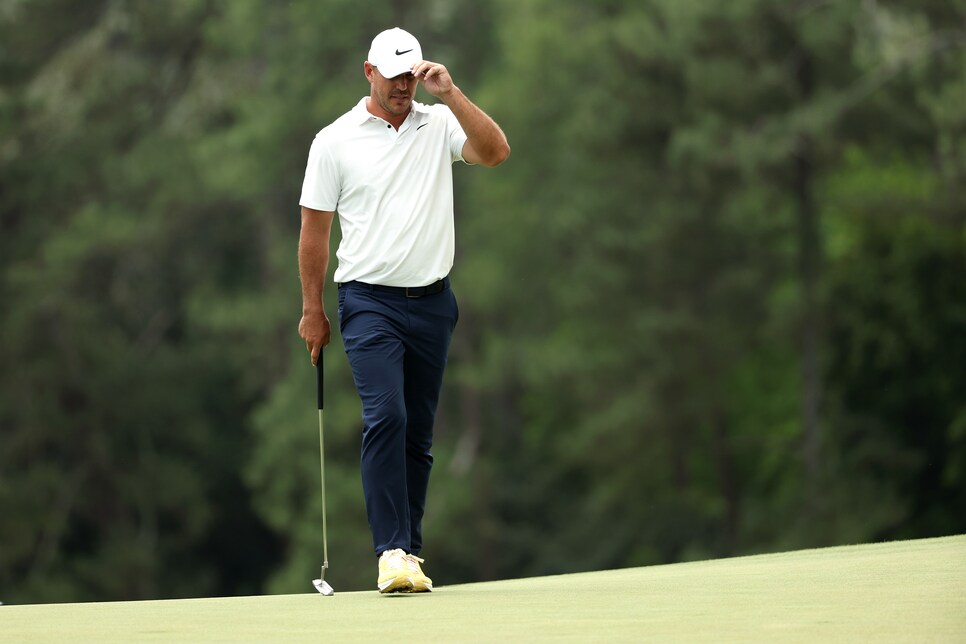 Brooks Koepka reacts on the 18th green during the second round of the 2023 Masters.
Patrick Smith
AUGUSTA, Ga. — Brooks Koepka says he feels very much like the guy who not long ago won four major championships in a span of eight starts and, well, it's hard to argue with him when you look at the scoreboard in the 87th Masters.
A five-under-par 67 early Friday propelled Koepka to the solo lead early in the second round at 12-under 132, the third-lowest 36-hole score in Masters history behind Jordan Spieth (130 in 2015) and Raymond Floyd (131 in 1976). That's proof enough that the Florida native is fully recovered from the knee injury that derailed his form and his imperturbable façade and that he is ready for whatever comes next this weekend at Augusta National Golf Club.
"I don't think too far ahead. I just take it right now. The feeling is probably pretty similar," Koepka said on Friday of the status of his game compared to his major championship run in 2017-19. "I feel really good. I like the way I'm swinging the golf club, putting it, chipping it, driving it, iron play is solid. It feels really similar."
Ricky Elliott, who has been on Koepka's bag throughout his reign of terror in majors and for his run of 47 total weeks as the No. 1 player in the world, offers a perspective that should not make the competition feel comfortable.
"You could see that the game was there again. He's been hitting the ball well, but he was frustrated because he was getting the results," Elliott said. "He just had to have patience because it was always going to come at some point. He looks good again. When you see him move through the ball, it looks familiar when it didn't always look that way for a while."
Koepka has spoken about the extent of his knee injury and how it inhibited his ability to produce the shots he wanted to hit. As Koepka's caddie, Elliott has had to do his own work around his player's injury and recovery. He knew Koepka wasn't at his fittest when he rushed back to compete in the 2021 Masters, but he understood his competitive spirit.
"The biggest battle was getting back out there fit," Elliott said after Koepka's opening 65 on Thursday. "He was trying to incorporate playing golf because of the competitive side of him. Obviously, it was doing his head in. He'd been to the top, and he was trying to push it a little bit, trying to push it in the gym and work out a way to get there again. Coming back early affected different parts of his game."
He hesitated to say that the Koepka swagger is back in full bloom. But the figurative chip on his shoulder might be, and everyone who has been paying attention knows that is one of Koepka's secret weapons. He thrives on being overlooked or dismissed.
Of course, he couldn't be overlooked coming into the year's first major after he won the LIV Golf League's Orlando event last week. But, then again, beating a small field over 54 holes undoubtedly had some questioning what that really meant for Koepka's prospects at Augusta National. We are starting to get an idea.
"I think he's got to prove to everybody again that he's still one to contend with," Elliott said. "That's why he's out here."
There is still more to prove. A lot can happen in a major over the last 36 holes. If Koepka is feeling the way he did in winning consecutive U.S. Opens and consecutive PGA Championship titles, then he'll know what to do.
And he's fit enough now to perhaps see it through.