Masters 2021
Masters 2021: Swing changes are Rory McIlroy's rationale for another ugly start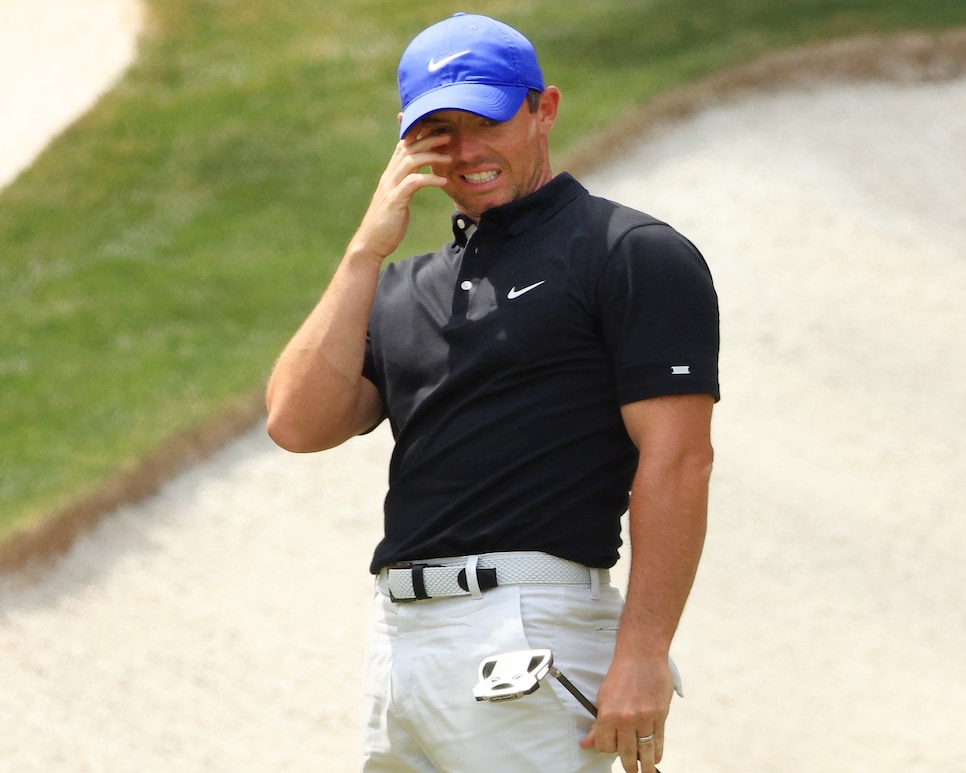 Rory McIlroy reacts after missing a putt on the 13th green during the first round of the Masters.
Mike Ehrmann
For 108 years, wait 'til next year was a familiar refrain for the Chicago Cubs until the lovable losers did the unimaginable and won the World Series in 2016. Such a sardonic mantra has never been appropriate for the considerably more talented and accomplished Rory McIlroy, a four-time major champion, generational superstar and at one point unquestionably the best golfer in the world.
But after a sloppy four-over 76 in the opening round of the Masters on Thursday, well, you know the rest.
Winless since 2019, major-less since 2014 and at his lowest World Ranking (12th) in a few years, the 31-year-old Northern Irishman's struggles in the opening round of the Masters were best epitomized by his errant approach following a wayward drive on the seventh hole. The ball plunked his unsuspecting dad, Gerry, in the back of the leg, a moment so amusing it led the elder McIlroy to quip that he should get a customary autograph for the welt. The younger McIlroy later suggested perhaps a signed bag of frozen peas.
More concerning, at least for this week's prospects, is the start that the former World No. 1 is off to in another Masters—his 13th—where a victory would complete the career Grand Slam. Of course, you can't win if you don't play and McIlroy would do well just to make it to the weekend at Augusta National after a day in which he made six bogeys, just two birdies, put one ball into his pop's calf and another into a tributary of Rae's Creek on 13.
"In fairness, it was where I was trying to turn it off," he said of his second shot on the seventh. "Perfect shot, it was dead straight. I think he was OK. He didn't limp away."
Neither did McIlroy, who only wobbled. He birdied the par-5 eighth, made three bogeys over his next five holes, added another birdie on the par-5 15th and parred his way in.
Statistics show that he hit 10 greens and nine of 14 fairways, not terrible numbers on their own, particularly when considering the firmness of the greens and lack of low scores. What the card doesn't show, however, is a two-way miss, among other struggles, that crept in.
"My goal is to play well and at least give myself a chance," McIlroy said. "Honestly, I'm quite encouraged by the way I hit it on the way in. I hit some loose shots out there, but after hitting the 6-iron in the water on 13 I hit some really good shots coming in, so I'm encouraged by that."
But in the history of the Masters, many have also been encouraged by others' chances to one day slip their arms into a green jacket. Ernie Els, Davis Love, Greg Norman, Johnny Miller, Tom Weiskopf each had a game suited for Augusta National and were supposed to win the Masters. None ever did, with Norman and Weiskopf the most heartbroken of that group.
At what is at or at least very near the midpoint of McIlroy's career, it's fair to wonder if the same fate awaits.
Dubbed a few years ago by Paul McGinley (among many others over time) as simply too good with his towering drives and soaring irons and all but destined to one day win the one major that thus far has escaped him, McIlroy instead finds himself this year on the verge of missing the cut for just the second time at Augusta National and for the first time since 2010, his second time playing the tournament.
Slow starts haven't helped the cause.
Of his 13 appearances in the tournament, McIlroy has broken par in the first round on six occasions. But none of those have come in the last three years, including this one, with Thursday marking the fourth time overall that he has been over par on the first day. To put it in broader perspective, since 2015 he is a combined 32 over in the opening round of all majors, compared to 64 under the rest of the way.
But as the only major played at the same venue every year, Augusta National has its ghosts.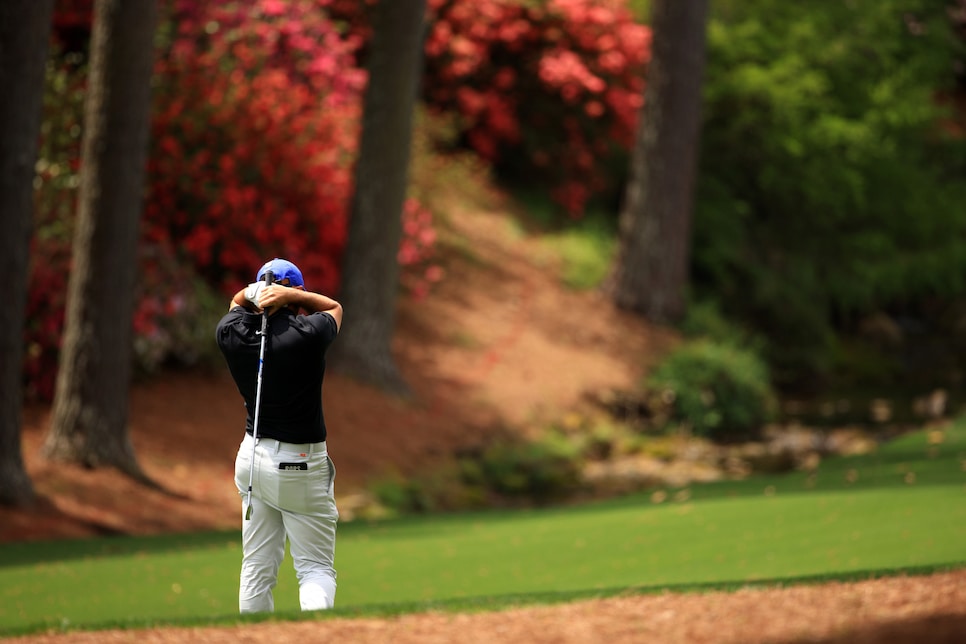 Rory McIlroy reacts to his shot on the 13th hole during the first round of the Masters.
Mike Ehrmann
Unlike those who came before him, McIlroy's record in the Masters is haunted by experiences that came early on his career, beginning with his epic collapse in 2011, when he led by four after 54 holes but imploded with a final-round 80. He quickly accumulated four majors in the immediate years afterward and saliently credited that failure for his future success. But that also amplified the pressure that arose every spring at Augusta National, where a victory would elevate him to rarer air as just the sixth player to complete the career Slam.
Hence, the scar tissue has only continued to build.
This year, the expectation is less amid some heavy work on his swing under the experienced Pete Cowen, a coach who has seen his share of reclamation projects over the years. McIlroy arrived at Augusta National with the longer view in mind.
"I'm obviously focused on this week, but it's bigger than that," he said on Tuesday. "It's a journey, right, and it's a journey to try to get back to playing the game the way I know that I can play the game. So obviously this week is very important, but I'm still looking beyond that. I'm just at the start of a journey here that I know will get me back to where I want to be."
In that view it helps that he can look at others who have exorcised their demons at Augusta National. Phil Mickelson didn't win his first major until age 33 in what was also the first of three green jackets. Sergio Garcia, who once deemed himself not capable of winning the Masters, did so at age 37 in 2017.
McIlroy being further away from those first few cracks at trying to complete the career Grand Slam perhaps takes some of the pressure off as well.
"I think if I contrast my few weeks leading into the 2015 Masters, coming off the summer in 2014 and going for the Grand Slam and my third major in a row and all that, it feels a little more relaxed this week, which isn't a bad thing," he said this week.
Therein also lies the paradox. The further he gets from them, the fewer opportunities he will have.
"I would have loved to have done it at this point, but I realize I've still got plenty more years to do it," McIlroy continued. "But for me to do that, I just have to go out and try to play four good rounds of golf on this golf course, which I've played a bunch of really good rounds on this golf course before, but just not four in a row. That's the challenge for me."
It was for Els, Love, Norman, Miller and Weiskopf, too.