Masters 2021
Masters 2021: Phil Mickelson dishes on a hilarious Champions Dinner story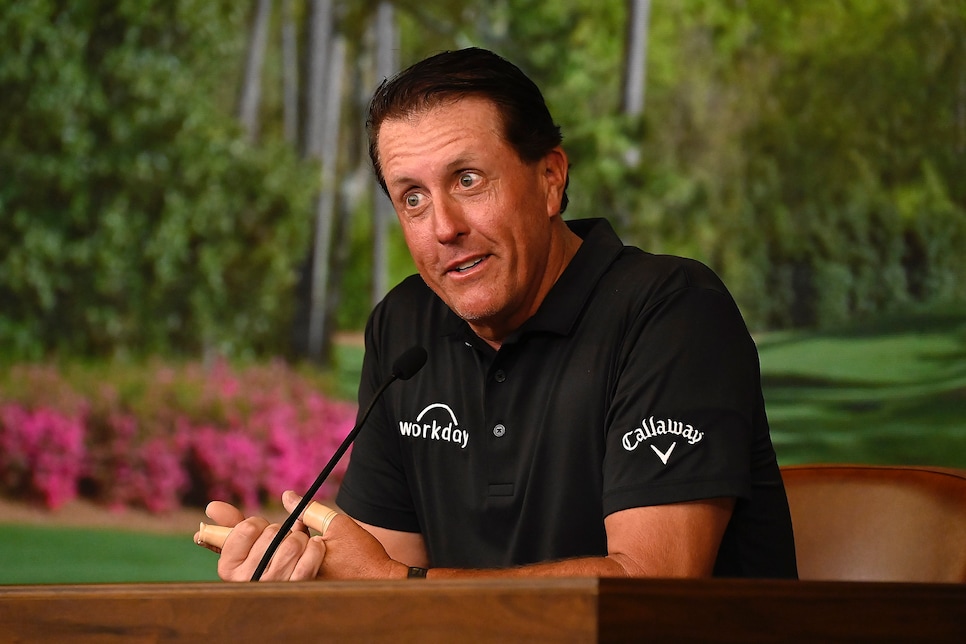 Phil Michelson talks during his pre-tournament press conference for the 2021 Masters.
Rusty Jarrett
Phil Mickelson can spin a yarn as good, if not better than a wedge over a tree. So when it comes to story time, simply give Lefty a microphone, sit back and enjoy.
Leave it to the three-time Masters winner to use the occasion of this year's tournament to regale the press room with a favorite memory from Adam Scott's champions dinner in 2014.
First, when asked his thoughts about defending champion Dustin Johnson's choice of pigs in a blanket being on the menu, Mickelson said he's always open and that he has tried lots of different cuisine through the years. That then brought to mind a comedic moment from the Aussie's dinner seven years ago. Naturally, it included a bet, too.
"He had this wonderful meal, Australian-themed, and out comes dessert, and it's pavlova," Mickelson said Tuesday. "Now, you can't Google this stuff because there's no cell phones allowed, right. I said, Oh, pavlova, that's inspired by the great Russian ballerina Anna Pavlova who was touring through New Zealand, Australia, and an Australian chef so inspired by her beautiful movement and tutu, he made a dessert after her.
"Chairman [Billy] Payne looked at me, like, what kind of stuff are you spewing here. … Zach Johnson looks at me, says, 'I've got a hundred dollars that says that's not right.' So everybody is calling me out on my BS. And a lot of times, I am BSing."
Unfortunately for Johnson, and anyone else who was foolish enough to throw down some cash, Mickelson wasn't BSing.
The meringue-based dessert with the crisp crust and soft, light inside that's usually topped with fruit and whipped cream is indeed named after the famed Russian ballerina after she toured Australia and New Zealand in the 1920s, at least according to legend. The New Zealand story goes that it came about when the chef of a Wellington hotel created it in her honor, while Australians argue pavlova was invented at a hotel in Perth when a chef there claimed the dish to be "light as Pavlova."
But if there's one thing that everyone can agree on, as evidence has proved over the years, Mickelson knows what he's doing when it comes to making a bet.
"My daughter was a dancer, and she wrote a biography on Anna Pavlova, and I made 32 pavlovas for her class when she was a little girl, and I knew this," he said. "I ended up, you know, being right, which is not often, but I was right on that particular moment."