Masters
Masters 2021: Hideki Matsuyama's low-amateur honors in 2011 transcended golf after tragedy in Japan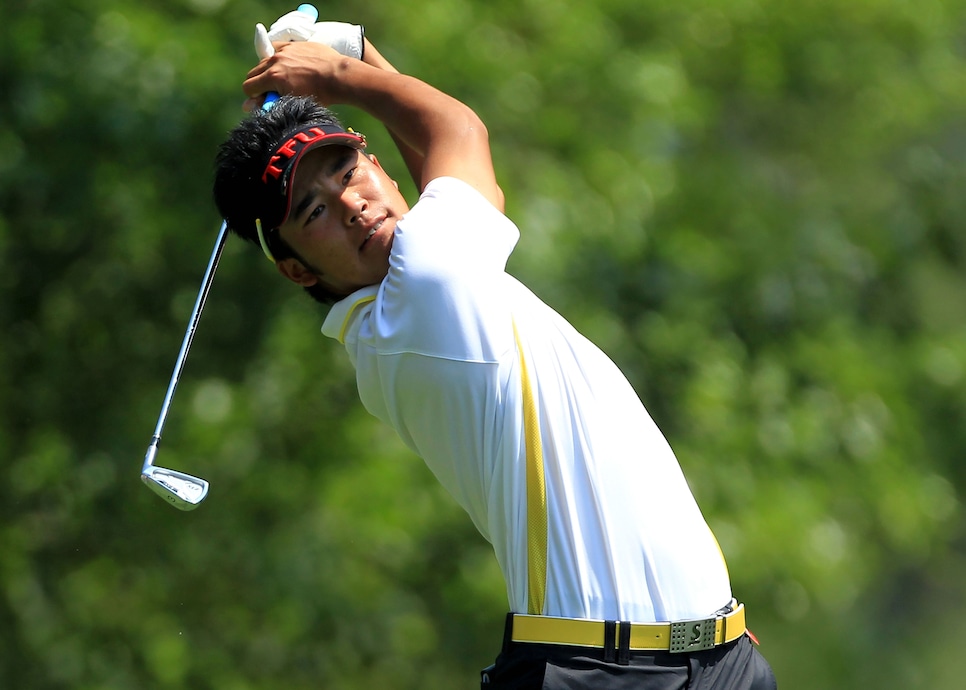 Amateur Hideki Matsuyama hits a shot during the final round of the 2011 Masters.
David Cannon
If Hideki Matsuyama wins the Masters on Sunday, he won't be a stranger to Augusta National Golf Club's Butler Cabin. In 2011, the 19-year-old Asian Amateur Championship winner from Japan earned low-amateur honors and sat beside Charl Schwartzel during the green jacket ceremony. It was a triumphant moment for the teen, but unfortunately, his mind could have been elsewhere.
On March 11, 2011, the Great Sendai Earthquake struck the Tohoku region of Japan, spurring a series of tsunami waves that brought ruin to the coastline and triggered a severe nuclear power accident. The natural disaster was one of the deadliest in Japanese history: It destroyed 120,000 buildings and resulted in 19,300 deaths.
Matsuyama was one of the lucky ones. At the time of the earthquake, he was competing in Australia, but he returned to Tohoku Fukushi University to find his accommodation destroyed. There was no way for the young golfer to confirm if his family and friends were safe, and he struggled to find food to eat.
Sitting in the Augusta National interview room on April 5, 2011, Matsuyama spoke with a heavy heart about his hesitation to accept the invitation to play in the Masters. His home country was still suffering immensely from the aftermath of the disaster, and even on the Wednesday before the tournament, he still seemed preoccupied by the thought of flying home and directing his attention to relief efforts.
"And all of you know that the massive earthquake on March 11 has done devastating damage to the Tohoku region of Japan. Literally, thousands of lives have been lost, and there are still a lot of people missing," said Matsuyama. "Infrastructure is still in the recovery process and a lot of the inhabitants are forced to live in emergency relief places. I am from the Tohoku region, and knowing such a hard situation back home, I am not sure if I should play at the Masters even at this very moment. Still, I have decided to play."
Ultimately, Matsuyama was inspired by his university, his teammates and his parents to play at Augusta, and the decision was life changing.
The budding Japanese star's emotional comments alone would have sparked a domino-effect of action and attention to the earthquake relief. But four days later, his impact would be much more dramatic. Matsuyama went on to shoot an impressive 72-73-68-74 to tie for 27th place—along with the previous year's Masters champion, Phil Mickelson, and received the Silver Cup as low amateur.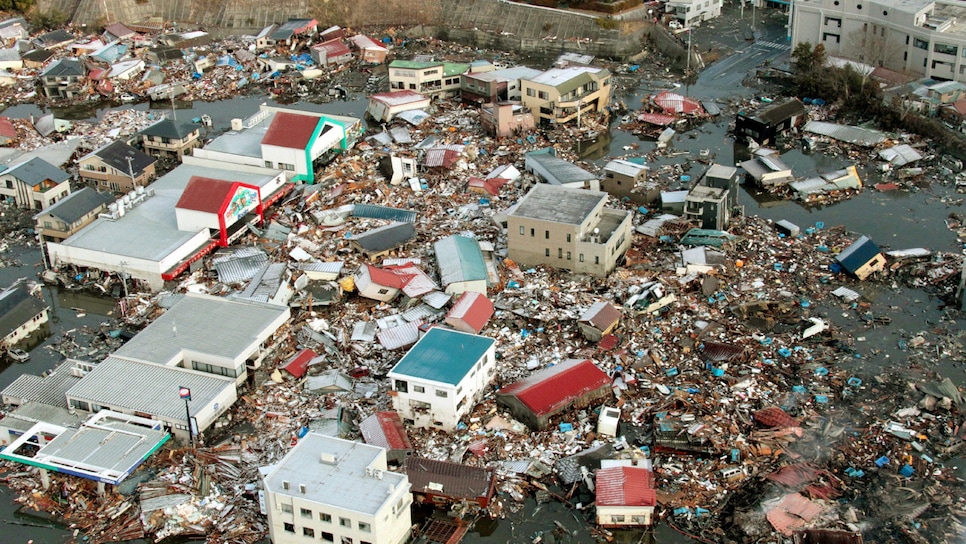 Aerial photos showed debris swept up by a tsunami and damaged buildings in an inundated area of Kesennuma, Miyagi Prefecture, on March 12, 2011, a day after a magnitude 9.0 quake struck northeastern Japan.
*
Matsuyama's striking performance put an invaluable spotlight on his home country. Ryo Ishikawa had already pledged his entire season's earnings to recovery resources, and Luke Donald donated $5,000 to the relief fund for each birdie he made at Augusta. However, Matsuyama's humble and composed presence in Butler Cabin that Sunday afternoon collectively lifted Japan's spirits.
"I was very happy to be here, to play four rounds here at Augusta," Matsuyama said to Jim Nantz. "There are some hard times right now in Japan. Hopefully my play was able to bring some encouragement to those that are in need right now."
On Sunday, Matsuyama has the chance to become the first male major champion from Japan. Ten years ago, his win at Kasumigaseki Country Club facilitated his invitation to the Masters, and the commentary this weekend already has alluded to the upcoming Japan-hosted Olympic Games at the very same course. But for Japanese viewers, Matsuyama has already done more for the country than a major championship title could ever do. They'll be thinking back to the time when he was much more than an impressive young golfer to them: he brought hope to a suffering nation.