News
Can big crowds help a golf ball drop into the cup? Our experts say it's possible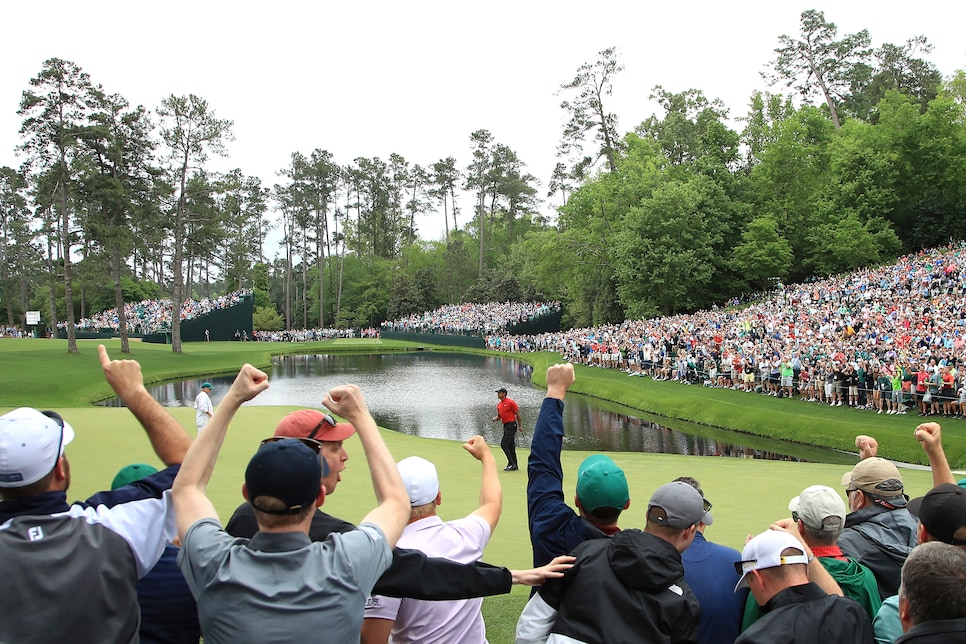 Can the collective consciousness of a crowd move a golf ball? The patrons were jumping at last year's Masters as Tiger Woods played Augusta National's 16th hole.
Andrew Redington
Put aside for a moment any envy you feel toward the smattering of essential personnel and Augusta National members about to enjoy what essentially will be a private Masters this November. The atmosphere might resemble a high school golf match, but the winner of this year's green jacket will be a very real and deserving champion who gets to hang something like a collector's edition in his closet. It'll be special for those at home, too. As the broadcasts of the fanless majors of 2020 have shown, clearer shots of venues like TPC Harding Park and Winged Foot are pretty sweet. The way a green sits in the land or how one fairway peeks at another through the trees has long been blocked by grandstands and galleries. This year more than ever, TV viewers will see what it's like to play Augusta.
Although it's not absurd to suggest the alternative universe of this "patron-less" Masters will produce a different winner. The influence of the "theater" on the players, particularly the way sounds echo around the back nine on Sunday, is the stuff of lore. The most experienced hardly need to check the manual leader boards—they know which roars are for whom and what, and then strategize accordingly. And this is to say nothing of the numb hands that large crowds inspire, a swirl of fear and focus that inevitably comes out the other end of the golf club.
Instructor Sean Foley factors spectators even more heavily. "You could have thousands of people around a green, and they all want Tiger's putt to go in. Thoughts are electromagnetic energy, and energy is force. Don't tell me that doesn't help a putt drop." Foley swears it happened on the bumpy, downhill 12-footer Tiger Woods—his student from 2010-'14—sank to force a playoff against Rocco Mediate at the 2008 U.S. Open. Jesper Parnevik doesn't exactly disagree. As Parnevik told Golf Digest's Guy Yocom in 2016, "I had the same putt one hour earlier—same distance, same line. I played two inches of break, and the ball hardly broke. When Tiger's ball left the putter, I saw he'd played a foot of break, which was way too much. But as Tiger stared at the ball, it moved—a lot—and fell in. That was some serious Uri Geller, Obi-Wan Kenobi, Force-like shit." Whether it was Tiger's mind or the collective consciousness of the crowd that willed it in, we'll let the mystics debate.
Professor Stephen Doig of Arizona State University, part of a Pulitzer Prize-winning team in 1993, specializes in data journalism. Doig estimates a tight shoulder-to-shoulder gallery extending 40 people deep around the 18th green at Augusta National could hold about 8,000 people. If we assume five-deep lining the fairway to the start of the approach zone, it'd be possible to get to 19,000 on the hole in the most packed of circumstances. "The one place crowd estimates go wrong is when people use unrealistic densities, like one square foot per person," Doig says. "Even mosh pits can't get that tight."
We gave Doig's numbers to professor Martin Brouillette of the University of Sherbrooke, who is a mechanical engineer, a member of the Golf Digest technical panel, as well as a strong player. Analyzing video clips of putts that barely dropped (like Rafa Cabrera Bello's birdie that teetered on the lip for 27 seconds before falling at this year's Wyndham Championship) and a chip that became historic (Tiger's tantalizing 2 at Augusta National's 16th in the final round of the 2005 Masters), Brouillette calculated that the difference in a ball dropping is the rotation of one-eighth of an inch. The force necessary to move a golf ball that distance is roughly two micronewtons, or about the weight of four or five grains of salt sprinkled just so. "A ball has no electric charge, so moving one with the mind is the stuff of astrology or religion," Brouillette says. "But could a gallery apply adequate physical force through the air or ground? That is a fun question."
Brouillette says we really need to consider only the closest spectators, within about 30 feet. A steady .2 mile-per-hour wind can make a ball topple, he says, which could be produced by a thousand people blowing non-stop. The same number clapping could also create enough change in air pressure. Through the ground, it would take 10,000 people jumping to produce the necessary mini-earthquake. But before we get too excited, these efforts would require perfect synchronization. The correct side of the crowd would need to act while the other remained still, lest their movements counteract each other. Waving his putter like a maestro, could even Tiger engender this sort of crowd coordination, all within the 10 seconds allowed by the Rules of Golf? "Probably impossible," Brouillette laughs. "Unless the people reading this article initiate a new culture of fan behavior."
Sadhguru Jaggi Vasudev, the Indian yogi and author, attended last year's Masters. He says, "Our thoughts and emotions do have influence over all living beings around us because changes in our internal chemistry have an impact on the living chemistry of other beings." Naturally, Sadhguru connects putting to snake-handling. "If you pick up a cobra, it will stay in your grip without resistance if there is no anxiety in you. However, if you show even a little anxiety, he will sense danger immediately and attack. This is because he is sensing your chemistry.
"Players who are used to massive fan support may not be able to sustain the same level of involvement and focus without fan support," Sadhguru says. But again, the golf ball is not a living being, and Sadhguru sides with Western science. "Let us not diminish any golfer's accomplishments by thinking that we willed the ball into the hole."
The 96 players set to vie for the title of 2020 Masters champion are world class. Although we know them from their performances before large crowds, they've spent the great majority of their life honing their craft in isolation. Generally, it's the golfer who best re-creates the sharp solitude of the practice range amid any on-course chaos that wins. This year's Masters should prove no different. Though strange things do happen.