The Masters is one of the most thrilling events in sports. The Sunday charges resulting in enthusiastic roars are unlike anything else in golf. But as they say, the game always wins. And with that, every so often, comes a Masters Sunday that perhaps didn't turn out as special as it could have (I refuse to say a Masters Sunday isn't special at all). A disappointing finish. Legends not finishing the tournament off. Brilliant youngsters feeling the nerves and seeing the green jacket slip away and being slipped on someone else.
Moments like that take some of the air out of the event. With that in mind, here are some of the biggest buzzkills in Masters history.
Bobby Jones' first Masters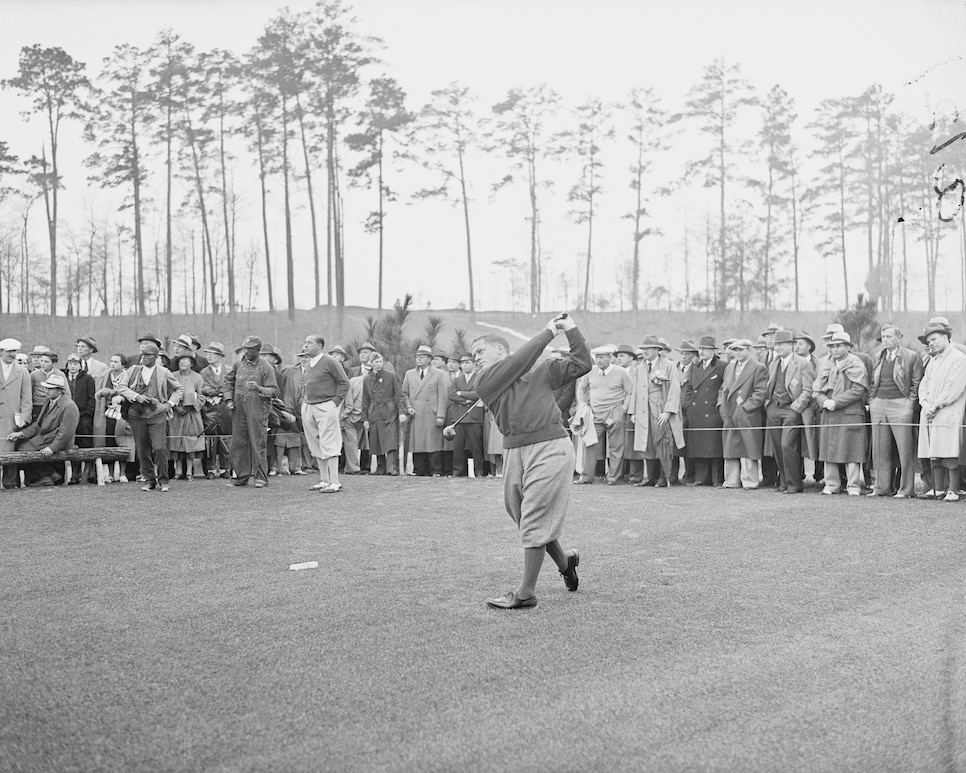 Although Bobby Jones "retired" from competitive golf after completing the Grand Slam in 1930, Masters aficionados know Jones actually teed it up in a dozen Masters. Set to play in the inaugural, naturally there was a hope that Jones could somehow rekindle his former glory. Sadly, the competitive rust was evident. Jones opened with a 76 and followed with 74-72-72 and a three-way tie for 13th place. He would never shoot lower than even-par 72 in 46 Masters rounds.
Ben Hogan three-putts at the last to lose to Keiser
In 1946, the first post-war Masters, Herman Keiser stood five shots clear of the field after 54 holes, only to watch Ben Hogan mount a rally in the final round. Keiser, playing ahead of Hogan (tee times were not in order of score back in those days), hit the flagstick on 18 and watched as his ball ran 25 feet away, from where he three-putted, opening the door for Hogan. Bantam Ben stuck his approach to 12 feet, setting up a putt for the win—only to three-putt himself, handing the victory to Keiser and leaving Hogan at the time still without a major in his career.
Ken Venturi implodes as an amateur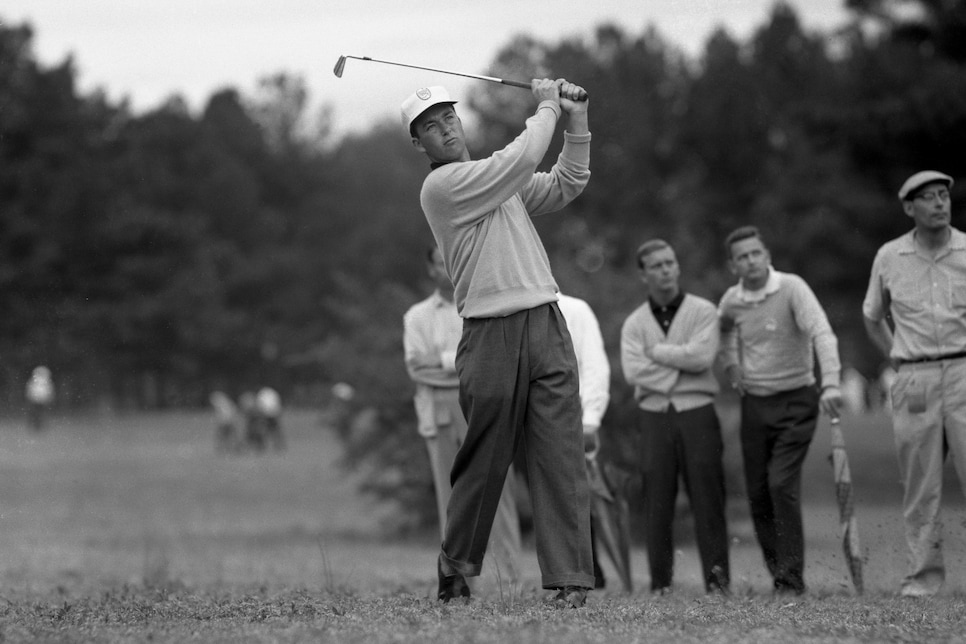 At a tournament co-founded by an amateur, having a non-professional win it would have been very well received. Ken Venturi appeared to be in great shape to do just that in 1956. Having started with a 66-69, even a third-round 75 still left him four ahead of defending champion Cary Middlecoff. The weekend that year was particularly windy and wreaked havoc on Sunday, where the scoring average was 78.260. Venturi was tentative on the greens, three-putting six times leading to an 80. Although Middlecoff didn't take advantage, Jack Burke Jr. did, shooting a 71 to tie for the day's low round and setting a Masters record by coming from eight shots back to win.
A double at the last prevents Arnold Palmer from defending
Weather led to a Monday finish in 1961 with Arnold Palmer seeking to win his third Masters in four years and become the first champion to successfully defend. Although Gary Player made a nifty up-and-down from the sand on 18, all Palmer needed was a par to close out the title and a bogey to get in a playoff. Palmer's approach, however, found the sand, too, and with a poor lie, he didn't even get his third shot on the green. He took three more to get down from there, making double-bogey 6 and handing the tournament to Player. Instead of its first defender, the Masters had its first international champion instead.
It didn't add up for Roberto DeVicenzo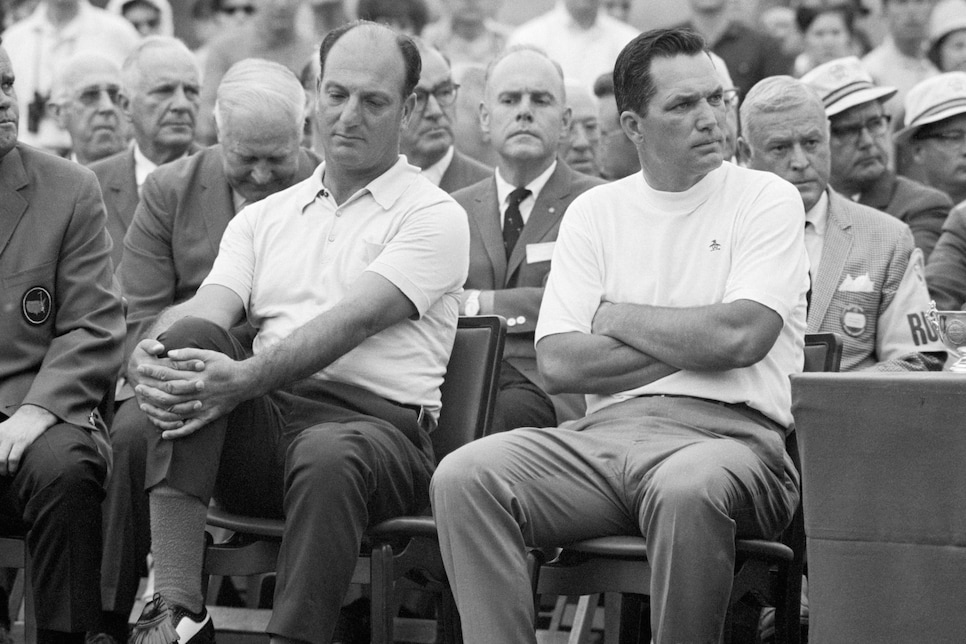 Sometimes golf isn't fair. At the 1968 Masters, it was downright cruel. On his birthday, Roberto DeVicenzo holed his approach on No. 1 and appeared to be headed for a playoff with Bob Goalby, who had shot a fabulous 66 to forge the tie. DeVicenzo's marker, Tommy Aaron, however, put down a 4 instead of a 3 on the 17th hole. DeVicenzo missed the mistake, signed his card and the higher score stood, handing the title to Goalby. DeVicenzo's "What a stupid I am" response remains one of the more memorable quotes in golf history.
Curtis Strange goes swimming
Despite opening the 1985 Masters with an 80, Curtis Strange somehow held a three-shot lead with six holes to play. Opting to go for the green at the par-5 13th instead of playing safe, Strange's fairway wood shot found the creek instead, leading to a bogey. Two holes later, Strange again went for the green in two at the par-5 15th, this time with a 4-iron that also got wet. The missteps were enough to let Bernhard Langer slip on the first of his two green jackets. Strange, one of the best players in the game at the time, remained major-less until the 1988 U.S. Open.
Scott Hoch's painful miss
It shouldn't have come down it. Often lost in the incredulousness of Scott Hoch's missed two-footer to win the Masters on the first playoff hole with Nick Faldo is that he also missed a short putt on the 17th hole Sunday that could have allowed him to win in regulation. He also had a 25-foot birdie try at the last that narrowly missed. Then faced with the two-footer to win it on the first playoff hole (the 10th), Hoch somehow missed, allowing Faldo to play another hole, where he drained a lengthy birdie putt to win the first of his three Masters titles. Hoch would never win a major.
Greg Norman's epic Sunday stumble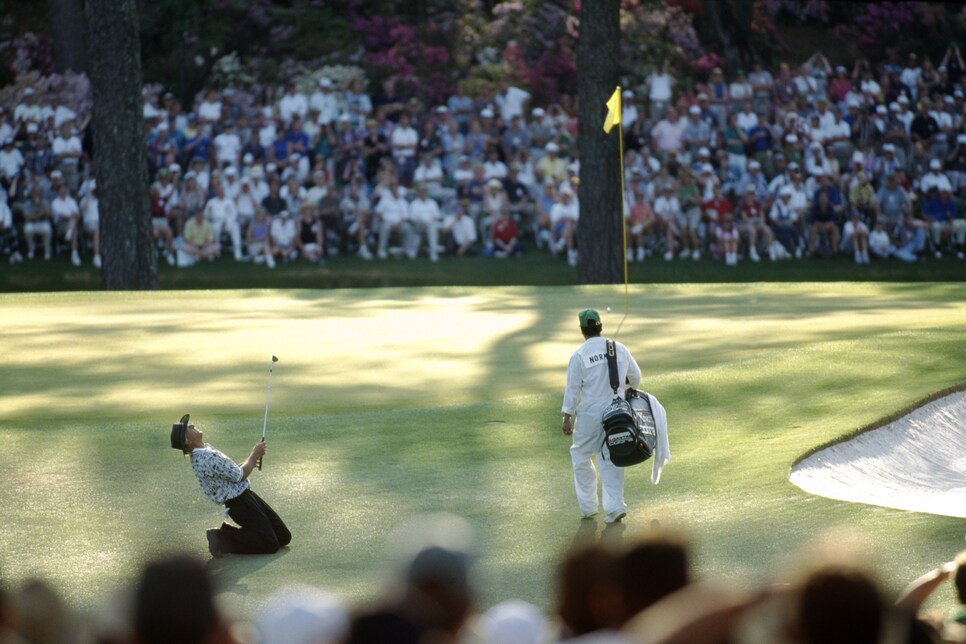 The final round of the 1996 Masters was supposed to be the crowning achievement of Greg Norman's career. Rounds of 63-69-71 left him with a six-shot lead over Nick Faldo. Surely Norman would win on Sunday, to become the first Australian to win the Masters. Norman, however, opened with a bogey and made another at the fourth, cutting the lead to four. By the turn it was down to two and after a double bogey at the par-3 12th, he was two in arrears. A pulled iron into the water on 16 was an exclamation point on the collapse and Norman finished with a 78 to Faldo's brilliant 67 and watched as Faldo donned the green jacket Norman never got.
Len Mattiace's anticlimactic playoff
Teeing off four groups ahead of the final pairing in 2003, Len Mattiace looked like he might become an unlikely Masters winner. In fact, if he had parred the final hole, he would have. Instead, his lone bogey during a final-round 65 would eventually leave him tied with Mike Weir. On the first playoff hole, the 10th, both hit good drives, but Mattiace's approach was wide left. After a good recovery to get on the green, he ran his 25-footer some 20 feet past, finishing on the collar. He then sent his bogey putt four feet past the hole, but never got to finish out the hole. Weir made bogey, the pair shook hands and Mattiace's incredible final round was suddenly forgotten.
Rory McIlroy disintegrates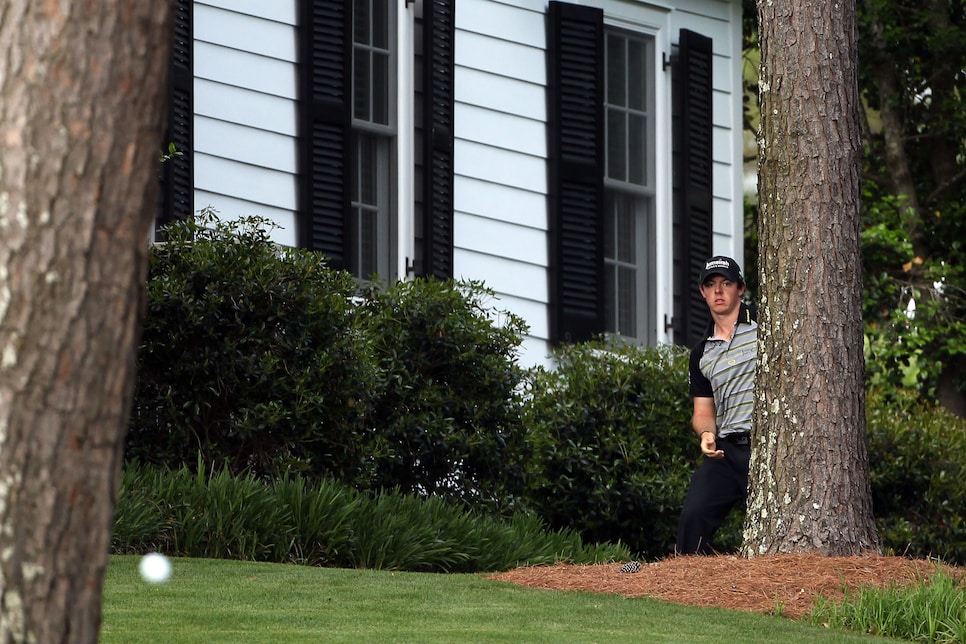 Holding a four-shot lead entering the final round in 2011, it seemed nearly everyone at Augusta National was pulling for Rory McIlroy, the mop-topped, 21-year-old from Northern Ireland, to finish it off. Despite some spotty play on the front nine, McIlroy still held the lead by one as he made the turn then disaster struck. A wild tee shot left at the 10th led to a triple-bogey 7 and things unraveled from there, including a double at the 12th and McIlroy eventually would finish with an 80 during which he seemed on the verge of tears at times. Charl Schwartzel ran the table on the last four holes to win by two, but McIlroy would have been the far more popular Masters champion—a title he is still chasing.
Jordan Spieth's killer quad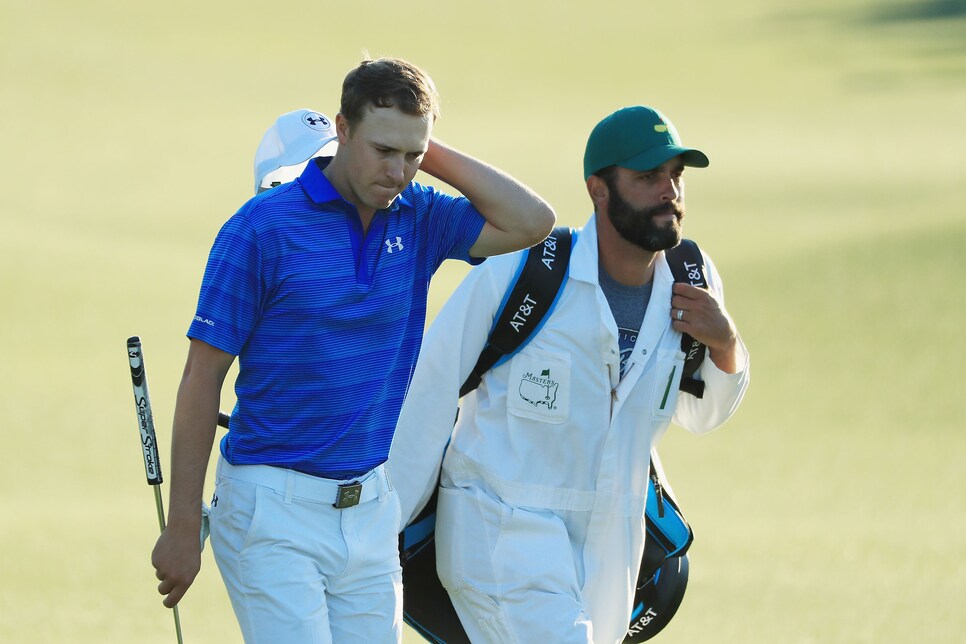 With birdies on Nos. 6, 7 8 and 9 in the final round, Jordan Spieth looked a lock to defend his Masters title in 2016. But bogeys on 10 and 11 narrowed the margin to three over Danny Willett as he stepped to the par-3 12th. As it had for so many others in the tournament's history, the hole proved a turning point as Spieth found the water then chunked his next into the water again after taking a drop. He would make a quadruple-bogey 7 and couldn't compete with Willett's three birdies coming in. Given Spieth's popularity it marked one of the more disappointing finishes in Masters history.
MORE GOLF DIGEST MASTERS PREVIEW STORIES: