Tweet Through It
Masters 2023: How the golf world tweeted through Friday's terrifying tree incident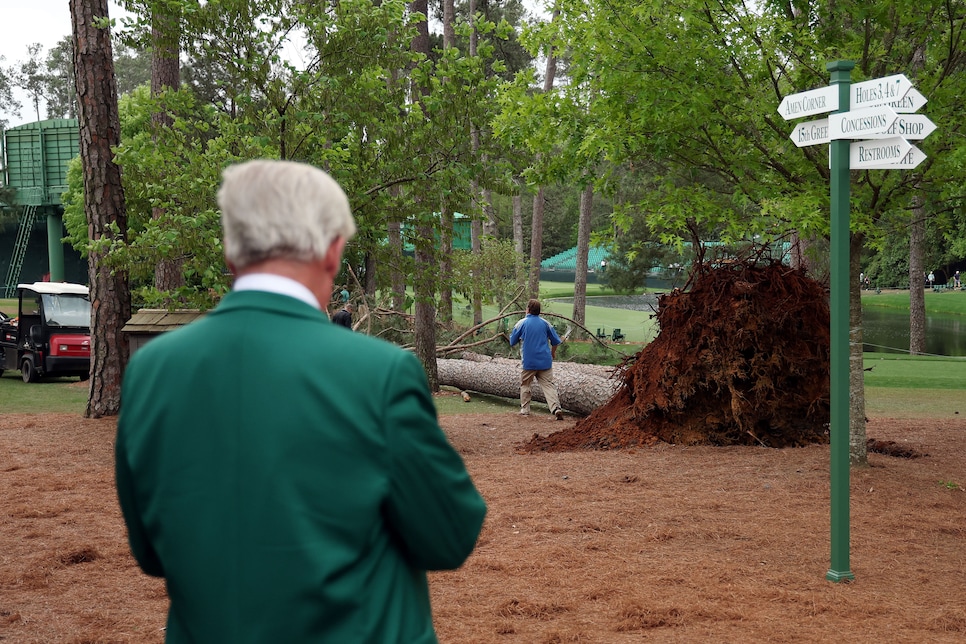 On Friday, April showers brought downed pine trees instead of May flowers to Augusta National. Around 4:30 p.m. ET, strong winds blew through the grounds, forcing the stoppage of play as several towering pines plummeted to earth, miraculously missing patrons (and outright tragedy) by mere inches.
It was a serious situation and a solemn reminder that even the micro-manager extraordinaires at Augusta National are at the mercy of Mother Nature. However, as soon as news broke that there were no injuries and play would continue as planned on Saturday morning, Golf Twitter fired up their keyboards and got to work, churning out take after take, quip upon quip. Here's how it all unfolded, live on the internet.
Naturally, things started with concern over the number-one-most-important thing: Greg Norman.
From there, we saw some requisite pearl clutching (and the hilarious blowback).
There were reflections on eastern philosophy …
… a tip of the cap to the Navy Seals of golf course mangement …
… and shock that trees do indeed grow taller over time.
Heck, even Mike Trout got in on the action ... sort of.
… standard 'Happy Gilmore' memeage …
… and, of course, time-honored "caption this"-style content.
Easily the most common reaction, though, was golfers everywhere joining together to agree that, actually, getting hit by one of those trees wouldn't have been the worst idea.
Golf is truly a sickness for which there is no cure.