AUGUSTA, Ga. — Paul Tesori believes he has developed a formula to tackle Augusta National. The veteran caddie told Golf Digest ahead of this week's Masters: "If you have 180 miles an hour ball speed with the driver, and you are a great pitcher of the golf ball, like that half-wedge distance, you're going to be successful around Augusta National."
Fortunately, Tesori's new boss, Cameron Young, can do both those things. Young's ball speed is 187 m.p.h. and he's 11th on the PGA Tour for approaches in the 50- to 75-yard range Tesori is talking about. He's also an elite ball-striker, 14th on the PGA Tour tee-to-green.
It's why Tesori is excited to work with Young, the PGA Tour reigning Rookie of the Year, after recently splitting with former U.S. Open winner Webb Simpson after 12 years.
"I don't really see a weakness in his game or mindset that would prevent him from being elite," Tesori said of Young, who has yet to win in his nascent PGA Tour career but has had nine top-10 finishes in 36 tour starts as a pro. "I was a little concerned about the putting when I went to work for him. He's 186th on tour for putting. But I see a great putting stroke and a devotion to getting better. But we've had plenty of winners at Augusta that weren't necessarily awesome putters."
There's another intangible that Tesori likes, too. "He also believes in himself, which is a massive component, that he can be No. 1 in the world. Now, he is getting frustrated because he knows he can win and it hasn't happened yet. But we might see a little bit of a Scottie Scheffler thing once he breaks through that might open the floodgates."
Young and Tesori got off to a great start at the WGC-Dell Match Play, with Young reaching the finals only to run out of steam and fall to Sam Burns. Still, it was the sixth runner-up finish for Young, including at the Open Championship at St. Andrews to Cameron Smith.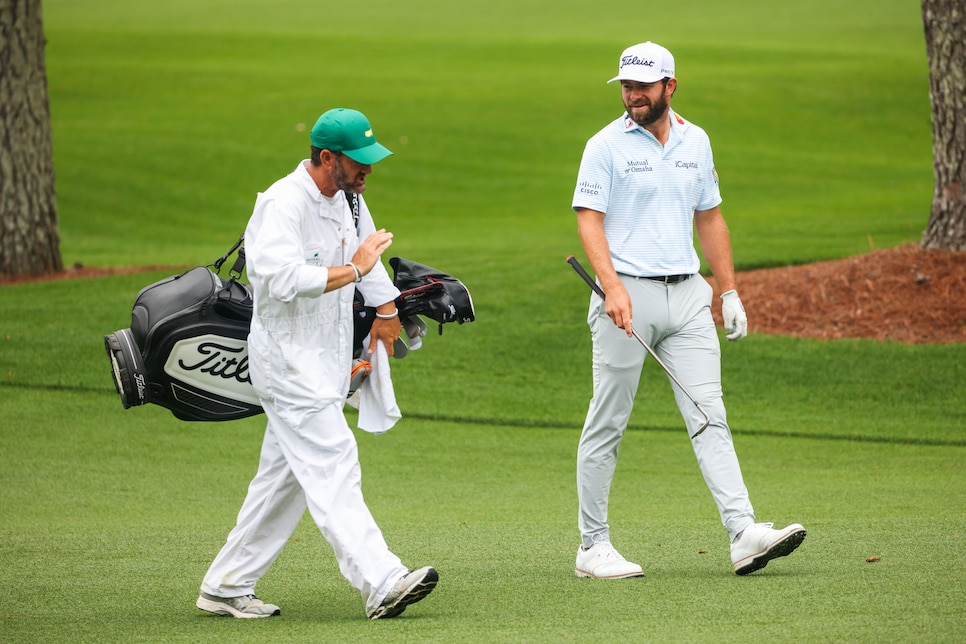 Tesori likes the fact that Young is long off the tee but also sharp inside 75 yards, two keys to winning at Augusta.
Ben Walton
After Young bowed out on Sunday, the 25-year-old said the acquisition of Tesori could take his game to the next level. "I think it's going to be a great move for me," Young said. "He's a guy that's held in the highest respects by just about any player or caddie you run into. I have all the respect in the world for him and I think it's going to be just a new level for me hopefully."
Young and Tesori arrived at Augusta National this week for their second event together, and Young's second Masters start having missed the cut last year. But Tesori, who was on the bag when Simpson finished T-5 and T-10 in 2019 and 2020, respectively. Suffice it to say, he already has some sage advice should Young get flustered.
"Your acceptance level at Augusta National has to be high and I'll never forget one of the most valuable pieces of information I've ever heard about Augusta was from Phil Mickelson," Tesori said. "It was at the 2010 Masters and Phil Mickelson said this is the one golf course in the world where you have to be the least perfect. I remember thinking, that's gotta be one of the most idiotic comments I've ever heard. But as he explained, every single hole gives you a bailout. Stay around even par and a run is always coming. It was the Saturday, and he was in about 35th place. Then he eagled No. 13, holed out on 14 for eagle and hit it to an inch on No. 15. Phil ended up winning the Masters that year."
The question is, can Young do something similar at Augusta? Can he repeat his efforts at St. Andrews when he drove the 18th green on Sunday and made the eagle putt to finished second?
"Cam drives the golf ball 315 yards and is third on the PGA Tour," Tesori said. "At his length, a run is going to come at Augusta. You just have to allow it to happen, and I'm excited to try and help him get on that run."