PGA Tour vs. LIV
Masters 2023: Keeping the peace? Former winner says Augusta chair has been in touch with attendees ahead of Tuesday's Champions Dinner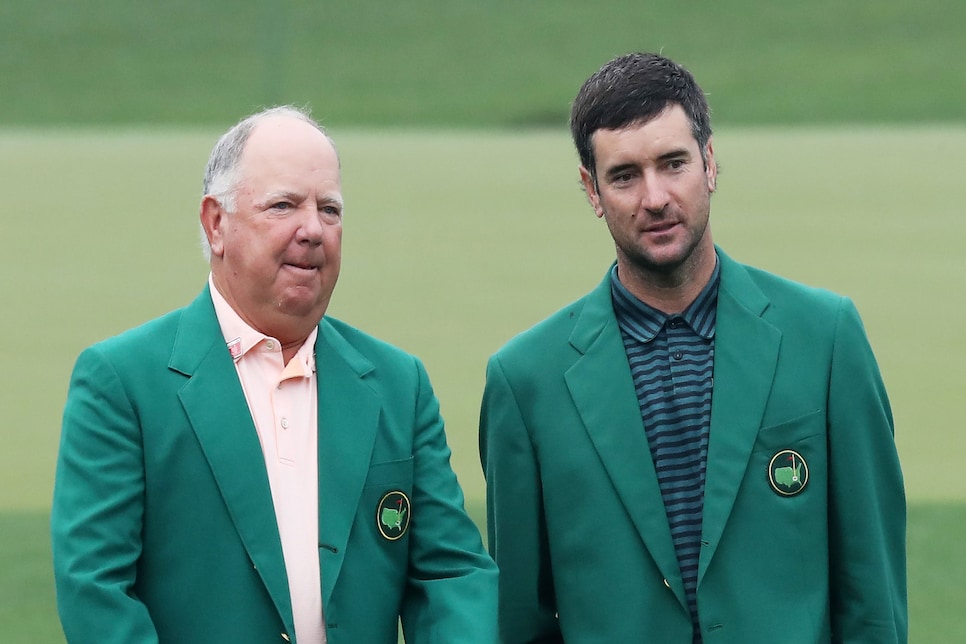 Mark O'Meara, watching with former past Masters champ Bubba Watson at the 2019 Drive, Chip and Putt National Final, everything will be fine at this year's Champions Dinner.
David Cannon
AUGUSTA, Ga. — It is, at least until the real action starts on Thursday, the talk of 'toonamint' week so far. The normally staid Champions Dinner, a traditional Tuesday evening gathering of those who have prevailed at Augusta National, will this year double as the place where Patrick Reed, Charl Schwartzel, Phil Mickelson, Dustin Johnson, Sergio Garcia and Bubba Watson, LIV players all, come face-to-face with fellow Masters champions who have remained faithful to the game's more traditional circuits.
Given recent utterings from the likes of Garcia, Fred Couples and Gary Player, the potential for conflict is surely in the air. One who clearly thought so is Augusta National chairman, Fred Ridley. According to 1998 Masters champion Mark O'Meara, Ridley recently called every past winner to get an early feel for the mood in the two camps.
"I told Mr. Ridley when he called that everything is going to be fine," says O'Meara, who last competed in the Masters in 2018. "I really believe that. My thoughts on the dinner are that golf will survive all of what is going on right now. Golf is bigger than all of this. Golf is fine. So my take is that the dinner will be fine. It will be about the Masters Tournament and [defending champion] Scottie Scheffler. Yes, not everyone in that room is necessarily super-tight, but it won't be about guys who went to the LIV Tour, or guys who support the PGA Tour, or who has said this or that."
And yet, 1991 champion Ian Woosnam is one who doesn't completely share O'Meara's optimism.
"It's going to be interesting," says the Welshman. "There will be some neutrals there, observers really, amongst the guys who have taken sides. But if anyone says anything it will be Phil Mickelson. Phil always says something, and he can blabber on. He'll be the one to disturb things. Then again, there was Freddie [Couples] winding people up the other day. I wonder how much I could charge to put on a little badge and video the whole thing. As I say though, if anyone speaks up it will be Phil. He will be the one to disturb things. But I would hope no one will bring those issues into the room. I certainly won't be saying anything."
And that, says O'Meara, is the most likely scenario.
"I'm a big believer that Tuesday evening will be Tuesday evening," says the two-time major champion. "I could be wrong, but I just don't think guys are going to go to where there might be arguments. I think they have too much respect for this place. I really do. Besides, let's say someone did decide to make it an issue. How bad is he going to look? All of a sudden it is about that guy and who needs to do that? So although there are some guys in there who we know have done stuff like that, I can't see it happening here."
And that is also Woosnam's wish, other than the avoidance of a repeat of what happened last year. Saving himself for what he expected to be a healthy helping of steak, the former World No. 1 was disappointed when only "four little slivers" of meat arrived. "I had to stop for a burger on the way home," he says.
"Normally the whole thing is pretty uneventful," continued Woosnam, who played in his final Masters a year ago. "The champion sits up top with the chairman and Ben Crenshaw. Scottie will make a speech. Then Ben will do the same. Then we eat. Guys tell a few jokes and that's about it. Normally it's all over in two hours."
If only that were true of the strife—unspoken or otherwise—in one of golf's most exclusive rooms.