Rules are Rules
Masters 2023: Augusta National's rules for how instructors can work with players is as detailed as you'd think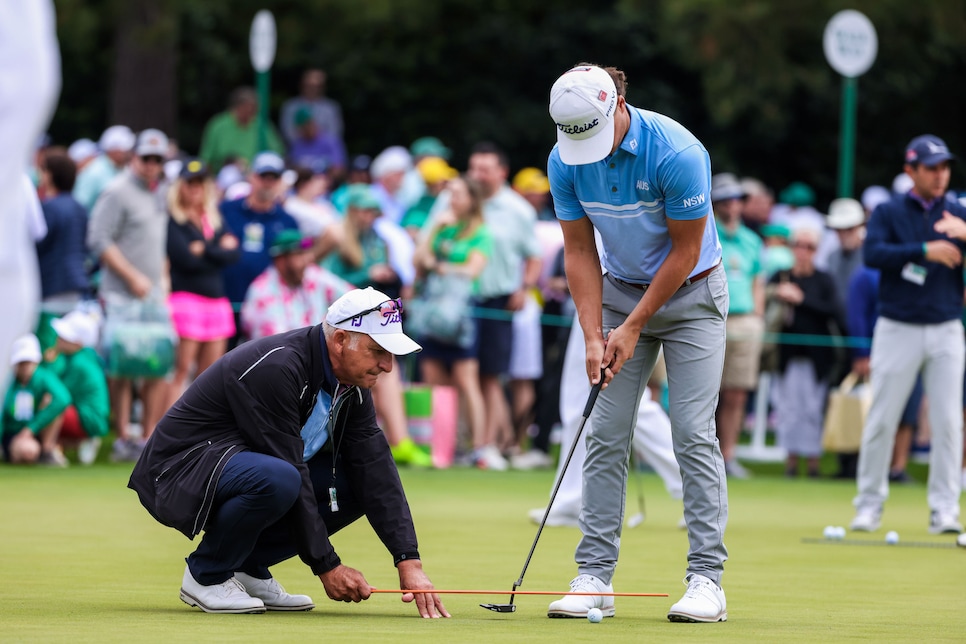 AUGUSTA, Ga. — They do like their rules at the Augusta National Golf Club. Spectators. Media. Support staff. Competitors. No matter who you are, or why you are attending the Masters, you are compelled to live tournament life within the club's specifically outlined parameters. No doubt you are familiar with many of them: No running, no cell phones, "patrons" not "fans," "first cut" not "rough."
But a less familiar example might be the "rules" regarding a small but notable subset among the folks at Augusta National this week: swing instructors who have a player in the exclusive field. As a prelude to their arrival at the golf course, coaches received an email from the club outlining just what they will be able to do during tournament week. And, of course, the somewhat lengthy list of things they absolutely cannot do.
"Your player," says the email, "has officially registered you as part of his support team for the Masters Tournament. As such, the enclosed documents detail information we believe physiotherapists and instructors will find useful in your Masters Tournament planning."
"As a reminder, players shall be directly responsible for the employment, conduct and behavior of the instructors they have requested to be credentialed."
After a couple of logistic paragraphs detailing the collection of said credentials, the first of ANGC's many committees makes an appearance, and the fine print starts to be revealed.
"As customary, our Practice Activities Committee will manage practice range access and all Masters Tournament protocols will be enforced. A designated location for instructors waiting on their player (player support waiting area) has been set aside at the northern end of the player parking lot with food and beverage available daily."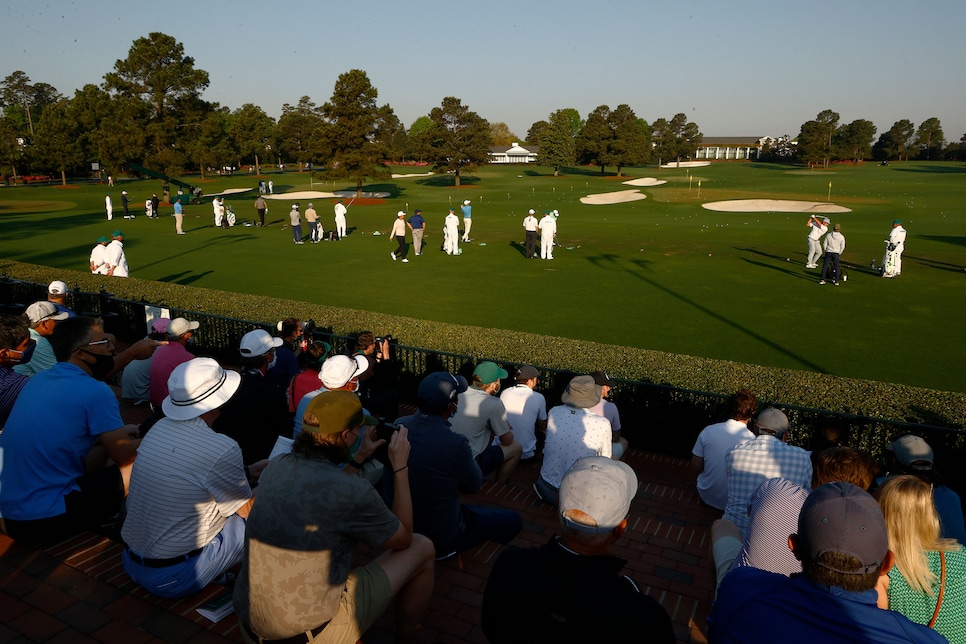 The rules regarding what instructors can and cannot due on the range are rather serious at Augusta National.
Jared C. Tilton
In other words, says one instructor with long-time experience of Masters week, "don't be standing around making the range look untidy when your player is a little late."
Things get more complicated when it comes to some of the "equipment" an instructor might wish to employ when doing his job.
"The Tournament credential issued to instructors permits the entry of laptops, tablets, video cameras, Trackman or other electronic devices specifically used for instruction purposes on the practice tee when entering through Gate 4. Cell phones are not classified as teaching equipment and will not be permitted through any gate for instructors. Should you use an entry gate other than Gate 4, please note that equipment will not be permitted through the gate."
Once you've brought equipment in through the proper gate, however, its use is also subject to some specific—some might say extreme—restrictions, particularly when it comes to work on the practice green.
"Information about the putting greens including, but not limited to slope, speed or firmness measurements, green mapping or other digital information is proprietary to Augusta National Golf Club and the Masters Tournament. The policy does not permit any Stimpmeter or similar device (such as a GC Quad, Trackman, Perfect Putter etc) capable of measuring or recording the physical condition or characteristics of any putting green to be used on the practice or course putting green by a player, caddie or instructor."
You might recall Augusta National, unlike other tournaments on the PGA Tour, did not provide green-reading books even before the USGA/R&A became more restrictive about their use. Masters officials are especially particular about what information players can use/glean about their typically speedy putting surfaces. Why any of this might matter when, as every player is quick to relate, the speed of the Augusta greens changes markedly during tournament week—especially between the practice days and Thursday's opening round—is hard to imagine.
Anyway, the e-mail concludes with one last warning.
"The Masters Tournament appreciates your assistance and asks that all instructors follow the protocols outlined in this document. Any violation that is observed and reported by Tournament Officials, staff, volunteers or security personnel may result in the loss of your credential privileges for the week."
So there it is. Welcome to the Masters. Proceed with caution.