Fan Favorite
Masters 2022: You would think Tiger Woods won a sixth green jacket based off the reception he received at the 18th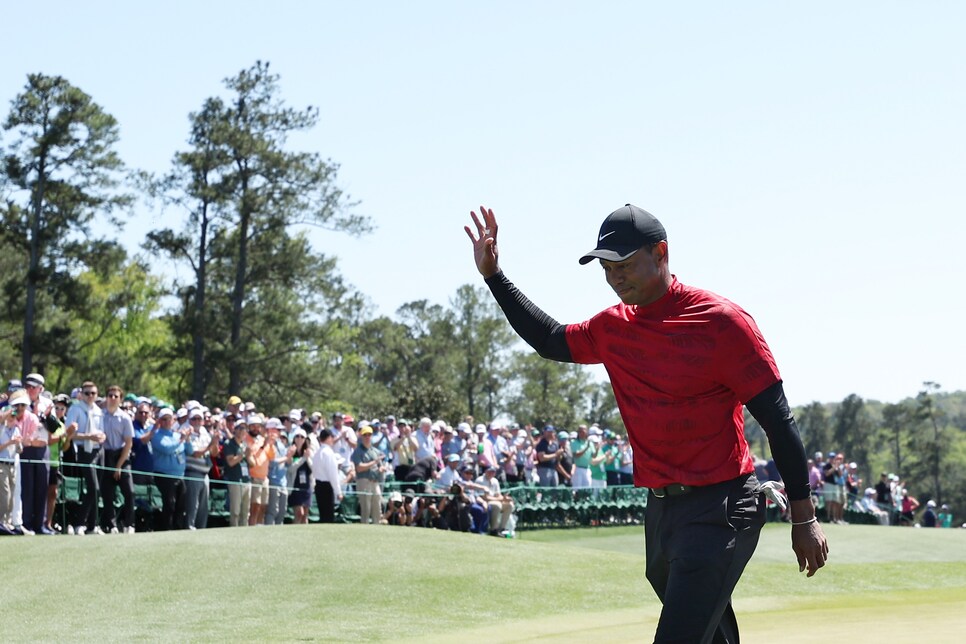 Earlier this week, Tiger Woods said he believed he could win the 2022 Masters. Who were we to doubt him? He's always shown up with the intent to win, and his success rate has been pretty good in that department.
But as the week wore on, it became clear that simply finishing the tournament would be a positive step forward in Woods' return. He did just that on Sunday afternoon at Augusta National, capping off a 78-78 weekend to finish at 13 over, which currently has him in solo 47th.
Based off the reception Woods received at the 18th hole, though, you'd think he was 13 under and about to win his sixth career green jacket. Watch the reaction from the patrons as Woods made his way up to the green:
Even better was Woods' walk to the clubhouse, which unfortunately there is no video of on social media (yet). Golf Channel's Brentley Romine captured the moment perfectly in these four screenshots, though:
Really, really cool stuff. Woods couldn't help but smile, a stunning sight given there is a +13 next to his name. Imagine peak Tiger Woods smiling after a 47th-place finish? It just shows how remarkable it is not only to us, but to him, that he was able to complete 72 holes while likely in excruciating pain at maybe the hardest course to walk on the planet.
"It was an unbelievable feeling," Woods said afterward on CBS. "To have the patrons, the support out there. I wasn't exactly playing my best, but to have that support and the appreciation from all the fans, I don't think words can really describe thatt given where I was a little over a year ago and what my prospects were at that time. To end up here and to be able to play all four rounds, even a month ago I didn't know if I could pull this off. So, I think it was a positive.
"I've got some work to do, and I'm looking forward to it."
Not long after signing his scorecard, Woods confirmed with Sky Sports that he will be competing in the Open Championship later this summer at St Andrews. He's still unsure if he'll play in the PGA Championship in May at Southern Hills, where he won the 2007 PGA.