Live Blog
Masters 2022 live updates: Scottie Scheffler claims first major title at Augusta National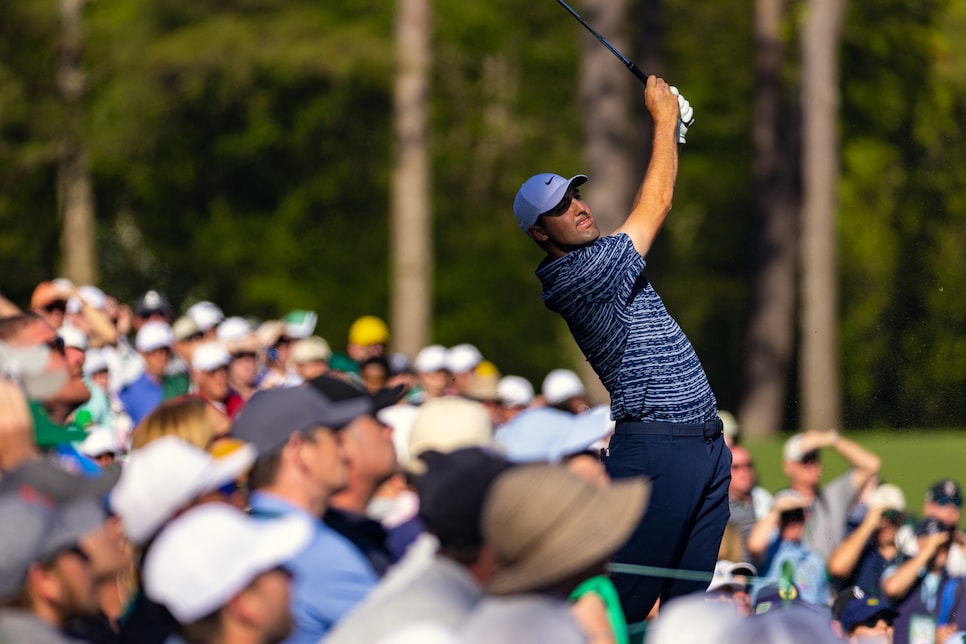 One of golf's greatest heaters ever continued on Sunday at Augusta National, and we say that without the slightest hint of exaggeration.
Scottie Scheffler, another winless rising star just a few months ago, won the 2022 Masters on Sunday, shooting a one-under 71 to beat out Rory McIlroy by three shots for the green jacket. It marks his fourth victory in his last six starts, all of them coming after Super Bowl Sunday.
It was, almost, flawless, right up until the 72nd green. There, Scheffler four-putted for double bogey, but he could have six-putted if he wanted to. He was the only player in the field to shoot under par in all four rounds.
Masters 2022 live updates:
6:56 p.m.: And there it is. Scottie Scheffler makes a mess on the 18th green, four-putting for double bogey, but still secures a one-under 71 and the green jacket. That's how you back up the World No. 1 title. Scheffler now has four wins since February, including his first major title. Talk about a HEATER:
6:42 p.m.: There was a brief bit of drama at the 17th, where Scheffler missed wide right off the tee. But he sensibly punched out to a perfect wedge distance and hit his third to four feet, saving yet another par. One more to go.
Up at 18 green, Shane Lowry makes birdie to shoot 69, made all the more impressive by the fact he made a triple-bogey six earlier in his round. That will be good enough for T-3 or solo fourth, at worst, should Smith birdie the 18th. That will be his best Masters finish, and third straight result inside the top 25. It'll also mark his seventh finish of T-9 or better in a major since 2014. Guy's a big-game hunter.
6:28 p.m.: Scheffler hits the 16th green and two-putts for par. The victory walk continues.
6:21 p.m.: Scheffler bangs in another birdie to get to 12 under, five ahead of McIlroy. It's Vince Carter gif time.
6:11 p.m.: Smith, who is now eight back, finds the green in two at the 15th. Scheffler, somewhat stunningly, goes for the green as well and pulls it off, his ball landing on the green and just rolling off the back. BOLD.
6:02 p.m.: The stats are pouring in on McIlroy's incredible eight-under 64. This tweet covers just about all of 'em:
5:59 p.m.: Scheffler may have just had his official "night night" moment. He damn near jars it for eagle at the 14th, leaving himself with a five-footer for birdie to get to 11 under. Cam Smith, still reeling from the 12th, had to punch out from the trees after a wayward drive.
5:50 p.m.: This might not be over yet. Rory McIlroy hits the shot of the week at No. 18, holing out from the bunker for birdie to post seven under. Insane, insane shot given the circumstances. Scheffler just misses the birdie putt and now he only leads by three with a lot of holes to go. Stick around, folks.
Not long after this, McIlroy's partner, Collin Morikawa, did him one better:
5:45 p.m.: Scheffler smartly plays the 13th and leaves himself with about seven feet for birdie. Smith's third shot doesn't catch the ridge and he slams his club into the turf. He knows this thing may have slipped through his fingers. Up at 18, McIlroy finds the fairway bunker off the tee and then the greenside bunker on his approach. Unless he chips in, he'll likely post six under, which Scheffler is about to be five clear of.
5:31 p.m.: Scheffler appeared to be playing for a four, but he made three anyway. That might be the ball game, folks. Smith makes an absolutely gutting triple bogey. The 12th strikes again.
5:29 p.m.: Smith's third goes way over the green and now he has to get up and down for ... double bogey. Disaster.
5:25 p.m.: Aaaaaand it's over. Smith rinses one at 12. For some reason, he went at the flag, the No. 1 thing you do not do at that hole. Bogey would be a miracle and might keep him alive, but a double would be curtains. Luckily for him, Scheffler's par will be hard to come by. He's dry, but long and left, because there was absolutely no way he was doing what Smith did. Smart.
5:20 p.m.: The roar of the day at the 11th, as Smith holes the birdie putt to get back to seven under. Scheffler follows by pouring in one of the gutsier par putts of his life to stay three up. PHEW. At the 16th, McIlroy saves par.
5:18 p.m.: Scheffler misses right at the 11th, which should leave him with a very tricky up and down. Smith pures a draw on to the green and has a great look at birdie. We might have some action here, folks.
5:11 p.m.: Strong birdie effort from McIlroy at 15, but it doesn't fall. He's five back and has just three holes to play. Running out of time.
5:07 p.m.: Scheffler fails to get up and down for par, dropping back to 10 under. Smith's par effort misses well right and he has to settle for bogey. Feels like a big missed momentum opportunity there for the Aussie. Up at 15, McIlroy's approach skips over the green but just hangs on the collar. It's a decent look at birdie, but he needed an eagle look to have any prayer at the green jacket.
5:02 p.m.: There won't be any eagle from McIlroy at the 15th. A double-crossed drive will lead to a layup. Birdie would still be huge, of course. At No. 10, Smith punches out and then STRIPES a 9 iron to inside of 10 feet. This would be an epic par. Scheffler misses left with his approach. Suddenly, the pressure is on him.
4:57 p.m.: Cam Smith appears to be in big trouble at the 10th, where he snipe-hooked one down the left side. It's not quite Rory in 2011 trouble, but par will be no easy task. Scheffler is just fine, hitting a perfect draw that catches the hill and will leave him with a short iron in. Up at the 14th, McIlroy, who had to lay up, gets up and down in extremely classy fashion, using the slope to bring his ball back to tap-in range. Time for another eagle at 15, Rors.
4:50 p.m.: Cam Smith's birdie effort at the ninth just slips past the left edge of the cup. He settles for par to turn in one under. Scheffler was in there tight, but his birdie try just slides by, too. Par for a two-under 34. To the second nine we go. Scheffler leads by four.
4:43 p.m.: GOODNESS! McIlroy drains the eagle putt to reach six under, pulling within five of Scheffler's lead. It's probably too little, too late, but this is still impressive stuff.
4:39 p.m.: Rory executes exactly how he needed to, hitting his approach at the 13th on the green and setting up a medium-sized look at eagle. Now is the time.
4:36 p.m.: Smith was forced to lay up at the eighth after his tee shot found the bunker, then he sailed the green with a 9 iron on his approach. But he was able to clip a perfect chip to tap-in range, saving par. That will keep him four back heading to nine tee, as Scheffler just polished off a two-putt par.
4:28 p.m.: Par for Rory at the 12th. Safe to say he needs one of them big birds at the 13th to seriously be lurking. He's got a chance, as he just hit a low bullet hook in the fairway. Here. We. Go.
4:22 p.m.: Scheffler and Smith both stuff their approach shots on No. 7 and convert the birdie putts. Scheffler, 11 under. Smith, seven under. McIlroy safely finds the green at the 12th.
4:16 p.m.: McIlroy's approach at No. 11 misses right, leaving a tough chip. He nearly holes it again, but this one rolls about 10 feet past. BANG. What a par save. He's still got life.
4:08 p.m.: Man, can Cam Smith putt or what? At the sixth, his tee shot came to rest about a mile from the hole, and his birdie effort came up 10 feet short. But he pours in the par putt to stay at six under. Scheffler makes par, too, keeping his four-shot lead. Sungjae Im joins McIlroy at four under with a birdie at No. 7.
4 p.m.: Pars for Scheffler and Smith at the fifth. Way up at the 10th, Rory McIlroy chips in for birdie to reach four under, causing the crowd to erupt. Man, imagine he gets to seven or eight under? The Masters doesn't start until the back nine on Sunday, as they say.
3:41 p.m.: We are witnessing a VIRTUOSO backdoor top-5 performance from Rory McIlroy right now. He's four under through eight holes, three under for the tournament. Should Scheffler really stumble he's ... kind of in it? Knowing Rory, if that does happen, he'll make a backbreaking bogey. OK, OK, done being mean. Great start from Rors. We're rooting for a magical back-nine charge, but it still might not be enough to catch Scottie, who just made par at the fourth while Smith made another dagger bogey. The lead is four.
3:36 p.m.: W-O-W. What a reversal at No. 3. Smith and Scheffler both hit wayward drives, then they both came up well short with their approach shots. Scheffler chips his in for birdie, a low nip-spinner that would have rolled 10-to-15 feet past the hole if it didn't hit the pin. The roar from the patrons was deafening. Smith went on to bogey, and just like that Scheffler is back up three shots.
3:16 p.m.: Scheffler's second shot at the second finds the greenside bunker, and he's unable to get up and down for birdie. Smith, meanwhile, finds the green in two and two-putts for birdie. He's now one back. (Verne Lundqvist voice) Oh my goodness.
3 p.m.: Tiger Woods finishes with par at the 18th, giving him a second straight 78. This week started with promise when the 15-time major winner said he felt like he could win, but it became quite clear as the week wore on that simply finishing the event would have been a victory. That's just what he did. Hats off to the GOAT.
2:52 p.m.: Scheffler passes the early "nerves" test with a 10 out of 10 chip shot from behind one green. Hell of a par save to settle in and get the round going. However, his lead has shrunk by one, as Cam Smith rolls in a birdie putt to reach seven under and pull within two. Game ON.
2:44 p.m.: The leaders approach the first tee, Jim Nantz gives another stirring pre-round monologue and Scottie Scheffler . . . yanks his tee shot left into the pine straw. Just an early hiccup or an ominous sign of a long day? We will have to see. Scheffler at least manages to punch his second shot up to around the green, but the ball doesn't hold, and he'll have to scramble to save par.
2:24 p.m.: Earlier in the week, we raised the question, "When Tiger Woods reaches the 16th hole, would Verne Lundquist be presiding over a meaningful shot from the tower?" You know, like this one? Well, not really. Woods is 11 over and staggering home. But judging by the reception from the gallery when he reached the green after his tee shot to 15 feet, it was apparent it was plenty meaningful he was even here at all. Meanwhile, McIlroy regains some ground by driving the green on the par-4 third and two-putting for birdie to move into red numbers.
2:17 p.m.: McIlroy squanders an opportunity at the par-5 second when finds the front bunker and fails to get up and down for birdie. He remains nine shots off the lead. Playing the par-5 15th, Woods is forced to lay up and settles for a two-putt from 21 feet.
2:05 p.m.: Rory McIlroy started his day doing what Rory McIlroy does, birdieing the first hole to make another belated charge up the leader board. Tiger Woods is moving in the opposite direction, but he's still had his moments. Woods found tree trouble off the tee on 14, punched out, then sent his par putt a good 30 feet past the hole. However, Woods drilled the putt for an incredible bogey, and even was able to smile about it as he fetched his ball out of the hole.
1:45 p.m.: Well, we might have spoken too soon about Woods' 13th-hole proficiency. Woods hit his approach into the par 5 with too much steam, and it raced through the green and just to the edge of an azalea bush. In the absence of a regular stance, Woods worked through about seven different shots, before ultimately settling with hitting a shot lefthanded. He managed to get the chip onto the green, but the birdie attempt was a long one, rolling six feet past the hole. He made the putt for par, but not what he envisioned when he got to the tee.
1:36 p.m.: After Woods escapes No. 12 with a par, he laces a drive on No. 13, which he has birdied the first three days here. If Woods is going to snag a sixth green jacket, he really needs to take advantage here. That was a joke.
1:17 p.m. Jon Rahm is starting to get dialed in, dropping another approach tight on No. 11. Woods, meanwhile, left his approach out right—not quite Larry Mize territory, but close. His chip barely makes it onto the fringe, and he fails to get up-and-down for par. Rahm misses his birdie attempt, a missed opportunity to maintain his momentum.
1:04 p.m.: One way to solve for problems with the putter? Just knock it to three-feet, which is what Woods did with a brilliant approach on No. 10. He converts the birdie, his second of the day. Jon Rahm matches the birdie to get to 5-over and 2-under for the day.
12:53 p.m.: Woods two-putts for par, turning in 38 and heading for his back nine. He appears to be in a better mood than Tyrrell Hatton, who yanked his drive out of bounds on No. 13, slammed his driver, and had to re-tee. A day earlier he made 8 at the same hole, so guessing not a fan right now . . .
12:13 p.m.: Another hole, another missed 10-footer for par for Tiger. Man, this is getting a little tough to watch. Of course, it's still beyond amazing that the guy is even out there, but let's just say the putter is rusty after that 17-month layoff. Not that anyone is making a lot of putts. Despite the best scoring conditions of the week, no one currently on the golf course is better than one under. Of course, it's still (really) early.
12:01 p.m.: The good news for Tiger? He did better on No. 5 than he did on Saturday. The bad news? He still made a bogey. This time, Tiger failed to get up and down from in front of the green, missing another putt in the 6-to-10 foot range. Oh, and if this was an actual Ryder Cup match, it would be pretty wild. Rahm has won the past three holes after losing the first two.
11:45 a.m.: And just like that, this mythical Ryder Cup rematch is all squared. Rahm finds the green at the difficult par-3 third and two-putts for par while Woods fails to get up and down from the left bunker. As was the case the past two days, it was the putter that failed him again as his 10-fopter curled around the cup. Back to even par.
11:32 a.m.: Rahm answers with a birdie on No. 3, while Woods settles for par. Tiger smoked another driver, but hit a disappointing pitch to 40 feet and had to play defense from there.
11:20 a.m.: After a 329-yard drive, Woods hits a laser long iron just through the back of the green on the par-5 second. From there, he coaxes his eagle attempt from the fringe to within two feet. Boom. Wearing red and in red figures. Rahm pars so Tiger moves to 2 up in this Ryder Cup rematch.
11:03 a.m: Tiger starts with a tap-in par on No. 1, always a good way to get your round going here. Playing partner Jon Rahm misses the green, however, and is unable to get up and down for par.
10:51 a.m.: Tiger begins his final round with a driver to the left rough. Not bad. He's had his problems with this difficult par 4.