AUGUSTA, Ga. — Scottie Scheffler's mind didn't wander because Scottie Scheffler's mind doesn't wander. But admit it—yours did. He'd just nipped another perfect wedge into the par-5 13th, hearted another birdie putt, tacked one more shot onto an already healthy lead, and you wondered if we'd officially entered the Scottie Scheffler Era.
Dramatic wording aside, it was a fair question. It still is, even after that exhausting bogey at 18. Big picture, the facts haven't changed. Scheffler still has won three of his last five starts, all against loaded fields. He still entered this week as the World No. 1, perfectly content with ceding the spotlight to Mr. Woods. He's still riding an all-time heater. He still shot under par on a day when the scoring average veered toward 75. And he still carries a sizeable lead into the final round of the Masters.
Each shot in a golf tournament counts the same as the next, even if the next one's 19 hours away. But our brains have never quite been able to grasp that concept, and so Scheffler's closing bogey, which means he'll sleep on a three-shot lead instead of four, has turned a coronation into a battle between the two hottest golfers on the planet. Maybe the two calmest, too.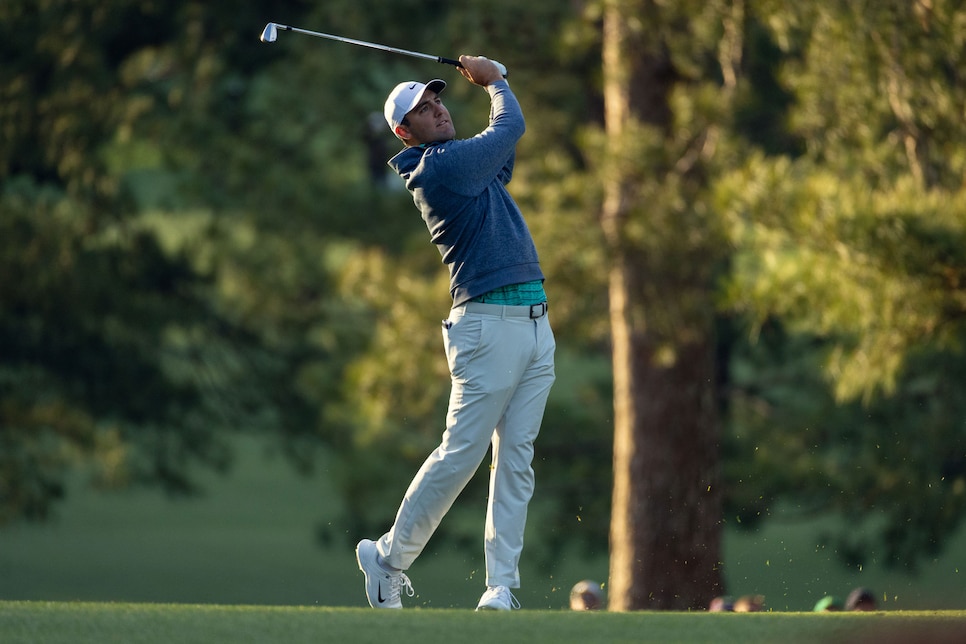 Scottie Scheffler vs. Cameron Smith is golf's version of a heavyweight title fight, but this is about as far from Fury-Wilder as is possible. A chill-as-hell Texan vs. an easygoing Aussie. Neither seems the least bit phased by circumstance or concerned with narrative. There will be no social media back and forth, no showmanship, no histrionics—just two men with a chance to win their first major championship on golf's grandest stage. And, in the process, snag some breathing room in the best-in-the-world conversation.
"Should be a great fight tomorrow," Scheffler said. "Obviously Cam is a tremendous player, and he's got a fantastic short game, and he's coming off a huge win. Both of us are in good form, so I'm definitely looking forward to the challenge of playing with him tomorrow.
"Little bit of different conditions on the golf course. I'm sure they will keep the greens nice and firm, but the wind will be a little lighter. I'm not sure how much lighter it will be, but I think we are both looking forward to the test and the challenge. Playing in the final group is always so much fun, so I'm looking forward to it."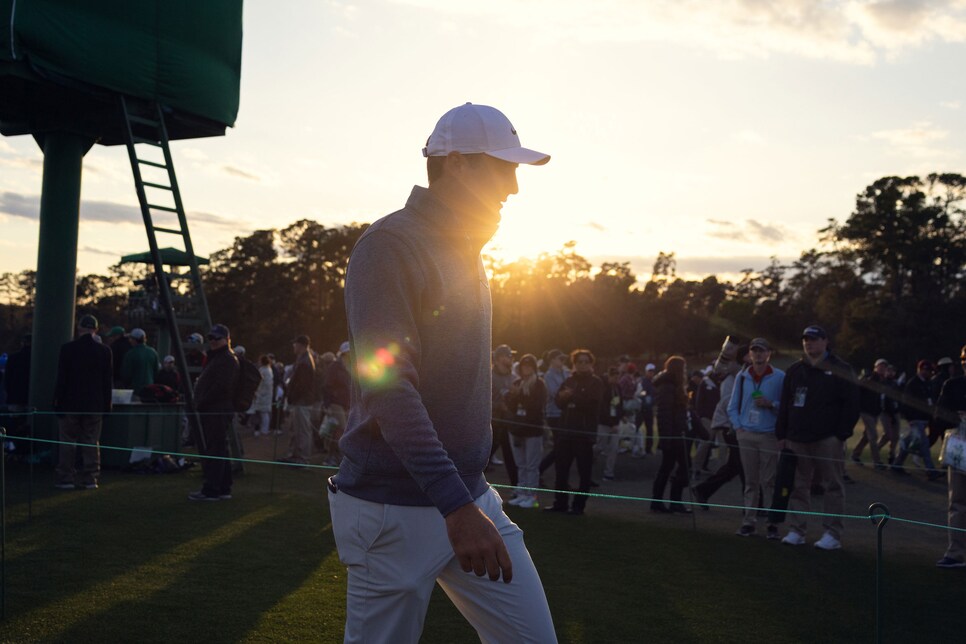 Both Scheffler and Smith won their last starts—Scheffler at the WGC-Dell Technologies Match Play, Smith at the Players Championship. Both entered the week among the favorites, and both opened with rounds in the 60s. Their paths diverged from there. Smith's piping-hot putter went cold on Saturday en route to a 74. Three groups behind, Scheffler pounced on a lull in the wind and raced to a 67 that gave him a five-shot head start over everyone else and a six-shot edge on Smith.
But Smith steadily chipped away on Saturday with a four-under 68 that was the best round of the day by two shots, and confidence is dripping from his mullet and wispy mustache. This is the same gritty short-game genius who shot 34 under to beat Jon Rahm in Maui in January, then took down the best field in golf two months later at TPC Sawgrass.
"It just means I can get it done, I guess, when I'm up against the best guys in the world," Smith said. "It's a good feeling to have. It's earned. It's not given to you.
"So, I'm going to have to go out there tomorrow and play really good golf again, probably similar to today. Hopefully everything just falls into place. I can't control what anyone else is going to do tomorrow. So, yeah, just go out there and really focus on myself."
Scheffler preserved his five-shot lead for most of the day before a late wobble. He bogeyed 14 from the middle of the fairway and three-putted 15 from 30 feet to drop another. A birdie at 17 was offset by a most adventurous bogey at the 18th. Scheffler hit his worst drive of the week, a vicious pull that kicked off a tree into lord knows where.
"We saw the guy with the flag that always finds the balls kind of panicking," Scheffler sdid. "I was like, 'oh, crap, wonder what's going on here.'"
A search party located his ball, and a drop after declaring an unplayable lie left him 255 yards uphill. He ripped a driving iron directly past the flag, and two strokes with the putter completed a masterclass in damage control—the rare momentum-maintaining bogey. Scheffler was returning to his rental house for yet another Saturday night in the heat of contention. This one, however, is different. Winning the WM Phoenix Open is great. The Arnold Palmer Invitational, too. The Match Play, awesome. Scheffler's blistering spring caught the golf world's attention; winning the Masters grabs the world's attention.
Scheffler appears wholly unconcerned with the ramifications of Sunday. He's not thinking about the green jacket or next year's Champions Dinner. The great ones have a knack for narrowing their focus. One shot at a time. Or, in this case, one episode of "The Office" at a time.
"Tonight, I'm looking forward to just chilling," Scheffler said. "I think we are like two episodes into Season 4. I'm just looking forward to sitting back and giggling a little bit and eating some good food."
What, you thought he'd be nervous?
MORE MASTERS 2022 STORIES FROM GOLF DIGEST