Food Review
Masters 2022: I ate and graded every item on the Augusta National concession menu (again)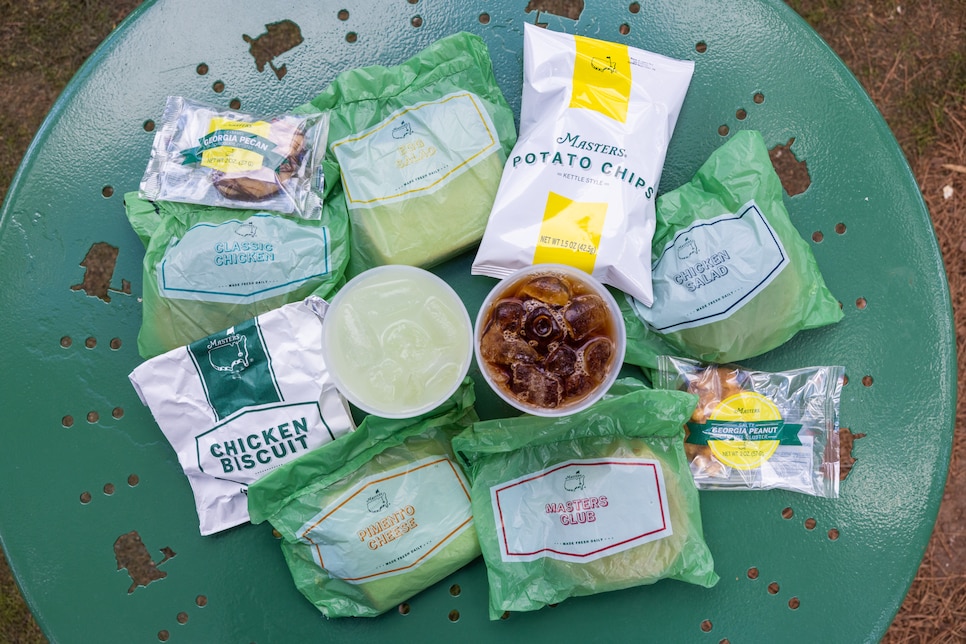 AUGUSTA, Ga. — This is not an assignment for the weak-hearted. (Or the weak-stomached.) It's also not an assignment most would envy. When I pitched my editor about re-visiting an article I first wrote in 2014, in which I ate every item on the menu at the Masters, it felt like mostly pity in his voice: "Yeah, I guess you could."
But I didn't walk out to the concessions at Amen Corner reluctantly. I've been looking forward to tinkering with my original review ever since that first assignment. So when I found out I'd be attending this year, it was one of my goals for the week. We're talking one of the most iconic stretches of golf at the game's most well-known venue, and in my hand would be the sandwiches most fans are most curious about.
This year, I broke my reviewing into two sittings. My metabolism as a 25-year-old in 2014 allowed me to consume all sandwiches (nine at the time) in one half-hour sitting. This year, I thought better of that. After all, I could expense the $18 I spent on sandwiches … but on a hospital visit after passing out from my caloric intake? Probably not so much.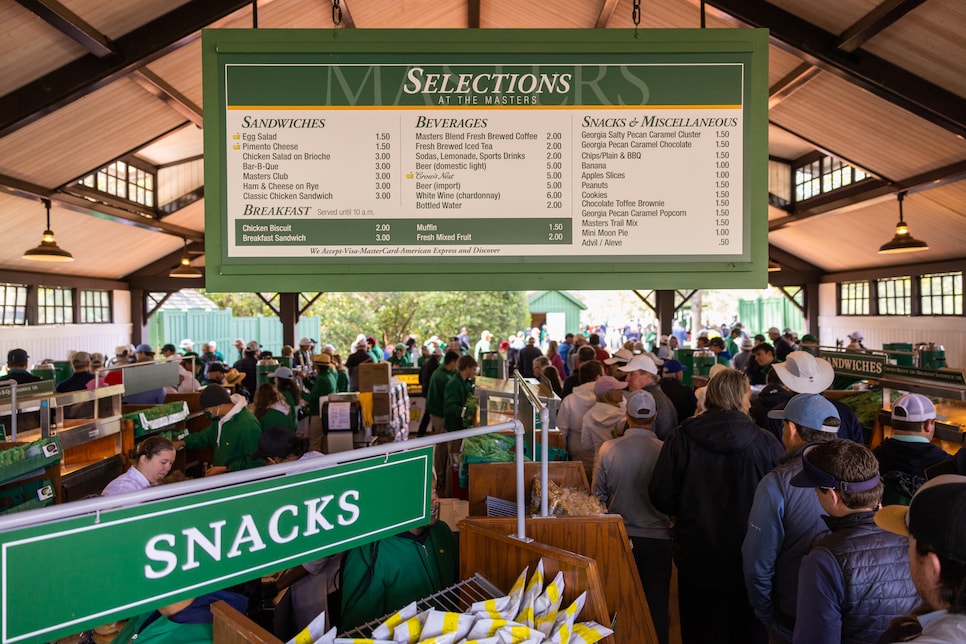 Egg salad ($1.50). Grade: A
Poll all patrons, and I'd bet most would cite this as their favorite. It's tough to argue. The mayo is not overpowering, allowing the quality of egg flavor to shine. There's something so simple and basic about the thin layer of egg salad spread along with two pieces of white bread. It also works for breakfast or lunch—and could go with an alcoholic beverage as well as a coffee. Versatile, tasty, quintessential.
Pimento cheese ($1.50). Grade: A
This was like reuniting with a friend—I picked up right where I left off in 2014. It's amazing how contentious a conversation about a cheese spread can be. But that's what it's like talking about the pimento cheese at Augusta. Some people think it's gross. Others, like me, would call it their favorite. It's a consistency thing. Not for everybody.
Some might find it absurd that my first thought, after being told I was Masters bound this year, was: "Oh, hell yes, I could rekindle the flames with the pimentos." There's a reason Masters viewing parties around the world include a pimento-cheese spread—it's iconic. And it did not disappoint.
Classic Chicken sandwich ($3). Grade: B+
I've come around on this. At first bite, it's too bland. It's a piece of breaded chicken between two hamburger buns. Nothing special. But once you add yellow mustard or BBQ sauce (it comes undressed), it takes it up a notch.
It's also served cold, which I think could be improved. If it was served hot, like the chicken and sausage biscuits that are out for breakfast, this would be far and away the best sammy. Still, this is one of the most popular options—and for good reason. It does seem to get better with each bite.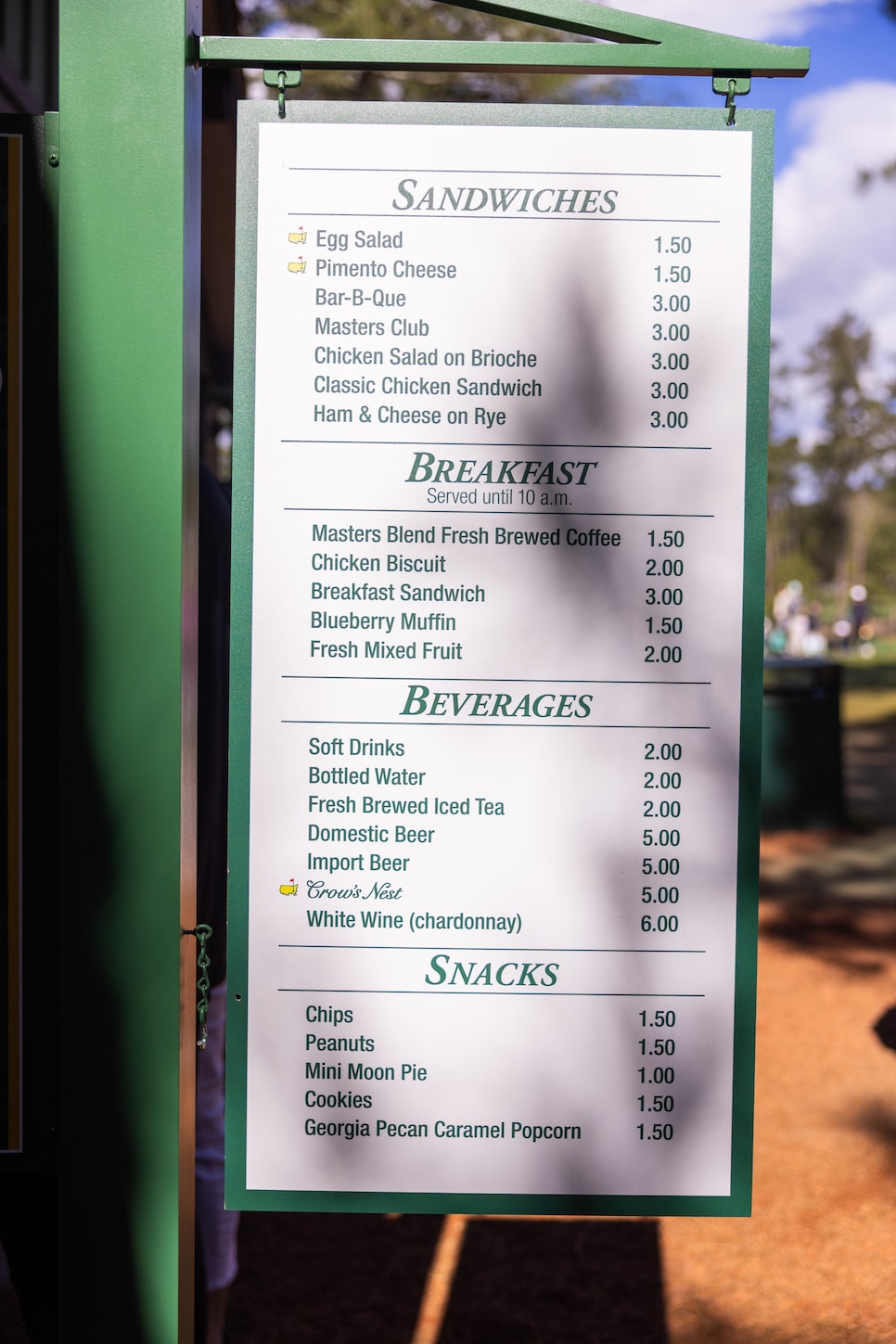 Masters Club ($3). Grade: B+
You know if the Masters named a sandwich after the tournament itself, it must be pretty good. And it is. If you're looking for a basic, deli-meat type of sandwich, you can't go wrong. The turkey, ham and cheese complement each other well, though you really don't taste the turkey, and it comes with this light mustard, distilled with vinegar—though not vinegary—that is the way to bring it all together.
Comes with the same vinegar, which is lovely, but if you prefer ham over turkey, this is the option for you. The rye is also a nice change of pace from the other bread options.
Chicken Salad on Brioche ($3). Grade: B
This is a new menu item in the past few years, and as a HUGE chicken-salad guy, I was very excited to try it. That's the problem, though—as someone who has had very good chicken salad in the past, this can't really touch some of the best golf-club chicken salads out there (like Hudson National in Croton-on-Hudson, N.Y., which I think is the créme de la créme).
Bar-B-Que ($3). Grade: C+
I stand by my grade from eight years ago. If you've had good barbeque before, you can't think this is good, I'm sorry. Carolina BBQ ain't too far away, and this wouldn't be in the same league as "good Carolina BBQ." There's just a thin layer of pulled pork, too. I'd prefer any of the other sandwiches, personally.
Other bonus Masters concession grades:
Breakfast Sandwich ($3). Grade: A
Concessions were out of the breakfast sandwich out at Amen Corner earlier in the week. But after publishing this story, and being told the new breakfast sandwich was one of the best items on the menu, I did the brave thing and got to Augusta National early on Sunday to make sure I could try the sandwich. It was well worth it. It's only advertised as "breakfast sandwich," without a listing of what it consisted of. Turns out, it has everything you want: Egg, bacon, sausage and cheese on a buttery type bun. Though I haven't seen ketchup out at concessions, they do have it in the media center. A little hot sauce and ketchup ... and as a breakfast sandwich guru from some of New Jersey's finest delis, this is absolutely in the same league.
Chicken Biscuit ($2). Grade: A-
Again, this is a sandwich that grows on you. I've had a few this week, and I thought it was a bit bland and dry on first try. But on Saturday, I gave it another shot, and the chicken was juicier and the biscuit not as dry. This, with a nice warm cup of Masters Blend coffee on a cold day like Saturday, is the best way to have breakfast at Augusta.
Blueberry muffin ($1.50). Grade: A
Not surprisingly, they're baked to perfection.
An Augusta club member whom I shared a bench with this week made an interesting comment to me: "That's definitely something new from eight years ago." Perhaps a desire for healthier options brought this to the menu. We, of course, are not thinking about our health this week—so we passed on the fruit.
As you can see, this author probably could use something healthy in his diet: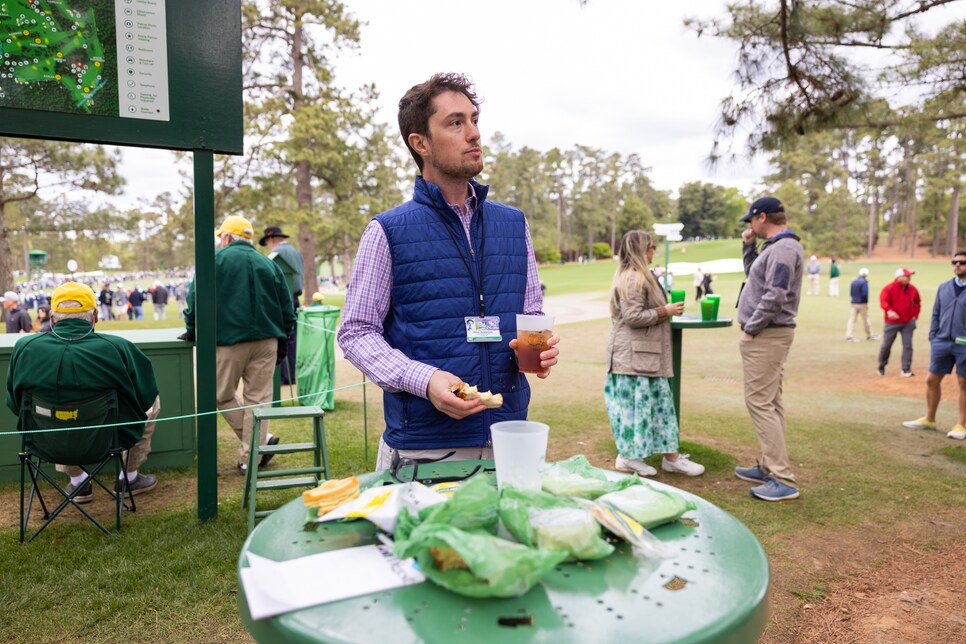 White chocolate pecan cookie ($1.50). Grade: A
Probably the best thing I've had this week—in all seriousness. I wasn't even hungry, but the cookie got better with each bite.
Georgia pecan caramel chocolate cluster ($1.50). Grade: A
The melted chocolate coating mixed with all this butter and dough is a dream. Add an ice cream bar to a bite of this, and you will thank us.
Chocolate toffee brownie ($1.50). Grade: B-
The overwhelming taste of this brownie is toffee flavor, different for a typical brownie. And you need a drink with this, since it's so dry. We wouldn't recommend a beer—you need something like a milk.