Not All Heroes Wear Capes
Masters 2022: Can you really spend $36,000 in one visit to the Masters merchandise shop? Challenge accepted!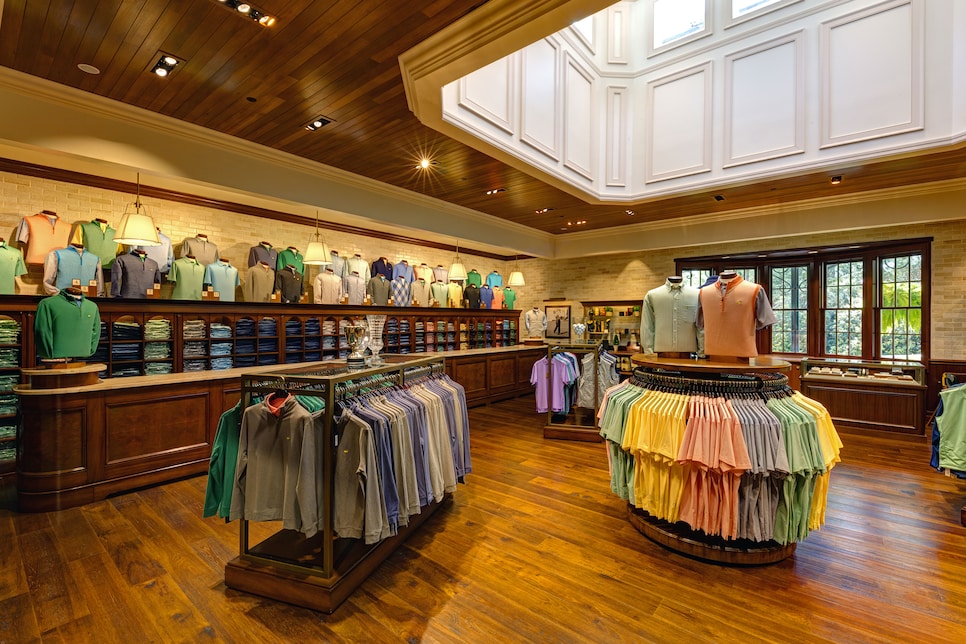 Rob Brown/Augusta National
AUGUSTA, Ga. — A Masters experience isn't complete without a visit to the sprawling merchandise shop. Walk in the front doors and it's easy to find yourself tempted to buy things you never knew you needed—azalea candles, socks, playing cards with a case and, of course, a leather football. If you're lucky enough to go to the Masters, you can probably also expect to pick up merch for everyone you know, from hats, to quarter zips, to polos.
It's reported that the Masters merchandise shop brings in $850,000 an hour. Even more remarkable is that one dedicated patron is rumored to have dropped a whopping $36,000 in one visit there this week. Beyond having the resources to support such a trip, you wonder how someone could actually find that much stuff to buy. Challenge accepted! While our original idea of a shopping spree that we could expense to a company credit card was swiftly rejected, we did endeavor to at least see how we could rack up such a bill in one visit.
One big rule: We couldn't select more than five of any one item. Otherwise this is just a story about how we bought 423 $85 polos, and that's pretty boring.
The most expensive item we could find was a Limited Edition Arnold Palmer coin for $750, so naturally, we'll take five of those. The most "useless" item we found was a crystal paperweight; it looks nice but at a $225 price point, not something we imagine many people would buy. But we'll take five of those, too.
If you're looking to knock it out of the park at your next cocktail party, the glass ice bucket (with tongs) is the perfect item. Retailing for $150, five of those add another $750 to our bill. Perhaps the most outrageous item of our trip is the alligator money clip that retails for $350. If you don't buy one, did you really go to the Masters? We'll take five of those, too. But the most practical and easiest way to brag to all of your friends that you went to the Masters is the $15 coffee mug that you can sip your coffee out of every morning, and remember the amazing experience you had at Augusta National. We'll take two of those because we're not greedy.
See below for our full list of 223 products, totaling $36,060.50.
Limited Edition Arnold Palmer coin, $750 (5 for $3,750)
Women's Bracelet with an enamel Masters Charm, $415 (5 for $2,075)
Two different colored dress watches, $395 each (10 for $3,950)
Cufflinks, $375 (5 for $1,875)
Green alligator money clip, $350 (5 for $1,750)
2022 limited-edition watch, $299 (5 for $1,495)
Crystal paperweight, $225 (5 for $1,125)
Leather football, $175 (5 for $875)
Cashmere quarter-zip, $395 (5 for $1,975)
Leather duffel bag, $295 (5 for $1,475)
Women's sweater, $169 (5 for $845)
Women's weather jacket, $169 (5 for $845)
2022 limited-edition coin, $150 (5 for $750)
Ice bucket with tongs, $150 (5 for $750)
Women's vest, $149.50 (5 for $747.50)
Men's clubhouse collection quarter-zip, $145 (5 for $725)
Knit blanket, $135 (5 for $675)
Women's nylon backpack, $135 (5 for $675)
Men's Masters tech jacket, $129 (5 for $645)
Men's button-down shirt, $125 (5 for $625)
Watch box, $125 (5 for $625)
Women's full zip jacket, $119.50 (5 for $597)
Needlepoint wallet, $115 (5 for $575)
Women's printed scarf, $99.50 (5 for $497)
Men's vest, $99 (5 for $495)
Bucket hat, $95 (5 for $475)
Tech quarter-zip, $95 (5 for $475)
Leather driver headcover, $95 (5 for $475)
Leather 3-wood headcover, $95 (5 for $475)
Walnut cutting board, $85 (5 for $425)
Playing cards with case, $75 (2 for $150)
Men's leather bag, $75 (5 for $375)
Tie, $75 (5 for $375)
Masters Titleist Pro V1 golf balls, $68 (5 for $340)
Women's nylon pouch, $65 (5 for $325)
Needlepoint card wallet, $60 (2 for $120)
Girl's smocked dress, $59 (3 for $177)
Set of five cocktail plates, $58 (2 for $116)
Floral notecards, $48 (5 for $240)
Azalea candle, $48 (2 for $96)
Packable tote, $48 (2 for $96)
Masters house flag, $45 (5 for $225)
2 pub glasses, $40 (2 for $80)
2 wine glasses, $40 (2 for $80)
Masters bear, $39.50 (2 for $79)
Poster, $30 (2 for $60)
Chair, $30 (2 for $60)
Kids reversible bucket hat, $30 (2 for $60)
Needlepoint key fob, $29 (2 for $58)
2 pair of socks, $20 (2 for $40)
Masters ball markers, $20 (5 for $100)
Masters tumbler, $18 (2 for $36)
Coffee mug, $15 (2 for $30)