The Grind
A missing Masters delicacy, a new Augusta National harsh critic, and the end of a fun (and dangerous) LPGA tradition
Welcome to another edition of The Grind where we didn't think we could be any more excited for this year's Masters, and then, well, Tiger Woods showed up. And no, not just for the sushi feast Hideki Matsuyama promises to serve at the Champions Dinner. Just look at this hype video Augusta National put together from his nine holes after arriving on Sunday:
Let's. Freaking. Go. Look, I'm not expecting Tiger to contend, but the fact that he's preparing to play is a miracle in itself. After coming back from such a horrific car crash, the guy could shoot a pair of 85s and no one would care! Although, let's not kid ourselves here. Did you watch that video? He's not shooting a pair of 85s. Anyway, here's what else has us talking during a week unlike any other.
Jennifer Kupcho: Hang on, what's that sound I hear. . .
Oh, just the Wake Forest University fight song. Go Deacs! Please let me brag about my fellow Demon Deacon after another year of the men's basketball team not being invited to the Big Dance. But we've been a golf school since the days of Arnold Palmer, and Kupcho continued that rich tradition by capturing her first major at the Chevron Championship.
It was also the 24-year-old's first LPGA victory, although she also won the inaugural Augusta National Women's Amateur in 2019 and the individual NCAA title in 2018 while still at Wake (Go Deacs!). So she is quite the big game hunter. And she also became the final golfer to make the leap into Poppie's Pond at Mission Hills with the tournament moving to the Houston area next year: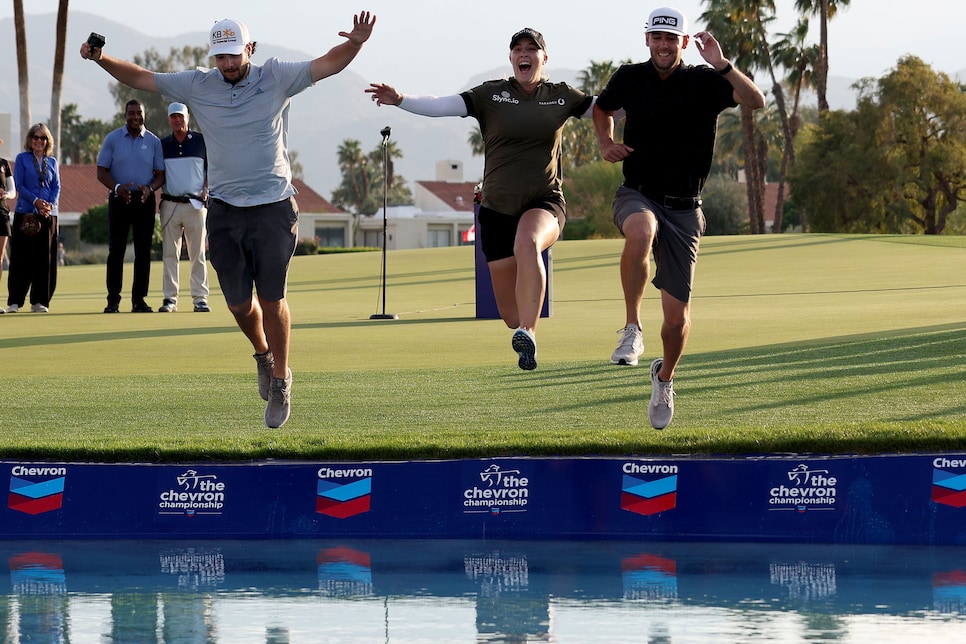 That's a shame, because it's such a fun tradition. Well, except that time Stacy Lewis' mom broke her leg. True story. Anyway, when it comes to making a splash on the LPGA, this Demon Deacon is just getting started.
J.J. Spaun: We had a first-time winner on the PGA Tour as well with Spaun earning his maiden victory at the Valero Texas Open in his 147th career start. This despite the fact he opened the final round with a double bogey. Wild. And to the victor of the Valero Texas Open goes a $1.5 million first-place check and those black cowboy boots!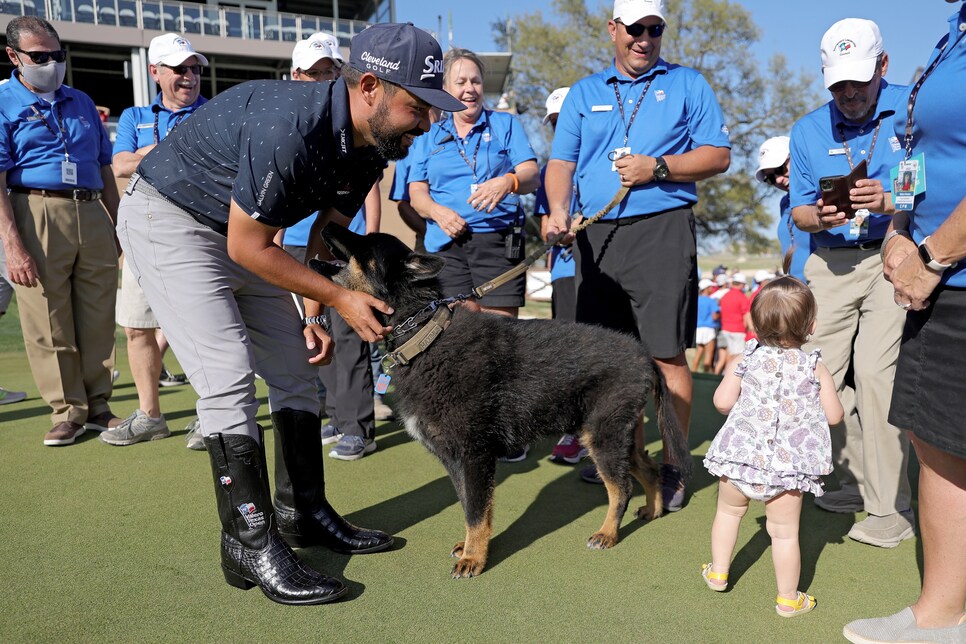 Oh, and a Masters invite. We're guessing Spaun will rank those awards slightly differently.
Anna Davis: A lefty from San Diego winning at Augusta National. Sound familiar? Only instead of the hibernating Phil Mickelson, the world was introduced to Davis, a 16-year-old who claimed the third Augusta National Women's Amateur—despite the fact she entered the week as the 100th-ranked amateur golfer in the country: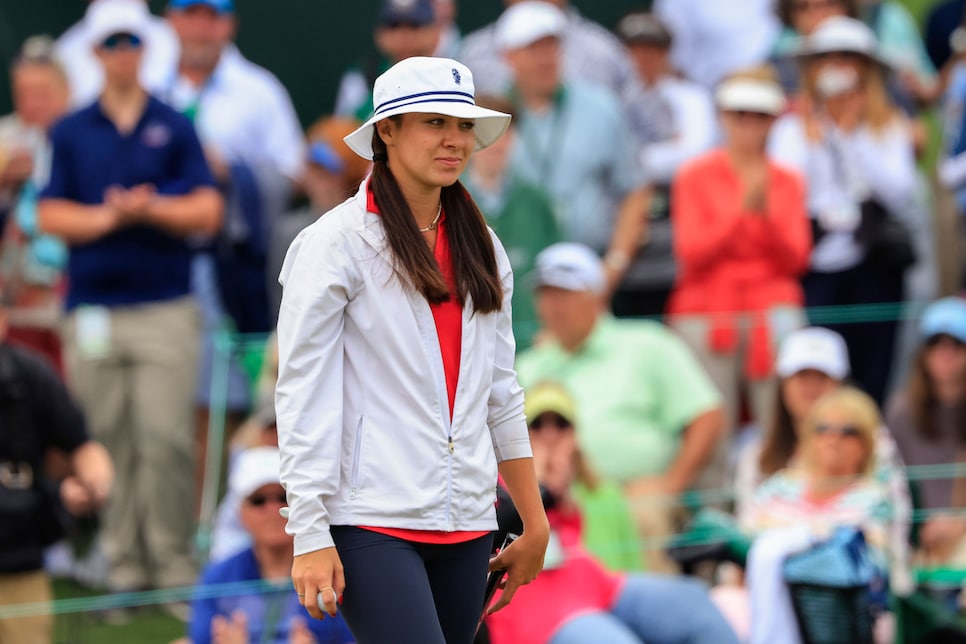 Well done, Anna. Especially rocking the bucket hat. I'm always in favor of more bucket hats.
This as golf's new theme song: Admittedly, I'm very late to the party on Ben Rector, but I'm all in now after coming across his new album, "The Joy of Music," and the song, "Sunday," which was born on Masters Sunday last year and features Snoop Dogg. Hit it!
If CBS or NBC don't make this the theme song for their Sunday golf coverage, that's a big whiff. That's even catchier than the Wake Forest fight song!
Jordan Spieth's putting: On the bright side, according to the 15th Club's Justin Ray, Spieth's ball-striking at the Valero Texas Open was the best it's been anywhere since his historic 2015 campaign. On the other hand, he was doing stuff like this all week in San Antonio:
Yikes. Normally, I'd say a golfer doing that has no chance of winning anytime soon, but it's Jordan Spieth and Augusta National, so he'll probably win by 10.
Toppie Hogan's week: First of all, Toppie Hogan is a real name. And it's spectacular. Second, he had a rough go of it:
And that was before cracking his 3-wood and failing to earn his tour card. But on the bright side, it turns out his car was NOT stolen, but rather towed because a "drunk neighbor" thought he parked in the wrong spot. OK, so we're selling neighbors like that as well.
No peach ice cream sandwiches: Kudo's to Golf.com's James Colgan for getting quite the, um, scoop:
Wow, what a dagger. We're talking about THE Georgia Peach Ice Cream sandwich. You know, this one: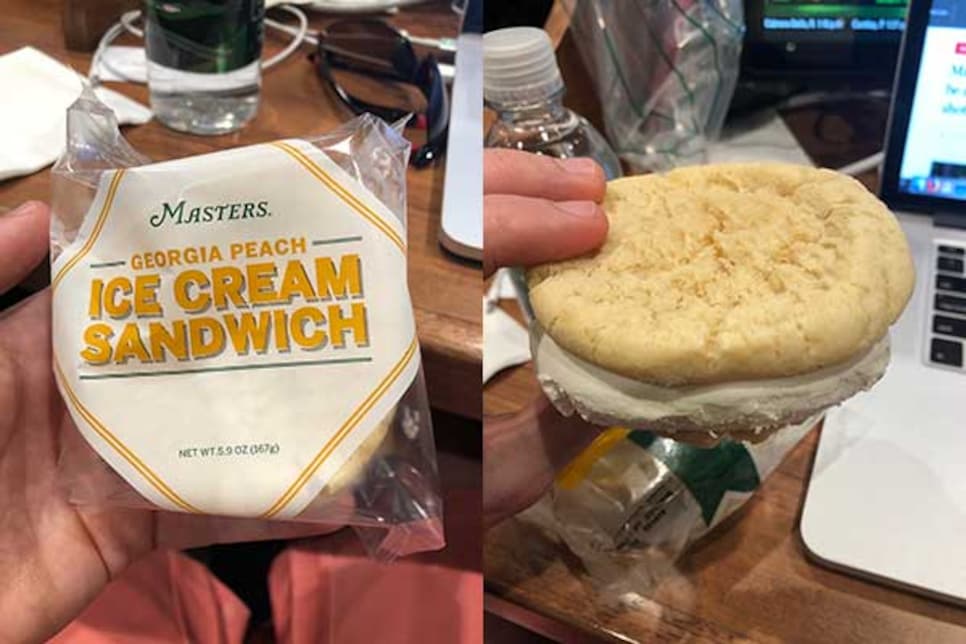 These supply-chain issues are a real bummer, huh? Upon hearing this devastating news, like Tiger, I was also a GAME-TIME DECISION to go to the Masters. But then I was assured the classic chicken sandwiches are still there. It will be tough, but I'll make do.
HELLO, FRIENDS! It's Masters week! There's really not much more to say. Let's have a great week, everyone!
Random tournament fact: As a Masters preview, I focused on some of Augusta National's rules—and some infamous instances of people being punished for breaking them. Kudos to Ken Green, though, for helping create two traditions by pushing the status quo when he let his kids caddie for him at the Par 3 Contest and when he skipped a shot across the water on No. 16 during a practice round. It's a good reminder that the world needs rebels from time to time.
RANDOM PROP BETS OF THE WEEK
—I will win the Masters media lottery after writing that: 1 MILLION-to-1 odds
—Tiger Woods will win the Masters: 50-to-1 odds (Actual odds! Tiger!)
—Golf will win no matter how Tiger plays at the Masters: LOCK
Well played, Kevin. And sneaky #humblebrag that you were in Group A.
Aww. And congrats to all the young winners of the Drive, Chip and Putt!
VIRAL VIDEO OF THE WEEK (NOT INVOLVING TIGER WOODS)
I honestly thought this was a late April Fool's joke because I still can't believe Augusta National was cool with this:
Good for Dude Perfect. And Bryson DeChambeau. Again, sometimes the world needs rebels.
THIS WEEK IN PUBLIC DISPLAYS OF AFFECTION
Before she took her leap into Poppie's Pond, Kupcho leapt into the arms of her husband, Jay Monohan: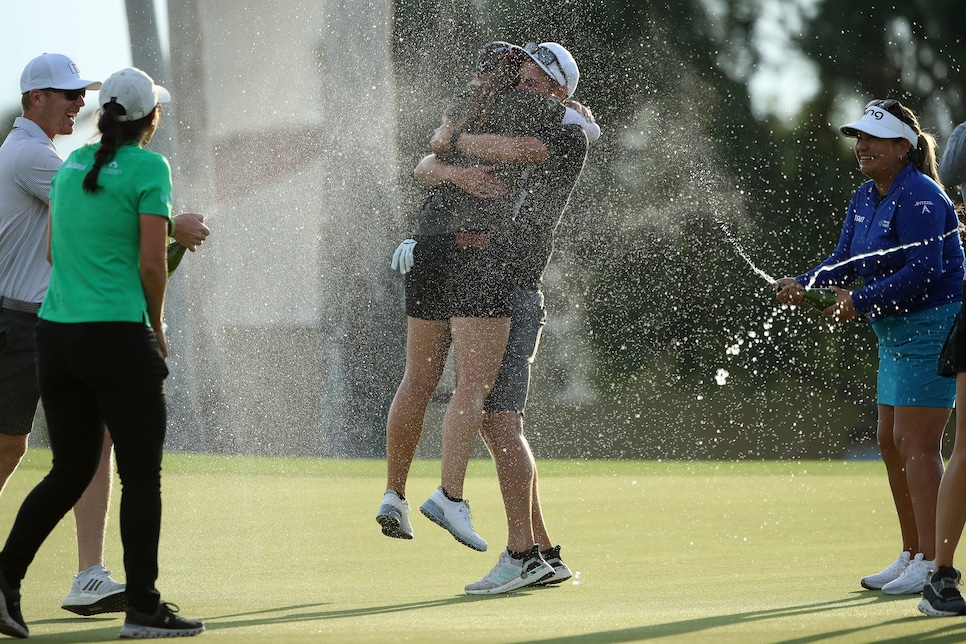 And no, that's not PGA Tour commissioner Jay Monohan, but rather LPGA caddie Jay Monahan. Both golf jobs, but just slightly different compensation.
"I'm really upset with Augusta National. Because there's no reason why we couldn't continue to have this tournament be the first major in professional golf. And I think it's absolutely disgusting what they're doing and I have no problem saying that. It's bull hockey what they're doing." —Christina Kim to the Desert Sun on the Augusta National Women's Amateur affecting the Chevron Championship's place on the golf calendar. Wow. Time to update my "Augusta National's Harshest Critics" list! OK, so Christina has an even smaller chance than me of playing Augusta National anytime soon.
Congrats to Steven Alker for a dominant six-shot win on the PGA Tour Champions. This guy's run since Monday qualifying for a tournament last year after turning 50 is nothing short of remarkable. . . . While we're giving senior shout-outs, how about our MET-area rookie Rob Labritz, the club pro turned tour pro, finishing T-5? Sure beats giving lessons to weekend hacks like me, huh? . . . And, finally, congrats to my boss' son, Charlie Weinman, on making his first hole-in-one:
Nice Sunday Tiger outfit as well! It's not enough that nearly all my colleagues have made an ace, but now at least three children of co-workers have made one before me as well. Sigh. I need to drown my sorrows in a Georgia peach ice cream sandwich. Oh, right. Sigh again.
RANDOM QUESTIONS TO PONDER
How many calories will I consume in the media center this week?
Which co-worker's grandkid will make an ace before me?
Which players will be affected most by the lack of ice cream sandwiches?